And it couldn't be easier! The trick to grilling leafy vegetables is keeping them nearly whole.
Try to grill a single leaf on its own, and it wilts and burns in seconds. But kept in a head, the leaves char slightly on the outside while the inner leaves remain juicy, quickly taking on the flavors of fire and smoke. Grilled romaine is dramatically different from its raw counterpart. Instead of tasting like watery refreshment, the lettuce takes on a meaty corpulence that is a welcome change of pace. For even more flavor and color, substitute radicchio (especially oval shaped Treviso radicchio) for one of the romaine heads.
How to Grill Any Leafy Vegetable
Leaves are filled with air. Expose them to heat and they quickly shrivel to nothing. The trick to grilling them is to keep them together long enough to end up with something edible. The easiest leaves to grill by far are alliums, members of a genus that includes leeks, green onions, bulb onions, and garlic.
Wait, Onions are Leaves?
We know. It doesn't seem right. But if you think about leeks, which are cousins to onions, it begins to make sense. Unlike leeks and green onions, which are grown for both their leaves and the leaf base (the part that sits just underground), onions and garlic are grown exclusively for the bulbous swollen leaf base that stores energy for the beginning of the next growing season. This leaf base stores energy in the form of fructose sugars, which is why alliums have a delicious balance of sweetness and volatile aromatic molecules. That combo of pungency and sugar is the allure of grilled onions.
Strength in Numbers
Individual leaves, like spinach and kale, cannot be grilled. They disintegrate when exposed to high fire. But a bunch of leaves in a head or bundled together take to the open fire quite nicely. That is the principle behind grilled romaine, radicchio, cabbage, and Brussels sprouts. Romaine and radicchio are done shortly after hitting the grill, but tightly bunched cabbage heads and Brussels sprouts can be cooked through over a direct fire. To grill leaves, oil them generously, brown them directly over the fire, and if they can tolerate more heat, move them away from the flame to cook indirectly to tenderness, which never takes much time. Grilled leaves go well with pungent dressings, including vinaigrettes, creamy and cheesy dressings, and sweet-and-sour glazes.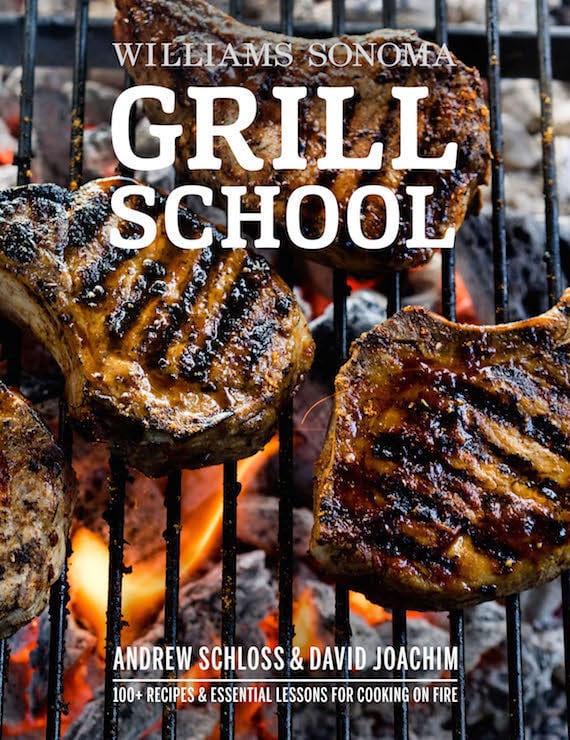 This recipe is adapted with permission from Williams-Sonoma Grill School by Andrew Schloss and David Joachim. This book features more than 100 easy recipes and 30 essential lessons for cooking on fire.
This salad will change the way you think about grilled vegetables. The grill keeps the lettuce juicy and crunchy but also imparts smoky, meaty flavors to the salad. Serve this one with a fork and a knife.
Serve with: Belgian blond ale, such as Duval
---
---
Makes:
---
Takes:
---
Ingredients
1

clove

garlic

6

anchovy fillets

1

tablespoon

brown mustard

1

large egg yolk

½

cup

plus 2 tablespoons extra-virgin olive oil

1

lemon

Fine sea salt and freshly ground black pepper

2

heads romaine lettuce

¼

cup

grated Parmigiano-Reggiano cheese

1

teaspoon

flake sea salt, such as Maldon or smoked Maldon
Metric conversion:
These recipes were created in US Customary measurements and the conversion to metric is being done by calculations. They should be accurate, but it is possible there could be an error. If you find one, please let us know in the comments at the bottom of the page
Method
Fire up. Prepare a grill for indirect cooking by placing a chimney full of pre-heated charcoal briquets on one side of the grill's charcoal grate in order to create direct and indirect cooking zones. Adjust the grill vents to bring the temperature to about 350°F (176.7°C) on the indirect side. Add 2 to 3 chunks of your favorite smoking wood to the charcoal for flavor. On a gas grill, adjust the temperature knobs so that one half of the grill is off and the other half is heated enough to maintain a temperature of approximately 350°F (176.7°C) on the indirect side.

Prep. Mince the garlic and put it in a salad bowl along with the anchovies. Use the back of a fork to mash together the garlic and anchovy into a paste. Whisk in the mustard and egg yolk, and then whisk in 1⁄2 cup (118.3 ml) of the oil a little at a time until thickened. Squeeze in all the juice from the lemon (through your hands to catch the seeds), and season to taste with sea salt and pepper. Whisk, then set aside.

Remove any loose leaves from the romaine and cut each head lengthwise into quarters. Coat the romaine quarters with the remaining 2 tablespoons oil.

Cook. Put the romaine quarters cut sides down on the grate directly over the fire and grill, turning once, just until grill marked, about 20 seconds per side. Using tongs, transfer the lettuce to the indirect side of the grill, positioning it cut sides up. Paint with half of the vinaigrette, getting the dressing down in between the leaves. Then shower with half of the cheese. Cover the grill and cook until the cheese just starts to melt and the ends of the lettuce wedges wilt, about 2 minutes.

Serve. Transfer the romaine to a platter. Dress with the remaining vinaigrette, a scattering of the remaining cheese, and a sprinkle of flake salt.
---