Walter Jetton: "The Barbecue King"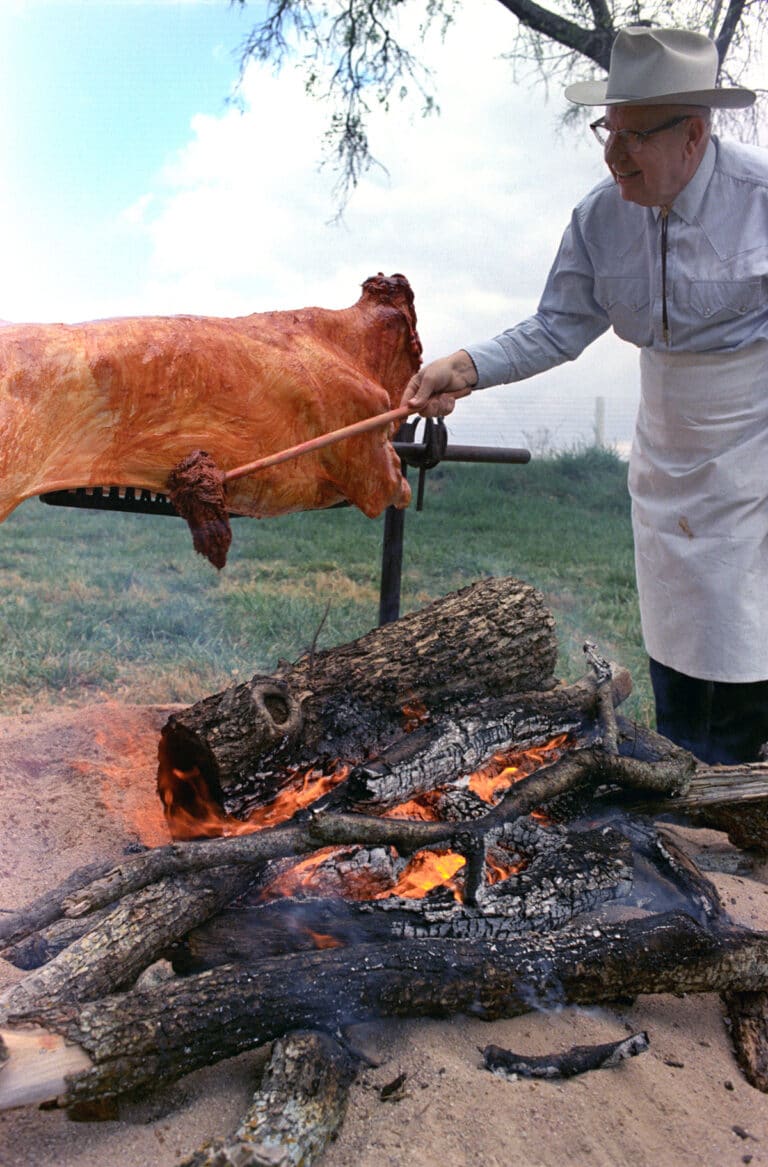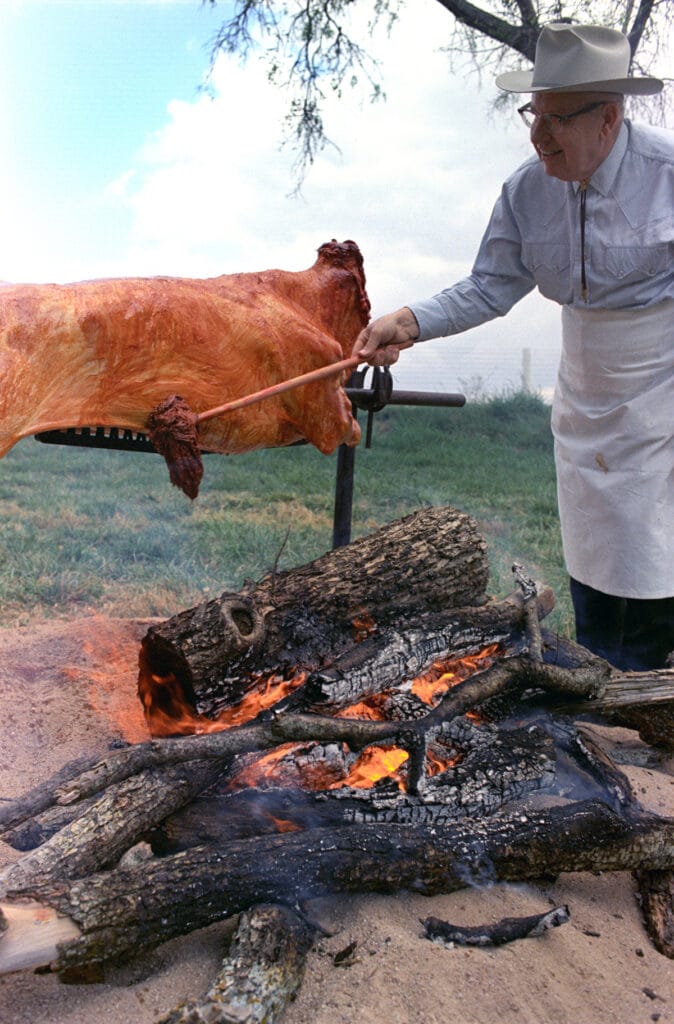 The food for most of Lyndon Baines Johnson's barbecues was prepared by Walter Jetton (pronounced ji-TON). Jetton (1906-1968) ran a popular catering company out of Ft. Worth, just a few hours from the LBJ Ranch.
Jetton was a natural showman. He was usually dressed in a Stetson, apron, creased white shirt, and string tie, and he billed himself as the "Barbecue King". He often had a whole headless cow rotating on a spit beside a smoldering log fire. Texas humorist Richard "Cactus" Pryor jokingly wondered aloud if he used the same carcass at all his barbecues.
Jetton was even admired by the classically trained, Swiss-born, Henry Haller, who served as Executive Chef of the White House from 1966-1987. Haller wrote in his 1987 book The White House Family Cookbook, "After announcing that he would not be seeking re-election, President Johnson hosted a party on the White House lawn to thank over 200 friends for their support… . The party was a Texas-style barbecue.
For the party, the ribs were prepared by Walter Jetton. He did a terrific job and I was most impressed with the results. His barbecue sauce avoided all of the common flaws (over-sweetening, overcooking, excessive thinning) and by serving the sauce separately, he also avoided drying out the meat. The ribs were tender and juicy, and very delicious (yet cost only $1.80 per serving!)… . This professional production will long stand in my mind as one of the more strikingly successful White House parties."
Jetton was a devotee of open-pit barbecue. In a letter to a man in Minnesota he offered advice that still makes sense today: "First, we would suggest you abandon the idea of a spit and instead of trying to barbecue the beef in quarters or halves, just buy eight or ten pound pieces of boneless brisket points. Use building blocks stacked four high. Run two rows as long as you like with a three foot space between them. Place grills, reinforced screen or expanded metal across the top. Remove one or two blocks at ground level and through this hole rake in live coals that have been burning close by. The live coals should come from oak, hickory, walnut, pecan, or some form of hard wood. Repeat the process during the time of cooking which should be approximately eight hours as you don't want to cook the meat very fast.
"Just prior to placing the meat on the grills it should be mopped with a solution made of weak vinegar, water, salt, black pepper, and vegetable oil. Make up to three gallons of this as mopping should be repeated throughout the cooking time of the meat as the meat is turned over, which should be done every 30 minutes. Use a long handle new dish mop. Do not use ketchup in any form until you are through cooking.
"If you use the briskets of a good grade as I have suggested, you will not have any trouble with the meat being dry as this is a fat meat. The cooking temperature should be about 275 degrees. Remember, barbecue has to be cooked with wood or wood coals. The coals will furnish enough heat and smoke. Do not have a big fire under the meat. If a fire should start from grease of the meat or mop, put it out with a cup of water. Cook with coals only!"
In 1965 Jetton capitalized on his fame, and, with the help of with Arthur Whitman, published a 77 page paperback, Walter Jetton's LBJ Barbecue Cookbook. In it he offered recipes for everything from calf fries (testicles) to beef heart to barbecued bologna, which he called a "dingwilly of a dish". Here are his standard mop and sauce. They work great on beef brisket.
Jetton's original recipe made 6 quarts, enough to mop a whole cow. I have modified it and reduced it here to make about 1 quart. He recommends you mix all the ingredients and let it sit overnight in the refrigerator.
---
---
Makes:
---
Takes:
---
4

teaspoons

Morton coarse kosher salt

2

teaspoons

dry mustard powder

1

teaspoon

garlic powder

½

teaspoons

ground bay leaf

1

teaspoons

chili powder

1

teaspoons

Louisiana hot sauce

like Tabasco

⅓

cup

Worcestershire sauce

5

tablespoons

vinegar

3

cups

beef stock

3

ounces

vegetable oil

1

teaspoons

MSG
---
Jetton bragged that his barbecue sauce would "tickle the tongue of your Grandma's shoe." In his book, Jetton wrote "This is the secret of the ages I am giving you here, and I would not be surprised if wars have been fought over less. Use this as a plate or table sauce with beef, chicken, pork, or almost anything else. Don't cook things in it.
---
---
Makes:
---
Takes:
---
Combine all the ingredients and bring to a boil. Simmer about 15 minutes. Remove from heat and strain.
---
Published On: 4/30/2021 Last Modified: 5/6/2021
Meathead - Founder and publisher of AmazingRibs.com, Meathead is known as the site's Hedonism Evangelist and BBQ Whisperer. He is also the author of the New York Times Best Seller "Meathead, The Science of Great Barbecue and Grilling", named one of the "100 Best Cookbooks of All Time" by Southern Living.

---