The Yeti fan base speaks volumes about their commitment to producing quality coolers.
Certainly, no cooler has done a better job of marketing than Yeti, with its unrivaled advertising and marketing campaign that grabbed headlines 10 years ago and cemented the Yeti brand as a line of "gotta have" products.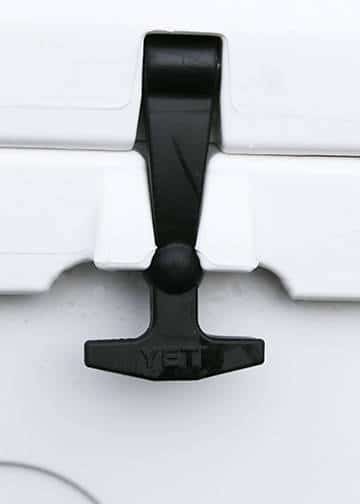 The Yeti Tundra model features Patented T-Rex™ lid latches which fit into a ball and joint type of closure, "Anchorpoint™" tie-down slots molded into the body of the coolers to easily secure it to a truck or trailer, and a patented "Coldlock™ freezer-quality gasket.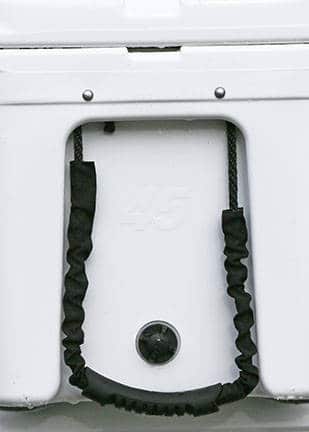 It is available in three colors, can be locked, and has two types of handles, molded lock eyelets, the speediest drainage system we tested, and 2+ inches of Permafrost™ insulation, all of which has helped make Yeti the standard of coolers almost since its inception. The Tundra is IGBC (Interagency Grizzly Bear Committee) certified against destruction by grizzly bears.
Test Details:
Ice retention. All ice gone in 10 days.
Heat retention. Ham temperature dropped to 145˚F in 3.10 hrs.
Leakage/Dropped Damage. A flood of leakage when turned its side, but it didn't leak when it was laying top (lid) down. When dropped from the truck, the cooler leaked heavily, again while lying on its side, but had only minor abrasions on two corners and the lid.
Hinges, latches and lid. can be difficult for small or older individuals to work as the rubber is quite hard to close for some. The lid is comfortable and safe to either sit or stand on, which stands to reason as that's one of the main reasons this cooler was invented.
Drain efficiency and speed. The fastest draining cooler at :40 seconds with no residual water.
Handles. Lipgrip™ molded and DoubleHaul™ polycord handles which are tied with knots through eyelets. Caution: the rope handles are easy to replace, but could release if the knots come loose while the cooler is being carried.
Dimensions. 25.75"L x 16"W x 15.5"H
Weight. 23 lbs.
Extras. Owners can easily replace the T-Latches, handles, pins, and gasket, as well as choose from unspecified limited edition colors and a detachable hose fitting for the drain.
Warranty. 5 year limited warranty.
Cost. Approx $350.
Country of origin. From the manufacturer: "We work with a number of manufacturing partners that are located in the US and abroad to produce our coolers. For competitive reasons, we do not disclose the locations of our manufacturing partners."
Pitmaster Club Member Reviews
I have a Yeti. I've used it to haul frozen chip steak from Philadelphia to N. Illinois on a hitch hauler over the highway in the middle of summer. I had family with me so we took two days. The meat was still frozen solid and there was still ice in the box. That was about 50 pounds of meat. Aside from the fact that it worked, I liked the ability to lock it to the hitch haul with "interior" hooks and then lock the lid closed. It's sturdy. I can easily stand on it and have. On the downside, it's heavy on its own, but packed full, you really need two people to move it. It's better as a set-in-place cooler — like tied down in your boat or truck bed. Then use a lighter cooler to haul the cold stuff to the campfire or whatever. —Lmhfive, club member
Yeti hands down. Have used it to brine in, as a cambro, ice chest, step stool, flotation device, safe… You name it. Only negative is the weight. Never had one break and have abused several. Keeps ice twice as long as other coolers, and keeps food hot at least twice as hot. Have cooked briskets, put them in a preheated yeti, and taken a 7-hour trip. Food was still HOT when we got there! —texastweeter, club member
Click here to check price and buy at Amazon