Chicago is the nation's hot dog capitol. According to the Chicago Tribune, there are more than 1,800 hot dog stands in Chicago, far more than the sum of McDonald's, Burger Kings, and Wendy's. Picking the best is an enterprise only for a fool. That would be me.
Some Chicago hot dog stands are practically institutions, decades old, handed down over the generations, with a devoted local following and diaspora of fans around the nation who make the pilgrimage back as soon as they get off the plane.
Many have regulars who have been going there all their lives. For them the neighborhood hot dog stand is a link to the community, a neighborhood anchor, and an adjunct to city hall perfect for discussing civic affairs and debating politics. Because hot dogs are cheap, usually under $2, the hot dog stand is a place to retreat when times are tough and true comfort food is needed. For the same reason, and because most serve no alcohol, the hot dog stand is also a place for kids to seek shelter from the rain after school, the hangout to meet and greet, and a transportation hub at which to wait for parents to pick them up. They have a place in the community that no franchised hamburger restaurant can hope to achieve.
Most have only one location. Most serve Polish sausages, Italian Beef Sandwiches, burgers, and other fast foods, but I chose to review only those with hot dog in their name or prominently displayed on their sign. Some great hot dogs are made at restaurants with names such as "Joe's Italian Beef" but I have not included them in this review. By asking everyone I knew for suggestions and cruising internet discussion boards, I came up with about 100 names. Yes, I actually went to 100 places. Don't tell my doctor. Below I have listed only my Top 5.
On my visits I ordered a Chicago Hot Dog with everything on it, a side of fries, and a drink. I took notes on the preparation of the dog, its presentation, its appearance, its taste, and I scored it on a 10-point scale. I awarded extra points for its resemblance to the standard recipe, yet I allowed for creativity, and I was easily impressed by presentation. For example, hot dogs in a box showed the management's respect for the dog and the customer. Wrapping them in paper so the bun is compressed and wrinkled and the condiments are smushed together is like kicking the dog. A good wiener is dressed after the order is placed. A number of stands make the celery salt optional, so ordering one "with everything" may not include this required ingredient and they don't always tell you they are leaving it off. Make sure you specify you want celery salt when you order.
You got a problem with that?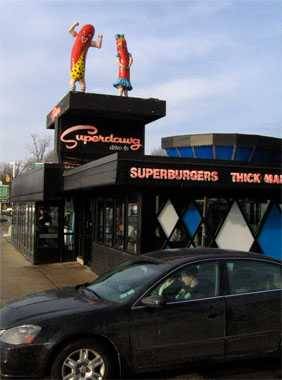 6363 N. Milwaukee Ave., Chicago, IL 60646. Where Milwaukee, Nagle, and Devon intersect. 773-763-0660. Also: 333 S. Milwaukee Avenue, Wheeling, IL 60090, and Midway Airport in Concourse B.
The superb Superdawg is served in a campy blue box that says "Your Superdawg lounges inside contentedly cushioned in superfries." As I opened it the lip greets me with "Hiya! From the bottom of my pure beef heart…thanks for giving me the chance to serve you." There were a modest quantity of beautiful dark golden fat crispy crinkle cuts and the skin of a kosher dill pickle, and a wedge of pickled green tomato. No Superdawg or any kind of dog in sight. I had to eat most of them to get top the main event. But it was worth the wait. The frank itself was the fattest of any I had found in my tastings, juicy, garlicy, and snappy, despite the fact that it is skinless (horrors!). The onions were so finely minced they were almost a slurry, the relish was iridescent, and the pickle spear was the perfect balance of cucumber, salt, and spice. The pickled tomato was an unexpected deli touch. To round out the main course, I enjoyed a Goose Island Honker's Ale with my sandwich, purchased next door at Miska's Liquors.
Afterwards you must have one of their Supersundaes or Blackkows (rootbeer floats). There is a tiny dining room with about 16 seats for adults at a stainless counter circumnavigating the room and four kids seats at a half-height counter.
Founded in 1948, the outside is a time capsule, a set from the movie "Back to the Future" with 30 something slots for cars under awnings with poster size menus and speakers. You place your order through the microphone next to your car, and a carhop brings your meal on a tray and hangs it on your car door. At right the Dawson family of Prospect Heights make their annual pilgrimage in their 1972 El Dorado.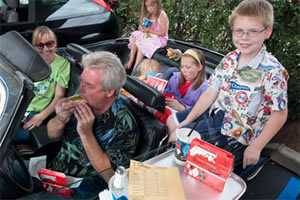 Practically everything about Superdawg is funky starting with the 10′ statues of a weightlifter wiener and a ballerina wiener on the roof. They are named after the owners, Maurie and Flaurie (Florence) Berman. On summer Friday nights at 9, the Roadents Car Club often congregates at Superdawg with their classic cars and street rods.
Justifiably ranked among the top 10 hot dogs in the nation by Jane and Michael Stern, authors of the book Roadfood, Superdawg is more than a hot dog, more than a restaurant, it is an All-American experience. On a recent visit, as I was leaving I stopped to take some photos from the sidewalk out front. Two hardhats walking by stopped to check out my camera angle and one said to me "Amazing, ain't it?" I replied "Classic Chicago." The other chimed in, "No, it's Americana."
Dog: 9/10. Atmosphere: 10/10.
More than a dozen locations including the Loop, O'Hare, and Midway.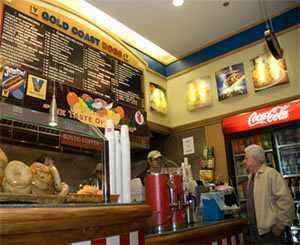 Their signature variation on the classic is the "Char Dog." Rather than boiling their Vienna Beef hot dogs, they grill them, giving them the slightly sweeter flavor generated by browning meat, and a crispier chewier texture. To further enhance the grilled texture, they split the ends of the dogs so they flare out and get crispy. I love the grilled flavor and texture.
My favorite location is Union Station where you can get a beer from the bar a few feet away, and the people watching in unparalleled. At Midway the people watching is also good, and they sell pretty good bagels for breakfast, but somehow this seems all wrong. Really wrong.
Dog: 10/10. Atmosphere: 7/10 (Union Station).
2501 N. Damen Ave., Chicago, IL 60647. 773-235-6652.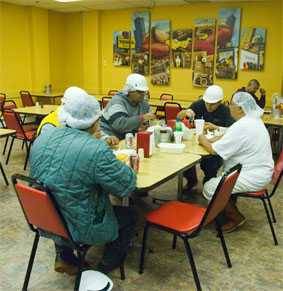 The Damen St. location is the lunch room/deli for the meat plant, but it is open to the public, and if you're into Chicago Hot Dogs, visiting The Source is as obligatory as a trip to Napa for wine lovers. Not surprisingly the sandwich is made by the book, although I was a bit stunned to see a crinkle-cut 4″ slice of pickle rather than a spear on my bun. Even their own website says it should be made with a spear. The decor is clean, and the posters are great fun. My favorite: A photo of a Chicago Hot Dog with the caption "This Hot Dog Rated NK-17. It will not be served with Ketchup to anyone under 17." They sell the posters, condiments, and meat products to take home. They even sell a Hot Dog Lovers Kit for $69.95 with 16 hot dogs, 16 poppyseed buns, mustard, relish, sport peppers, and celery salt. You need to get your own onion, pickles, and tomatoes. It's a fun place and dining with butchers in coveralls and hairnets is kinda cool, but, with its mustard yellow walls, and fluorescent lights it has all the charm or a high school cafeteria.
Dog: 8/10. Atmosphere: 7/10.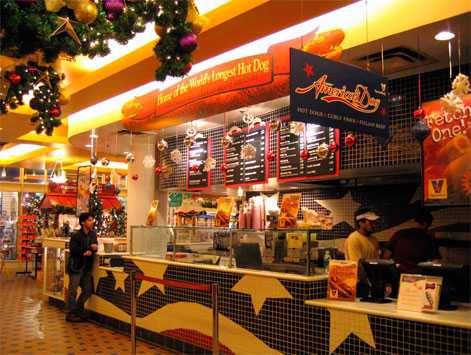 Navy Pier Food Court, 700 E. Grand Ave., Chicago, IL 60611. Phone 312-595-5541. Hours: From Memorial Day to Labor Day they are open 10 a.m. to 10 p.m. Sunday through Thursday and 10 a.m. to midnight Friday and Saturday. Fall and winter hours are 10 a.m. to 8 p.m. Sunday through Thursday, and 10 a.m. to 10 p.m. Friday and Saturday.
Yeah, yeah, I know this place is sterile and touristy in a food court not far from a McDonald's. But they make great hot dogs and Navy Pier is a lot of fun with everything from the Shakespeare Theatre to the Stained Glass Museum to the Sculpture Garden to Imax to carnival rides.
In 1993, George and Manolis, the 20 something sons of Gus Alpogianis, owner of Kappy's Restaurant and Pancake House, in Morton Grove had an idea for a new restaurant. They took a three week cross country trip from New York to LA gorging on America's favorite food at every chance along the way. At the end of their "whirlwind wiener" tour their Jeep was filled with mustard stained napkins, grease stained French fry bags, a wad of notes, and a plan.
Three years later they opened America's Dog, an homage to the hot dog theme and variations in the food court of the colorful carnie/bazaar/fine arts center that has become one of the nation's most popular tourist spots, Navy Pier. There they rub elbows with McDonald's, Ryba's Fudge, and King Wah Express, among others.
Here's the one thing that moved them into the Top 5: The menu has the classic Chicago Hot Dog, served perfectly and lovingly in a form fitting box that keeps it warm and the bun fluffy. It is never cold when you sit down, and it is never crushed and otherwise dessecrated. One could wish for a more environmentally friendly box, but a box is better than wrapping in tissue paper as most places do it. At the core is a Vienna Beef frank, Rosen poppy seed bun, four sport peppers, and they know that the Chicago Hot Dog has celery salt and you shouldn't have to ask for it. I was especially impressed with the fat pickle spear that was crunchy, not too salty, and still had the taste of cucumber in it. Not surprisingly the Chicago Dog is their best seller accounting for 40% of all orders.
The menu also includes 14 other preps: Corn Dog, Buffalo Dog, Houston Dog, Dallas Dog, New York Dog, Pittsburgh Dog, Milwaukee Dog, DC, Dog, Baltimore Dog, Atlanta Dog, Louisiana Dog, Green Bay Dog, Kansas City Dog, and the Cosmic Dog which contains chili, mustard, ketchup, relish, onion, pickle, tomato, shredded cheddar, and celery salt. You can buy all the above "Jumbo" which is about twice the size of a regular dog, much larger than grocery store jumbos. The fries the offer are seasoned curly fries, and when I ordered them the raw potatoes were dropped into the oil. The came out a few minutes later piping hot, crisp, and delightful. And the people watching on Navy Pier is unparalleled. One word of warning: They have a booth outdoors on the south side of the pier, and they do not have all the proper fixins for a proper Chicago Hot Dog in the stand. Disgraceful!
Dog: 10/10. Atmosphere: 9/10.
5) TBA
Now that Hot Doug's, my former #1 has closed, I need to go back out and check out some of the newcomers.
No Gene & Jude's and no Wiener Circle?
Yes, yes, I went to Gene & Jude's and Wiener Circle. They're not in my Top 5.
Gene & Judes has killer fries, a fine standard dog wrapped and smashed in paper, the lines are too long, and they are just plain rude. They got a good rating, but rudeness (on multiple occasions – they are the closest contender to my house) is what I expect in NY, not Chicago.
As for Wiener Circle, I appreciate the fact that they are open late and that people-watching is unmatched, but their schtick is the banter between the cooks and the crowd, much of it rude, mean, and flat out racist, and even though everybody says it is all in fun, I'm not buying it. It makes me very uncomfortable.

An ode to Hot Doug's Encased Meat Emporium
For decades these were easily the hippest pups in town, and until it closed in October 2014, it was my fave. The lines were still around the block, so it wasn't a financial matter, the owner, Doug Sohn, just wanted to move on.
This dinky but colorful joint said on its sign that it was the "Sausage Superstore" and even had it's own theme song for which there are rock, techno, and other mixes. Sohn serves the classic Chicago Hot Dog of course, the obligatory Polies, but then there were the rabbit, boar, pheasant, duck, and kangaroo sausages. How about a venison sausage with sweet and spicy mustard and red wine soaked dried blueberries for $5.50? All the sandwiches were served in a cardboard boat so the bun is fluffy and the contents are not squished.
You could get your Vienna Beef dog boiled or grilled, and their standard prep included onions caramelized in butter for 90 minutes. Sohn said "You can't go wrong adding butter to anything." Don't skip the very nice golden brown crispy fries, which, on Fridays and Saturdays are fried in flavorful duck fat.
The gregarious Sohn was often working the counter. A pleasant erudite character who, in a former life was a cookbook editor, he is also a bit of a rebel. When the City of Chicago banned foie gras, he continued to serve it until they served him with the City's first foie gras summons.
He outfitted his small dining room with colorful chairs, Elvis memorabilia, and loopy signs and wall hangings. Certainly one of the most fun hot dog stands in the world. It is missed and we wish Sohn well in whatever he does next.
RIP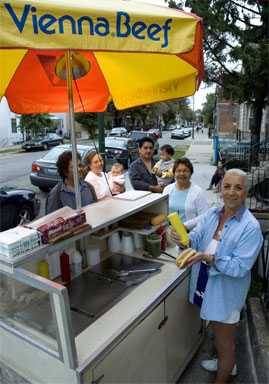 The pushcarts: An ode to Mary Ann's
Alas, Mary Ann has retired. But I have left in my review because her pushcart stand was like so many others in the Chicago neighborhoods.
When she found herself divorced in 1984, Mary Ann Brauneis needed to tend to her children and make a living. So she asked a handy dandy neighbor to build her a propane-fired hot dog cart. For 23 years, on any dry summer night except Sunday, there was a crowd of friends, neighbors, walk-ins from blocks away, and drive-bys from miles around gathered 'round her cart in front of her modest flat in Bridgeport.
One reason they came was for the first rate classic Chicago Vienna Beef dogs. They were made by the book with a delightful exception – instead of a dill pickle spear, she served a skinless cucumber spear.
But the other reason was for the love. Her oldest daughter, Ann Marie made the dogs and dished up the chili and tamales with the help of a neighbor. Another neighbor worked the kitchen in the house where she prepped the food, and another ran the cash register. Well actually, there was no cash register. Not even a calculator. She did the math with a pencil, and made change from her apron.
Mary Ann, in true Executive Chef fashion, worked the crowd, most of whom she called by name, especially the kids, who got free dogs on their birthday until they turned 12. Even the strangers strike up conversations in this most sociable scene. When I was last there, one of the employees was peeling the casing off a dog for an infant who was eating his straight, without the bun. The customers say the food is better at pushcarts than at restaurants because it is made with love. That's the real reason they come.