Lynx grills are beautifully made with serious attention to detail and design. Their history of innovation continues with the 2015 roll out of the first interactive, residential gas grill that can be monitored and controlled via a smart device or voice commands. This computerized system is powered by a 1.5Ghz Intel® Processor, 64GB of storage, and 802.11N Wi-Fi. It works with iOS or Android and all the electronics are housed in a weather proof casing under the grill. They are offered in 30", 36" and 42" models.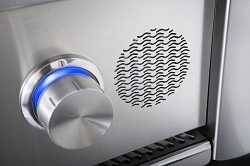 You can have a conversation with SmartGrill's MyChef program. It hears your words and talks back via a microphone and speaker on the front control panel (shown above). Or you can walk away and communicate via a WiFi smart device. SmartGrill has three variable temperature proprietary ProSear2 infrared burners. Temperature sensors measure heat output at cooking surface and electro-mechanical valves automatically maintain preset surface temperature. You can't verbally tell SmartGrill what temps you want, that has to be done either with a programmed recipe or in the Timed Cook mode in the app where you set Time, Temp and how frequently you want reminders.
Select from over 200 recipes programs in the MyChef data base, or create your own programs and share with other SmartGrillers, or just cook the old fashioned way using our recipes and operating the grill manually. MyChef recipes are detailed. You receive instructions to flip meats and alerts when done. MyChef will ask if you want to repeat the same recipe next time. You can respond yes, or add or subtract cooking time per side according to taste: MyChef will remember your instructions. When cooking is complete, SmartGrill will shut off automatically after 30minutes without receiving any new instructions. A nice safety feature.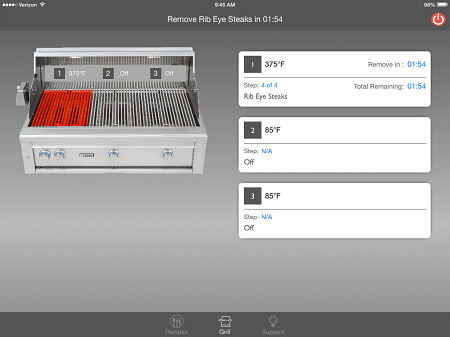 We have long called for thermostatic control on gas grills and are excited to see progress being made. Previous attempts didn't take off, but it's starting to happen: we've confirmed other manufacturers are currently pursuing their own designs. Initially it will appear on luxury grills like Lynx. As efficiencies are inevitably discovered and cost savings realized, we expect this long awaited feature to invade the premium market as well. Thermostatically controlled gas stoves are sold everywhere in a wide variety of price ranges from low to high. The day will come for affordable gas grills to be so equipped.
Intense buzz was generated at the 2014 CES Show when Lynx unveiled a proto type. The production models rolling out in the Spring of 2015 are a bit different from the CES Show video below, but it gives you a good picture of the concept.
In addition to the impressive technology, Lynx 36″ Freestanding Smart Grill is a luxurious stainless steel gas grill with three  23,000 BTU ProSear-2 infrared burners. Lynx ProSear burners are unlike any others we've seen. They cover a lot of firebox territory and put out serious heat. These burners, shaped like pitchforks, consist of three long ceramic infrared fingers that spread from left to right and stretch from front to back. They each function like three burners on one controller.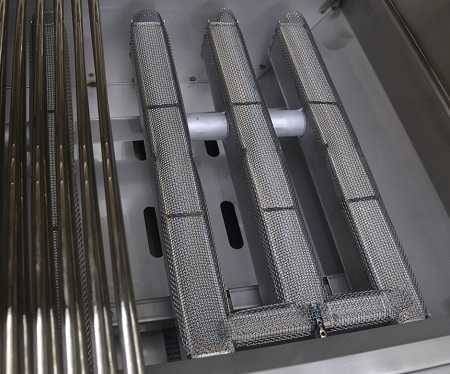 Many IR ceramic burners are large rectangular blocks with a steel mesh cover that protects the burner from grease and drippings by incinerating them on contact. ProSear's array of long, thin ceramics employs the same protective steel mesh, but improves on the design by presenting a smaller target for drippings, which either burn up or fall between the IR fingers to the bottom of the firebox. That means fewer flare ups and less worry about cleaning gunk off the ceramic. Furthermore, heat is distributed much more evenly across the entire firebox.
Fit and finish are impeccable. Quality in design, construction and craftsmanship are evident inside and out. The seamless welded, heavy 304 stainless steel hood opens effortlessly with internal spring assist to expose two thick stainless steel rod cooking grates with ProSear burners blanketing the firebox below. A fixed temp 14,000 BTU ceramic IR burner on the back wall is included along with a BBQ rotisserie spit and three speed removable motor. A small removable wood chip trough running below the backburner is meant to provide a whiff of smoke when using the rotisserie. It does not function without the backburner on. The rotisserie may be set in two locations, one toward the back for small roasts and another toward the middle to accommodate large roasts. The motor easily slides in and out of position with no tools required to move or remove for storage. A warming rack above the backburner swings up and out of the way to make room.
Two halogen hood lights deliver illumination after dark, as do the blue LEDs above each control knob. All control knobs have a solid feel with no wiggle and no loose play in the valve stems. Hot surface electric ignition for the ProSear burners operates by pushing each control knob in until the ignitor rod at the burner valve glows red hot, then turning the knob to the "Lite" position and holding it there until all three ceramic fingers ignite. Hot surface ignition is said to be less susceptible to environmental conditions, such as excessive moisture, that can cause other ignition systems to fail. All electricity is AC – no batteries. The grill must be connected to a standard residential electrical outlet.
The wide, slide out grease tray below the control panel is precision fit and pulls out smoothly. A drain hole in the front right corner of the tray is a nice feature for letting out water after a rainy night. Those wide grease trays are a pain to empty when filled with water.
Two side shelves fold down for storage. Two front doors to the enclosed cart have a solid feel and shut tight, held closed by magnets. Inside, each door has condiment/storage shelves running along the bottom.
Limited Lifetime Warranty on the body, burners and grates, five years on the warming rack, spit rod, manifold and gas valves, and two years on everything else. This pertains only to defective parts and does not include labor, or shipping and handling. For one year, Lynx covers everything: parts, shipping and labor.