Char-Broil Kamander Charcoal Grill
Char-Broil's Kamander Charcoal Grill is actually a kamado (the Kamander is a kamado – get it?). Big Green Egg popularized this ancient Japanese design in the USA and, today, many competitive brands vie for attention in the relatively small, but growing kamado market. These versatile cookers are heavily insulated, making them great outdoor ovens for smoking and roasting. With a full load of red hot charcoal, their searing temperatures can also easily surpass that of most standard gas grills. Click here to learn more about kamados in general. Good as they are, the high sticker price ($850 for the most popular Big Green Egg with no stand or accessories) prevents many consumers from jumping into the kamado ring. Char-Broil's Kamander changes all that with a list price of $349.99. True to Char-Broil's aim of removing consumer pain points, Kamander is one of the lowest cost kamados on the market.
Kamados are traditionally heavy, ceramic ovens, but Kamander and a few others use double walled steel filled with synthetic insulation. By most accounts, performance of steel kamados like the Broil King Keg and Char-Griller Akorn are practically identical to ceramics. While not as well constructed as the more expensive Broil King Keg, Kamander is heavier and sturdier than the cheaper Char-Griller Akorn. It should come as no surprise, however, that you get what you pay for. We'll point out where corners were cut to make the price attractive. Still, for those curious about kamados but lacking the budget for a Big Green Egg, Kamander has some interesting features and includes everything you need to get started in one package.
Unique airflow design
Oxygen controls cooking temperature on charcoal grills. Close down the air vents for low temp, open them wide for high temp. Click here to learn about using vents to control temperature. A  typical kamado design with an air intake damper on the bottom and exhaust damper on top is pictured below. The charcoal fire sucks air in at the bottom, heat and smoke rise to foods on the cooking grate, then exit out the top.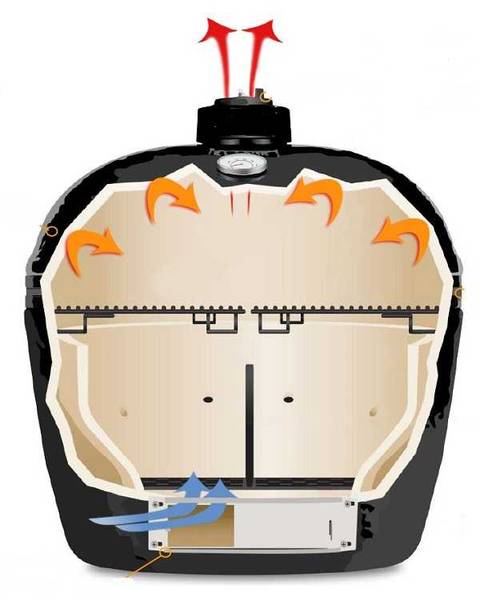 Kamander's unique airflow design places the air intake vent at cooking grate level on the right side shelf. The charcoal fire sucks air downward through an intake channel to the bottom where it travels through holes in Kamander's ash pan to feed the flame.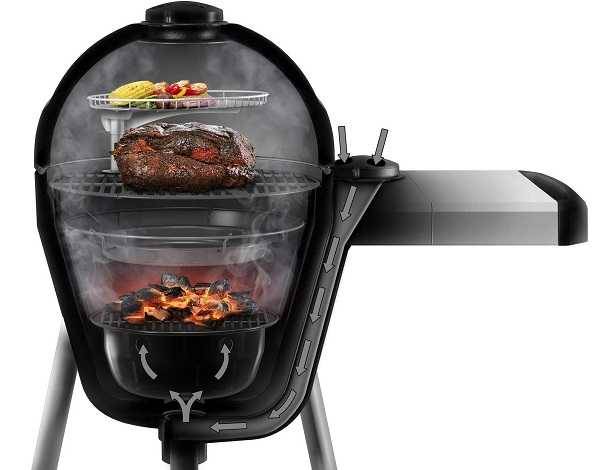 Below is a picture of the dampers. Intake damper right, exhaust damper left. This configuration is more convenient than bending over to adjust the intake damper at the bottom. Both dampers have numeric settings from one to five.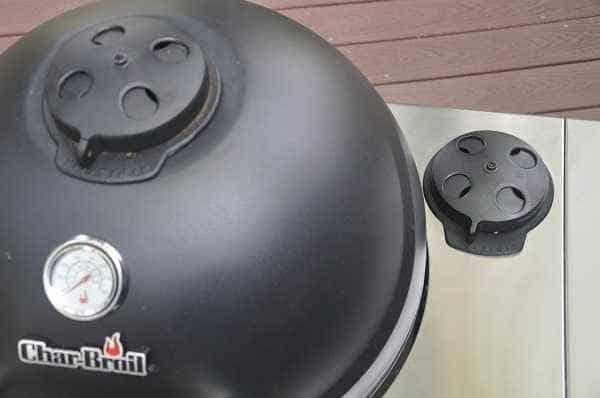 Surprisingly, on the model we tested, the air intake damper and channel were made of plastic.
When we questioned Char-Broil about this choice of material, they were already in process of changing the intake system to metal. Going forward, all Kamander kamados will have metal air intake systems. If you already own a Kamander with plastic parts, call Char-Broil Customer Service at 836-239-6777 and request the new metal system. They assure us there will be no charge.
Char-Broil sent us the new metal parts. We removed the old plastic parts held on by six screws and installed the new system, (see below).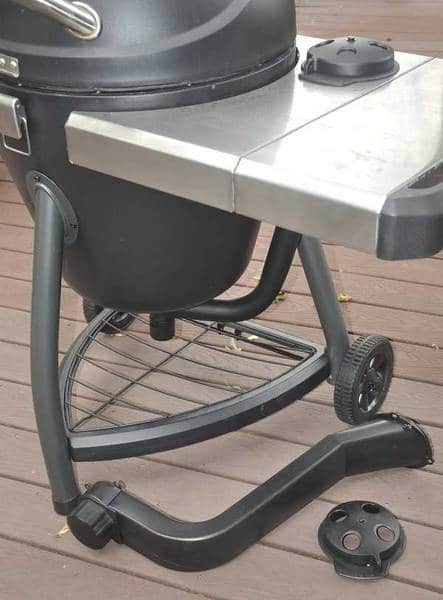 Ash Removal Pan
Ash removal with most kamados requires raking ash through the lower intake damper into a bucket or bag. Kamander's removable ash pan (see below) serves two functions.
1. Easy ash removal. Simply lift it out by the handle and dump. The large pan holds plenty of ash, so it needn't be fussed with in the middle of a long smoking session.
2. Uniform air circulation. The ring of air intake holes disperses oxygen all the way around the charcoal fire.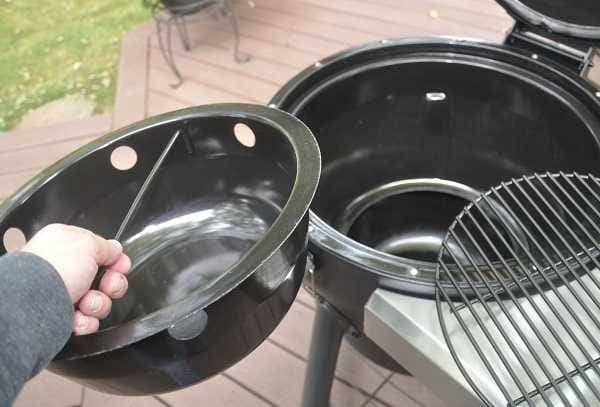 The idea of wrapping air intake holes all around a charcoal fire came from Denmark's Dancook Charcoal Grills, which Char-Broil purchased in 2011. Subsequently, Char-Broil integrated a similar design into their Kettleman Charcoal Grills and it now appears on Kamander.
Click here for our review of the Dancook 1900 Charcoal Grill and here for our review of Char-Broil's Kettleman.
Smoking and roasting
Char-Broil recommends using lump charcoal with Kamander. However, dialing in and holding low and slow smoking temps with lump charcoal proved to be difficult on Kamander. The uniform shape, size, weight and composition of briquets is vastly more consistent, so we switched to good old Kingsford Original Blue Bag. Briquets immediately gave us much better heat control. Click here for more information on charcoal.
We placed a pile of briquets on the charcoal grate over the ash pan along with several wood chunks. With the lid up and both vents wide open, we ignited the top of the charcoal pile. For low temp smoking you just want a fist sized cluster of red hot charcoal before closing the lid and shutting down the dampers. Click here for recommendations on how to start a charcoal fire. To hit your target cooking temperature, you have to experiment with damper settings. Disregard the Kamander inaccurate dome thermometer, which was off by about 50°F (most built-in thermometers are not accurate). Considering how important accurate temperatures are to good barbecue, use only modern, precise digital thermometers. Check out our searchable thermometer reviews.
Kamados require a barrier or "heat diffuser" between the fire and the cooking surface to prevent foods from burning when roasting and smoking over a long duration. Ceramic discs or water pans placed under the cooking grate are typically used to moderate direct heat from the fire below and create a less intense, indirect cooking environment. Click here to read about the importance of indirect cooking. Many kamado manufacturers sell these barriers as optional accessories. Kamander includes a drip pan assembly at no extra charge (see below).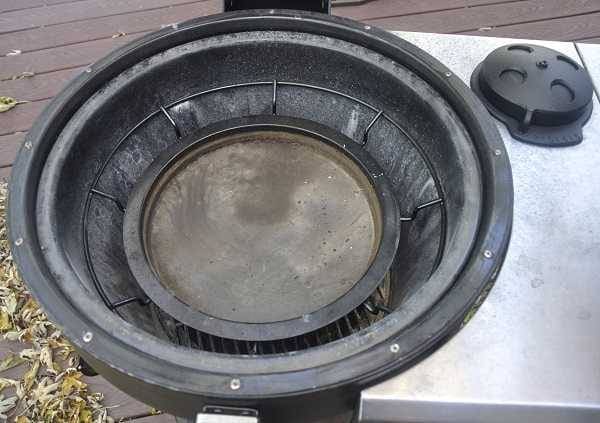 Searing
With a generous pile of blazing red hot charcoal, no drip pan and both vents wide open, Kamander will get extremely hot, blasting well past 800°F. Versatile as kamados are, most round models like Kamander cannot be set up for 2-zone cooking with a hot zone and moderate zone used simultaneously side by side. Therefore, Kamander is best suited for searing foods that cook quickly and don't need to linger over moderate heat. For example, thin steaks, burgers, shrimp and veggies.
A removable section of the 20" diameter, porcelain coated, cast iron cooking grate enables you to easily replenish charcoal as needed (see below). Obviously this is more difficult when the drip pan is in place. The pictured grate lifter is included.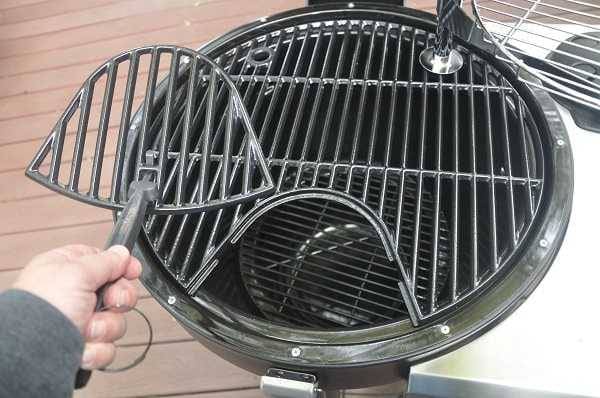 Also included, a 12' diameter, chrome plated steel, removable, swing out secondary cook surface/warming rack.
Kamander rests in a three legged cart with a stainless steel, fold-down side shelf with integrated tool hooks. The lid has a single strip of lightweight oven insulation and clamps shut so Kamander can be moved about using the lid handle. There are large plastic wheels on the back two legs, but nothing on the front leg, making movement difficult because Kamander is rather heavy and it's strenuous keeping that front, wheeless leg in the air. The front leg could really use a locking caster.
Packaging was excellent with custom molded foam to hold all parts in place and prevent damage, but the grill came with a promo sticker on the side shelf that was nearly impossible to remove (see below). It took painstaking effort with a plastic scraper, paint thinner and plenty of elbow grease to get that gunk off without damaging the stainless steel. What happened to Char-Broil's promise to remove consumer pain points?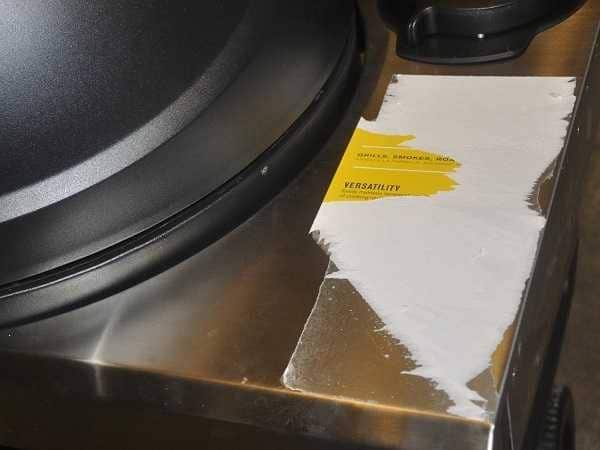 Be that as it may, Char-Broil's Kamander delivers a solid kamado cooking experience at a price way below most other brands. The warranty on this starter model is one year against "perforation, manufacturing, and material defects only".
We thank Char-Broil for providing a Kamander for our tests.