Primo's Oval XL 400 is their largest model. Kamado owners accustomed to the popular large round designs will be in awe of Oval XL's expansive cook surface which is similar in size and shape to a three burner gas grill (shown below compared to an 18″ round kamado).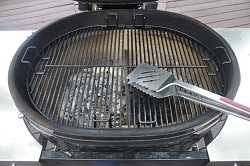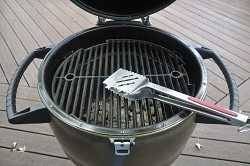 Round XLs, (Extra Large), are available from other manufacturers, but Primo's claim to fame is the unique oval shape which enables true 2-zone cooking: something that round designs really can't accomplish. With 2-zones operating simultaneously, you can slide foods from a cool to hot side for crisping chicken and reverse searing steaks. To further isolate the zones, Primo offers an optional cast iron firebox divider. We tried aftermarket devices like this for round ceramics, but they cut the already smallish 18.5"diameter in half and once the ceramic got hot, the 2-zones evened out and the difference between them became inconsequential. Not so with the Oval XL, the divider makes a good thing even better.
Primo's porcelain coated steel, reversible cooking grates have a clever design that augments the already effective zone separation. They are two sided. One side places the cooking surface up high and flush with the felt insulation, flip it over and the surface drops down 2" closer to the coal.
A powerful spring-loaded lid hinge makes lifting the heavy dome easy and thick felt upper and lower gaskets seal the two halves. The built-in heat indicator gives a vague idea of the temperature in the dome, not the grate where the food is. As always, we suggest getting your own, accurate digital thermometer.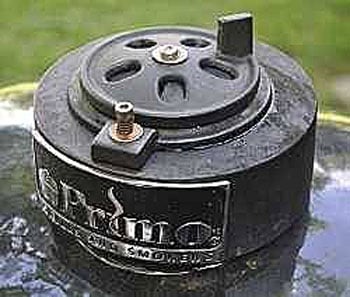 The dome is large enough to accommodate a 30 lb. turkey. The cast iron top damper is a large disc which pivots on a spring loaded Allen screw for rough adjustments and a daisy wheel with five small slits for subtle air control. The Allen screw is meant to hold the damper in your set position and prevent it from flopping open when you lift the lid. The damper still moves unless you open the lid very carefully. It's better than nothing, but could be improved. The lower intake vent is a precision fitted stainless steel left-to-right slide allowing fingertip air control.
The Allen screw and spring developed rust within a short time. Primo tells us they just replaced this with stainless steel components to address the issue. There were two small screws on the bottom that also rusted quickly. We're told these have been replaced with anodized parts. We generally like grill covers for protection although they tend to trap moisture. Primo's custom fit cover seems to trap more moisture than most, possibly accelerating rust and promoting mold inside the cooker. We ultimately stopped using it.
All kamados are heavily insulated and make excellent outdoor smoker/ovens in hot or cold environments. They smoke, roast, bake and sear beautifully, and produce moist, juicy foods because they need very little air flow at lower temps and the ceramic retains humidity. While every manufacturer claims their products are the best, we put Primo at the top of the list because they make the only kamados in this price range that can provide 2-zones simultaneously and 2-zone capability is essential to outdoor cooking.
It is important to start the coal correctly
First – NEVER use lighter fluid. The ceramic interior is porous and will absorb chemical aroma and make your food taste nasty. Various options for starting coal are available: chimneys, electric starters and torches. We prefer fire starters, such as paraffin cubes or pulverized wood chunks. Just light these little fire starters and bury them in the coal. Primo's fun and effective QuickLights are big pulverized wood matches. Strike them against the box and they burst into flame like a flare.
Next – We're accustomed to letting our charcoal grills get red hot and develop a nice fire bed before slapping on the lid and adjusting the vents. Do this with a kamado and you'll quickly be at six to seven hundred degrees. If you intended to cook at lower temps you'll have to wait for hours before the dang thing cools down because once ceramic gets hot, it stays hot. Whatever you do, don't overshoot your target temp. Once you nail it, it will stay nailed for a long time. We filled the XL firebox with a full load, settled in at 225° and it ran for THREE DAYS!
Low and slow cooking at 225° F
Whatever method you choose to start coal for low and slow BBQ smoking and roasting at 225°, you only want to ignite a fist size cluster, then quickly close the lid and shut down both dampers almost all the way. We shut the top damper and opened the daisy wheel vents just a hair: about 1/8". Ditto for the bottom damper, just a tiny slit opening. Once you get within 100° of your target, around 125°, shut the dampers down even more if necessary. Oval XL tends to heat up quicker than other kamados, (Primo attributes this to airflow design characteristics), all the more reason to proceed with caution. Don't be impatient if the temp is moving up slowly – that's a good thing.  Better to wait fifteen minutes for Primo to heat up than hours to cool down. The above holds true whether setting up coal on one side for 2-zone or using a full load.
Don't forget the wood chunks if you want smoke. Position them loosely and be sure to put a few near your red hot starter coals to make adequate smoke at the outset. Primo offers an optional heat deflector system that consists of two "D" shaped ceramic plates resting below the grill surface on Heat Deflector/Drip Pan Racks. The Deflector Racks can also hold drip pans to catch drippings for gravy or facilitate clean up. You generally don't need water pans with ceramics, but a little water to keep drippings from burning won't hurt. Simply placing foil over the deflector plates at low temp also makes clean up easier.
Gunk can accumulate inside the upper damper after a couple low and slow cooking sessions. Wipe it off with a paper towel while the grill is still warm because it can drip down onto your cook surface and food. If you alternate low and high heat cooks, this won't be much of an issue.
Install the Deflector Plates and set the two primary cooking grates in the high position.
When cooking at 225° over the whole cook surface do not use a 2-zone set-up. The deflectors will create excellent indirect heat. Ignite a full load of coal by starting the fire in the middle of the firebox. Only use the Firebox Divider when 2-zones are needed, such as with steaks and burgers, or for smaller capacity cooks where one side will do. Adding optional extender racks increases capacity and can further provide different heat zones. In fact, Primo claims over 70 different cooking configurations are possible and many owners become adept at creating and effectively using several different zones to execute entire meals of meats, vegetables, beans and breads at once. Round kamados can also create different zones by vertically positioning grates closer to and farther from the coal. Primo's horizontal zones add a third dimension.
Mid-range cooking at 325° F
Much of the above applies here as well. Take care to start the coal properly and get your temperature right. Set the cooking grates in the low position without the Deflector Plates. At this moderate temperature, chicken, turkey and roasts brown beautifully.
Searing 2-zone for thick steaks
When making thick steaks, use our reverse sear method and set up 2-zones, cooking low and slow at first, then searing hot and fast. Click here for detailed instructions.
Pile the coal high on the left side where the lower damper opening is located. We found the left side gets hotter faster for the searing phase, but to get started use the low and slow method described above. The deflector plate is not necessary, just be sure to get the right, indirect side in the 225° range. Set the cooking grate on the hot direct side in the low position and the indirect side in the high position. Cook the steaks slowly on the indirect side to an internal temp of about 115°. Remove and set aside.
Open the lid and dampers. The coal will get red hot pretty quick. If you want to speed things up, get a BBQ Dragon: a battery powered clip on fan that creates a screaming hot fire in no time. Once you let a kamado off the leash it can turn into an insanely hot blazing inferno, and that is exactly what you now want. Sear the steaks, flipping often to obtain an even brown crust. In the low position, Primo's two sided grates are upside down and a steel structural rod runs through the middle. If possible avoid cooking on this rod as it will brand a long thin sear stripe on the meat surface. Cook to desired doneness, checking often with a digital instant read thermometer. We recommend Chef's Temp of 130° to 135°.
Searing thin meats hot and fast
No more cooling your heels while watching a thermometer climb slowly to the target temperature. You can use the entire cook surface, but we strongly recommend 2-zones as Primo's searing heat is intense and a safe haven away from the blast will likely be welcome. In this scenario: coal on the left, pop a couple fire starters in because now you want a red hot bed ASAP, grate down in the low position over the coal and up in the high position on the indirect side. This set up is great for thin meats like flank steak and burgers. Flip them often to get an even brown finish and use the safe indirect zone as needed.
Our test model was provided by Primo along with their popular cart with stainless steel side tables. Packaging was excellent. The cart needed to be put together, but the Oval XL was ready to go out of the box, only requiring the handle to be screwed in place. Set up came to an abrupt halt, however, when we tried to lift the XL into the assembled cart. It weighed a ton and even with all internal parts removed, was almost too much for two people to lift up, clear the 31" height of the cart table top and drop down into the tight space where it would rest on a middle shelf. Somehow we got it in place, only then to realize it would have been easier to just assemble the bottom of the cart, place the rectangular table top on the ground, slide the XL in the middle with protective towels, then lift it about 18" onto the middle shelf.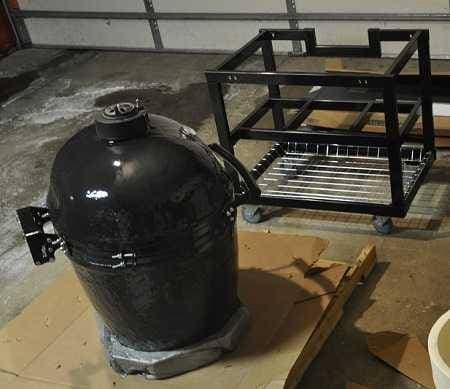 Kamado companies and third party manufacturers offer a slew of extras and costs can really add up. At least with Primo you don't have to spend big bucks on a vain attempt to split the cook surface into direct and indirect zones, or drop it down closer to the coal. Round kamado owners chasing this dream would be better off just buying a small weber kettle or hibachi for a hot zone to complement their ceramic oven.
In addition to the divider, deflectors and extender grates, Primo offers baking stones, rib racks, chicken sitters and more. Several configurations of beautiful, unfinished teak and cypress wood tables are available as are various carts. Movable ceramic feet come with all wood tables and may be purchased as an option if you just want to elevate the hot ceramic a few inches above your deck or patio.
Primo is the only kamado substantially made in the USA and displays an excellent example of American workmanship. Built to last many years, the ceramics come with a Limited Lifetime Warranty plus a 20-Year Guarantee and the metal has a 5-year warranty, excluding cast iron parts which carry a1 year warranty. 30 Days on the thermometer and felt gaskets. The Primo website has a user forum where owners can solve problems and exchange ideas. Our posted MSRP is for the Oval XL. The cart pictured above is around $560 extra.