Camp Chef's Woodwind Pellet Smoker is a quality smoker and super searing grill wrapped up in one. Though often referred to as pellet grills, most are smokers with limited grilling capability at best. In 2017 Camp Chef introduced their optional LP gas Sear Box which can be added onto all of their current SmokePro Pellet Smokers.
Woodwind is a package deal that comes standard with the Sear Box and sells for about $50 less than a SmokePro with the optional Sear Box. Woodwind also has heavier legs than Smoke Pro models, a lower storage shelf and a stainless steel lid and firepot. Additionally, the integrated meat probe port is located higher in the smoke chamber so the probe wire doesn't get as hot enabling it to last longer. Going forward, Camp Chef intends to make the meat probe port location and stainless steel firepots standard on all models. Otherwise Woodwind is identical to their popular Smoke Pro DLX, which we tested and awarded our AmazingRibs.com Best Value Gold Medal. Scroll down for our review of the Camp Chef SmokePro DLX.
Camp Chef made a great Woodwind video that is entertaining and informative, particularly for those who are thinking about joining the pellet smoker revolution. The video is fun, flashy and factual – you really can smoke, bake and grill anything on Woodwind effortlessly. If you already have a grill capable of high temp searing, Woodwind is available without the Sear Box for about $200 less than our posted MSRP below.
Here is our review of the SmokePro DLX
This mid-sized pellet smoker is comparable in capacity to Traeger's popular Lil' Tex Elite, but much more sophisticated and easy to find for well below its list price. It's one of the few pellet smokers we've seen with an ash removal system. Although pellets don't create much ash, they need regular cleaning, which is a pain on most other designs because the greasy grates and drip pan must be removed to get at the fire pot where the pellets burn. Camp Chef's solution is a "trap door" under the fire pot. The bottom slides back letting ash drop into a removable cup, shown below.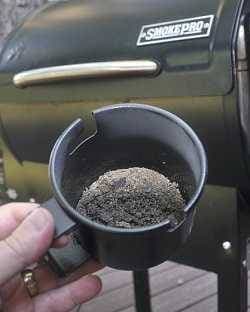 You still have to clean out the bottom of the smoke box periodically, but you don't have to worry about a clogged firepot that could impair the smoker's performance.
Dual display controller with integrated meat probe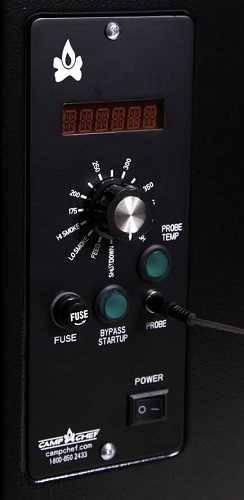 The souped up Ortech style, notched dial controller not only provides thermostatic, set it and forget it cooking, but also has a dual LED readout that toggles between your set cooking temp and internal meat temp monitored by a stainless steel meat probe included with the unit. In addition to notched temp settings of 175F to 400F degrees, the controller has "Shutdown", "Feed", "High", "Lo Smoke", and "Hi Smoke" options. Our temperature tests indicated Lo Smoke temp is about 175 and Hi Smoke about 210. So what's the big difference between 175 and lo smoke, and 225 and hi smoke? Camp Chef says there are slight differences in the settings, mostly in the auger timing. In the 2 smoke settings the auger allows pellets to smolder more than burn.
Temperature was very even from left to right with actual temps staying very close to set temps. Cranked all the way to high DLX ran about 480° F. The included meat probe is a great convenience you'll get accustomed to right away. Once smoking began, we just set the controller display to the meat probe and observed progress through the kitchen window.
SmokePro BBQ Sear Box
Most pellet smokers aren't so good at searing. Once again the clever folks at Camp Chef address this pellet predicament with an optional LP gas sear burner that can be added onto current Camp Chef SmokePro pellet grills by removing the right side shelf and using the existing hardware to mount the burner. This baby gets HOT! The 16,000 BTU burner range is 480° F Low to 900° F High – fantastic for reverse seared steaks. Cook the steaks low and slow in the smoker at 225° F until the meat probe signals the internal temp is about 110° F, then slap them onto the sear box to finish. Flip like you've never flipped before and don't walk away because it won't be there long before a beautiful brown crust forms and the interior meat climbs to the delicious Chef's Temp range of 130° to 135° F. If you have a grill that hits high searing temps, this option that runs a couple hundred bucks is unnecessary, but if you don't – Click here to get your crazy hot Sear Box!
Pellet hopper drain chute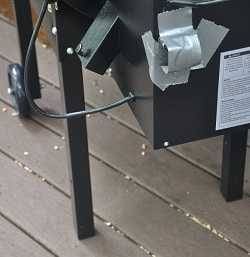 The hopper is equipped with a drain to empty pellets if the grill will be stored for a long time or to change to a different wood. The drain chute is identical to the grease drain chute on the opposite side and one can hang a bucket on the chute to catch the pellets. The chute is opened via a pull out knob. Although there is a sliding vertical tab to hold the knob in place it cannot be effectively locked and easily popped open every time we removed the cover, sending pellets all over the deck. The problem was exacerbated by the tight fitting cover which was not designed to accommodate the large Sear Box. We ended up taping the knob shut.
The main cooking grate is rolled steel coated with enamel. The upper rack, drip pan and heat deflector are made of long lasting stainless steel. There is a 20 pound capacity hopper.
Packaging is excellent with all parts held firmly in molded foam inserts. It comes almost fully assembled. All you need to do is attach the legs, side shelf, chimney and lid handle – no wiring required.
Three year warranty.