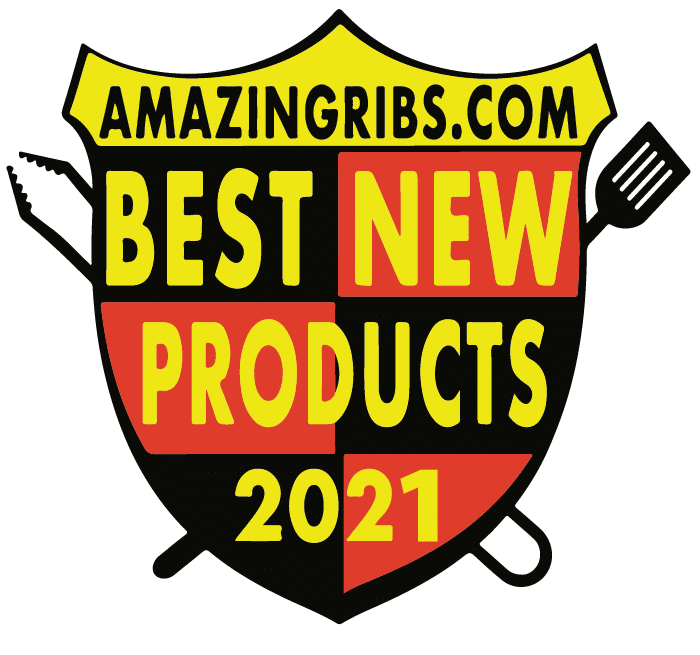 The Z Grills 450B is part of their Basic Series and, true to the name, it is a straightforward, no frills, mid-size pellet smoker without extras like WiFi, integrated meat probes or tool hooks. One upgrade from the previous 450A version is the modern PID controller. Keep reading to learn why more pellet grill manufacturers are using PID controllers.
This smoker's body is coated steel, 43 inches long x 24 inches wide x 47 inches high. The thin metal construction gives the 450B an assembled weight of 75 pounds. That's pretty light for a smoker of this size. Two porcelain coated steel rod racks are included.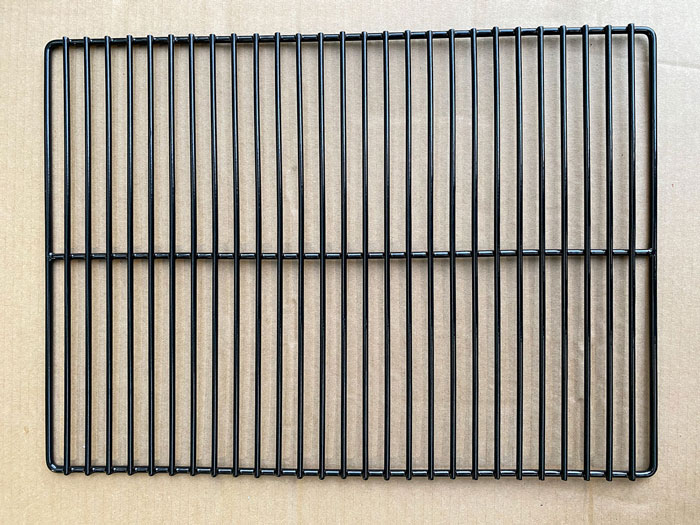 This photo shows the main 21.4 x 15.5 inch cooking rack. A top rack which slides into brackets above the main cook surface is 22.6 inches X 5.6 inches.
450B rolls around on four legs with two locking casters on the left and two wheels on the right. The swivel casters are galvanized aluminum, while the stationary wheels are hard plastic. The stationary wheels had a slight wobble on my unit, but it wasn't an issue for simply moving Z across the deck.
Instead of a flat drip plate under the cooking grates, 450B has a curved plate. I like to cover drip plates with a sheet of foil to make clean up easier.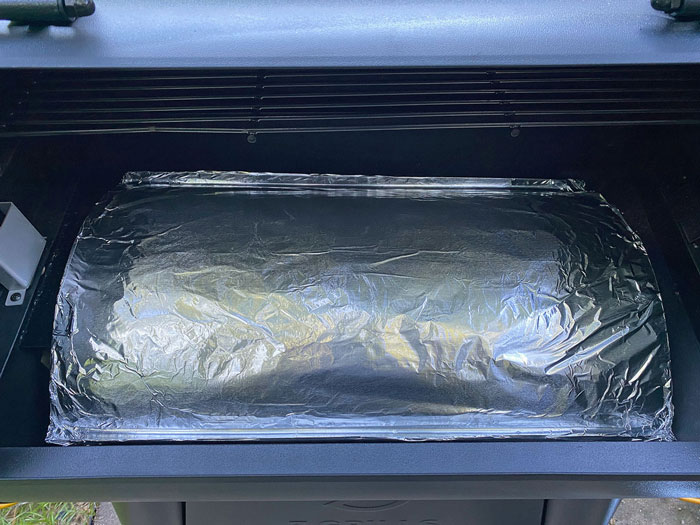 Just peel off the gunky foil when done!
Like what you're reading? Click here to get Smoke Signals, our free monthly email that tells you about new articles, recipes, product reviews, science, myth-busting, and more. Be Amazing!
A 15 pound capacity pellet hopper is equipped with a pellet clean out door on the side to easily change pellets to suit your wood preference taste or empty the hopper for storage.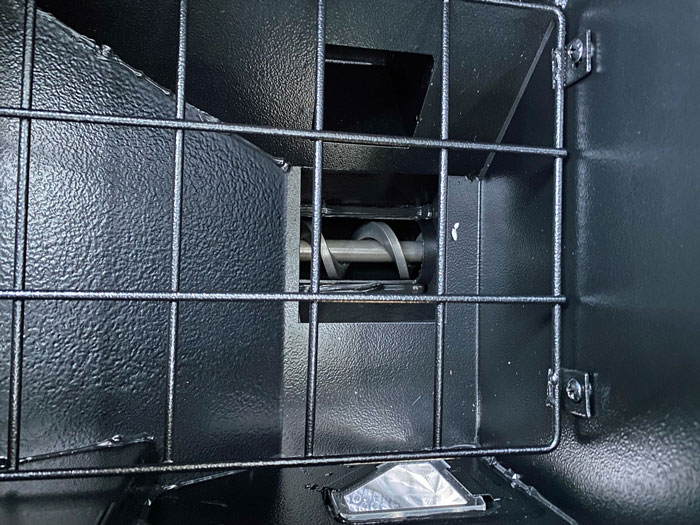 There is also a screen to keep your fingers away from the auger chute and a small glass window on the front to show how much fuel is in the hopper.
PID Controller
The temperature range is 180°F to 450°F.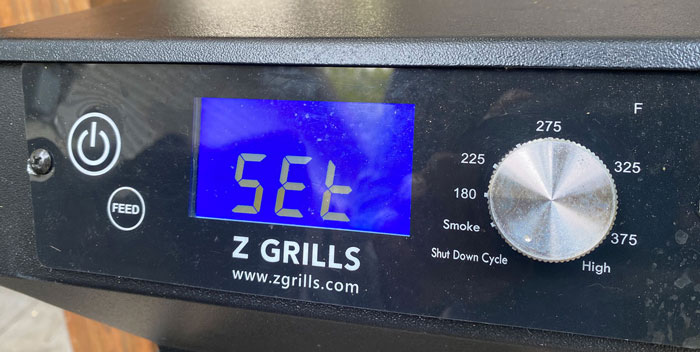 PID controllers are designed to reduce temperature swings when the pellet fuel feed switches on and off to maintain your set temp. They continuously monitor and quickly respond to temperature fluctuations around your desired setting. Otherwise, 450B's controller interface is pretty bare bones. The "Feed" button overrides the controller and keeps the auger on to supply the fire pot with a steady stream of wood pellets. This is useful if you want to quickly goose temps or clear out the auger for long term storage. The "Smoke" setting slows down the pellet feed to drop temp and allow the wood pellets to smolder and create more smoke. "Shut Down Cycle" safely shuts the system down to eliminate subsequent potential start up problems. It works by stopping the flow of pellets while the fan continues to run and the red hot ignitor rod burns up the remaining pellets in the firepot before automatically shutting off.
For the initial burn off before cooking, the Owner's Manual instructs you to start the unit on "Smoke". After ten minutes, turn it to the "High" setting. I ran the unit on "High" for 45 mins to burn off dust and factory oil, then switched to the "Shutdown Cycle". Shutdown took about 15 minutes.
Up your game: Join our Pitmaster Club. Try it out for free for 30 days. No credit card is needed. No spam. Join now and Be Amazing!
Low and slow smoking
Time to cook! My first test was a couple nice sized pork shoulders. I loaded the pellet hopper all the way up with Z Grills brand hickory wood pellets that came with the unit, then set the temp to 250°F and used my Fireboard 6 Channel Digital thermometer to monitor the cooking temp and meat temp. It took about 20 minutes for the unit to reach 250°F.
Once I added the meat, the cooking temperature never made it back up to 250°F. According to my FireBoard thermometer, 450B ran at about 225°F-240°F for the whole cook. With almost 14 lbs of meat in the relatively small cooking chamber, it was not a huge surprise that the internal temperature of the grill would drop. But 14 lbs isn't all that much. This thermostatically controlled smoker should be able to recover and maintain a set temp of 250°F even with a heavier load of meat in the cooking chamber.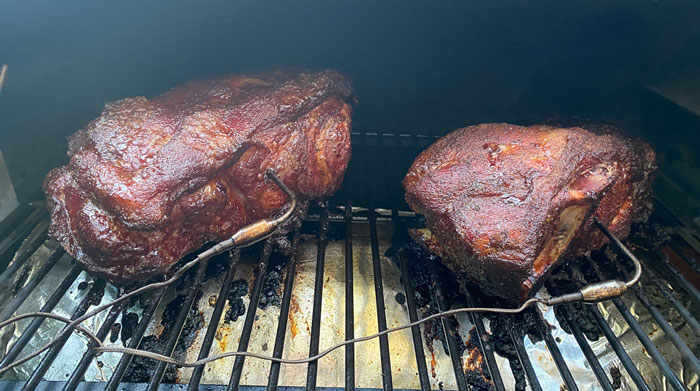 It ended up not being an issue. Z did just fine cooking at 225°F-240°F. Once I added the meat, I shut the lid and let it cook all night. I did not have to touch the smoker at all. The cook went about 12.5 hours before the shoulders reached my internal meat temp goal of 203°F. I did not have any problems with the feeder, pellets or a flame out. I was pretty impressed with the first cook.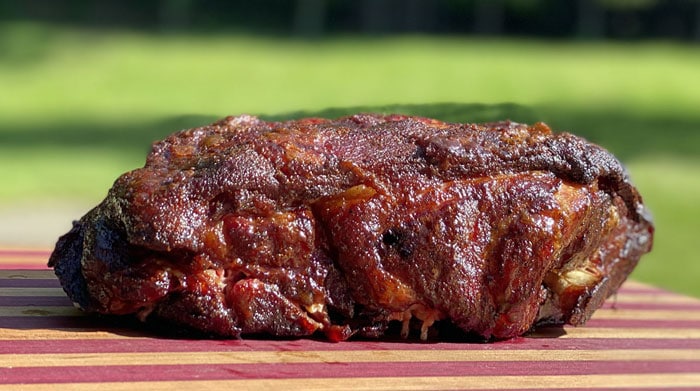 The pork was tender and juicy with a nice, even brown bark. The smoke flavor was light, but satisfactory, which is the case with most pellet smokers. Click here for our Easy, Authentic Pulled Pork Recipe.
Next up was St. Louis Cut Pork Ribs. More pork! I set the 450B for 225°F and started smokin'. One slab left plenty of room on both sides to clip two Fireboard temperature probes and monitor the actual temperature from left to right. The temperature difference was pretty substantial, running from 200°F on the left to 300°F on the right. This surprised me because the two shoulders in my previous cook finished at the same time and came out great.
Even though I placed my big full slab of St. Louie Ribs lengthwise from side to side and the temps ranged by 100° left to right…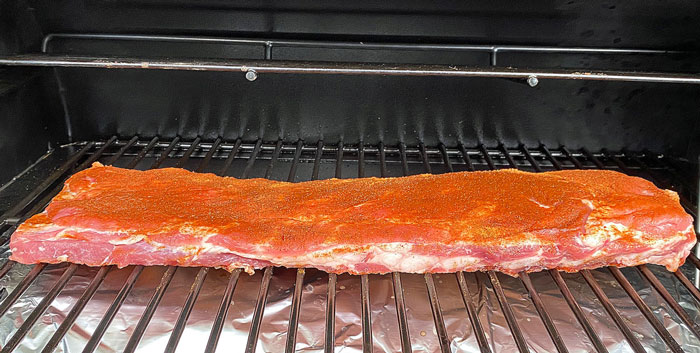 It finished just fine, and the 450B produced a good product in the end. I was happy with the color and overall taste of the ribs. I spritzed the ribs for the first few hours to help the edges stay moist and to help the smoke adhere to the meat surface. They finished with a solid smoke ring and smoke flavor that was light, but tasty. The total cook time was about five hours from start to finish. This is right in line with the set temperature of 225°F.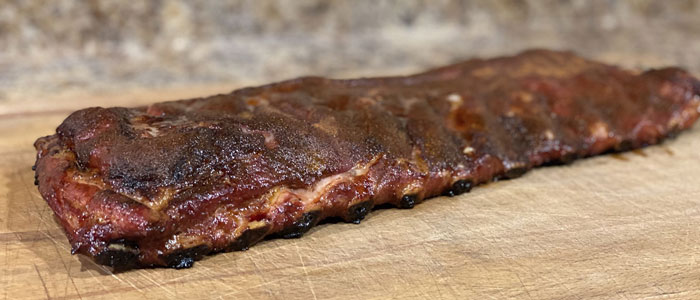 Click here for Meathead's Famous Last Meal Ribs Recipe.
Hungry for more ribs recipes, tips, and techniques? Click here to download our ebook "Amazing Ribs Made Easy" $3.99 on Amazon (free Kindle app runs on all computers and devices). Or, get this book and others FREE as a member of the AmazingRibs.com Pitmaster Club. Click here to join.
More ribs? Why not! But enough pork. Time to bring on the beef with single cut beef ribs. For this cook I goosed the temp back up to 250°F. Beef ribs typically take a long time and this cook lasted nine hours. I got the same temp variance as with the other cooks but, again, it had no effect on the results. Perhaps the constant airflow from the internal controller fan made things cook evenly, despite the recorded temperature variations. I used the Z Grills Hickory Pellets for this cook, and they performed well. Again, I had no problems with the pellets bridging in the hopper or any other issues. The smoker was pretty much unattended for most of the nine hour cook time, one of the great advantages of pellet smokers.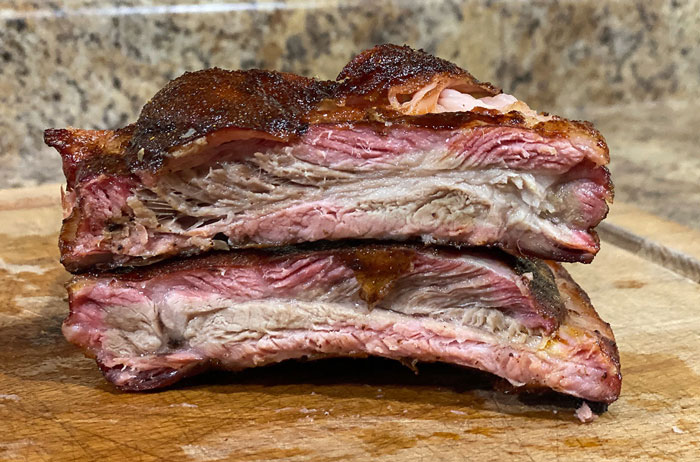 Click here to learn how they make Beef Ribs down in Texas.
Smoked Chicken
So far so good. To test the 450B at a higher temperature, I smoked a whole chicken at 400°F. I like to smoke my chickens at higher temps to ensure I get crispy skin.
Once again the actual cooking temperature varied by 100°F from the left to right side, but even with the temperature variances the cook went well. The chicken took about 45 minutes. I pulled the bird off the smoker when the legs hit an internal temperature of 185°F.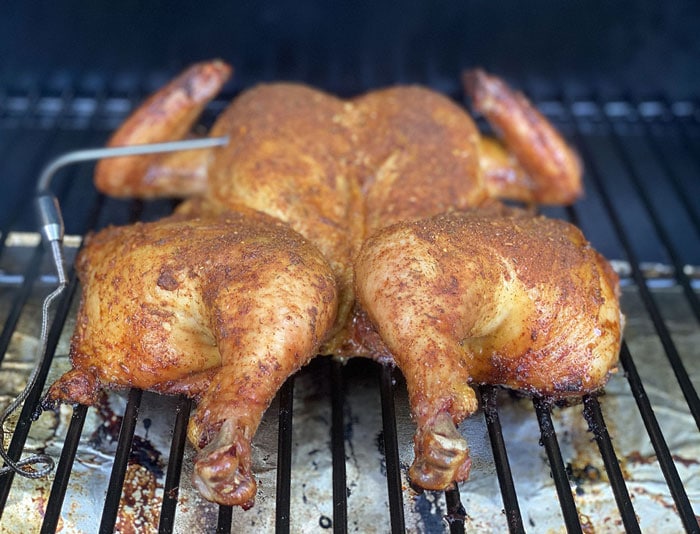 The meat was juicy and flavorful. The skin was good and crispy, which is exactly how I like it.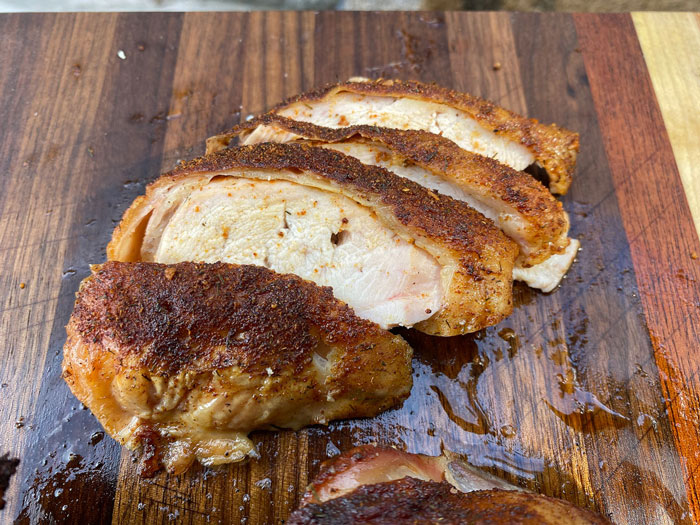 There was a very light smoke profile which is common when cooking at higher temperatures. A hot fire produces less smoke than one smoldering at lower temps. Looking for new chicken recipes? We got 'em. Click here to explore.
Is it a smoker or a grill or both?
It's a smoker. Z Grills stakes a claim, as do other pellet smoker manufacturers, that their cookers do it all, smoke, bake, braise, grill, sear — you name it. The fact is most pellet "grills" are actually ovens. They're like your indoor kitchen stove with smoke. You wouldn't cook a steak in your kitchen oven, right? Maybe you'd broil in there, but that's a different story. In the oven itself, you can do sausages and even some halfway decent everyday burgers, but ovens just don't generate the intense infrared heat needed to sizzle and sear. And 450B's top temperature of only 450°F is actually lower than most pellet burners that generally hit at least 500°F. So let's call it a pellet smoker, okay?
Packaging and assembly
The Z Grills 450B was packaged well in a large box. Custom formed styrofoam kept everything secure and undamaged upon arrival. Each component was individually wrapped in plastic to protect it from scratches. Some tools were included to assemble the grill. All hardware was clearly marked and no parts were missing. The directions were easy to follow and assembly took about an hour. Be careful not to over tighten anything because the fasteners are lightweight and could break or get stripped. Z Grills makes sure to point this out in the directions.
Conclusion
This generic model looks like many other value priced pellet smokers and has similar features and performance. It competes with lower priced models from Camp Chef and Pit Boss and is worth a look if you're on a tight budget. Look for deals on the 450B. Seems like Z Grills often throws in extras. Our 450B was being sold on their website at a hefty discount, bundled with two 20 pound bags of their pellets and a high quality cover.
Big box retailers like Home Depot and Lowe's appear to be selling a lot of Z Grills and thousands of online reviews from buyers are in the five star range. We dislike the lightweight construction — you may want to pick up a thermal blanket if you smoke in cold weather — but 450B consistently produced great results in moderate weather conditions. We award Z Grills 450B our AmazingRibs.com Best value Silver Medal.
Warranty
Warranty is 3 years against all defects in materials and workmanship.
We thank Z Grills for providing a 450B for our tests.