If you're seeking a well made, heavy duty cooler then Grizzly coolers are a good option.
Other than the Coleman reviewed here, the Grizzly 40-quart cooler is the least expensive cooler we tested. It uses a freezer-grade gasket to seal the cooler, is rotationally molded, employs a dual handle system of a rope/rubber/nylon-sleeved handle as well as molded.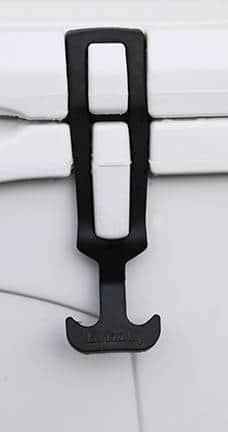 The Grizzly cooler features heavy duty handles, has molded lock eyelets, non-slip and non-marking rubber feet so the unit won't slide, multiple tie-down points, a large leak-proof drain spigot, and a molded-in hinge. It is IGBC (Interagency Grizzly Bear Committee) certified against destruction by grizzly bears.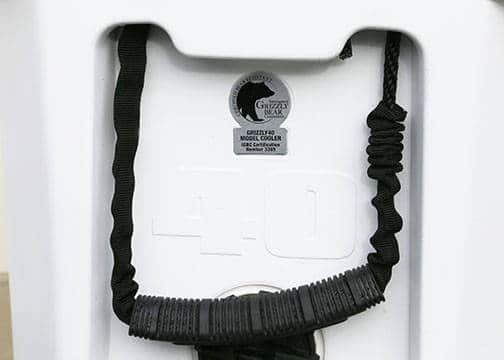 Test Details:
Ice retention. All ice gone in 7.5 days.
Heat retention. Ham temperature dropped to 145˚F in 2.85 hrs.
Leakage/Dropped Damage. No leakage, suffered minor abrasions on two corners and the lid.
Hinges, latches and lid. The Grizzly Bearclaw™ latches can be difficult for small or older individuals to pull down enough to open and close the lid. Has a molded hinge with two stainless steel pins.
Drain efficiency and speed. Drained in :57 seconds with no residual water. Drain plug has no attaching lanyard and could be misplaced.
Handles. Molded and poly cord. Caution: rope handles are tied to the cooler with knots through eyelets and are easy to replace but could release if the knots come loose while the cooler is being carried.
Dimensions. 24.25"L x 16"W x 15.5"H
Weight. 24 lbs.
Extras. Two tie-down slots
Warranty. Limited lifetime warranty.
Cost. Approx. $225 to $250
Country of origin. Decora, IA, USA