The next time you hear a charcoal snob say gas is for wimps, the proper rejoinder is "Charcoal is for wimps. Real pitmasters cook with wood logs."
Long before charcoal, early hominids lit logs and tossed the meat into the inferno where it promptly turned black. They soon learned that holding the food above the fire (direct heat) or to the side of the fire (indirect heat) made it taste better than burning it to a crisp in the fire.
Eventually four solutions evolved: Open pits, ovens, closed pits, and portable pits.
Open pits. As the centuries marched, cooks evolved their methods by digging holes, throwing in logs and setting them on fire, laying a grid of sticks across the pit, and placing the meat well above the intense heat. This "open pit" method had the advantage of slowly roasting the meat, with the added benefit of smoke, which improved flavor and preserved the meat.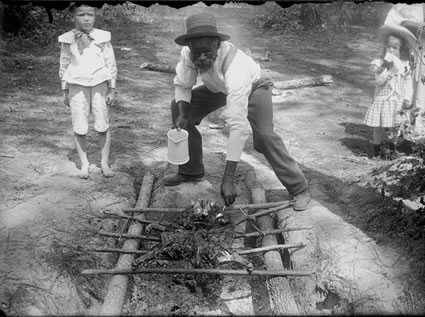 Ovens. Archaeologists have uncovered shallow caves that were used as ovens by early homonids. Eventually they built wood fired ovens from stone, clay, and brick. Some had an opening in the front, like a pizza oven, and others were fired up and sealed so the wood used all the oxygen and the walls were so hot that they continued to radiate heat for hours.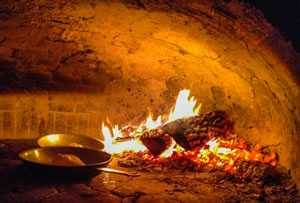 Closed pits. The problem with open pits was that the meat cooked only on one side, so it needed constant turning, and it used a lot of wood. Covering the pits solved the problem, bathing the meat on all sides with convection airflow.
Portable pits. In the 1970s, oil workers in Texas started building tubular portable pits from steel pipe sections, large propane tanks, and oil drums and hauling them from job site to job site on trailers. With the addition of a damper on one end and a chimney on the other, cooks could regulate temperature and smoke by controlling airflow. Eventually they built them with a firebox welded to the side to keep the burning logs isolated from the food.
In the late 20th century charcoal became the fuel of choice because it was faster and it allowed the pitmaster better control of temp and flavor, but cooking with logs remained beloved by a small number of artisans. It is hard to control heat and smoke with logs. There is a reason why they call them "pitmasters". Beginners should not try to smoke meats with logs. But if you have mastered smoke roasting with charcoal (not gas or pellets), you may be ready to go back to your roots. Fun and flavor await the patient and practiced. There are two ways to approach "stickburning": Old-style with direct heat or modern with indirect heat.