Click Here For Our Reviews And Ratings Of Pizza Ovens
Since taking out a second mortgage for playthings is not a great retirement strategy, the good news is that finally there are some excellent wood ovens that are affordable.
Wood ovens do many things well, not the least of which is the creation of outstanding pizza. Hearth breads, roasted meats with a smoky perfume, roasted veggies, melted cheese wrapped in vine leaves, you name it. Almost anything you can cook in a conventional oven can be made better in a wood-burning oven, even baked desserts like crumbles, crisps, and betties. Low-and-slow overnight beans are among our favorite things!
Several companies sell small ovens for less than $1,500, and some, like the Italian made Pizza Party ovens, below, can be mounted onto carts. Click the link to read our review. We love it.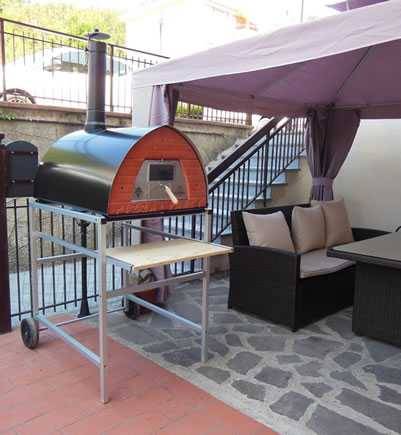 Pre-made large refractory kit inserts start just a hair below $3,000 and go up from there (some of them to astronomical levels) like this copper clad beauty.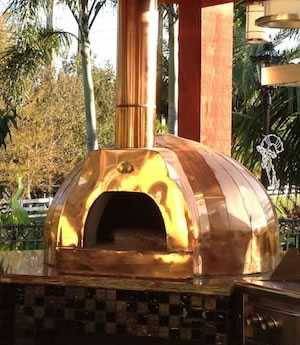 But be aware that's just the start. You'll need a sturdy base for this very heavy, dome-shaped assembly, which can be constructed from concrete block and clad in stucco, brick, or, if you are really feeling flush, stone. (Or, not as pretty, buy a purpose-made heavy-duty metal stand.)
The rounded top of the oven needs a layer of insulation (usually supplied) and a finish coat, which can match the base. Or not. Don't skimp on insulation: if the installation instructions suggest using a shielding material used in the space shuttle (mine did), do it!
You can also build a square housing for the beehive, in which case only you will know at first glance that there's a dome inside. Most companies that sell the refractory concrete dome kits are falling over themselves to instruct you in how to assemble your oven, even to always-available human help hotlines, but be sure you read the fine print five or six times before you rent a mobile mortar mixer. Height and depth of the lip in front of the oven door are crucial ergonomic decisions that require deep thinking. You'll be kicking yourself for years if you set the door height near your waist. Imagine having to bend forward from the waist in order to shove pizzas around, turn poultry, retrieve heavy braising pans, etc. For most people, midway between shoulder and elbow is the right height.
Be aware that building the fire to optimum temperature to make pizza, give or take 700°F, will take two to three hours (longer, if you use the oven only infrequently), and you will burn through a fair amount of wood. It would be a waste of resources to fire up the oven just for pizza, however, so plan on fully utilizing it from first heat (the aforementioned melty cheese, amazingly wonderful wood-roasted olives) through incendiary heat (pizzas and flatbreads; big ole steaks), and on to the waning heat phase (desserts, beans, fibrous cuts of meat like brisket and pork shoulder).
If you feel like channeling your inner peasant, let your neighbors know the oven will be firing, and invite them to bring over loaves of ready-to-bake bread, a big heavy pot of short-ribs, or a fruity dessert. Let them contribute some nice, seasoned firewood, and you have the beginnings of a nice local barter economy.
As with other wood burning cooking systems, you need only well-seasoned hardwood. Manufacturers tell you to not use charcoal. Make sure zoning permits your oven before you buy it. The chimney needs periodical cleaning to remove creosote buildup.
Rob Baas, a regular fan of this site, sent this slide show of the construction of his oven. "It definitely cost more than we planned" he says.
How pizza ovens work
The classic pizza oven shape, sometimes called an igloo, has an arched front opening and an igloo-like dome. The shape serves a vital function.
The best designs have a vent just above the front opening to draw the heat and smoke from the rear to the front and funnel it to a chimney. As hot air rises through the chimney it pulls more hot air up. The whole system creates a superheated "d" shaped convection flow inward from the lower front opening to the fire in the rear, upward along the dome ceiling, and before the smoke and heat spill out in the cook's face, it is captured by the vent and sucked outward and up the chimney. There is often a flue to control the updraft, and I've even seen one with a digital thermocouple thermometer probe built in.
To start mine, I pile some kindling in the center of the oven and stack some logs on it. Pizza Party supplies a helpful wire rack to hold the logs above the kindling. I either light it with a long handle lighter, Weber parafin cubes, or use an propane torch as shown here: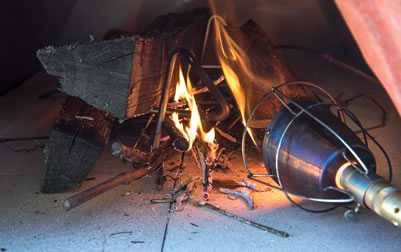 I then use a BBQ Dragon which is like a battery operated hairdryer with a long flexible handle and a sturdy clip. It really gets the logs moving in a hurry. Neither gadget is necessary, I use them because they are sure-fire and get things hot in a hurry.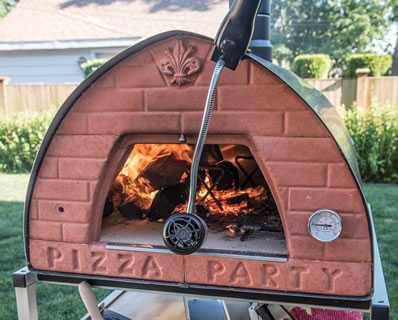 I then push the logs to either the side or the rear, close the front door, and wait til it reaches 600°F at least. When the oven is ready I take a 5′ length of aluminum pipe (electrical conduit) and blow the ashes to the back so they won't be under the dough. I then build the pie on a wooden peel and slide it in (click here to see my favorite pizza tools and click here for my pizza recipes and technique tips). This unit fits three 12″ pies easily.
I close the door for only about a minute. Then I use a metal peel to lift one edge and rotate the pie so I don't burn one side. Close the door for a minute, turn the pie, and check the color of the bottom. I look for some black splotches which are flavorful but don't taste like carbon. If the bottom is done and the top is not quite the way I like it, I lift the pie and hold it just below the ceiling where it is hot. A minute there and it is time to eat. Total elapsed time? 2 to 5 minutes. Even with raw meat.
The new small pizza ovens
In the past few years several manufacturers have introduces small pizza ovens. We have tested the Ooni 3, and Ooni Koda and do not recommend the pellet burning versions but gave the gas burners won our Gold Medal. Roccbox and Blackstone also make small stand-alone pizza ovens.
Kamados work great
A less expensive option is a kamado like the Big Green Egg. These are superb ovens for pizza and baking bread because they can get very hot (up to 800°F) but also deliver steady, consistent heat from the ceramic construction. Of course, kamados make fine smokers as well. Click here to read more about them. Or click here for detailed recipe explaining How to Make Kamado Grilled Sausage Pizza.
Pizza attachments for your grill
There are several accessories that can be attached to charcoal and gas grills. I have testing many. I am unimpressed. My advice is get a good stone, an infrared thermometer to read the stone's temp, and practice until you can get the air temp hot enough to cook the top, and the stone temp cool enough that it darkens, even chars, the crust, but doesn't burn it. For more, read my article pizza on your grill.
Oven and kit suppliers
We have a few pizza ovens in our searchable database of grills and smokers. Click here to see them. Here are some of the producers.
Do it yourself from scratch
Related articles
Other buying guides