Food seems to have a magnetic attraction to grill grates, and it is a shame that some of the wonderfully flavorful browned surfaces get left behind, stuck to the surface, when you go to turn it. Unfortunately, while scientists have invented many non-stick coatings, none of them can survive much above 450°F. Not much help to outdoor cooks.
Spotlight on our favorite products
Grilla Proves That Good Things Come In Small Packages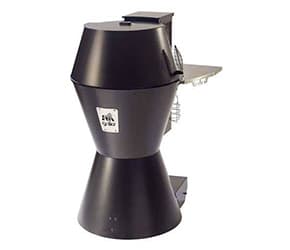 The small 31.5″ x 29.5″ footprint of the Grilla Pellet Smoker makes it ideal for use where BBQ space is limited, including on a condo patio. Click here for our review on this unique smoker.
– THIS IS NOT AN AD –
The greatest barbecue and grilling author of all time is Steven Raichlen, with at least nine books
and two PBS television series to his credit. He is usually right on the money, but occasionally I disagree. His famous catchphrase and signoff "Keep it hot, keep it clean, keep it lubricated" needs some rethinking as we seek a way to insure no burger is left behind.