As delicious as it is healthy, this recipe features perfectly seared salmon fillets nestled atop a fresh salad for the perfect light lunch or dinner.
It was a quick weekend getaway with my wife to Portland, OR. What a great city!
As luck would have it we stumbled into a wine and food festival on the streets near the wonderful Portland Art Museum. One vendor was preparing fresh Pacific salmon and serving it piping hot on a bed of chilled Romaine lettuce with shredded Parmigiano Reggiano cheese. Another was selling King Estate Pinot Gris. We bought them both. It was an unforgettable lunch in the park on a picnic table. So simple, so heavenly. I have duplicated the recipe, and even devised a few enhancements.
The concept is similar to when you buy pan roasted fish in a restaurant. It is much better than planking. In a restaurant the chef sears a fillet of fish in a thin layer of very hot oil in a frying pan until it is golden brown and crispy on both sides. But this is not usually enough to cook it throughout so she puts the pan in a hot oven for a few more minutes. The method is called pan roasting. You can do this at home, but, unless you have a really strong exhaust fan, there is a good chance you will fill the house with smoke and a strong fish smell that can take days to expunge. The solution: Do it on your grill! By grilling the salmon you avoid the fishy smell in the house, and you can sear and roast all at once. And it is so much better than cooking on a plank.
The first key to the plan is a well seasoned cast iron griddle or cast iron frying pan. I like the Lodge griddle linked above because it doesn't have grease grooves like most, so the oil stays on the flat surface. High heat is another key to this recipe, and cast iron is a great conductor and retainer of heat. If it has been used often, and has only been wiped clean and never cleaned with a scouring pad or strong detergent, it has a non-stick surface called seasoning. Because the flavors of fish can become embedded in seasoned cast iron, you may want to dedicate this griddle/pan to fish. Don't worry, you aren't being extravagant. You will use this recipe so often you can justify this single-tasker. If you don't have cast iron, a good sturdy frying pan will work.
The second key is good fish. Freshness is paramount. Fish can get pretty stinky pretty fast if they are not stored at ideal humidity and temp. Buy from a store that sells a lot of fish and from a fish monger who will tell you honestly how fresh it is. Develop a relationship. If it is really cheap, it is probably too old. The three things to look for: Clear eyes, red gills, and a briny but not fishy smell. The best method for storing fish is right on ice. And I don't mean in a pan on ice, or on plastic wrap on ice. The ice is wet, the pan is not. When you see a fishmonger storing the fish on ice, you see a merchant who is willing to throw out costly ice every night to insure you get the best.
Spotlight on our favorite products
Grilla Proves That Good Things Come In Small Packages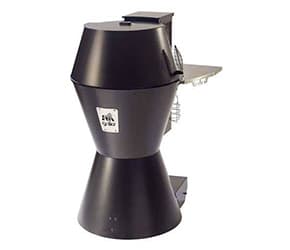 The small 31.5″ x 29.5″ footprint of the Grilla Pellet Smoker makes it ideal for use where BBQ space is limited, including on a condo patio. Click here for our review on this unique smoker.
– THIS IS NOT AN AD –
If it smells like fresh sea water, if it reminds you of a trip to the beach, you're good to go. If it has a strong fishy smell, that is caused by a chemical that forms when the fish is stored improperly or too long. You can often get rid of it by soaking it in milk for 30 minutes.
Farm raised salmon is common and cheap nowadays, and it can be darn tasty. I know you have heard that farm raising salmon is bad for the environment, but in the past few years fish farmers have significantly improved their methods and most environmentalists say the process is a lot more sustainable.
Because the fish eat a specially formulated feed they don't get the beautiful bright orange color of wild salmon, so often the processors add food coloring. By law this must be on the label. I have no problem with farm raised salmon, but I do have a problem with artificially colored salmon. There's probably nothing unhealthy about it, but the idea just ticks me off. Just sell me the fish!
But for taste and texture, nothing beats fresh line caught wild salmon in spring. The ne plus ultra is Copper River Salmon from Alaska. Be prepared to fork over at least $15/pound and as much as $30. But if you cook it this way, you will not regret the expense.
An ordinary salad is made extraordinary thanks to the addition of perfected seared fresh salmon.
Serve with: a tart white wine such as an Oregon Sauvignon Blanc or Pinot Gris.
---
---
Makes:
---
Takes:
---
Notes:
About the fish. Use filets, not steaks. Steaks are usually too thick for this procedure. It's nice to get the skin off before you start if you can so you can get the fish crispy on both sides. Have your butcher remove the skin if possible or you can try to remove it yourself with a flexible filleting knife, a very sharp thin flexible blade. It is tricky, and if you do not feel confident you can do it without wasting a lot of fish meat, leave the skin on. If you wish, you can leave the skin on and remove it after cooking, it will peel off easily. If you like fish skin, leave it on and you will be treated to some of the most wonderful crunchy fish cracklin's ever. You might want to slash the skin with long cuts in a few places because the skin on some fish, like perch, contracts and can turn a nice thin filet into a tube. You can do this with any other thick firm fish filet such as halibut, trout, coho, arctic char, haddock, bass, and sea bass. The absolute most important thing in successful fish cookery is freshness.
About the rub. Marietta's Fish Rub is perfect for this recipe but I have also had fun varying the seasoning on the fish. Occasionally I have used dried chipotle powder, dried horseradish, breadcrumbs, dried minced onions, dill, thyme, and other green herbs. Use whatever moves you, but do not use garlic (it gets bitter when subjected to high heat and browning).
About the cheese. I have also done this with grated provolone or even Romano.
About the salt. Remember, Morton coarse kosher salt is half the concentration of table salt so if you use table salt, use half as much. Click here to read more about salt and how it works.
Metric conversion:
These recipes were created in US Customary measurements and the conversion to metric is being done by calculations. They should be accurate, but it is possible there could be an error. If you find one, please let us know in the comments at the bottom of the page
Method
Prep. Chop the greens. Shred the cheese. Sprinkle the meat side of the fish with a moderate amount of salt, black pepper, paprika, and tarragon. The paprika is mostly for color.

Prepare the salad by filling two bowls with the Romaine. You can use other greens and veggies, but in Portland it was just plain Jane Romaine, and that's the way I like it too. Pour the dressing on the lettuce, scatter with the olives, (and chopped tomatoes if you wish), and top with the shredded parmesan.

Fire up. Heat the grill as hot as she'll go. Put a cast iron frying frying pan or griddle on the grill until it is as hot as Hades. Pour enough extra virgin olive oil to coat it well (these oils don't smoke as easily as most other oils). Spread it around with your spatula or a silicon basting brush.

Cook. Wait til the oil is hot, about 1 minute, just when it starts to shimmer. Place the fillets on the griddle with the most curved side down, and that's usually the skinless side or the interior side. This is important because you want the meat in contact with the oil to make it crispy, and as it cooks it gets less flexible. Press gently so as much fish as possible is in contact with the hot oil. If you wish, toss some hard wood saw dust, chips, or dried herbs on the fire to create lots of aromatic smoke. You want a lot of billowing white smoke because this is a short cook. I often save a few dried oregano or basil plants from last season just for this purpose. And yes, you can use them on a gas grill. They will incinerate thoroughly leaving behind a small amount of harmless ash.

Cook 3 to 7 minutes per side until each is dark golden. A useful tool is a wide set of fish tongs or a wide spatula to help you get the tender fillet off the griddle without it falling apart. It should be not more that 130°F (54°C) in the thickest parts and be slightly translucent and flaky (in the video below I said 140°F (60°C)- that's too high).

If you see a milky fluid (protein) seeping from the fish, don't worry. It's just a protein called albumin and you can eat it, but it's kind of ugly (see below), so you can daub it off with a wet basting brush or paper towel if you like.

Take the fish off the griddle with fish tongs or a wide spatula if you have one, and sprinkle with some fresh dill or thyme.

Serve. Plate the salad then top with the seared salmon and serve.
---