Myth: Searing Steaks Seals In The Juices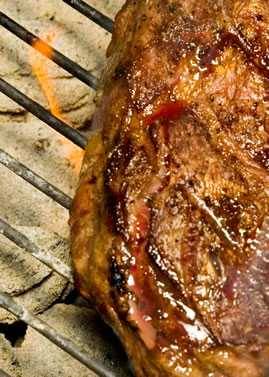 The myth that searing "seals in the juices" is an antique that just won't go away, even though it has been debunked many many times. I recently found it on the website of a famous Steak House: "Our USDA Prime steaks are prepared in a special 1,800°F broiler to seal in the juices and lock in that delicious flavor."
The first to propagate the idea was a leading German chemist named Justus von Liebig, author of the book "Researches on The Chemistry of Food" published in 1847. Liebig hypothesized that, in the words of his biographer W.A. Shenstone, 1901 "in roasting, the escape of the juices should be retarded by heating as strongly as possible at first; the juice then hardens on the outside and protecting surface, which prevents subsequent loss." The concept was debunked in the early 1900s, but the myth lives on.
Meat is about 70% water and much of that is locked in thousands of long thin muscle fibers. Heating meat always squeezes out juices and nothing can stop the process. Some juices drip off during cooking and some evaporate. Although searing turns the surface brown, makes it harder, and makes it better tasting, it does not somehow weld the fibers shut and lock in the juices. In fact, the reason the surface is crusty is mostly because it has dried out a bit due to the high heat.
As food scientist Harold McGee says in his landmark book On Food and Cooking: The Science and Lore of the Kitchen "The crust that forms around the surface of the meat is not waterproof, as any cook has experienced: the continuing sizzle of meat in the pan or oven or on the grill is the sound of moisture continually escaping and vaporizing." I might add, any serious steak griller can tell you that as the meat approaches medium rare, juices start pooling on the surface, sear or no sear.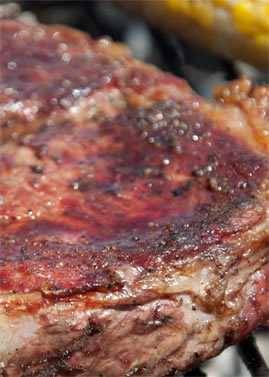 FoodNetwork personality Alton Brown attempted to get the truth out in 2008. He took two steaks of about the same size, seared one in a pan, and left the other alone. He then put them both in the oven on a wire rack and cooked them to his target temperature. When he removed them he weighed them again. The unseared steak lost 13% of its weight, but the seared steak lost 19%!
J. Kenji Lopez-Alt of SeriousEats.com did pretty much the same experiment except that he seared a roast before putting it in the oven and another after removing it from the oven. "The meat that was seared first then roasted lost 1.68% more juices than the one that was roasted first then seared." Why?
Cook's Illustrated came to the same conclusion after doing experiments with eight ribeyes "The notion of sealing in juices is thus nothing but an old wives' tale."
That doesn't mean that we should not sear. Searing produces brown products by the Maillard reaction and caramelization, and brown is beautiful! Click here to read more about searing steaks.
Related articles
Published On: 4/22/2013 Last Modified: 3/10/2021
Meathead - Founder and publisher of AmazingRibs.com, Meathead is known as the site's Hedonism Evangelist and BBQ Whisperer. He is also the author of the New York Times Best Seller "Meathead, The Science of Great Barbecue and Grilling", named one of the "100 Best Cookbooks of All Time" by Southern Living.

---