Who said vegetables have to be bland and boring? Definitely not anyone who has tried this ratatouille recipe!
The classic late summer recipe from Southern France is a stewed mélange of zucchini, eggplant, bell peppers, tomatoes, and onions, so famous Disney made a move titled Ratatouille. It is usually cooked in a deep saute pan or stew pot, but it is sooooo much better on the grill. And served on a bed of pasta.
Spotlight on our favorite products
A Propane Smoker That Performs Under Pressure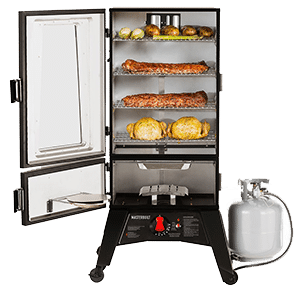 The Masterbuilt MPS 340/G ThermoTemp XL Propane Smoker is the first propane smoker with a thermostat, making this baby foolproof. All you need to do is add wood to the tray above the burner to start smokin'.
Click here to read our detailed review.
– THIS IS NOT AN AD –
You will never make ratatouille the old way again! When you grill the veggies, you get not only the grill flavor, you also concentrate the natural flavors of the vegetables, and bring out their sweetness. By cooking them separately, rather than in a big stew pot, you also retain their individual flavors. I like to serve this grilled ratatouille over pasta, but you could serve with couscous or rice.
Serve with: a syrah.
---
---
Makes:
---
Takes:
---
Ingredients
1

pound

 eggplant

1

pound

zucchini or yellow squash

1

large onion

1

 large red, yellow, or orange bell pepper

1

pound

meaty tomatoes like Roma or San Marzano

6

tablespoons

inexpensive olive oil

2 

cloves

 garlic

2

teaspoons

 fresh oregano

(1 teaspoon dried)

2

teaspoons

 fresh thyme

(1 teaspoon dried)

1/4

teaspoon

red pepper flakes

Freshly ground black pepper

Cooked pasta for four

(I like farfalle)

Fresh basil, oregano, chives, and/or thyme

Grated Parmigiano-Reggiano cheese
Notes:
Optional garnishes. Fresh basil, oregano, chives, and/or thyme
Grated Parmigiano-Reggiano cheese
About the salt. Remember, kosher salt is half the concentration of table salt so if you use table salt, use half as much. Click here to read more about salt and how it works.
Metric conversion:
These recipes were created in US Customary measurements and the conversion to metric is being done by calculations. They should be accurate, but it is possible there could be an error. If you find one, please let us know in the comments at the bottom of the page
Method
Prep. With a potato peeler, remove some but not all of the eggplant skin. Give it pinstripes. Then cut it crosswise into 1/2" (1.27cm) thick discs. Cut the zucchini into discs. Cut the bell pepper in half and remove the seeds and stems. Cut the stem end off the tomatoes and then slice the tomatoes in half from top to bottom. Peel the onion, cut off the stem and top end of the onion, peel it, and cut it in half across the equator. Dump them into a large pan or mixing bowl, sprinkle with salt and about 4 tablespoons olive oil (save the other 2 tablespoons) and mix. Try to get a very light coat of oil on the surface of the eggplant.

Fire up. Heat your grill to high. 

Cook. Grill the veggies over high heat until they get a little color on both sides, but don't cook til they turn to mush. Leave a little crunch. As they finish, you can snatch the skins off the tomatoes: they should come off easily. Put the tomato skins in a bowl. Taste and salt to taste.

Prep again. Remove the rest of the veggies and chop them into bite size chunks. Taste and salt to taste. Mince or press the garlic.

Cook again. Place a skillet over direct heat on the grill or on a burner, and pour in the remaining 2 tablespoons of oil. When the oil is hot, add the garlic, oregano, thyme, red pepper flakes, black pepper, and salt and cook only for about a minute, enough to tame the garlic's rawness. Add the tomatoes and smush them with a potato smasher or ladle. Cook until they thicken a bit, perhaps 5 minutes. Pour back into a bowl. (And I know some people think one should not cook tomatoes in cast iron. Bunk. If the pan is well seasoned, you are fine).

Finish. Drain the pasta and toss it into the hot frying pan to warm it. Top it with the smashed tomatoes. Now add the rest of the veggies and liquid, stir, and if it has cooled off, warm the pan, lid on, over medium heat.

Serve. Garnish and serve.
---