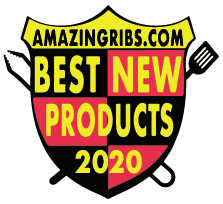 I have cooked on a lot of charcoal grills, and my new favorite is the Hasty Bake 357 PRO. Period. It is just about the perfect charcoal grill/smoker combo. And the 357 is large. There are 522.5 square inches (27.5" x 19"), enough for 24 burgers allowing 4 1/2 x 4 1/2″ for each burger, more if you crowd them in, enough for a large July 4 party.
But perfection doesn't come cheap.
What blows me away is that the core concepts of the design go back to 1948. Since then, Hasty Bake has refined and polished off the rough edges. Founded by Grant Hastings, it has been under the ownership and guidance of Richard Alexander in Tulsa since 1993.
Like what you're reading? Click here to get Smoke Signals, our free monthly email that tells you about new articles, recipes, product reviews, science, myth-busting, and more. Be Amazing!
It's all about temperature control
Cooking is all about controlling energy and that is hard on most grills. The 357 helps you control temperature several ways.
1) Charcoal control. First of all, the charcoal sits in on a grate in a large rectangular tray so you can control heat by measuring how much charcoal you use. Or you can push all the coals to one side and easily set up a large 2-zone system. 2-zone grilling is a fundamental technique and a grill that can't do it isn't very good. 2-zone allows you to cook with indirect convection airflow, or direct over glowing hot coals. This makes it simple to reverse sear, roast, bake, and even smoke. The 357 does it beautifully with its large charcoal tray so you can really control how many coals in use and how close they are to the food and that's temperature control. Hasty Bake recommends you cook with lump charcoal (which they sell), but there is no reason why you can't use briquets (which I prefer because you have more control over temperature and smoke) or even logs (which I love because of the great flavor).
2) Heat deflectors. To further enhance the indirect convection cooking capabilities, there are two heat deflector plates, shields that slide over the coals to block infrared and distribute heat evenly. Put one or both in place and toss some wood on the coals and you have a fine indirect heat smoker. The smoke and heat circulate very well throughout the cooking chamber, especially since the air intake and exhaust vents are below the food (see photo of the vents below). There is no chimney in the hood so it does an above average job of distributing hot air.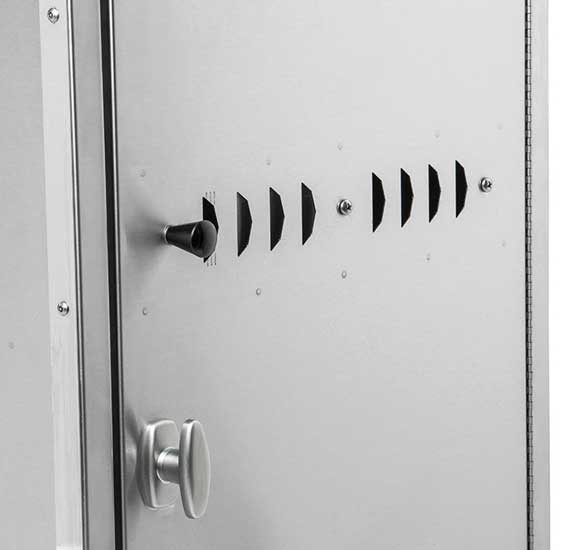 3) Water pan. Hasty Bake supplies a water pan that is half the size of the cooking surface to further tamp down heat. A water pan above the coals absorbs heat nicely and because water is slow to change temperature, it does a great job of stabilizing temperature in the cooking chamber. Because food is relatively cool (starting at fridge temperature and never going beyond boiling point), moisture in the atmosphere of the cooker condenses on the food and the resulting cool wet surfaces attract and hold smoke particles through a process called thermophoresis as described in this article: What You Need To Know About Wood, Smoke and Combustion.
The water pan that can can be used to cook things like beans and collect meat drippings, build a sauce from drippings as in my Turkey Recipe, or as a steam tray to keep food warm.
4) Raising or lowering the charcoal. Perhaps best of all, the charcoal tray can be raised and lowered with a crank. The coals can move from 14 1/2" to 2 1/2" away from the cooking surface for serious direct infrared searing, a lot like a classic "Santa Maria" style grill. Energy at food level reduces rapidly as the coals move away so this is a very effective temperature controller. And if you want that great dark mahogany steakhouse sear, crank the coals to right below your steak. This arrangement is better than the Santa Maria style grill where the food moves up and down and the coals are stationary because the head room above the food isn't reduced.
The charcoal tray, the ash pan that sits below it, the deflector shields, and the water pan are all on rails that allow you to slide them in and out easily through the large door on the right side. This makes igniting coals easy. You can crumple newspaper or put fire starters like paraffin cubes or "tumbleweeds" in the ash pan, lower the charcoal tray to just above them, pile the charcoal on, and away you go. Or you can slide the charcoal tray out half way and use a chimney. As always we strongly recommend you do not use petroleum base starter fluids. They smell and that smell gets deep into the coals and the smell can get on your food. Hasty Bake recommends you line the ash pan with foil for easy cleanup. When not in use the deflectors and water pan can be stowed beneath the ash pan.
If you prefer, you can put beans in the water pan and let them collect meat drippings. Or just use it to catch drippings and build a stock in there with onions, carrots, celery, herbs, etc.
Up your game: Join our Pitmaster Club. Try it out for free for 30 days. No credit card is needed. No spam. Join now and Be Amazing!
For smoking, all you need to do is set up in two zones and put the meat on the indirect side. Toss some wood chunks on the coals and you're ready to go. You can lower the temperature by lowering the coals and even putting the deflector over them or adding a water pan. I like using the water pan because it reduces temperature fluctuation and helps smoke to stick to the food. For long cooks I have put a two bricks in the center of one side, wrapped unlit coals around them so the coals form a U shape, and poured lit coals on top of one corner of the U. This creates a fuse or snake so the coals burn slowly from one side to the other and they can last for many hours.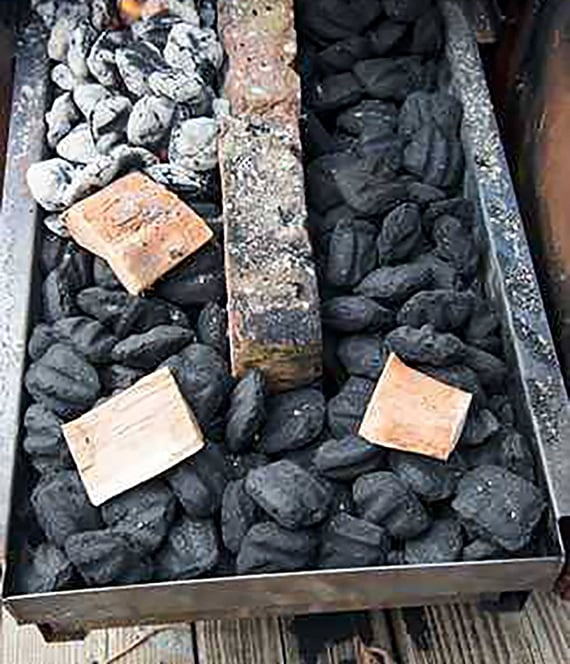 Construction
The fit and finish are superb. Beautiful welds. Thick heavy duty 304 stainless steel with double walls in the hood and the base. This really helps in cold weather and reduces fuel usage. I have used it through a cold Chicago winter with ease. It laughs at cold weather. The new spring loaded hood design is a significant improvement over earlier models. It lifts up almost vertically and glides fairly easily. This allows you the option of cooking with the lid open. Just make sure to wear gloves when grabbing the handle. It can get hot!
There is a full length folding table in the front that is pretty sturdy. There is a solid stainless table on the left side that doubles for a handle when you want to drag it around on the two large wheels on the right and two smaller casters on the left. I wish they had used larger wheels on the left so it would roll more easily on my lawn.
The grates for the cooking surface is a large diameter 304 stainless rod and built to last. They slope slightly towards the center where there is a V-shaped channel to carry grease away into a disposable aluminum loaf pan (replacements can be found in most groceries). This design, coupled with the heat deflectors, make flareups a thing of the past. That said, I am not a fan of the system. I have dogs and they LOVE the grease pan right at nose height. Besides, sometimes I want drippings to hit the fire where they incinerate and flavor the meat. So I have removed it.
The 357 comes with a decent bi-metal Tel-Tru dial thermometer mounted low in the front so it is measuring temperature at close to the meat level rather than high in the dome where most grills mistakenly mount them. But we are not fans of dial thermometers (an imprecise technology from the 1800s) so I drilled a hole in the back about 1" above grate level, and inserted a digital probe. One can run probew cables under the lid or above the side door if you don't want to drill. The manufacturer included an "access panel" with a hole for a blower for thermostat control (click here to see our reviews of the options), but we have not tested it with one yet.
There is a huge amount of headroom under the hood, plenty of room for a big turkey, and the upper shelf is 27.5 x 12, capable of handling several whole chickens.
My 357 came fastened solidly to a skid. Assembly took me about 3 hours, mostly because the stainless is covered with a thin vinyl protective sheet. It peels off easily but s.l.o.w.l.y. There are a lot of parts, so follow the instructions carefully.
Accessories
There are a number of useful optional accessories:
a rotisserie and rotisserie baskets.
an excellent griddle (below) thoughtfully designed with a grease collector and handles to lift it.
An extra water pan.
an alcohol gel that is odorless that works nicely when squirted in the ash pan below the coals.
I recommend you buy their cover.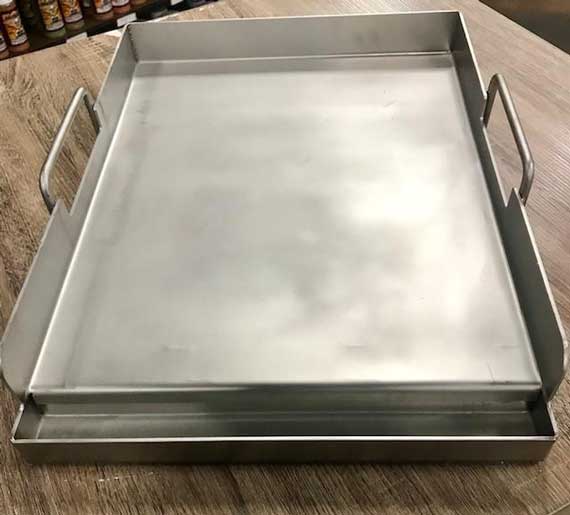 The 357 comes with an excellent 10 year warranty on parts and workmanship. You will want to put this unit in your will, it will outlive you. When you consider this, perhaps the $3,600 list price won't seem onerous. If it does, you might consider the The Gourmet which costs less and I loved working on it or the Legacy, even less expensive. But as good as they are, they are not in the same league as the 357. Nothing is.