The Hasty Bake Legacy 131 is their most popular model. This full-size charcoal grill is essentially the same as their first models that appeared in 1948, pre-dating Weber's charcoal kettle which hit backyards in 1952. It features Hasty Bake's signature adjustable height fire box and a generous 523 square inch cook surface at an affordable price. The adjustable fire box allows you to move the charcoal up and down, closer or further away from the food, and this gives this grill excellent temperature control.
Dimensions are 30"x21"x42", and the weight is 163 pounds. The hood and base are powder coated heavy duty 18 gauge steel. The adjustable height lift mechanism and fire box are 18 and 12 gauge galvannealed steel. Hasty Bake's unusual V-shaped cooking grates are nickel-plated. Legacy comes with a removable, stainless steel front work table.
The Swiss Army Knife of charcoal grills
We love Hasty Bake. The clever and unique design features enable you to easily grill, smoke or roast whatever you like. The crank on the lower left side in this picture operates a mechanism which lifts or lowers the fire box, giving you the ability to instantly change the temperature under the cooking grate. The large door on the right provides full access to the firebox with no real effort. Just swing it open.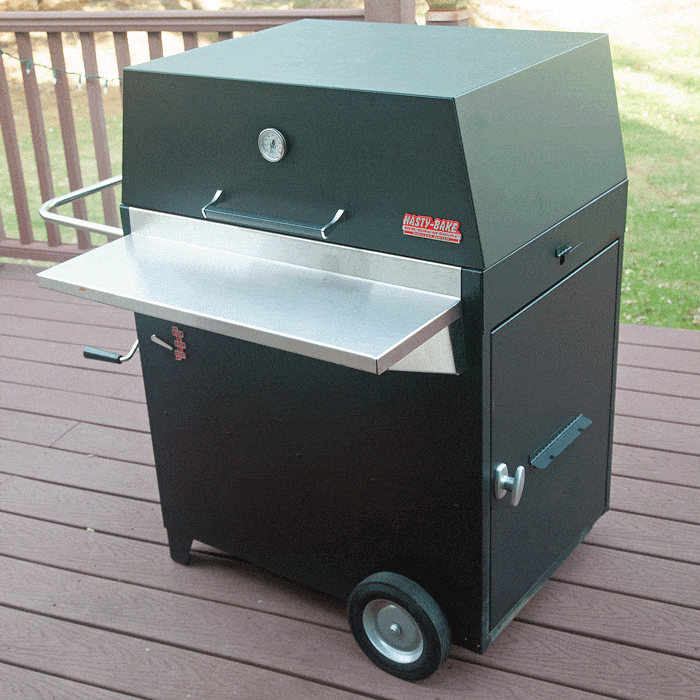 Here you see the firebox and ash pan pulled out.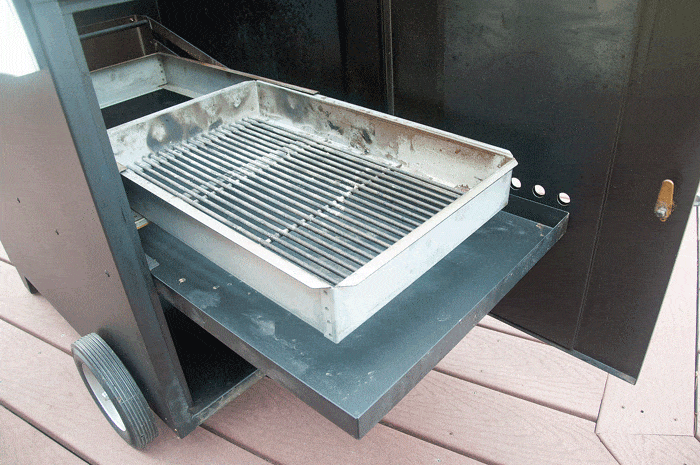 To fire up Legacy, just load the fire box with charcoal and place a fire starter or two on the ash pan underneath. This setup makes tending the charcoal fire a breeze. Replenish charcoal or wood chunks and dump ashes as needed. Click here for more about how to use wood chunks for smoke flavor.
Up your game: Join our Pitmaster Club. Try it out for free for 30 days. No credit card is needed. No spam. Join now and Be Amazing!
Hasty Bake's famous crank on the left side raises or lowers the fire box, putting you in the driver's seat.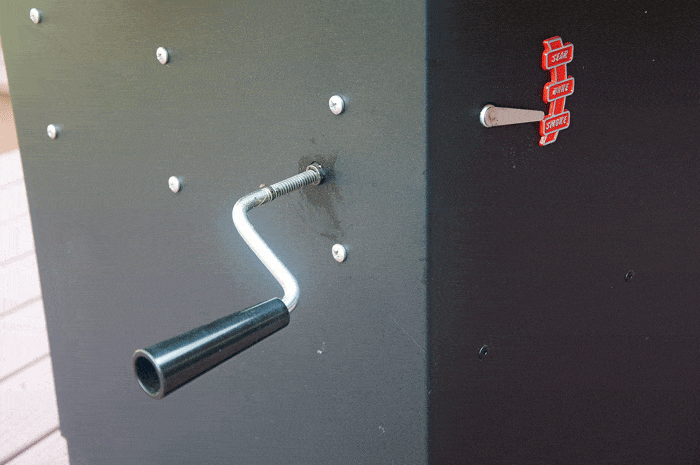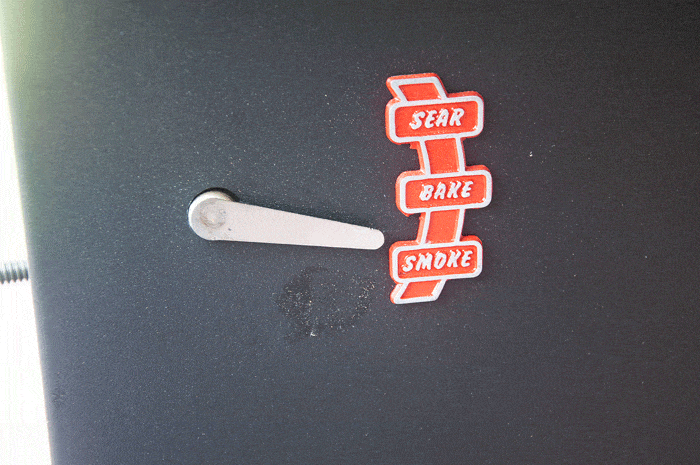 Crank Legacy down low for smoking ribs and brisket.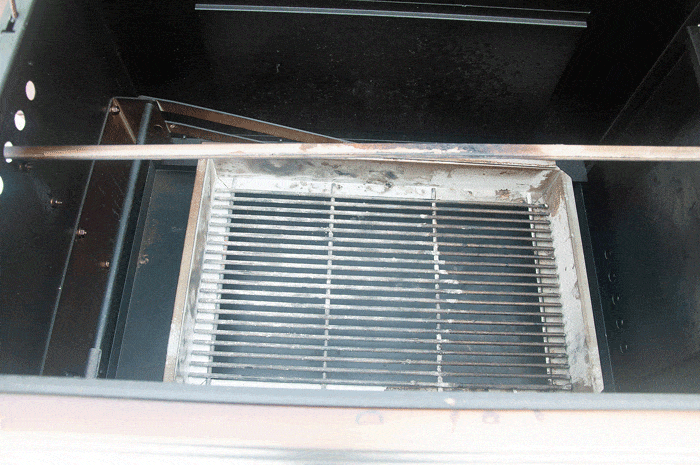 Or up high for sizzling steaks and veggies.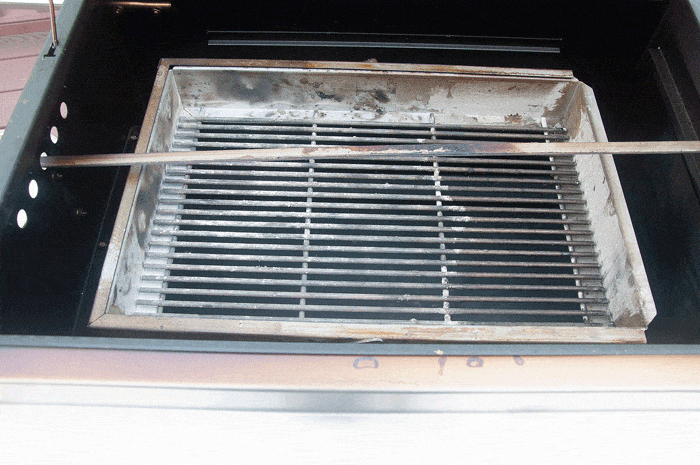 An included heat deflector fits over the charcoal fire for low-and-slow smoking sessions.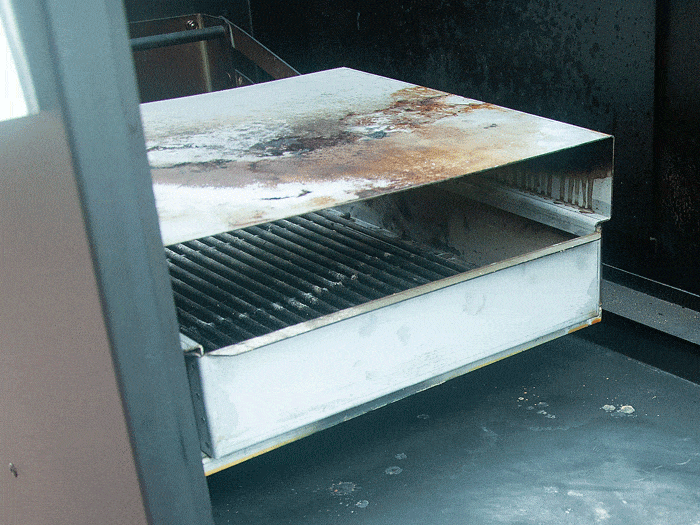 Like what you're reading? Click here to get Smoke Signals, our free monthly email that tells you about new articles, recipes, product reviews, science, myth-busting, and more. Be Amazing!
Air flow
Like much of Hasty Bake's design, the air intake and exhaust are different from other charcoal grills. The air intake damper is located on the right access door just below the fire level. It consists of five holes covered by a flip up damper.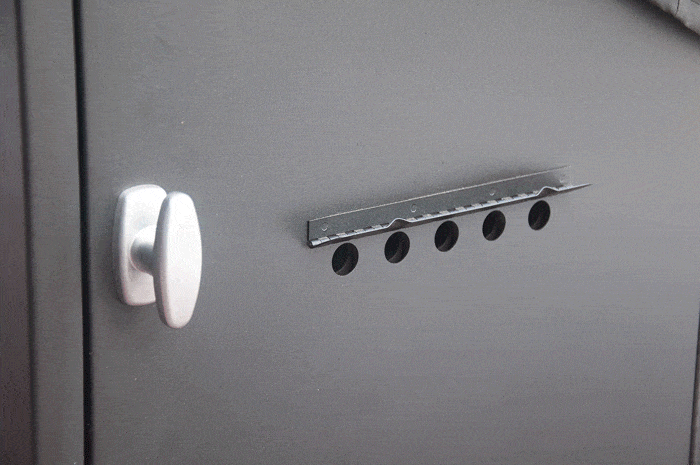 The air exhaust damper is on the left, just below the cooking grates. It also has five holes covered by flip up dampers. This creates a cross ventilation air pattern which moves heat and smoke upward from the lower right under the fire into the hood where it bounces back down and exits out the upper left above the fire. There are no dampers or vents at all on the hood. When cooking with the hood down the ventless design turns Hasty Bake into an oven by maintaining even heat all around foods for even cooking.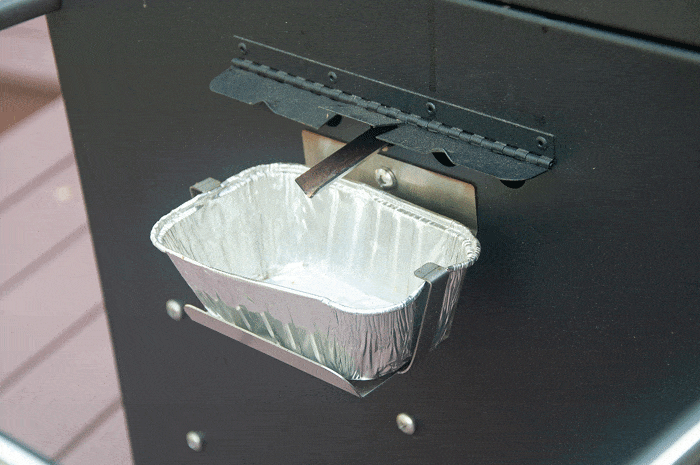 Set the flip up dampers slightly open for subdued heat or wide open for intense heat. Click here to learn how to control temperature with dampers.
That foil pan in the picture is part of Hasty Bake's grease management system which is even more unusual than the dampers.
Get a sneak peak at Meathead's next book. He shares chapters with members of our Pitmaster Club as he finishes them. Click here for a free 30 day trial. No credit card needed. No spam. Click here to Be Amazing!
Grease management
The little spout in this picture that empties into a disposable foil grease pan is a V-shaped channel that runs from right to left under the V-shaped cooking grates to catch drippings.
It works pretty good, but some drippings inevitably drop down. This is no big deal if they hit the hot coals, but you may want to cover the ash pan and diffuser with foil for easy clean up.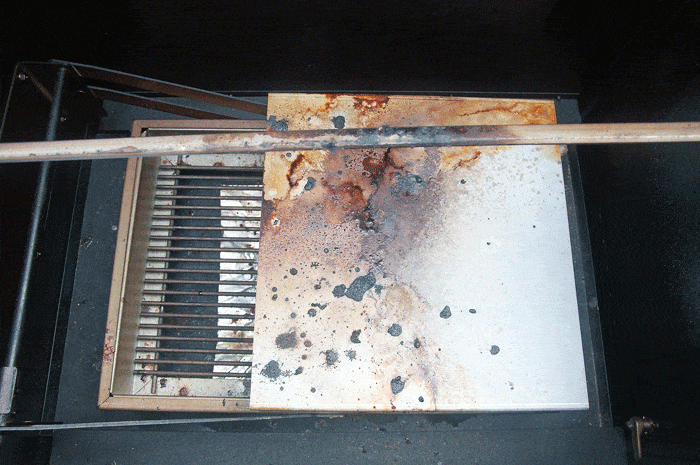 Smokin' low and slow
With the fire box down low, we piled in charcoal mixed with several wood chunks and lit a firestarter on the ash pan underneath. We placed the diffuser over the charcoal, slid everything in, and closed the door and hood. Although both dampers were barely open, we struggled to bring the temp down to our target of 225°F, but easily dialed it in at 250°F which worked extremely well as evidenced by the outcome. Ribs anyone?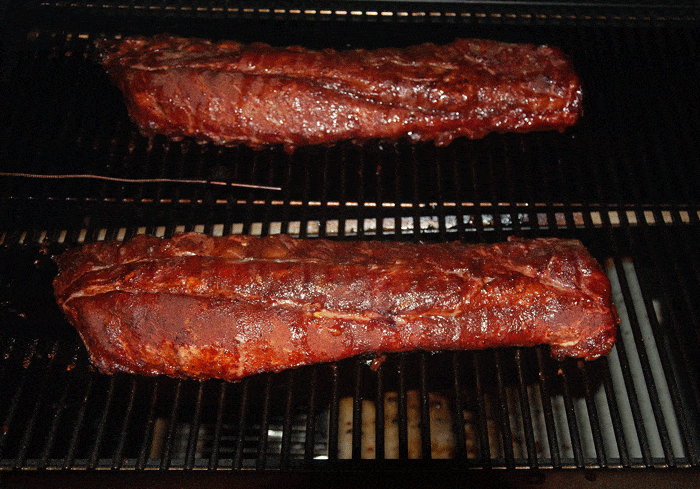 Click here for a bunch of great rib recipes including Meathead's Famous Last Meal Ribs!
Hungry for more ribs recipes, tips, and techniques? Click here to download our ebook "Amazing Ribs Made Easy" $3.99 on Amazon (free Kindle app runs on all computers and devices). Or, get this book and others FREE as a member of the AmazingRibs.com Pitmaster Club. Click here to join.
Switching gears with the firebox crank
Any device that claims to smoke low-and-slow then effectively switch gears to also sear hot-and-fast is subjected to our ultimate temperature range test – Reverse Seared Steak. With reverse sear, we first bring the internal steak temp up slowly over low heat to keep the interior pink and juicy, then sear the snot out of it to finish the meat surface with a tasty brown crust. Click here to learn why brown is beautiful. Hasty Bake's unique design lends itself to this method and provides one of the easiest reverse sear experiences we've had. To execute our steak, we started with the fire down low.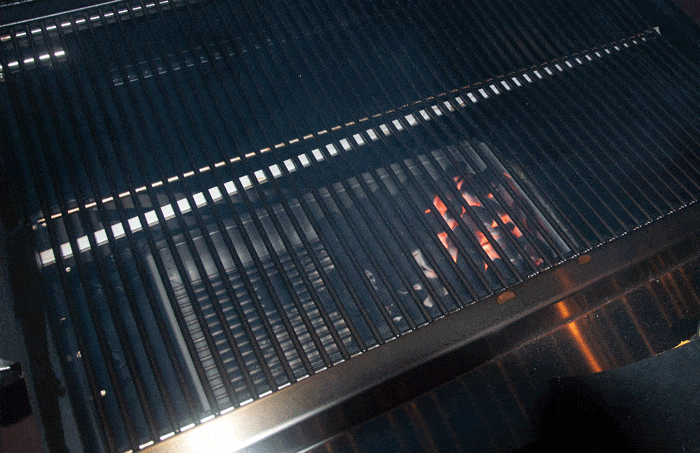 Next, we placed our 1.5 inch thick strip steaks on the left, indirect side away from the fire; inserted a meat probe to monitor the slow, controlled cooking progress; and closed the hood. Click here to learn about cooking with indirect heat. When we reached our internal meat target temp of 115°F, we pulled the steaks off, cranked the fire box all the way up, opened up both dampers, left the hood up, and brought the steaks inside to wait for the fire to heat up.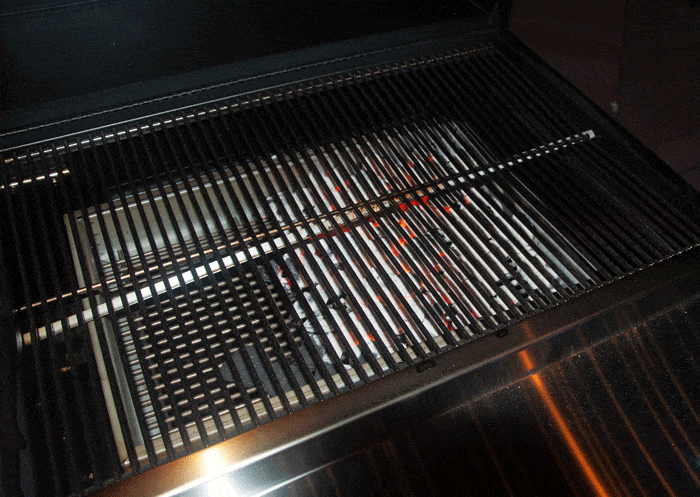 In the blink of an eye Legacy's right side was roaring hot. The steaks came right back out and hit the grates with a loud and lovely sizzle. Within minutes we were back inside slicing up our treasures.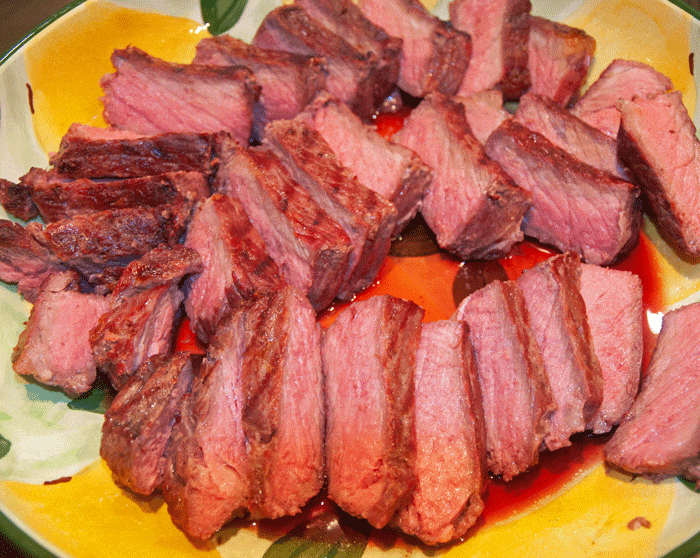 Pink and juicy inside, brown and beautiful outside. SLURP!
More
A large stainless steel work shelf hangs from the front. When not in use it can be stored inside the cart under the ash pan.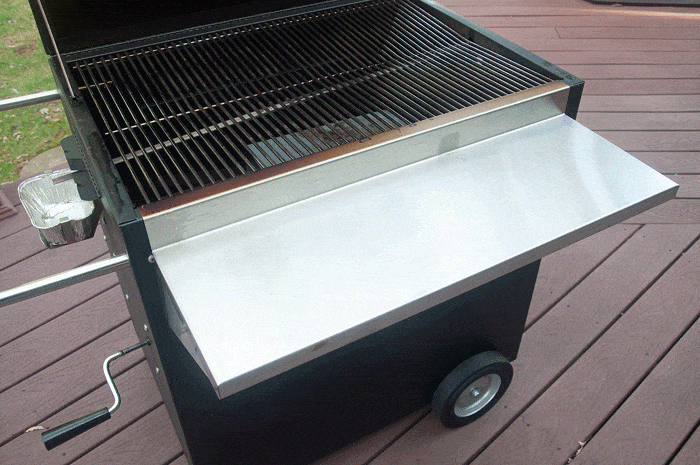 An equally large, U-shaped tube on the left doubles as a handle and tool/towel hanger.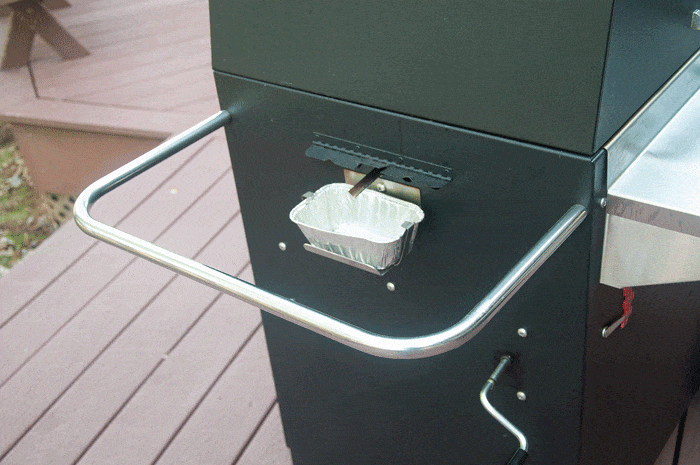 Legacy sits on two metal feet on the left and two wheels on the right. You have to lift it by the handle to move it around on the wheels. Be careful because the feet are bare metal and can scratch your deck. Hasty Bake should really add plastic caps on the feet.
Hasty Bake also offers their Stainless Steel Legacy 132.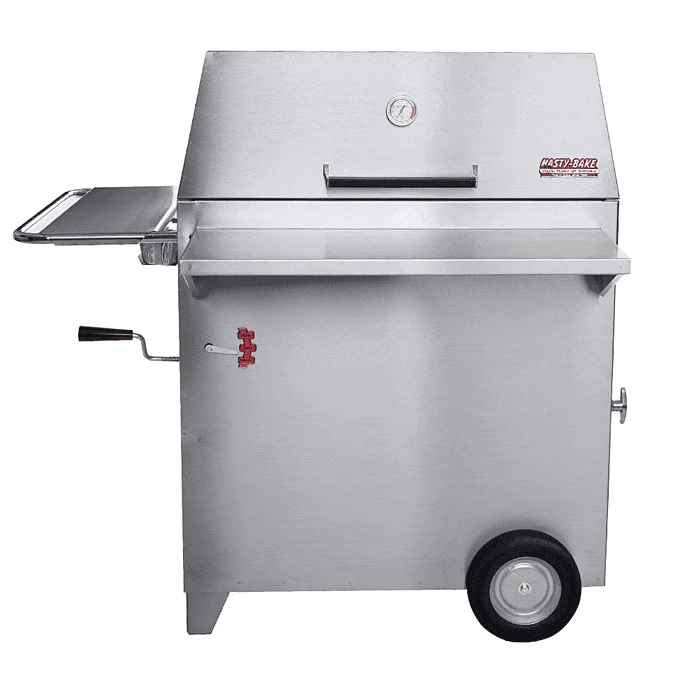 Packaging and assembly
Packaging was good and effective. Legacy arrived without a scratch almost fully assembled. There was no printed manual. Buyers are instructed to access the Owner's Manual and Support Videos via cell phone using QR Codes on Legacy's Packing List.

You can also download the manual from Hasty Bake's website.
Conclusion
All the unique features described above translate into versatility and superb performance. We have never tested and reviewed finer charcoal grills than Hasty Bake, and the Legacy is their most popular model. We award the Hasty Bake Legacy 131 our top Platinum Medal.
Warranty
5 years parts and workmanship and 1 year on the finish.