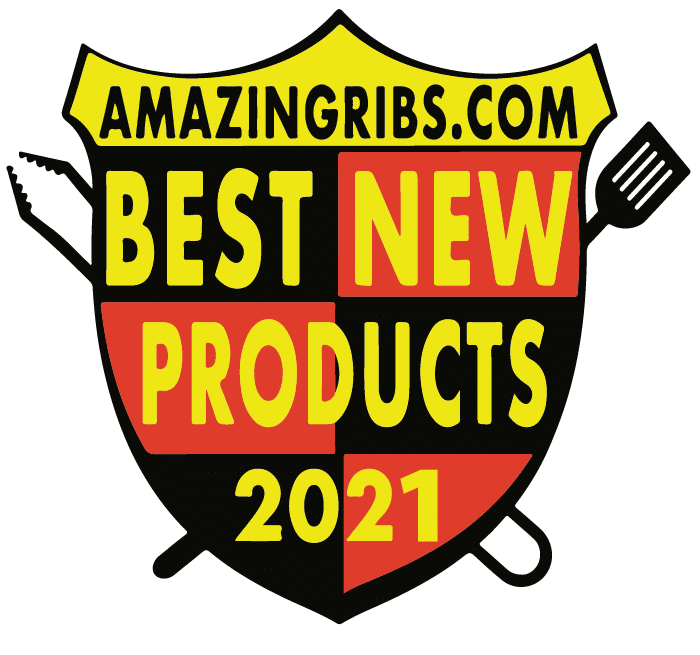 Cuisinart's Griddler Five is an electric indoor griddle/grill that upgrades their previous version with a sleek modern look, LCD display, digital controls, and a sear function. The handlebar, top, and control panel are stainless steel. Two reversible cooking plates made of thin cast aluminum with a non-stick coating are easily removed and dishwasher safe. Each plate has a ribbed grill side and a flat griddle side. Dimensions are 12.5 inches x 13 inches x 7.75 inches, weighing 12 pounds.
Griddler Five can be used as a contact grill press to cook foods from the top and bottom simultaneously.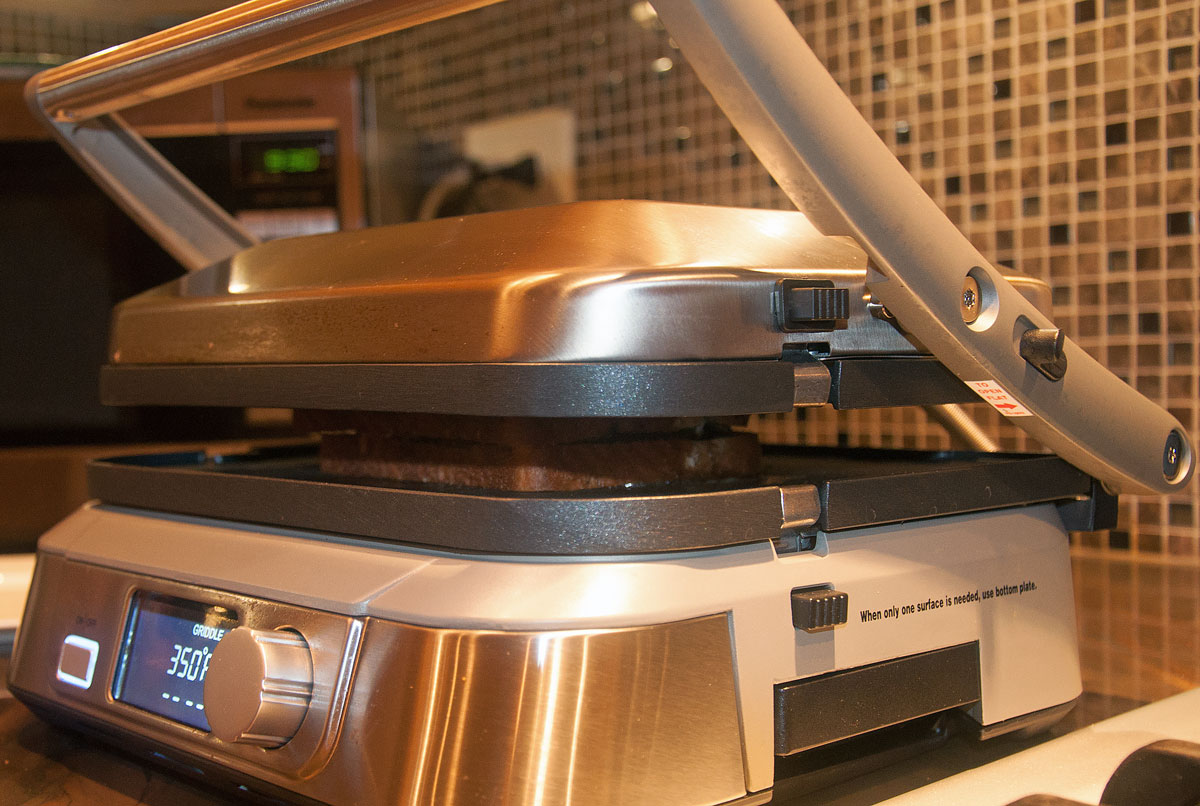 You can also pop it open with a switch on the handle.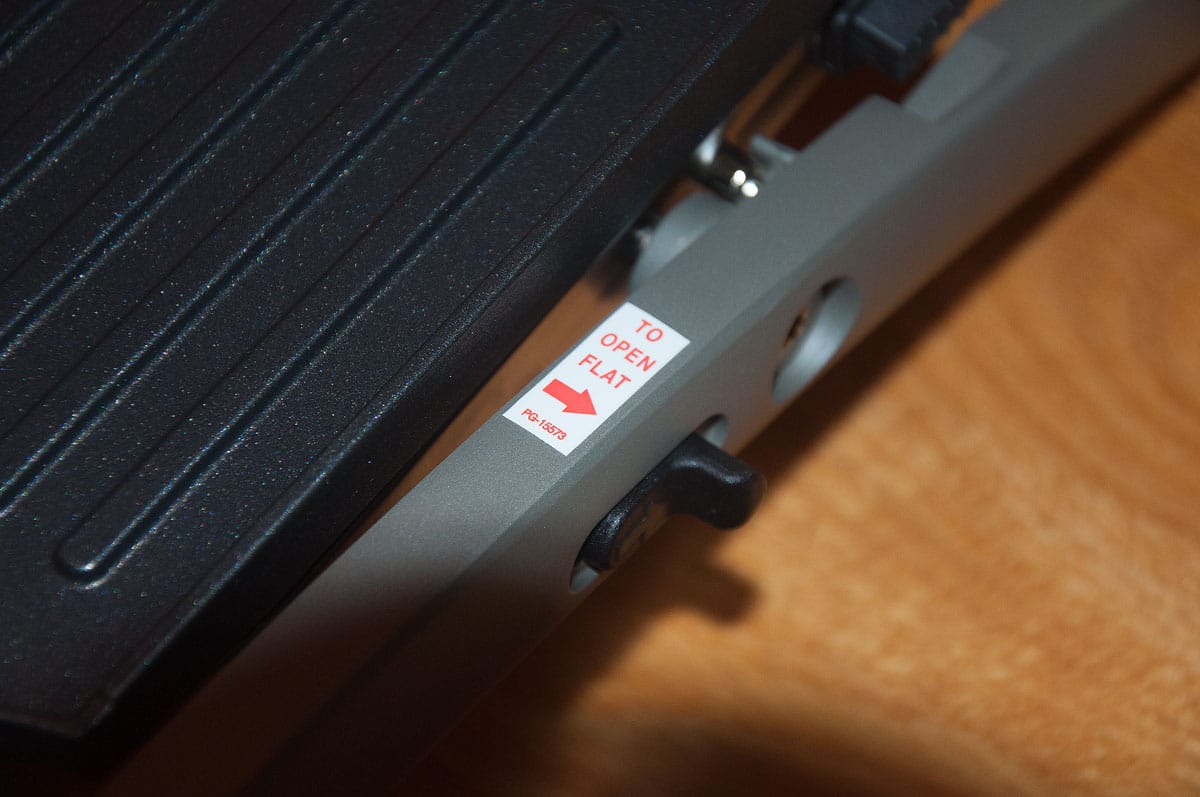 That allows you to grill or griddle on both cook surfaces side by side.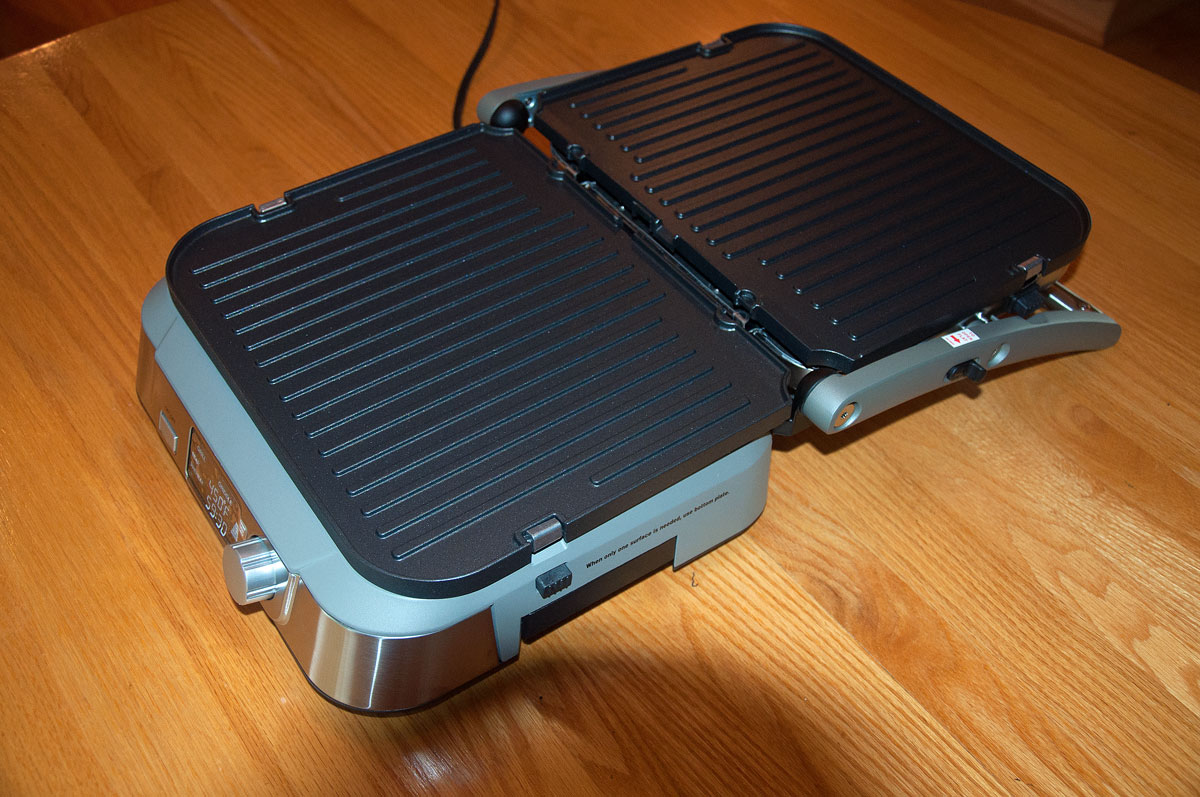 Release the cooking plates with a button.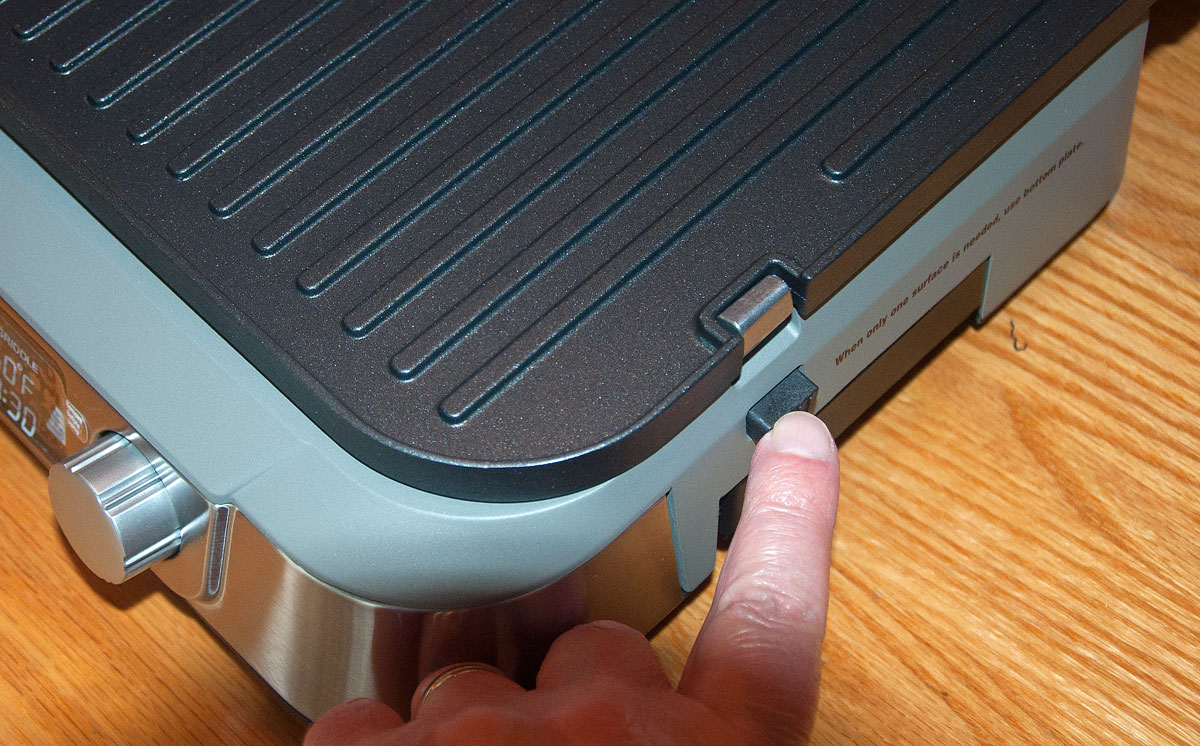 Then you can easily take them off. Here's the bottom electric heating element.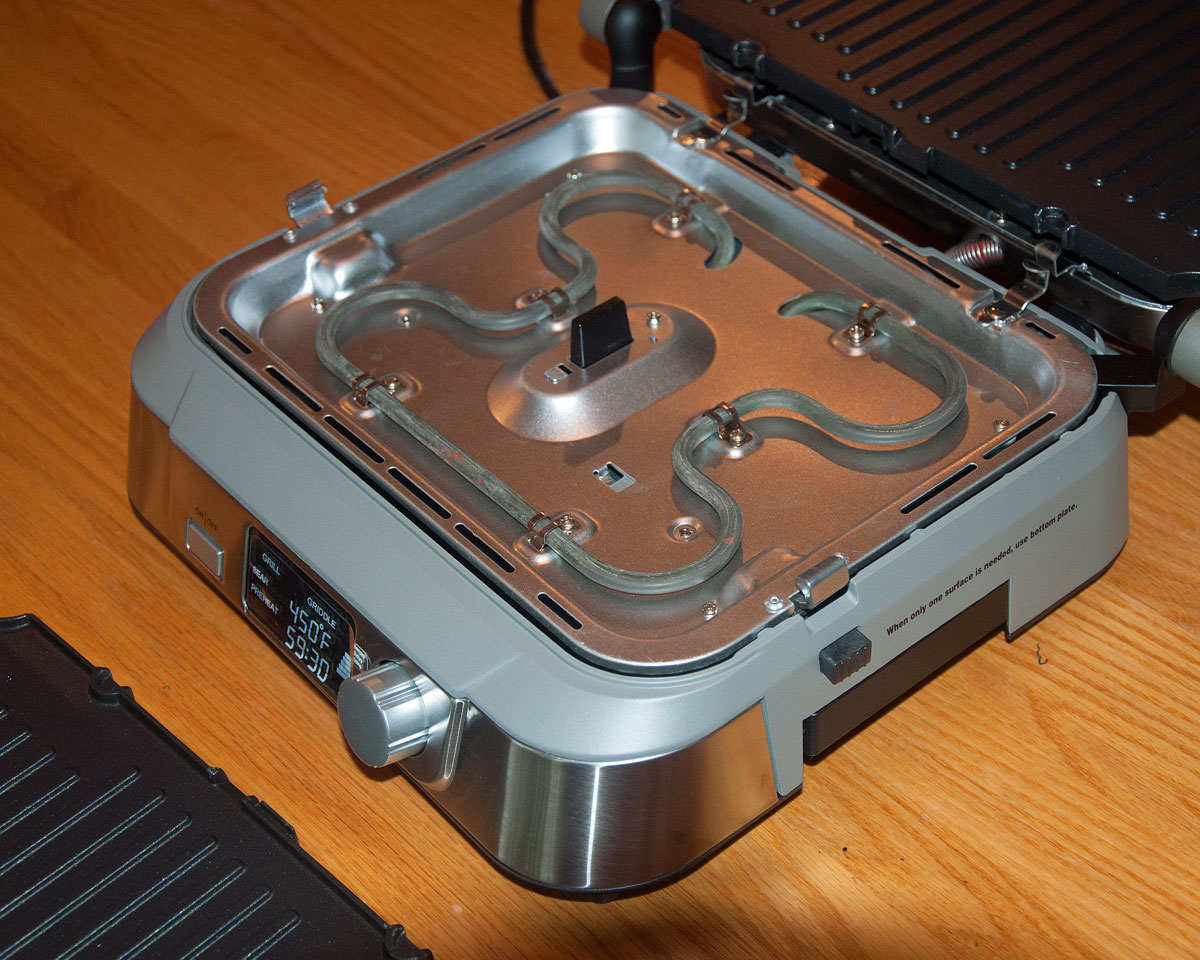 Choose either the ribbed grill surface, flat griddle surface, or both.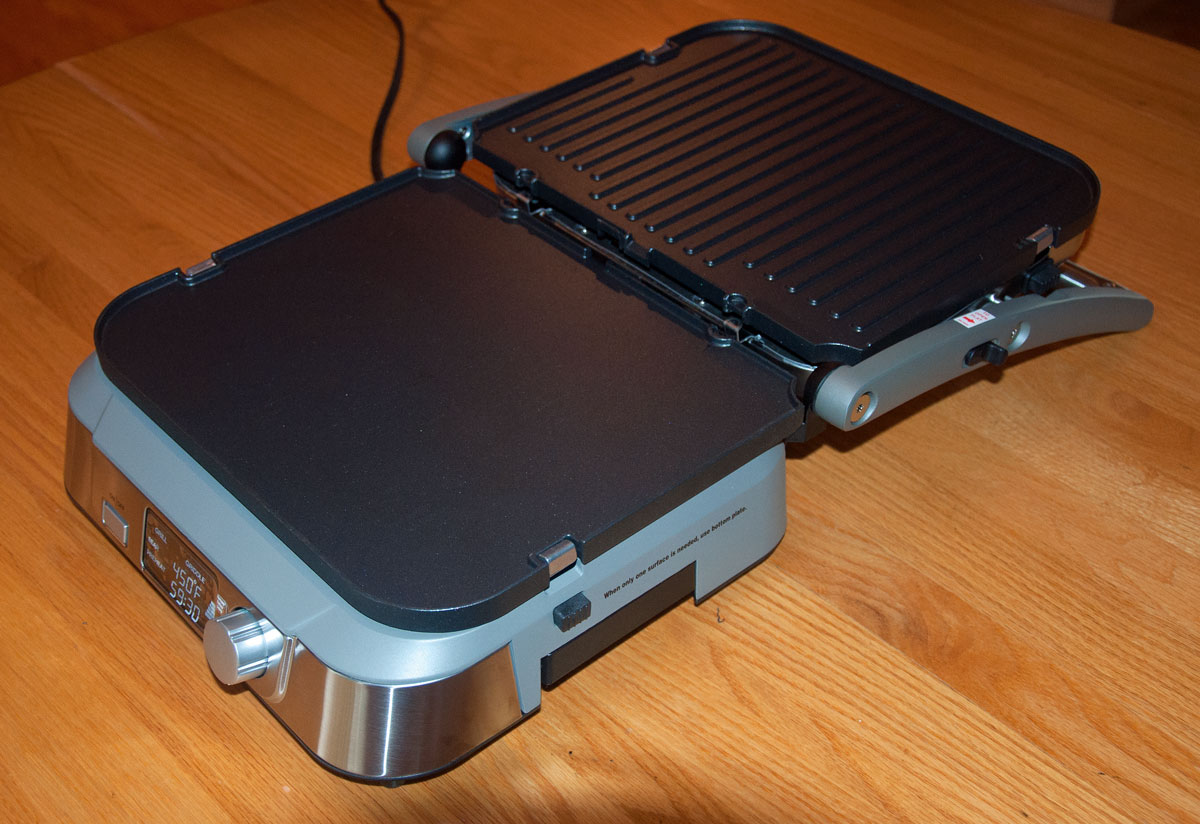 Like what you're reading? Click here to get Smoke Signals, our free monthly email that tells you about new articles, recipes, product reviews, science, myth-busting, and more. Be Amazing!
Small, electric indoor appliances like Griddler are popular and although it doesn't do everything but your taxes like some of the new Smart Ovens, Griddler Five is a bit more versatile than some other, similar models.
What's in a name?
Cuisinart loves to include numbers in product names, as with their 3-in-1 Stainless 5 Burner Gas Grill and Woodcreek 4-in-1 Pellet Grill. Griddler Five is so called because it can operate as a
1. contact grill, 2. panini press, 3. full grill, 4. full griddle, or 5. half grill/half griddle.
Control panel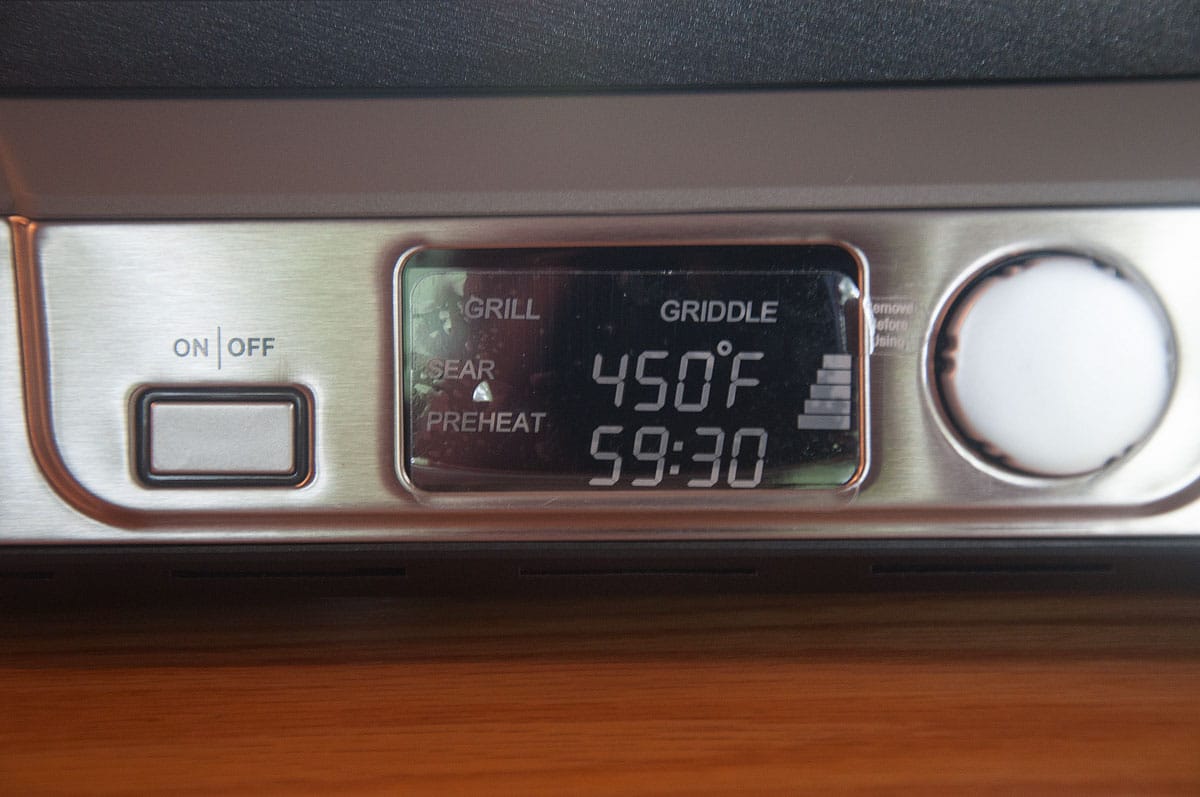 The control panel has an On/Off switch, LCD display and "Select and Confirm Dial". Spin and press the dial to select Grill, Griddle, Temperature and Timer. Temperature range is set from 175°F to 450°F in 25° increments. The Grill selection has a default temperature of 400°F while the Griddle selection defaults to 350°F. In either case the temperature can be changed by spinning the dial. The Timer adjusts in 30 second increments with a maximum cooking time of 59 minutes 30 seconds. There is no auto shutoff, so don't forget to turn the unit off when you're done cooking. Preheat Bars on the right indicate heat-up progress. There's also a Sear setting, which we explain with our sear test below.
Up your game: Join our Pitmaster Club. Try it out for free for 30 days. No credit card is needed. No spam. Join now and Be Amazing!
Temperature tests
Using a Digital Infrared Thermometer Gun that measures the energy radiated from a warm surface, we found temperatures across both cooking plates were fairly accurate and agreed with the desired temperature we set on Griddler's control panel.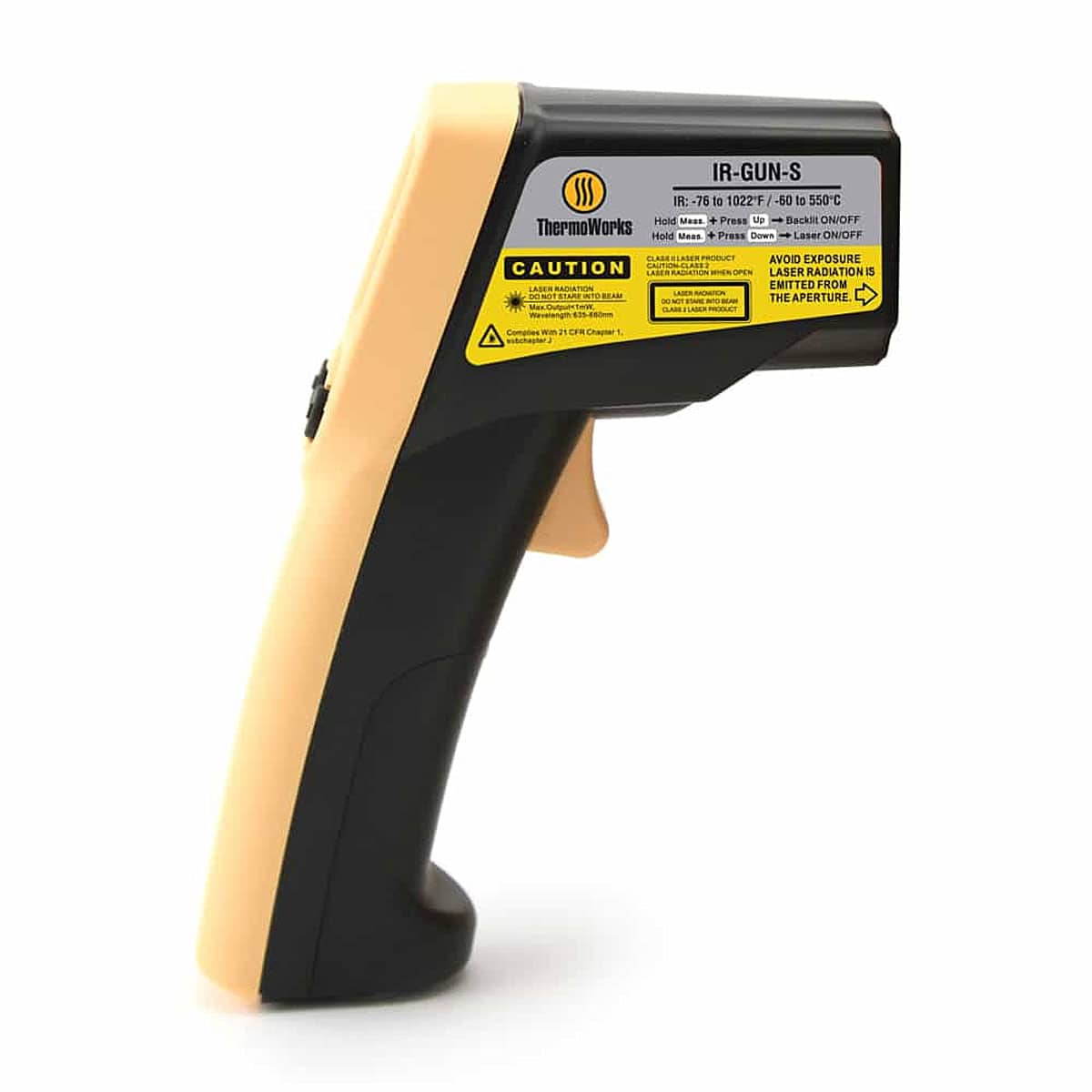 While you may not need an infrared gun, you definitely need digital cooking thermometers! They are the single most important tool a cook can have in the kitchen or in the backyard. Click here to learn why.
To further test the evenness of cooking performance, we toasted bread on both cooking plates using the griddle side, flipped the slices over and confirmed Griddler's heat was pretty even all around.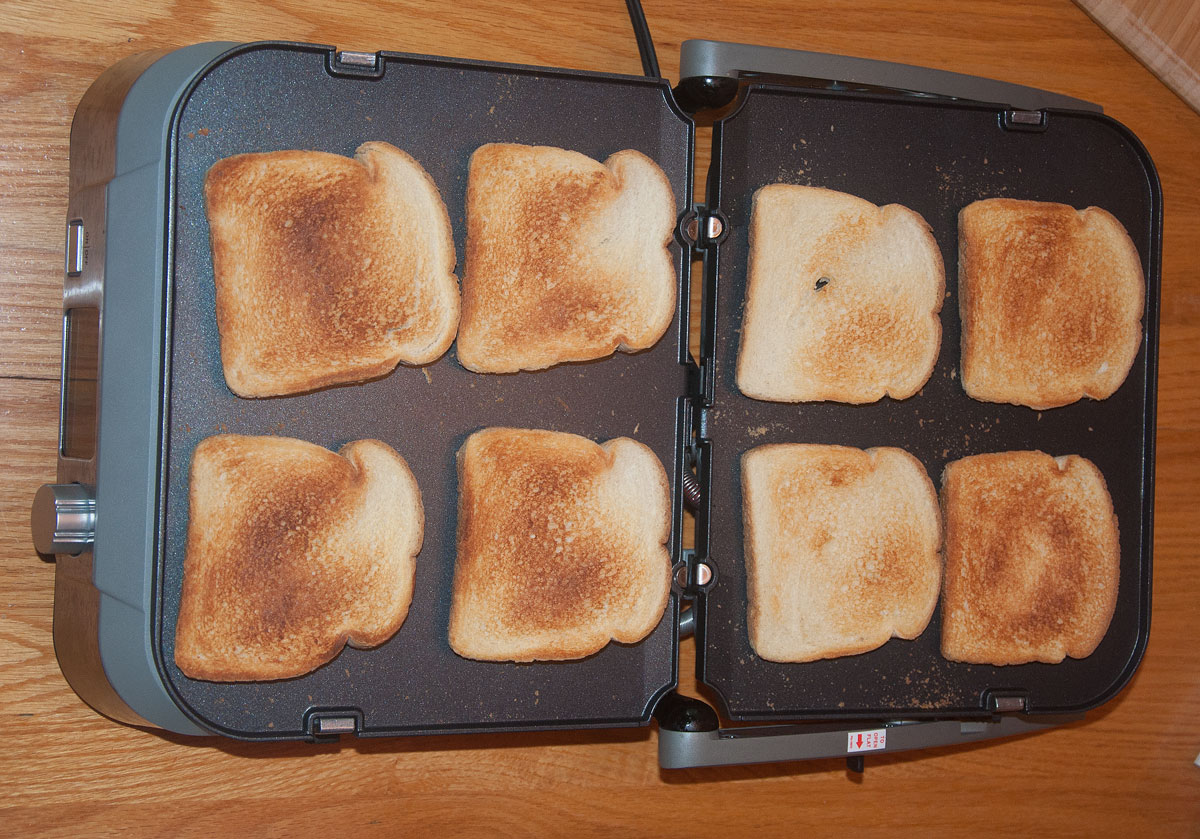 Cooking foods top and bottom at the same time was quick, easy and fun. With the grill plates installed, hot dogs took about five minutes and came out juicy with tasty grill marks.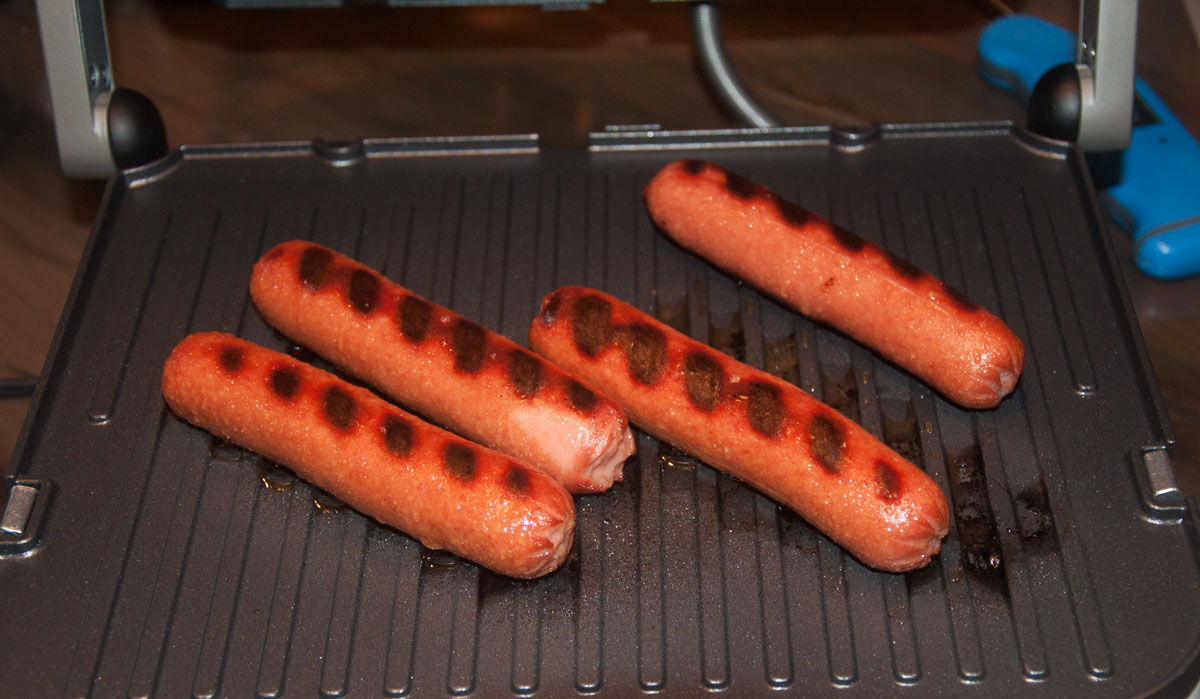 Griddler also excels at producing juicy boneless chicken breasts.
With the griddle side installed, hot sandwiches were tasty and toasty.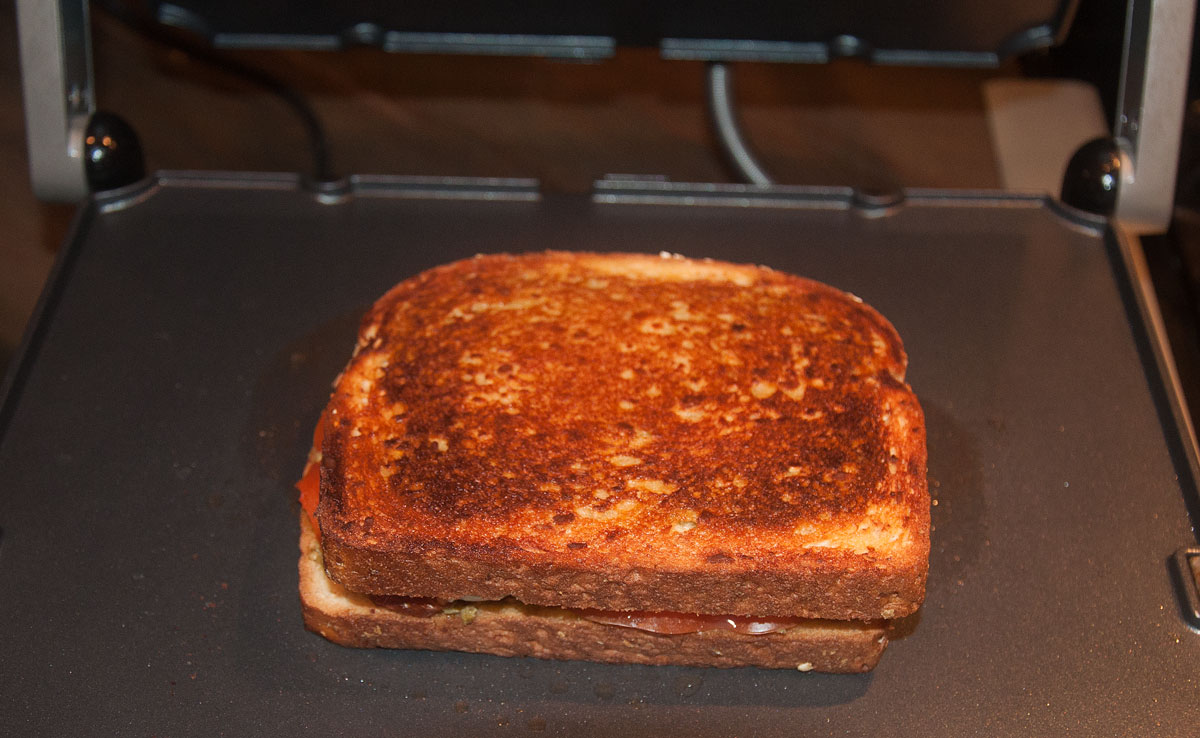 Looking for something more exciting than grilled cheese? Try our Smoked Caprese Sandwich.
Get a sneak peak at Meathead's next book. He shares chapters with members of our Pitmaster Club as he finishes them. Click here for a free 30 day trial. No credit card needed. No spam. Click here to Be Amazing!
Sandwich squish is a concern with some contact grills, so Cuisinart made Griddler Five's top grate swivel to conform to food thickness.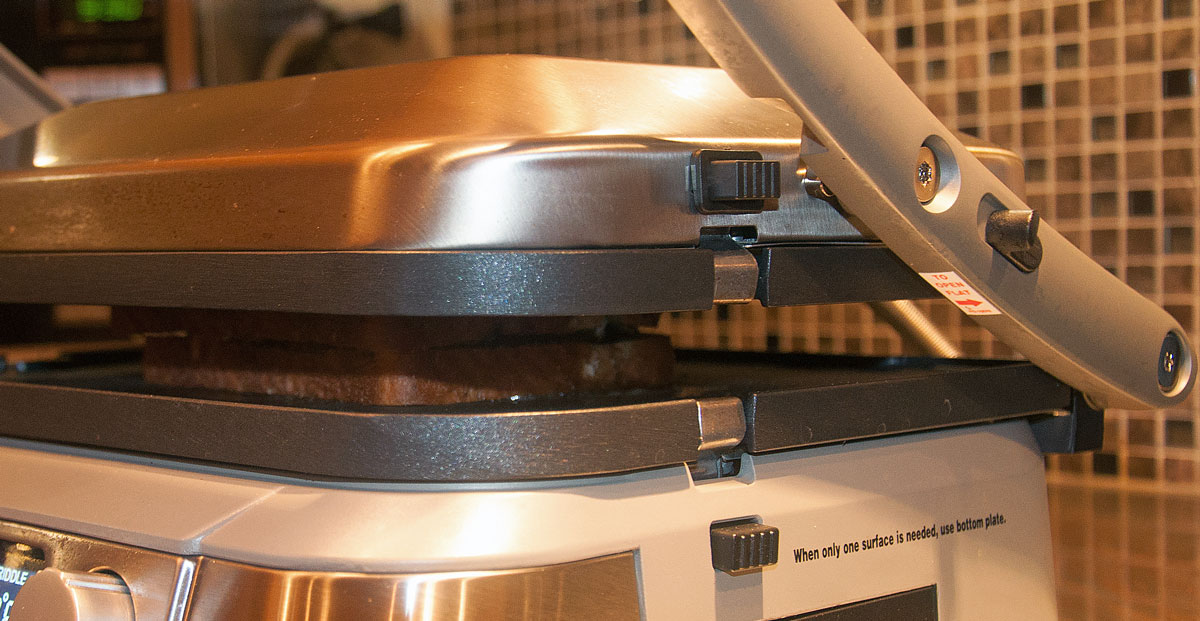 Nonetheless, we experienced some squish, so be gentle, but accurate and level. With hamburgers, the squish factor made our burgers a bit dry. We got better results by opening Griddler Five up and grilling and flipping burgers on both grill cooking surfaces. This technique effectively doubled our cooking surface too.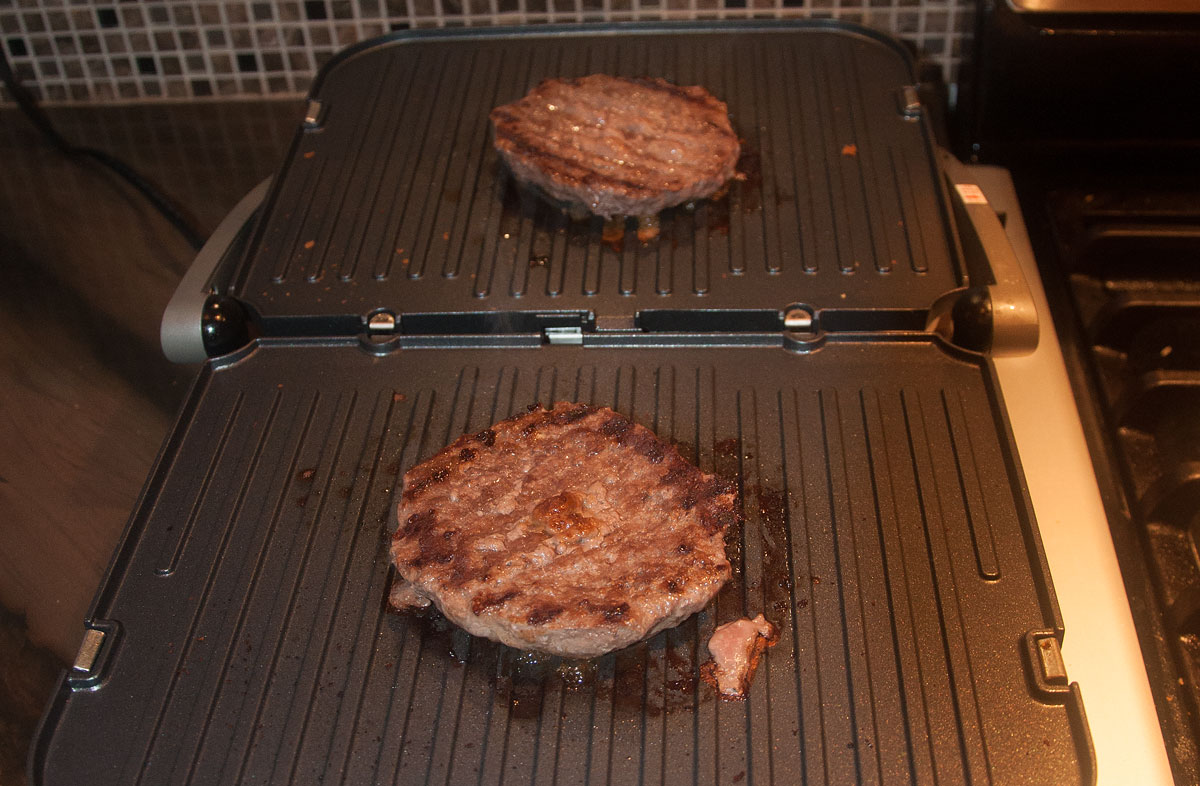 Laid out flat, Griddler capacity is in line with two medium size pans or griddles for cooking everything from pancakes and eggs to shrimp and veggies.
Sear test
Nothing exemplifies a sear test like steak! For thick steaks we recommend the reverse sear method. This technique requires 2-zone cooking to gently cook the meat interior over moderate indirect heat, then move the meat over hot direct heat to sear and create a delicious brown crust. Click here to read about the importance of-2 zone cooking. Since Griddler's two cooking plates cannot be set to different temperatures, it cannot be configured for true 2-zone cooking. Instead, we opted to cook a thin steak hot and fast to quickly brown the exterior without overcooking the center. We used the griddle side for both the top and bottom cooking plates. That's right. Instead of a few sear marks from the grill plates, the flat griddles gave us a uniform beautiful and delicious brown exterior all over the steak. This flavorful mahogany finish is caused by the magical Maillard reaction and you want it all over your steak not just in a few stripes. Click here to learn more.
We selected the Sear Function, preheated Griddler to the 450°F default sear temp then gently clamped down on our steak and set the timer for ten minutes which was more than enough time. Griddler's Sear setting kept both cooking plates at 450°F for two minutes then automatically dropped them down to 425°F. That's how the Sear function works: It sears at high temp for two minutes then drops the temp automatically. After five minutes total our digital instant read thermometer showed the internal meat temp was about 130°F: medium rare Chef's Temp! So off it came. Our one inch thick strip steak was perfectly pink and juicy inside and beautifully brown on the surface.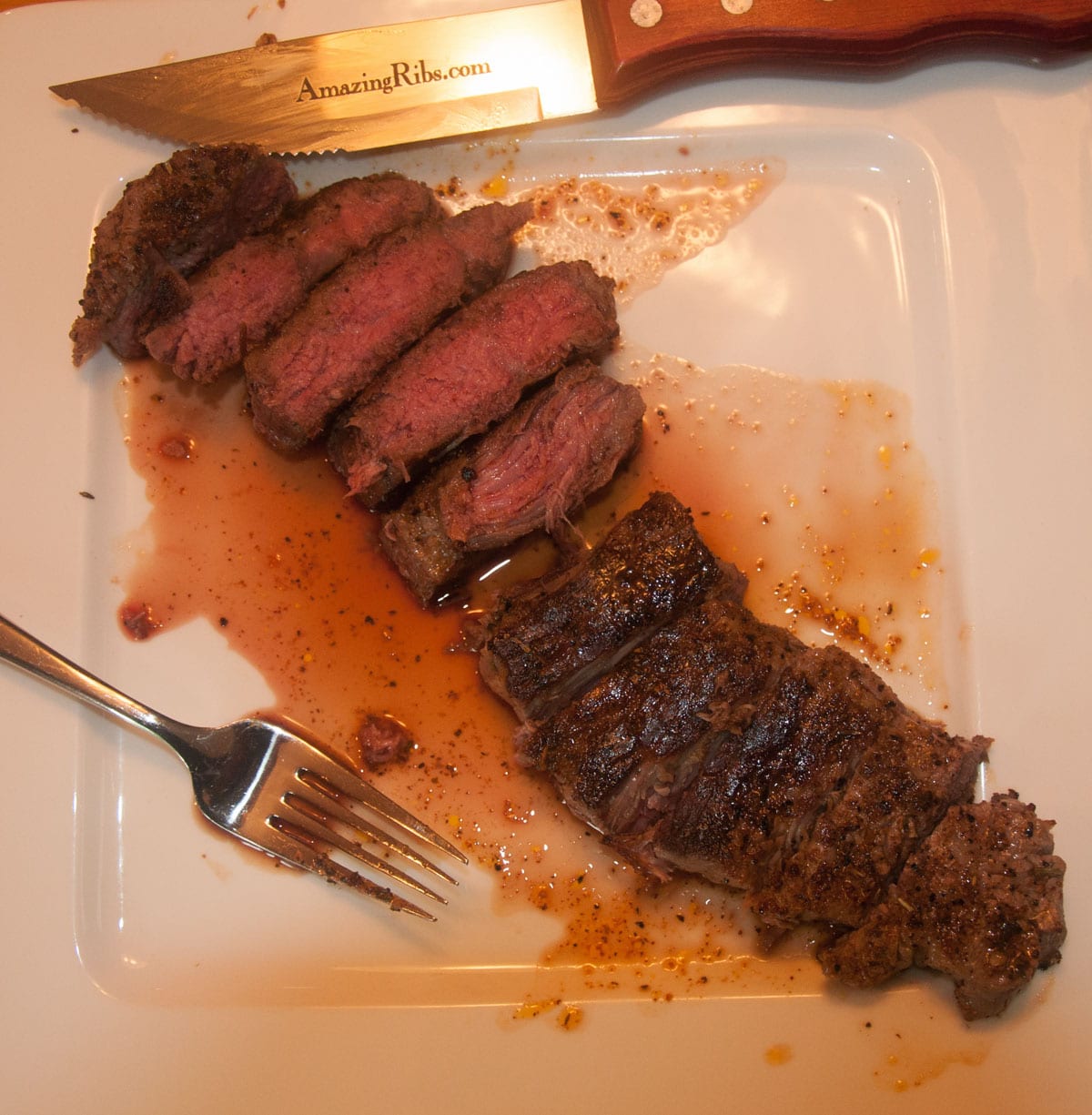 The possibilities for Griddler's full contact sear function are intriguing. The intense conductive heat from the non-stick aluminum cooking plates produces enough heat energy to quickly and effectively sear the exterior of all meats, fish and vegetables on both sides at once with no need to flip. Click here to learn about conductive heat and how different cooking methods work.
Explore the world of Sous Vide Que, the ultimate marriage of water and smoke, by clicking here to download our ebook "Sous Vide Que Made Easy" for $3.99 on Amazon (free Kindle app runs on all computers). Or get the book and others FREE as a member of the AmazingRibs.com Pitmaster Club. Click here to join.
Grease tray
Griddler is designed to channel grease toward the back and into a grease tray below the cook surface.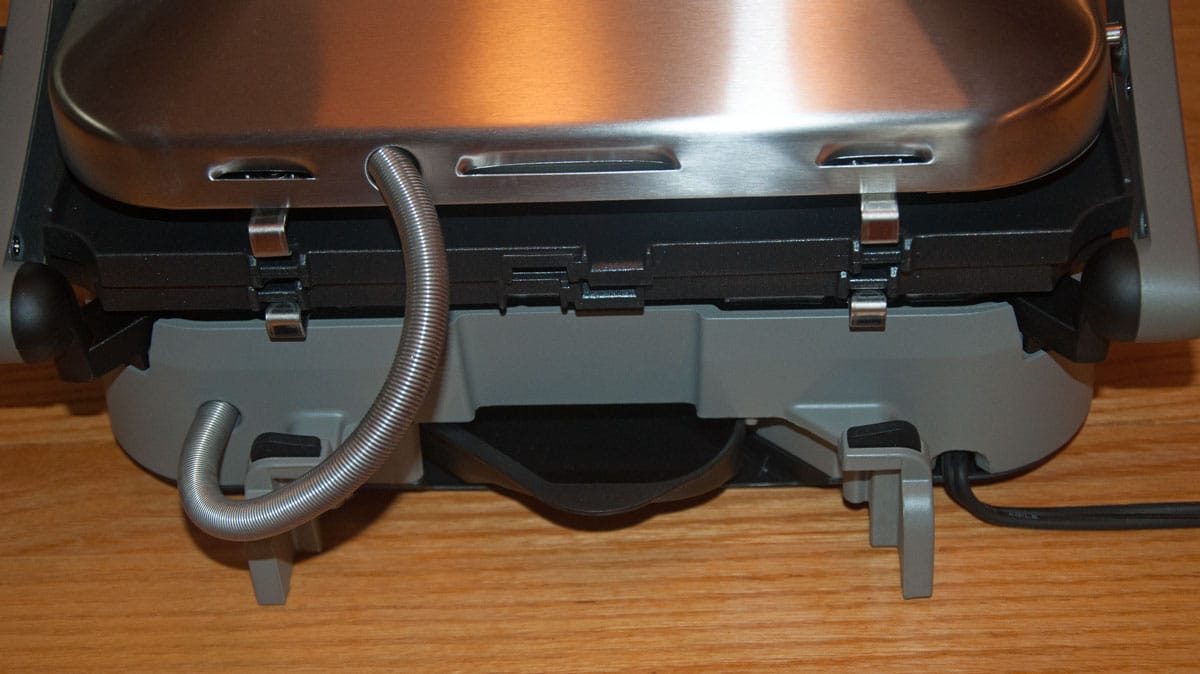 The tray slides out from the side for easy grease disposal.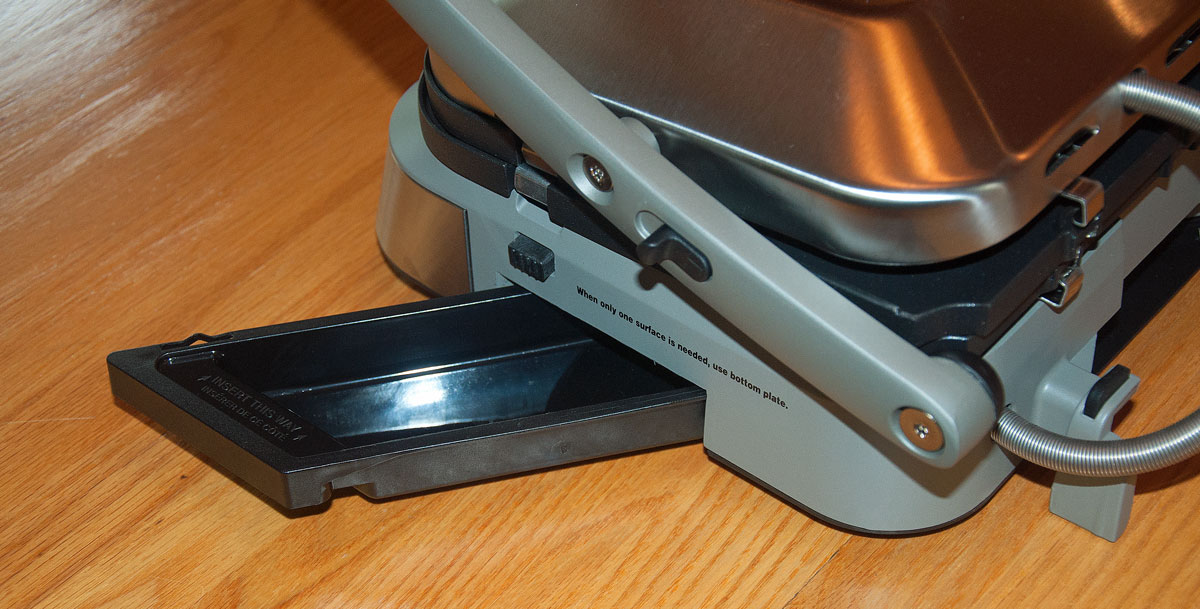 The concealed tray looks nice when tucked away, but don't forget to empty it before storing the grill!
Splatter and Smoke
This could be the name for your next restaurant, but we'll use it to warn you about a few Griddler downsides. When opened flat for cooking on both plates, oily and greasy foods can splatter all around Griddler, just as they would from a stovetop pan. Although the bottom of Griddler never got hot enough to warrant placing it on a protective surface, you may want to do so anyway to make clean up easier.
When used as a full contact grill, the top section drastically reduced splatter. But with greasy foods like burgers the lid held onto gunk which drizzled down the back when opened, mostly missing the grease tray and ending up on our countertop.

Additionally, Griddler requires proper ventilation just like cooking in your kitchen on pots and pans. We quickly learned to place it on our rangetop and run the overhead exhaust fan.
Bacon cooked in the press came out great in record time, and it served to demonstrate two points about Griddler grease. Number One, the top grill plate reduces greasy splatter but saves all that gunk for later when you lift the lid.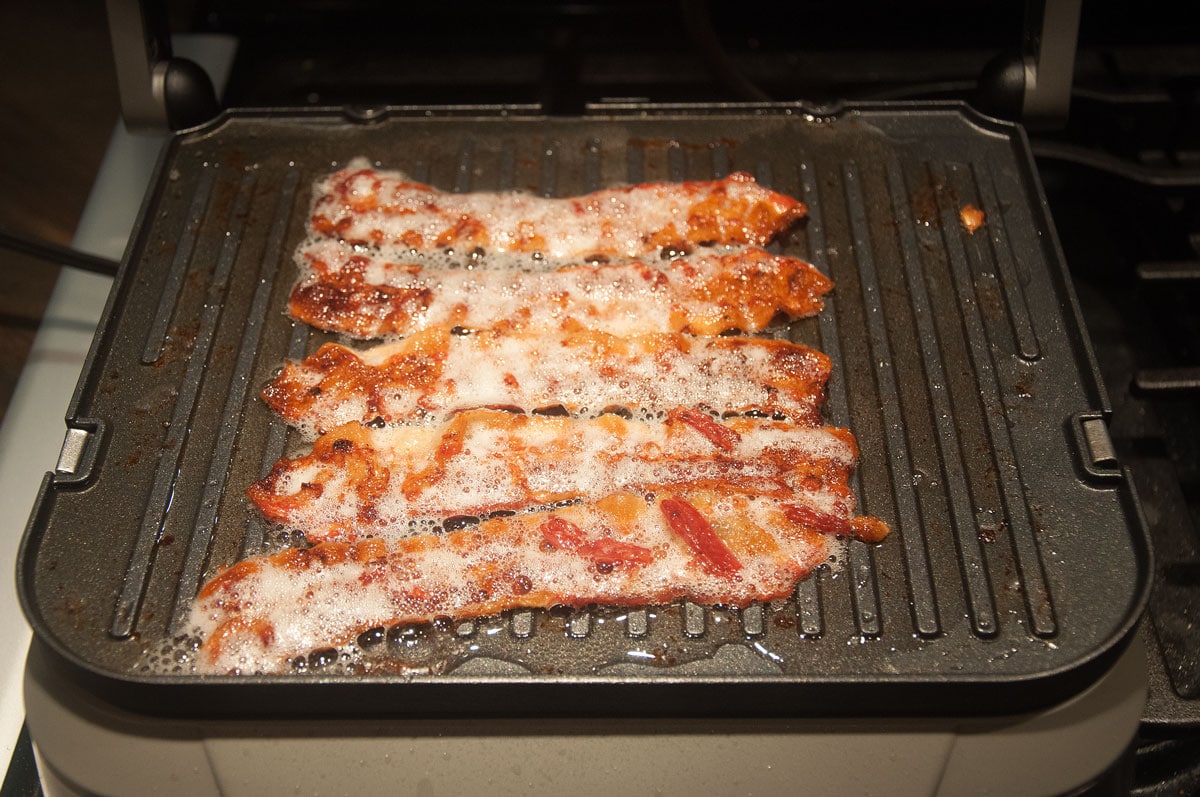 Number Two, these types of indoor electrics have a reputation, promoted by some manufacturers, for producing lean, healthy food by channeling grease away. One picture is worth a thousand words. Here's the aftermath of our bacon test when the bacon grease cooled.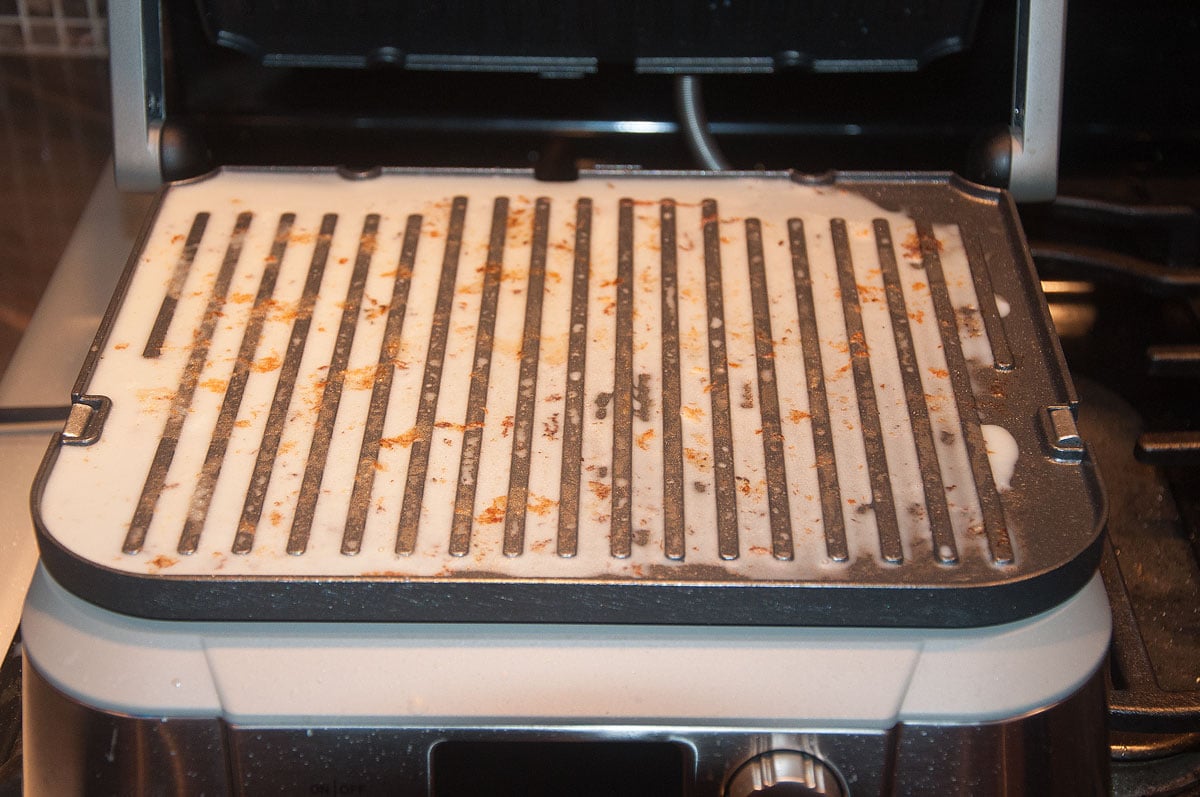 Although many believe these electric grills promote a healthy lifestyle, that opinion is far from unanimous and has been debunked by some well known and respected sources that believe fat reduction is insignificant. Click here to read more.
Packaging and assembly
Packaging was simple and effective. Griddler comes fully assembled and ready to go right out of the box.
Waffles optional
Optional waffle plates are available.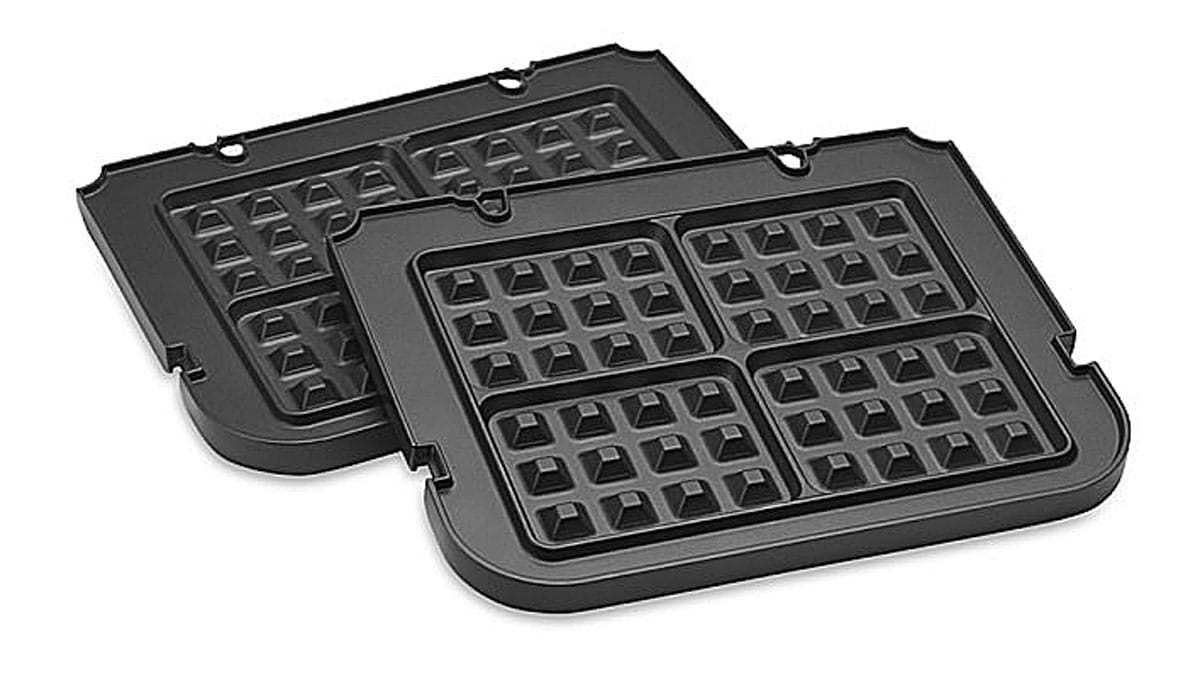 Click here for pricing on Amazon.
Get a sneak peak at Meathead's next book. He shares chapters with members of our Pitmaster Club as he finishes them. Click here for a free 30 day trial. No credit card needed. No spam. Click here to Be Amazing!
Conclusion
Strictly speaking, if you have a pan and/or griddle and a kitchen rangetop with burners, you may not need one of these indoor electric grills. However, if you don't, Griddler may be a solution that meets your cooking needs. And even for those who have a full, modern kitchen, Griddler can be a useful addition for grilled cheese, panini, chicken breasts, veggies and the cool sear function that sizzles foods hot and fast without flipping.
These little indoor electrics are wildly popular and offered in a wide variety of prices and features by many manufacturers. Cuisinart's Griddler Five is priced on the high end of comparable models, but thousands of owner reviews show the vast majority of buyers are extremely happy with their purchase. Skeptical at first, we were ultimately won over, mostly by using Griddler as a full contact grill and panini press. If you're shopping for a small indoor electric, Cuisinart's Griddler Five deserves a look. It's versatile, easy to clean, and light and small enough to store out of the way in an upper kitchen cabinet. We award it our AmazingRibs.com Best Value Gold Medal.
Warranty
Limited three year warranty against defects in materials and workmanship under normal home use.
We thank Cuisinart for providing a Griddler for our tests.