Cuisinart's 4-in-1 Woodcreek Pellet Grill follows in the footsteps of their 3-in-1 Stainless 5 Burner Gas Grill, presenting a one box package deal that offers four cooking choices:
Woodcreek, a large pellet smoker with decent performance and some unique features.
Heavy cast iron griddle. If you haven't tried it yet, here's why you need to start griddle grilling. 
Charcoal tray insert for "the flavor of charcoal without hassle".
Ceramic briquet insert, meant to "provide high temperature searing".
Unique design
Modern pellet smokers work a lot like indoor kitchen ovens. You set a desired cooking temperature and a thermostatic control system uses an internal temperature sensor to reach and maintain that temperature. Instead of turning on a gas burner or electric heating element, pellet smokers use a motorized auger to feed wood pellets to a fire pot and a fan to ignite them as needed. The burning wood pellets produce clean smoke which adds wonderful flavor, aroma and color to classic meats like ribs and brisket. Most designs have a diffuser over the firepot to prevent a hot spot and a large rectangular drip tray under the cooking grate which is inclined to divert grease and gunk to a small bucket or grease tray.
Woodcreek is similar. A diffuser rests over the fire pot.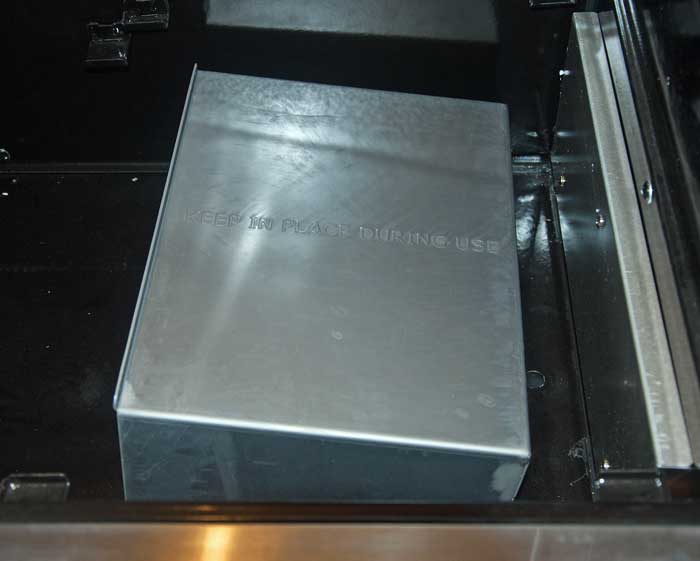 But the drip tray is split into two sections.
For high-heat searing, Cuisinart recommends replacing the right section of the split drip tray with their ceramic briquet insert.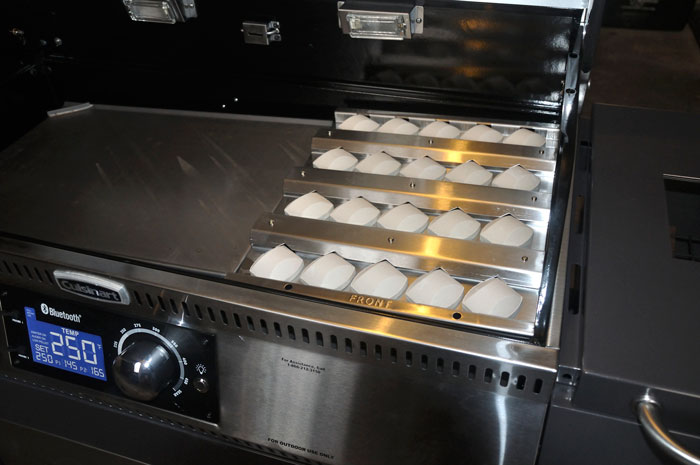 Or, for charcoal grilling, the charcoal tray insert replaces the right section.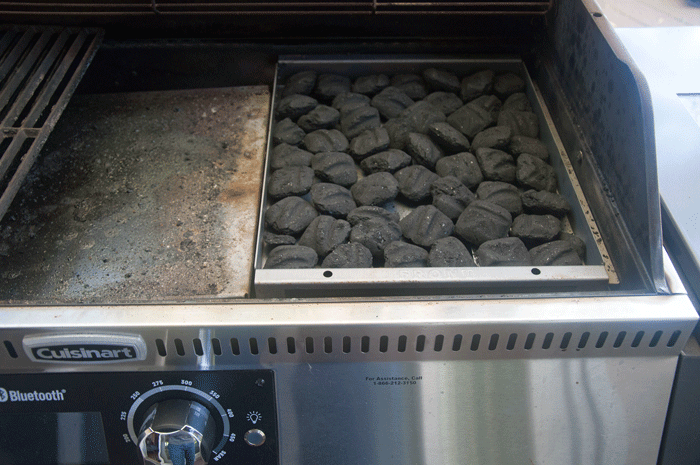 The cooking grates go over the inserted trays, and the griddle rests on top of the cooking grates. Note the cool flip up warming rack. Warming racks are useful and many grills have them. However, they can be a nuisance when you just want to fill up the main cooking grate front to back. Cuisinart has a simple remedy: just flip it up and out of the way. Great idea!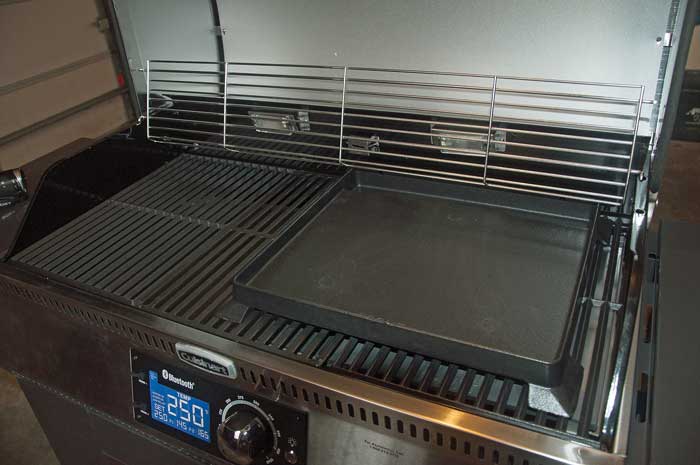 Woodcreek has three 17.5 inch x 12 inch coated cast iron grates for a primary cook surface of 17.5 inches x 36 inches. The warming rack is 6 inches x 34 inches.

Up your game: Join our Pitmaster Club. Try it out for free for 30 days. No credit card is needed. No spam. Join now and Be Amazing!
Let's take a closer look at all four functions. 
#1 Pellet Smoker
Woodcreek is first and foremost a pellet smoker, and like other pellet smokers, it functions much like an indoor kitchen oven. Already established as a leading brand of indoor kitchen appliances, Cuisinart aims to provide a seamless transition to cooking under the clouds with pellet grills that mirror the functionality of indoor ovens with the addition of flavorful smoke. Woodcreek's appliance grade viewing window, interior lights, and insulated lid complete the picture.
Overall construction is decent. We like the double walled hood that holds heat inside, a particularly nice feature for those cooking in cold climates. A gasket on the hood bottom seals in heat and smoke.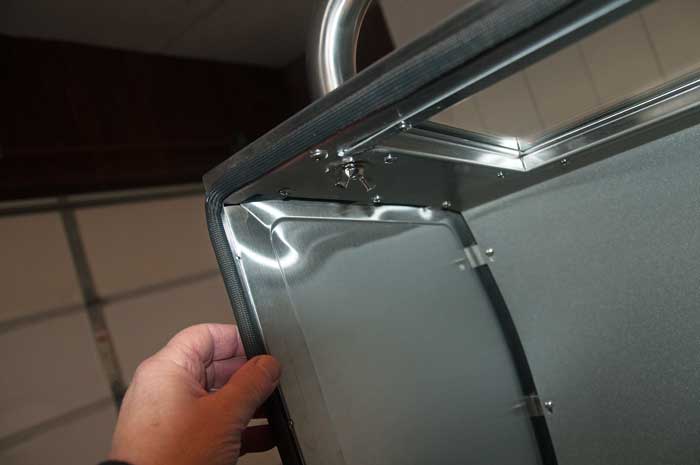 And of course, Woodcreek features a window so you can look while you cook. Two 10 watt halogen interior lights illuminate the interior after dark.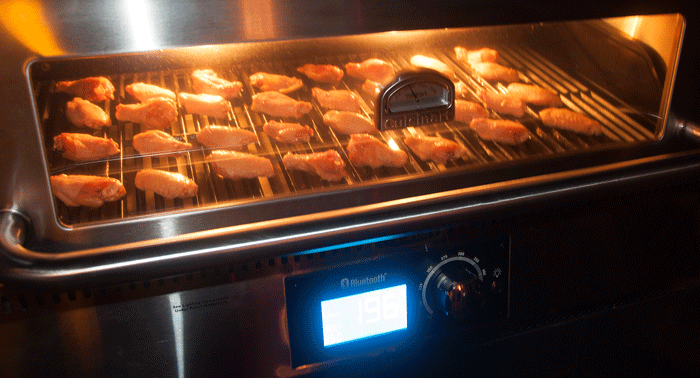 If you like what you see, remember to keep it clean. Once grill and smoker windows go black, it's hard to clear them up even by scraping with a razor. A little windex before or after each use does the trick.
The digital controller features a large display screen with inputs for two included digital meat probes on the left side. Both probes may be clipped under the pellet hopper hood for storage. Click here to learn why digital thermometers are the single most important tool in your barbecue arsenal. The control knob allows temps to be set at 200°F, 225°F, 250°F, 275°F, 300°F, 350°F, 400°F, 450°F and SEAR. On the right side, an On/Off switch allows you to control the two internal lights. Here, our set temp was cranked all the way up to "SEAR" and our single internal meat probe registered our steak temp as 99°F.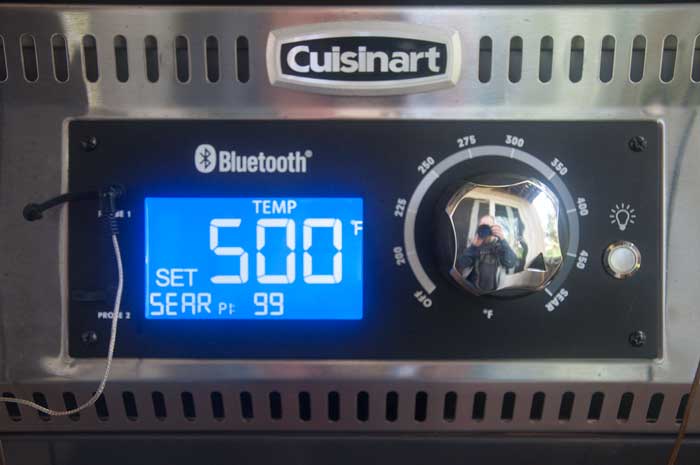 Instead of the customary pellet smoker chimney, Woodcreek has a wide exhaust vent that runs along the back from left to right.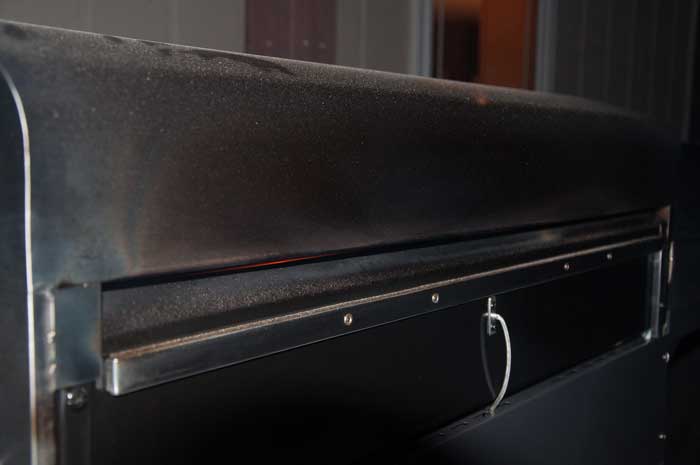 4-in-1 also provides tool hooks on the left side shelf and a large storage shelf on the open air cart, which rolls around on four locking casters.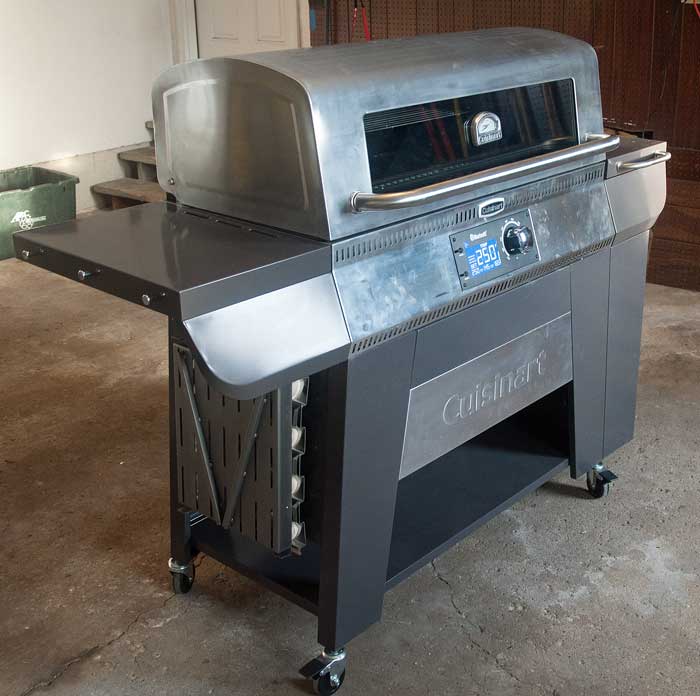 Like what you're reading? Click here to get Smoke Signals, our free monthly email that tells you about new articles, recipes, product reviews, science, myth-busting, and more. Be Amazing!
Temperature tests
Set for 350°F with both drip plates in place, our bread test for even heat indicated the cook surface was hotter on the right.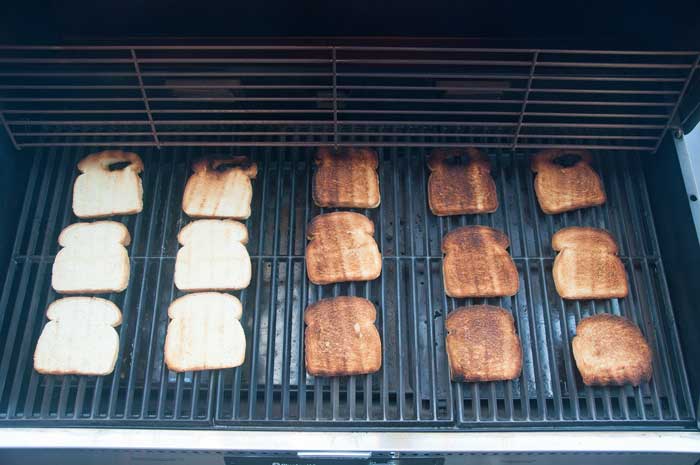 Tests with our Fireboard 6-channel digital thermometer showed temps as lower on the left, rising toward the middle and dropping off a bit on the right, a pattern we also observed when cooking. As is often the case, the discrepancy escalated as our set temps went up.
With Woodcreek set at 225°F, our digital thermometer logged from left to right: 231°F, 240°F and 229°F.
At 300°F we logged: 308°F, 333°F and 328°F.
At 350°F we got: 409°F, 433°F and 414°F.
And at SEAR: 506°F, 571°F and 542°F.
Let's get cookin'
To test the pellet smoker function, we started smoking low and slow at 225°F and made our smoked pork butt for pulled pork. The results were good. Then, craving something different, we took a stab at Meathead's Char Siu Ribs.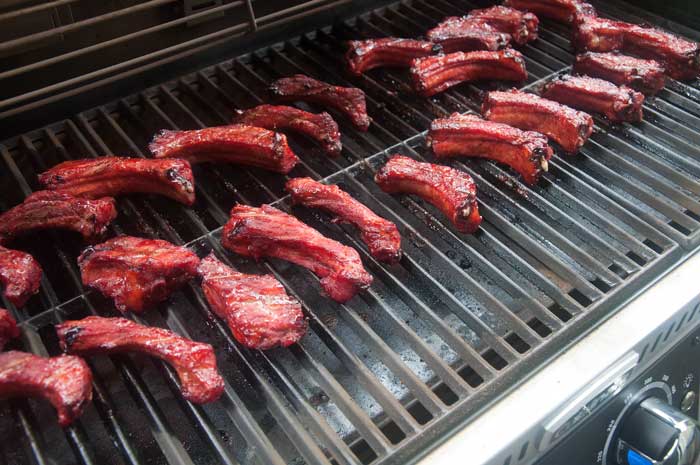 Highly recommended! Down low at 225°F the heat was pretty even. A flight of chicken wings spread left to right, front to back at 350°F confirmed Woodcreek ran a little hot toward the center right cook surface.
Pellet cooker features
Woodcreek has a 30 pound capacity pellet hopper to feed fuel to the fire pot. A sensor at the bottom warns when pellets run low.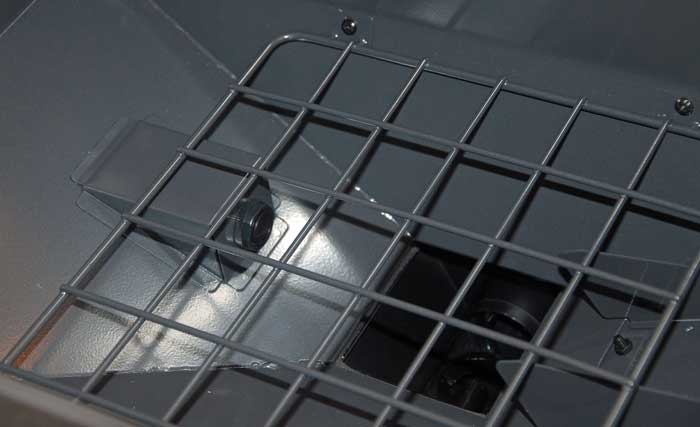 A pellet cleanout shoot pops open to empty the hopper; a useful feature for changing pellet wood types and preparing for long term storage. The chute is held in place with a sliding latch that's easy to open, but difficult to slide back in to secure the pellet door shut. Convenient posts are provided to wrap up the power cord when not in use.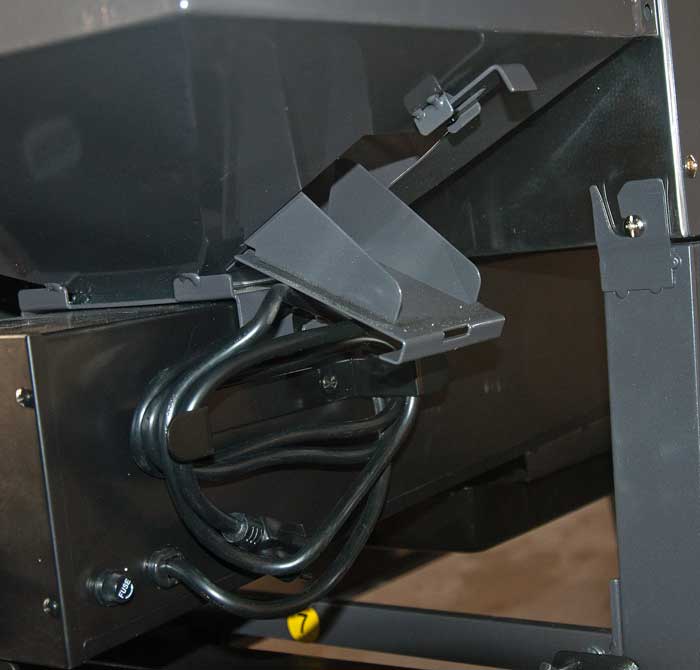 Like all outdoor cookers, pellet smokers must be cleaned periodically. Ash collects in the bottom of the smoke box and the fire pot. When too much ash is allowed to build up in the fire pot, controllers will shut down. You don't want that to happen, especially while you're cooking because every thing between you and the fire pot will have to be removed, including your food, and you'll likely have to wait until it cools off a bit before cleaning. Woodcreek's fire pot has a trapdoor on the bottom that slides away via a pull out handle on the right side, letting the ash drop into a removable tray below.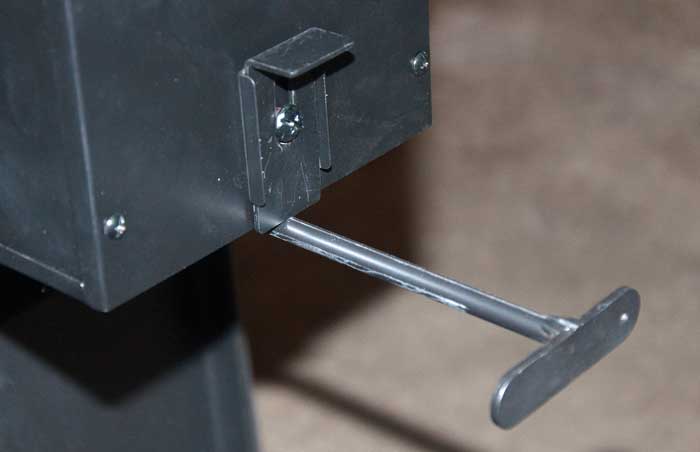 Get a sneak peak at Meathead's next book. He shares chapters with members of our Pitmaster Club as he finishes them. Click here for a free 30 day trial. No credit card needed. No spam. Click here to Be Amazing!
Smartphone App
More and more pellet smokers come with apps that monitor cooking and often include remote controls from a smartphone. Woodcreek has a bare bones app called Cuisinart Easy Connect that displays cooking temperature and internal meat temp from the two integrated meat probes.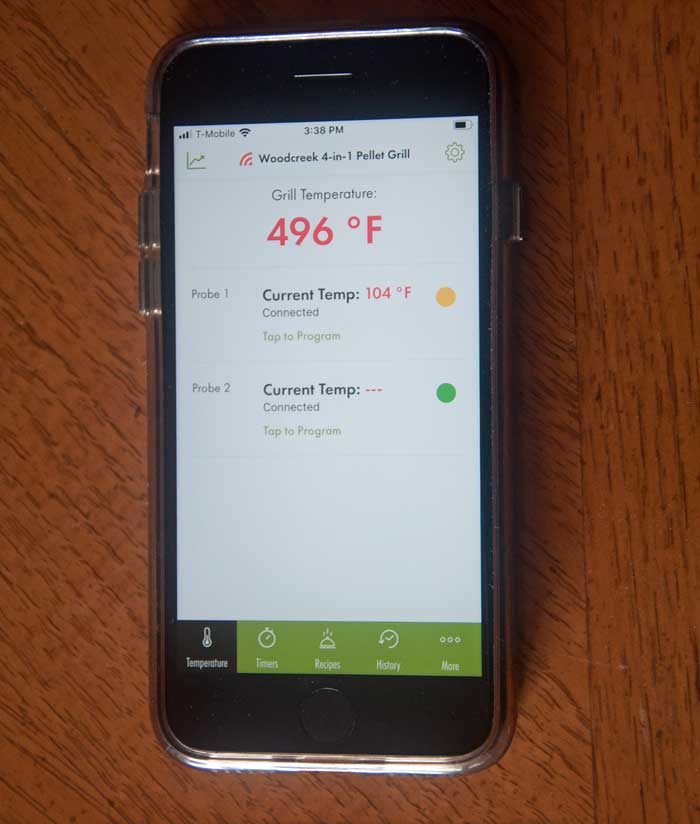 It includes a timer, some very basic recipes (use ours instead), and a history log that tracks your favorite sessions. Unfortunately it connects via Bluetooth only, which means the range is limited. We lost communication after going indoors and walking to the next room. We had no problem connecting with the app, but that doesn't guarantee you won't. Connection problems can occur for a variety of reasons not necessarily due to the app or smoker. Other external factors like your modem, internet service and even construction and layout of your home may be the culprit.
#2 Griddle
Cuisinart generously throws in a large cast iron griddle. It's big and heavy with a 15 x 12 inch griddle surface and a trough at the back for scraping grease and gunk into while cooking.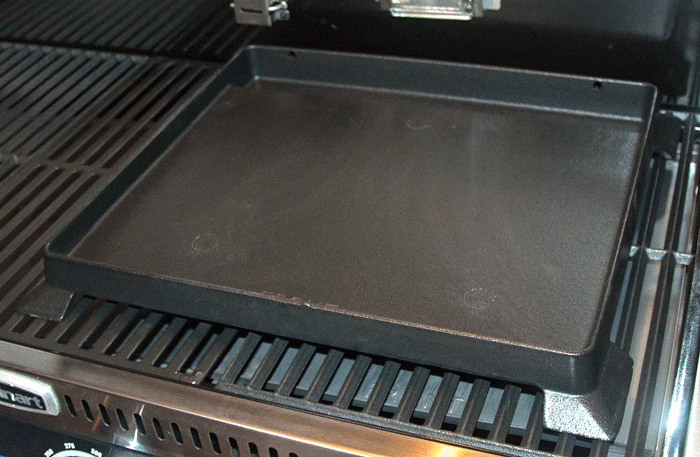 Griddles require a little maintenance or they will rust and get nasty, but they are well worth the small effort. They excel at bacon and eggs, smash burgers, fajitas and fish. Put a superb sear on scallops and grill asparagus without worrying about them slipping through the grates. Click here to learn more about griddle grilling. While this griddle can be stored by hanging it from hooks on the right side of the cooker, you may want to bring it indoors to keep it clean, especially if you don't use it often.
#3 Charcoal insert
The charcoal insert worked surprisingly well. Just remove the right side drip tray segment and replace it with the insert. With the lid up, crank the controller to SEAR. Do not remove the heat diffuser over the fire pot. The charcoal will ignite beautifully even with the diffuser in place.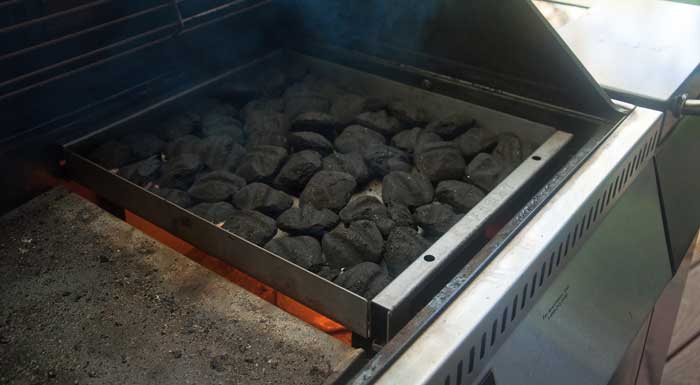 When the charcoal ashes over in 15 to 20 minutes, turn the controller OFF, leave the lid up and start charcoal grillin'! A good way to test sear power of your charcoal is beef fajitas. Sliced veggies and thin skirt steak need intense heat to sear the exterior fast before the inside overcooks. Cuisinart's charcoal insert gave us plenty of red hot sizzle.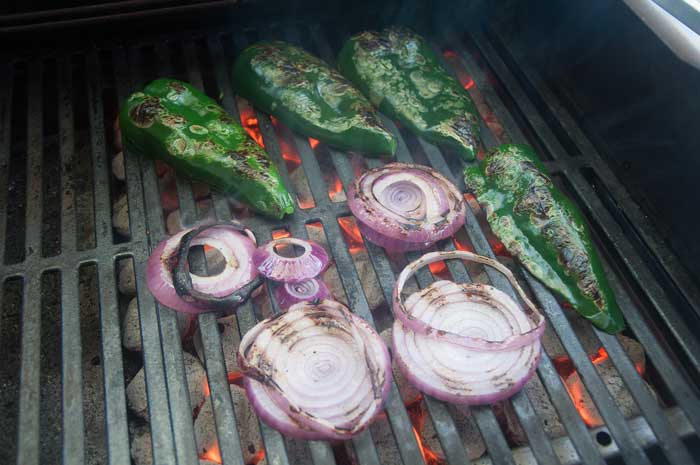 Oh yeah baby!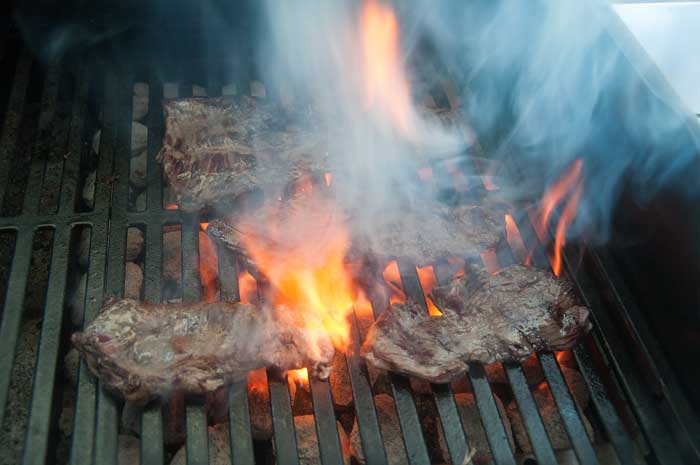 Charcoal grills need adjustable air/oxygen intake and exhaust vents to facilitate temperature control. Since Woodcreek does not have adjustable vents, the charcoal tray is meant for one thing only – PURE POWER. And that's OK. Adjust the temperature from 200°F to 500°F with the control knob and when you need a rip roaring fire for searing, go to the charcoal insert. Cleaning the charcoal ashes wasn't bad. With a little finesse we were able to lift the tray of ashes after the fire cooled down and dump it out without making a mess.
#4 Ceramic insert
Having tested Woodcreek's searing ability with charcoal, it was time to test the sear power of the ceramic insert. Cuisinart claims that you can, "Sear any steak to perfection with the ceramic briquet insert that allows for high temperatures." Not so. Crank the controller to SEAR and It takes twice as long for the ceramic briquet side to reach the same 550°F temp as the drip plate side on the left. And that's all you get. There is no appreciable difference between leaving the right side drip plate in place or replacing it with the briquet insert. It looks interesting but actually delays your cooking session without any benefit. If you're looking for sear power, go with the charcoal insert.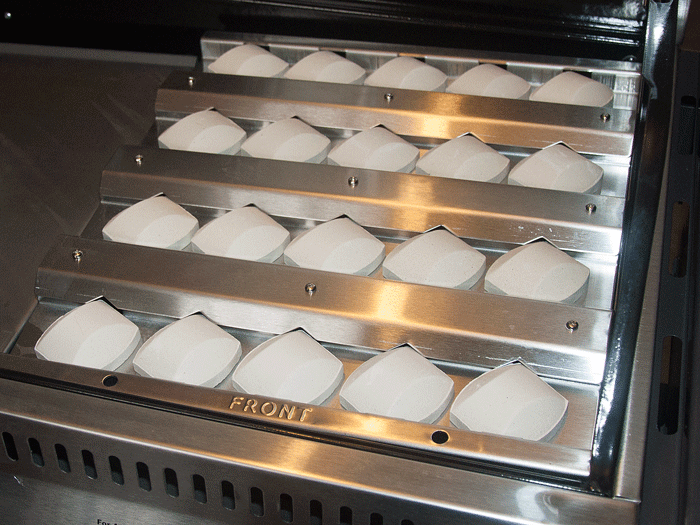 Both the ceramic briquet and charcoal tray inserts may be hooked under the left side shelf for storage.
Like what you're reading? Click here to get Smoke Signals, our free monthly email that tells you about new articles, recipes, product reviews, science, myth-busting, and more. Be Amazing!
Assembly and packaging
Packaging was good. The instructions were easy to follow and assembly started out smooth with putting together the cart. Some screws were already threaded into place and the parts were numbered. So easy even a caveman could do it.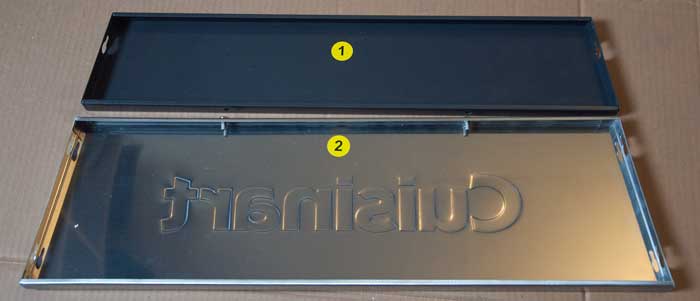 Or so we thought. After the cart, things became more difficult. The biggest challenge was mounting the pellet hopper and auger assembly under the smoke box. The screw hole alignment was way off and we had to push and hold the module in place to screw it on.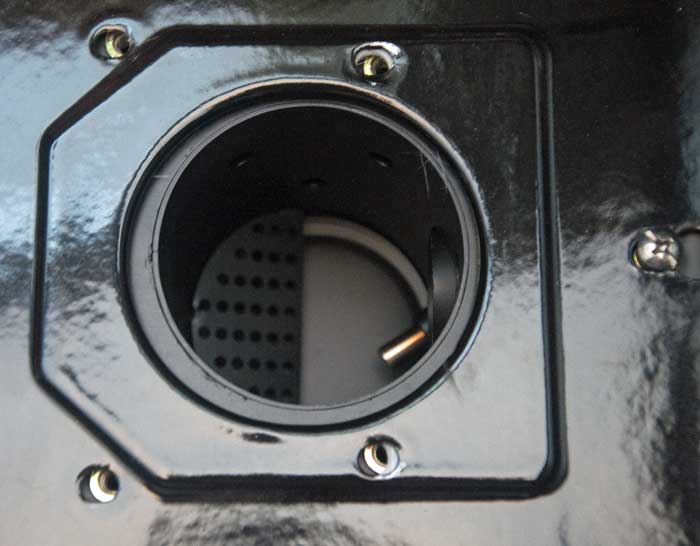 Conclusion
Cuisinart's Woodcreek 4-in-1 is an OK pellet smoker with a good warranty. List price is $599, but the going rate at Walmart is $497. That's a decent deal for this fairly large cooker, but some other reputable brands offer similar capacity in the same range. The heat profile is uneven, but not horrible. The rudimentary, Bluetooth app borders on window dressing, especially when considering the large control panel display can be read from a similar distance as the Bluetooth range. Assembly was irritating but doable, and we survived the process to, all in all, have a good experience with Woodcreek. Just as with their 3-in-1 Gas Grill, Cuisinart has once again won us over with their bounty of useful extras. Ceramic briquets aside, the griddle and charcoal tray make Woodcreek an appealing package deal. The charcoal insert provides sear power most pellet smokers lack, and if you haven't used a griddle outdoors, you will after trying it. Both items expand Woodcreek's versatility and tip our ratings scale into Gold Medal territory.
Warranty
All parts carry a 3 year limited warranty.
We thank Cuisinart for providing a Woodcreek for our tests.