UPDATE. As we learn more about Weber's "Smart" technology our opinion of the Genesis II SX-335 is changing. Hence we are revisiting and changing this review. It appears this model is being replaced by the wonderful new 2022 Genesis Smart Grills which we are currently testing. Weber is developing their smart technology with June Life. Click here to read our review of the June Oven, an advanced, smart, indoor tabletop cooker.
With their recent acquisitions of iGrills Digital Thermometers and June Technologies Smart Ovens, Weber signaled their vision of a high tech future for barbecue and grilling. Soon afterwards, Weber brand iGrill digital thermometers and iGrill Ready Gas Grills appeared. June Technologies' sophisticated software and wireless functions were seamlessly incorporated into the Weber Connect Grilling Hub and SmokeFire Pellet Grills. In 2021 they added EX and SX Smart Grills to their popular Spirit and Genesis Gas Grill lines and we at AmazingRibs.com jumped for joy. Although Weber's Smart Grills are not designed to control cooking temperature, they have Weber Connect Technology with a built-in digital temperature sensor that we hoped would enable backyard cooks to easily dial up and monitor accurate cooking temperatures via an LED display on each grill's side table or from their smartphone app.
We've always instructed our readers to ignore old fashioned, built-in analog grill thermometers and trust only modern, accurate, digital thermometers. Those old bi-metal, analog thermometers were developed in the late 18th century. Their limited accuracy is degraded further by the oddly popular placement in grill hoods, high above the grate where the actual cooking happens. They are routinely off by 50°F to 100°F. Click here to learn why digital thermometers are the most important tool in your barbecue arsenal.
The Weber Genesis II SX-335 three burner with sear burner and side burner is, at its core, a wonderful gas grill. It is 47 inches high x 59 inches wide x 29 inches deep and weighs 160 pounds. Weber's Genesis Gas Grills have been popular for many years. With great features, a solid build and Weber's superb customer service, they continue to grab a large share of the premium gas grill market.
The SX-335 is an upgraded version of the E-335 that we reviewed a couple years ago. That model received our highest award: the AmazingRibs.com Platinum Medal. E models have porcelain enamel coated hoods and cast iron cooking grates, while S models have stainless steel hoods and stainless steel cooking grates. The 335 models come with a 12,000 BTU Side Burner and a 9,000 BTU Sear Burner. Genesis II EX-315 Smart Grills are also offered without the additional side and sear burners.
All X Series Smart Grills incorporate Weber Connect digital, wireless technology. Looking at Genesis II and Genesis II Smart Grills side by side, it's clear they're identical, other than the Weber Connect integration. Weber confirmed this observation. We decided to use bits and pieces of our previous E-335 tests for this review and focus more on what's different in this grill: The new Smart Stuff. But don't worry. You better believe we cooked on SX-335! The cooking experience was the same as E-335 – Good!
Up your game: Join our Pitmaster Club. Try it out for free for 30 days. No credit card needed. No spam. Click here to Be Amazing!
GS4 grilling system
Genesis II Smart Grills feature Weber's GS4 grilling system. GS4 consists of Infinity Ignition, tapered-quadrangle shaped burners, and a redesigned grease removal system. Weber claims Infinity Ignition is more robust and dependable than their older ignition systems, and they back it up with a ten year warranty. It has a single, battery powered ignitor with no crossover.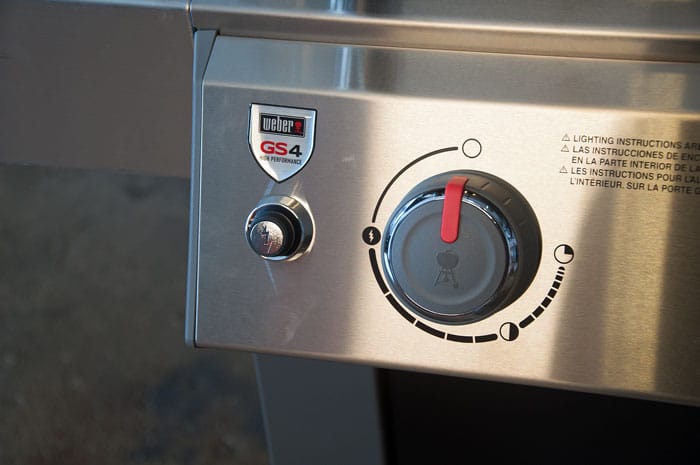 Crossover enables one lit burner to ignite other burners. Without crossover, as in this grill, the ignitor must be pressed to fire up each individual burner. A small inconvenience, but Infinity performed flawlessly throughout our tests. The GS4 burners themselves are meant to improve heat distribution. Note the unusual quadrangular burner shape in the photo.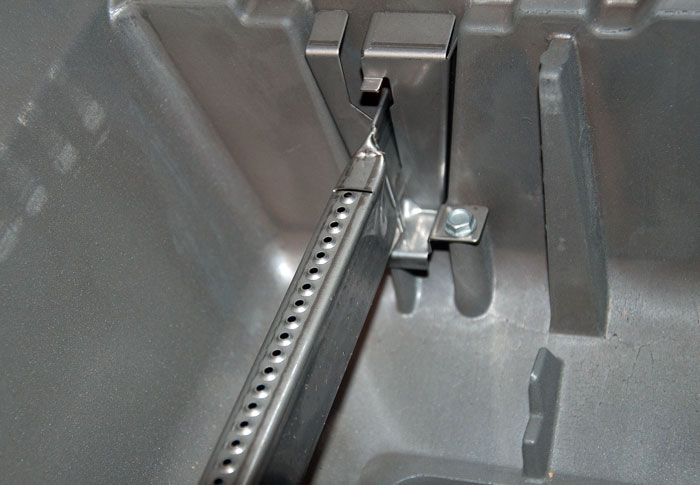 Here's a shot of the sear burner, located between the middle and right main burners in the cast aluminum firebox. The rust-proof aluminum housing has great thermal conductivity for holding and distributing heat.
Stainless steel….Good!
Long-lasting, stainless steel flavorizer bars sizzle drippings and prevent them from gunking up the burners underneath. Note the notches on the sides of each bar which provide a visual confirmation that the burners are indeed lit.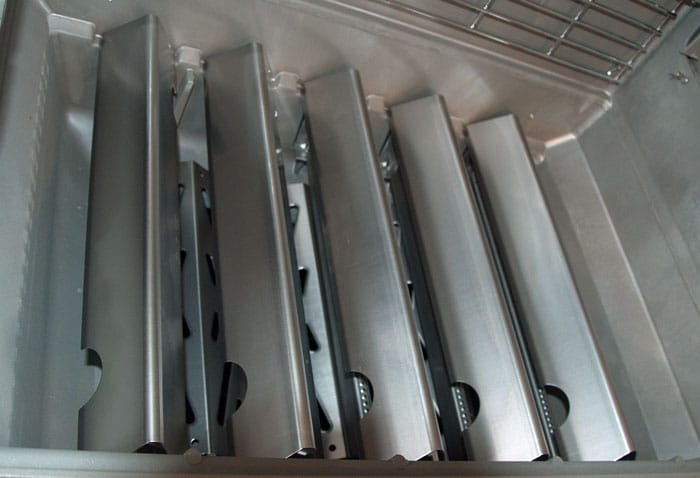 Weber's stainless steel rod grates on the SX-335 are some of our favorites.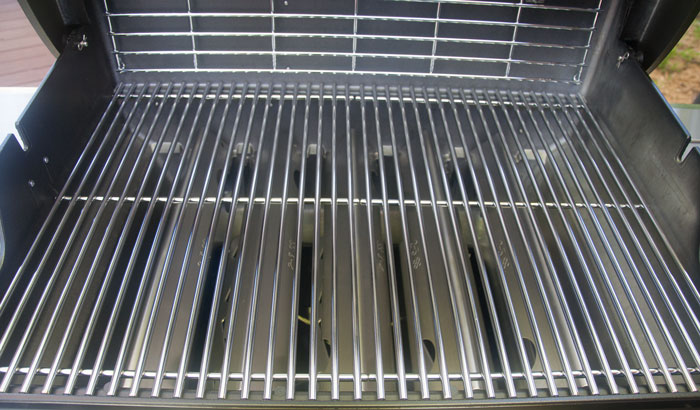 Gas grill manufacturers often rely on cast iron grates to amplify heat from low powered burners, but we're not fans of cast iron grates because they overpower foods with intense conductive heat at the point of contact, creating those alternating bands of dark brown and pale tan known as sear marks. If it's flavor you want (which you do), the ultimate goal is an even sear across the entire meat surface, which transforms dull, tan meat to a delicious flavorful crust thanks to the magical Maillard reaction. More Maillard = more flavor. Stainless steel grates help you get there. If you're confused, click here for more info on conduction, convection and radiant cooking.
To test SX-335's searing power, we cooked a couple of ribeye steaks. We clocked temps at 750°F with all three main burners on high, and 880°F with the sear burner cranked. That's steakhouse sear power that doesn't need cast iron.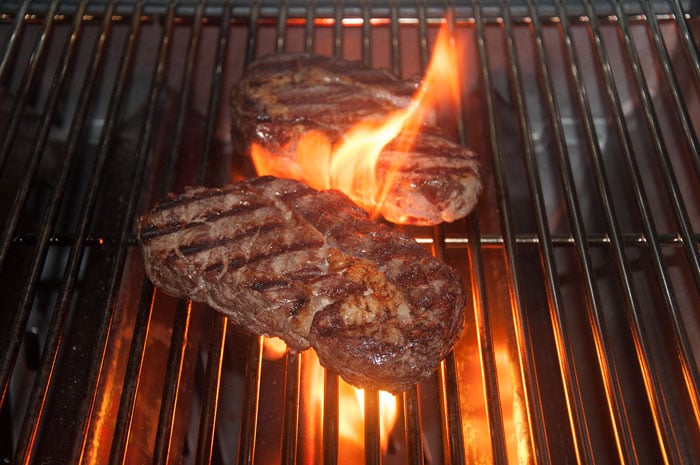 The stainless steel rods allow radiant heat to pass through and develop a tasty brown crust over the entire meat surface. Yes, conductive heat from stainless steel will do a little branding, but not as much as cast iron. Plus stainless steel is way easier to clean, won't rust and doesn't need periodic seasoning with oil and heat. Click here to learn about the pros and cons of various grill grate designs.
More good stuff
Our bread test showed the heat was pretty even across SX-335, with a slight drop off on the sides and front.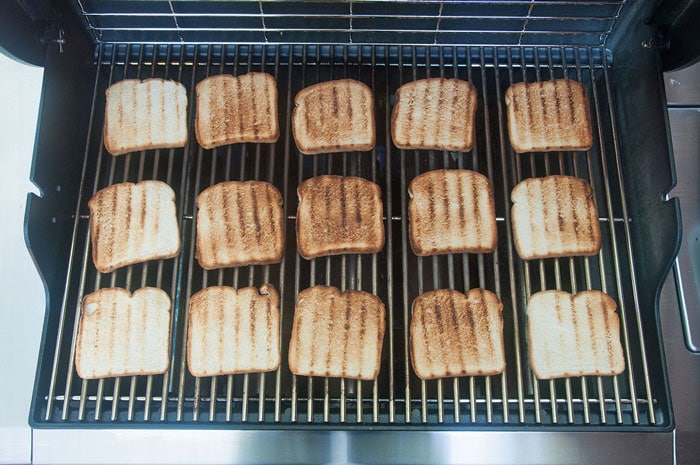 Under the center of the cast aluminum fire box is the grease management system: a porcelain coated steel slide out tray that funnels gunk into a disposable aluminum pan for easy clean up.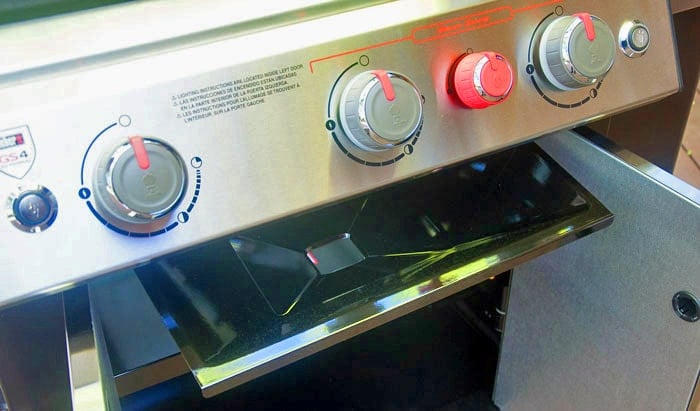 SX-335 comes with a handle light that turns on automatically when you lift the lid, a nice plus for grilling at night.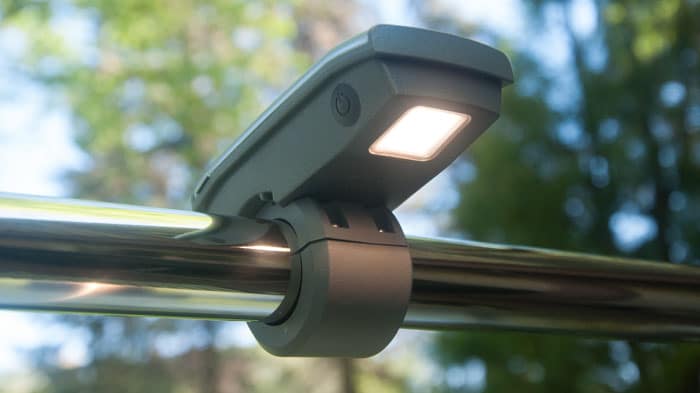 The round button in the image is an On/Off Switch that shuts the light off entirely for daytime grilling. You also get LED lights on each main burner control knob.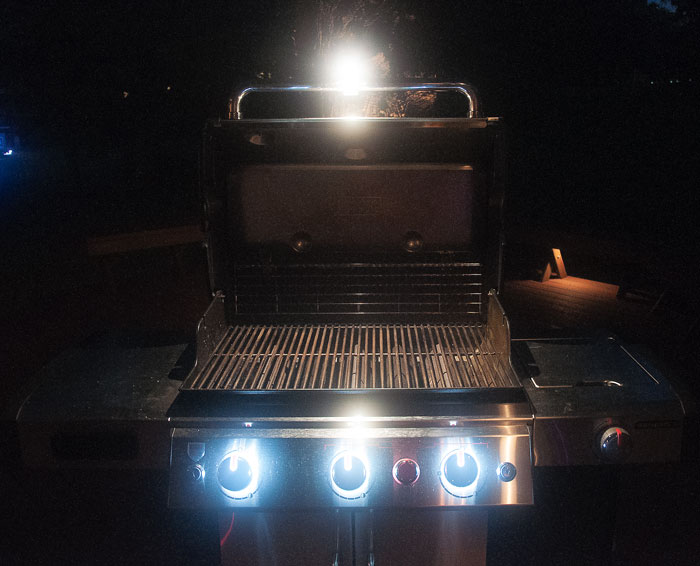 All of these lights are mighty useful when the sun goes down.
Weber's "Fuel Gauge" for LP tanks is actually a scale that provides a rough estimate of how much fuel is in the tank by weight.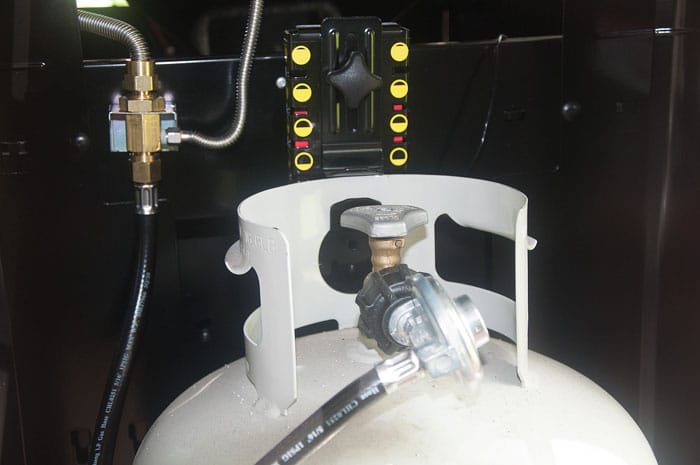 It's not precise, but provides enough of a clue to warn you the tank is getting light and will need a change soon. The SX-335 is also available in a natural gas model.
You gotta love the warming rack. It quickly drops down and out of the way for rotisserie use or when you want clear access to the entire cook surface. No fumbling around popping the rack off and finding a spot to stash it.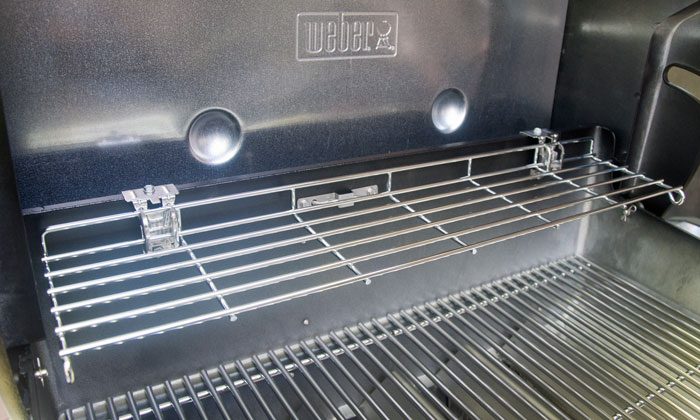 A thermistor temperature sensor is attached to the rear wall of the SX-335 Smart Grill right behind the warming rack and six inches above the main cooking surface.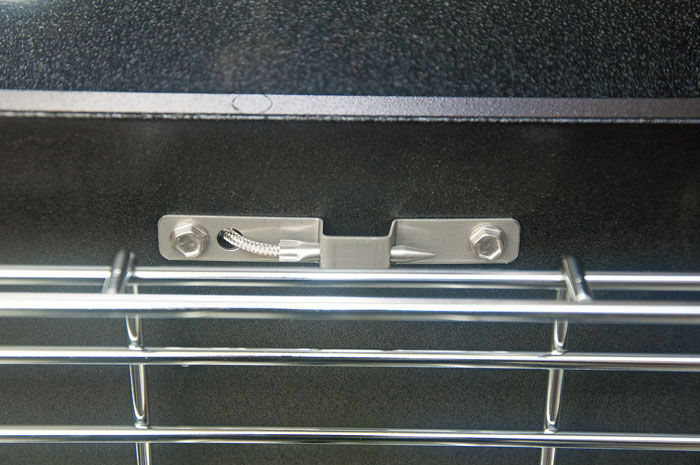 The sensor cable threads through the back.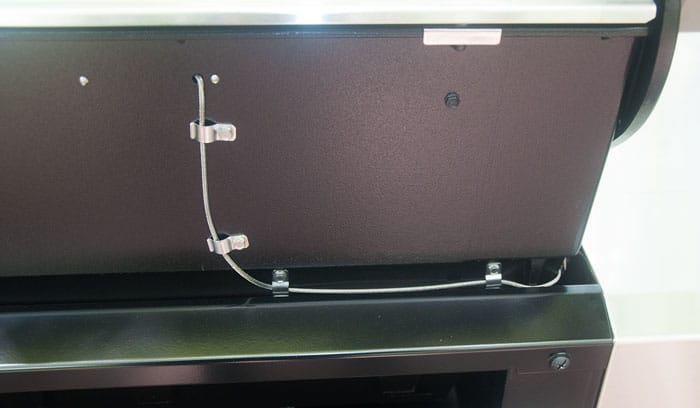 And plugs into the Weber Connect System on the left side shelf.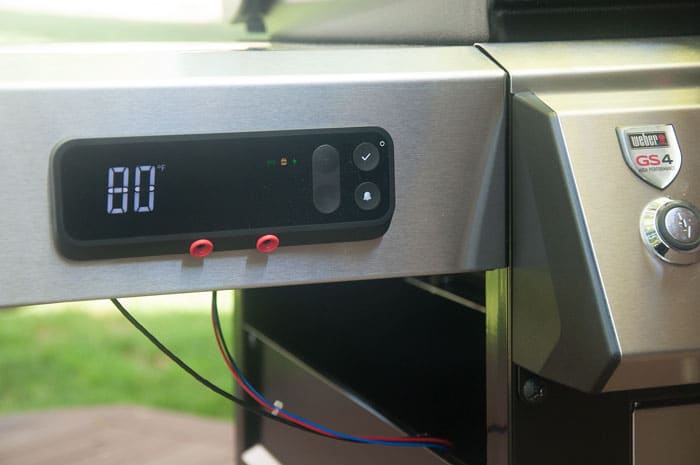 The black wire in the picture is from the thermistor. The blue and red wires come from the main power box which uses six D Cell Batteries for the lights and Weber Connect. The power box is located on the opposite side by the LP tank. The Fuel Scale also plugs into the box and the blue and red wires send info on fuel and battery levels to Weber Connect.
Weber Connect
Here's where we get into the Smart Stuff. Weber Connect does a lot.
The Connect Display shows you: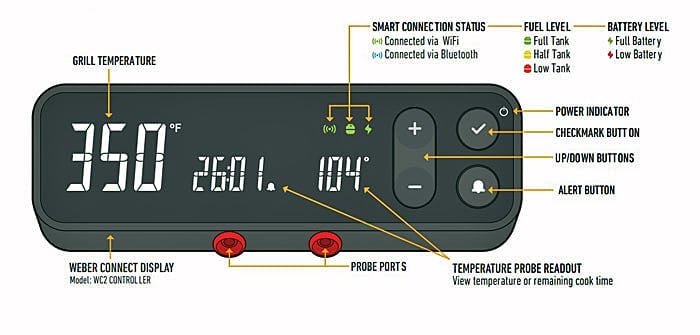 Grill Temperature
Internal Food Temperature from two Meat Probe Inputs. You can set a desired target temperature and an alarm will notify you when foods are almost done. One Meat Probe is included. A second is optional.
Timer. Set and see the progress. An alarm goes off when your set time is over.
WiFi and Bluetooth Connection Status.
Fuel Level.
Battery Level.
You can also access all of the above via the free Weber Connect App on your smartphone.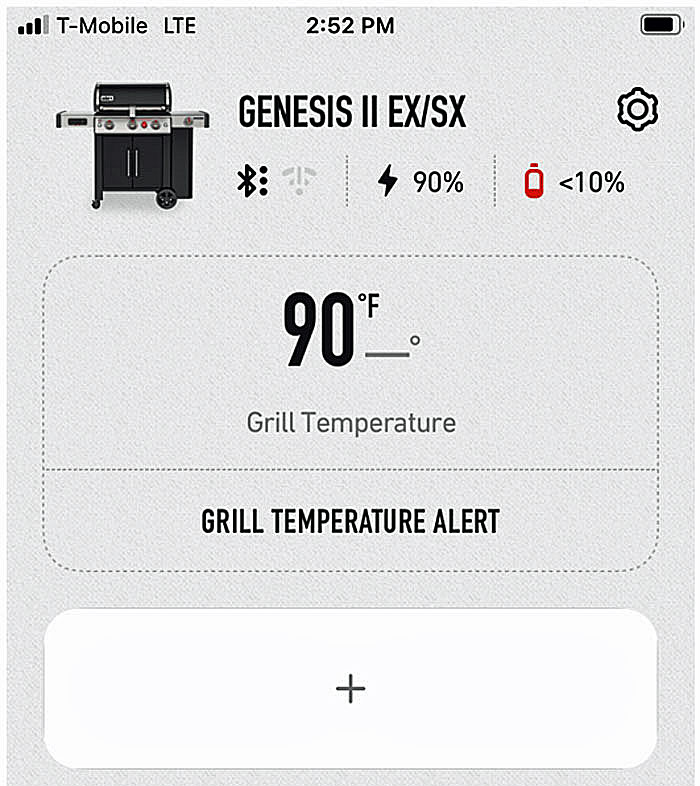 The app is compatible with iPhones on iOS 12.1 or later and most smartphones on Android 7.0 or later. Grill apps are mighty useful. However, as with any WiFi device, you may have connection problems. Connectivity can be impaired by your modem's age and location, your building construction, your internet service and so on. We had no problems, but connection issues are common and frustrating. If you can't connect, stay calm and call Weber customer service.
Weber Connect includes a library of guided recipes that attempt to provide step by step directions, complete with alarms that notify you when it's time to move onto the next step. Until recently, they sometimes discounted these guided recipes as tools for a novice that would likely be ignored by even cooks of modest skill. However, the recipe library has expanded quickly and they now view these recipes as a valuable asset which can open up a new world of cuisine to outdoor cooks who haven't ventured past the burger, sausage, chicken and steak scene.
If you need any outdoor cooking guidance whatsoever, come one come all to AmazingRibs.com for all the detailed recipes, techniques, tips and tricks you need!
Weber continues to upgrade their software. Upgrades happen automatically over the air through WiFi.
Like what you're reading? Click here to get Smoke Signals, our free monthly email that tells you about new articles, recipes, product reviews, science, myth-busting, and more. Be Amazing!
One of their Smart Grill project managers spoke at length about the challenge of mounting a temperature sensor that would perform effectively for all recipes. He spoke of their extensive, real world cooking tests and how they developed a "Correlation Chart" to determine the best sensor type and position and best programming for the Smart Grill software. We were reminded that this process is ongoing and customer comments are now being assessed in addition to Weber's internal data. They expect over the air upgrades to continue as they refine Smart Grill.
Packaging and assembly
Packaging of the SX-335 was excellent. The electronics made assembly somewhat challenging and we had to call customer service a couple times for some hand holding. It wasn't terrible, but slow down and pay extra attention when you assemble this unit. Weber ships their shiny stainless steel hood and side shelves covered with clear, adhesive backed plastic for protection. Be sure to remove it. The plastic is laser cut around protruding surfaces like the Weber Badge in the photo.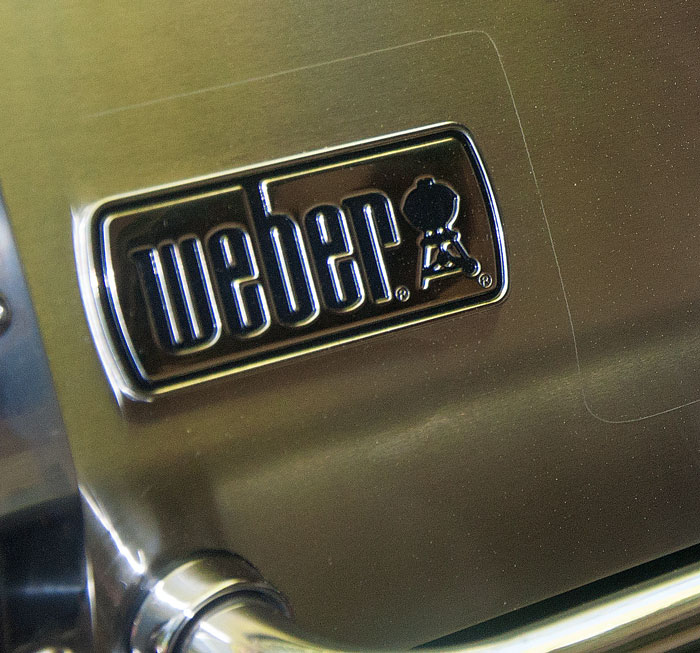 This is common practice for stainless steel. The SX-335 plastic took a little extra effort to remove and left an outline around the cut marks that didn't go away after cleaning. This photo was taken after we removed the plastic and then hit the lid with stainless steel polish. We tried again to polish away the lines, this time with more elbow grease, but could not remove the outline marks. We became concerned that the laser cut went too deep and etched the metal itself. Weber sent someone out. We watched as he used a cloth and Weber Stainless Steel Polish to vigorously remove it all without special chemicals or tools. Moral to the story: shoulda used more elbow grease.
Conclusion
We are currently testing the 2022 Genesis Smart Grills that are set to replace this model. The new versions employ the same smart technology used in this model. As we learn more about Weber's application of June Life's smart technology into Weber Smart Grills, we are reassessing the grill.
Weber states, "The Weber technology will only get smarter over time, and we'll continue to work on improving temperature accuracy. As the EX and SX lines are smart, we can issue over-the-air improvements as they are available. Improvements happen via the Weber Connect app, which gets updates via WiFi or 4G/LTE and sends them to the grill/device via Bluetooth."
Up your game: Join our Pitmaster Club. Try it out for free for 30 days. No credit card is needed. No spam. Join now and Be Amazing!
Meanwhile Weber tells us most buyers are happy with their Smart Grill purchases. We scoured internet reviews and this appears true. The minority of unhappy buyers had other complaints like shipping damage and WiFi connection issues.
Warranty
Ten years bumper to bumper on everything but Weber Connect parts. Three years on Weber Connect.
We thank Weber for providing a Genesis II SX-335 for our tests.
Special thanks to Fireboard Labs for the generous use of their digital thermometers.