Sometimes you need a big surface area to cook a lot of food at once. Designed to feed a crowd fast and leave 'em smiling, the 600 is the most popular size in Camp Chef's Flat Top Grill line. Four 12,000 BTU stainless steel tube burners fired by dedicated piezoelectric ignition at each control knob make setting multiple cooking zones across this 600 square inch griddle a snap. Crank the burners up high on one side to create a hot direct sear zone for finishing, say, burgers and leave them down low on the other side to create a moderate heat zone for cooking things like eggs or vegetables. Click here to learn all about the importance of 2-zone cooking. And click here to learn Why You Need To Start Griddle Grilling.
Even better news: the Flat Top 600 is actually two cookers on four legs. You already know it's a griddle. Breakfast is served below.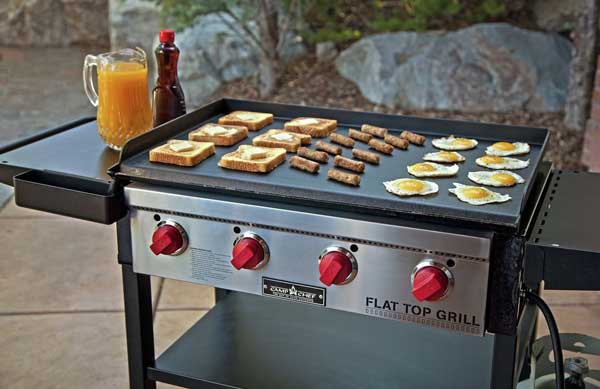 But underneath the griddle are porcelain coated steel grill grates and heat tents over each burner. Remove the griddle and Flat Top becomes a 4-burner gas grill.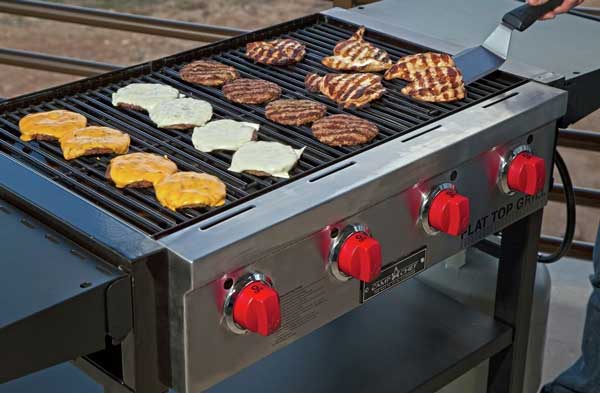 When in grill mode, a slide out grease tray catches drippings underneath the firebox. When used as a griddle, scrape gunk into a small grease cup attached to the left side shelf (below).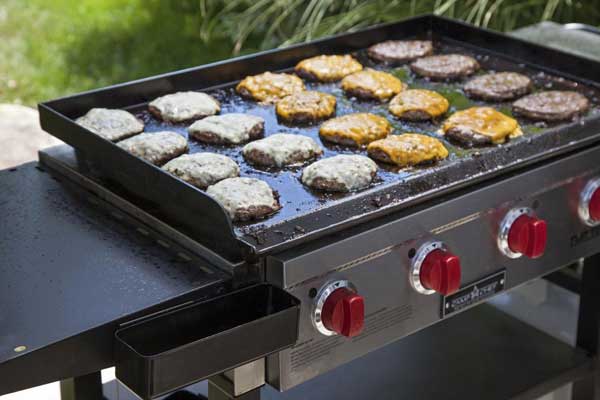 Both side shelves provide work space and fold down, but the left shelf must be up to use the grease cup. Some owners complain the portal from the griddle to the cup clogs up easily, so smooth grease flow may require a little maintenance.
The open air cart has two plastic wheels on the right side and includes two storage shelves beneath the flat top. A convenient LP tank holder on the right side attaches the tank to the cart for easy movement of the entire unit.
If you need less space, Camp Chef's Flat Top 475 is a smaller, 3-burner model.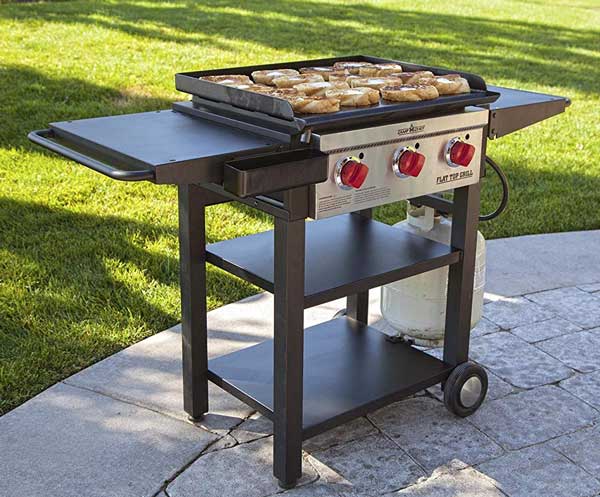 Or, if you need more, the Flat Top 900 is a larger, 6-burner model.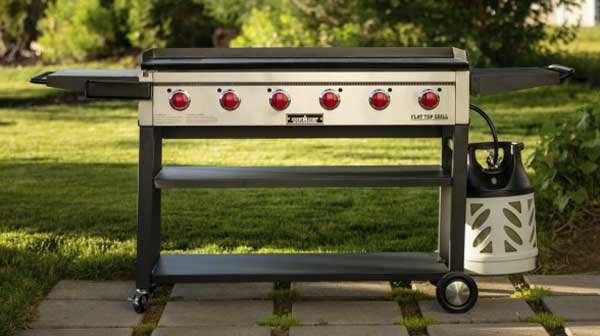 Neither the 475 nor the 900 includes the grill grates and heat tents that provide the two-in-one griddle/grill capability of the popular 600 model.
Warranty
Camp Chef warrants stove components to be free from defect in materials and workmanship for one year from the date of purchase. Paint and finish is not warranted.