The Signet 390 gas grill is the top of the line in Broil King's Signet Series. Signet 390 packs a variety of features not commonly found on a grill at this moderate price. All those shopping for a mid-size gasser in the $500-$1000 dollar range would do well to take a look. I tested the previous version which was called Signet 90. The only difference on the newer Signet 390 is a minor upgrade with the handle changing from resin to stainless steel as shown here.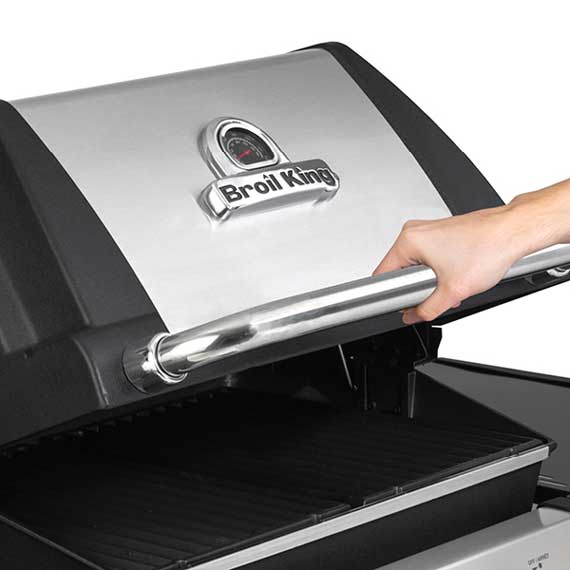 Broil King is Canadian with manufacturing spread between Canada and the USA. Signet is made in Canada. The 390 literature boasts, "Proudly built in North America, Broil King's Signet Series is your complete outdoor companion for exceptional grilling." After testing this grill in various weather conditions, it's hard for me to disagree.
Dual Tube Burners
Broil King's signature, proprietary Dual Tube Burners are meant to distribute gas uniformly from front to back by employing an inner feed tube that runs through the center of the gas burner, allowing fuel to fill the entire burner tube before being exposed to flame.
The three Dual Tube, side ported burners produce two rows of flame per burner on the east and west side of each tube for a total of six rows of heat across the grill. These burners get hot!  Even during the winter months I consistently eclipsed 700°F with the Signet 390 in about 25 minutes. With that kind of power, Signets don't need a sear burner!
Flav-R-Wave
Broil King's stainless steel Flav-R-Wave cooking system rests over the burners. These W-shaped deflector plates distribute heat across the entire cooking surface and protect the burners from meat drippings, hasty basting, and falling asparagus.
The Dual Tube burners in conjunction with the Fav-R-Wave cooking system produce fairly even heat across the cook surface, as evidenced in the photo of our bread test here. That burnt toast is further evidence of this grill's searing power!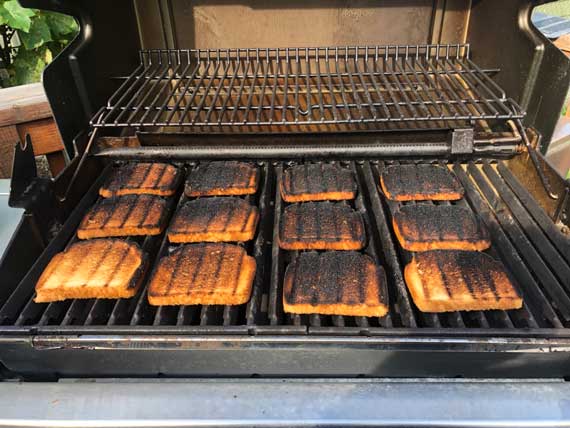 Linear Flow Valves
Their Linear Flow control knobs, were a step above the competition. With very little play in the valve stems, movement was smooth and solid throughout the 180° arc from the lowest setting to the high temp "POW-R-ZONE", making minute adjustments easy. One battery powered igniter lit up all five burners.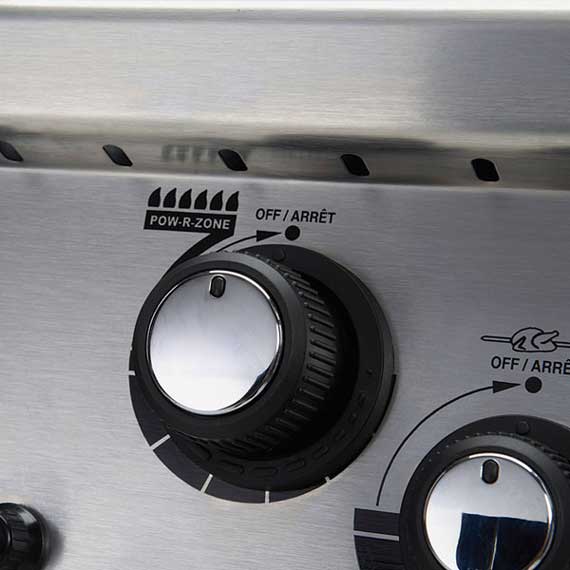 Cast iron grates
Broil King's dual sided, cast iron cooking grates are configured to provide a slightly different experience from one side to the other. One side is arched and the other is grooved. The arched side is designed to create sear marks. The other side has V-shaped grooves that will catch and vaporize the drippings from your food to add flavor to your finished dish.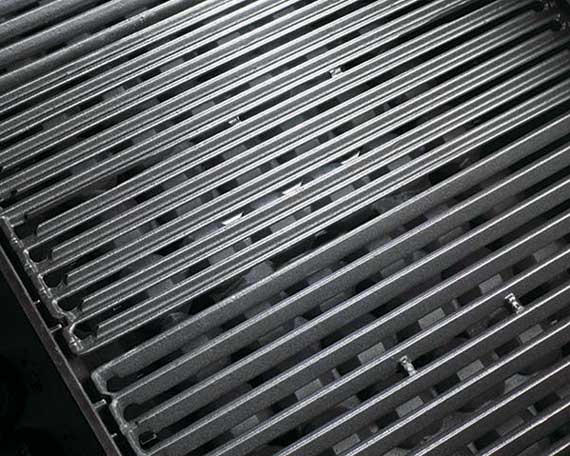 Because Signet can get searing hot, we wish it had stainless steel rod grates rather than coated cast iron. Cast iron stores heat energy efficiently and will brand meats with brown bands, but stainless rods deliver heat more gradually and evenly, allowing a delicious crust to form across the entire meat surface, provided the grill gets HOT like Signet does. Many other low to medium priced gas grills are underpowered, and the only way they get any searing done is with cast iron grates, but Signet does not suffer from this common problem. To learn more about grill grates, click here.
Wide temperature range with 2-zones
The cast aluminum cook box did a good job at retaining heat. I only needed to fire up one burner in preparation for two-zone cooking with a hot direct zone and moderate indirect zone.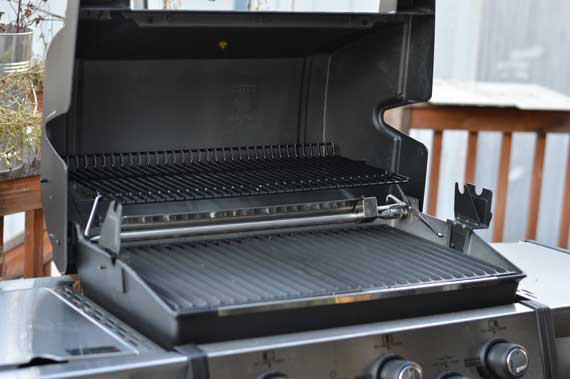 The single burner was powerful enough to roast foods slowly over the indirect zone at around 350°F before moving them over to the direct zone above the lit burner to finish with a little sizzle. This sort of temperature control and the range of temperatures across the grill makes it a breeze to cook a variety of foods at once.
Click here to learn about the importance of mastering 2-zone cooking.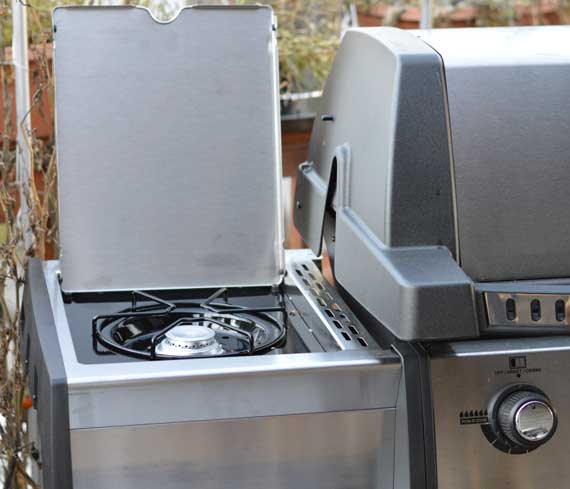 Signet 390 comes with an additional 10,000 BTU side burner for keeping sauces or sauerkraut warm.
This grill also comes standard with a rotisserie kit, which is usually an optional accessory. An adjustable temperature 15,000 BTU rotisserie burner runs along the back from left to right. The rotisserie kit includes a counterbalance that helps assist the motor by balancing out the load if you're packing on a full rack of poultry.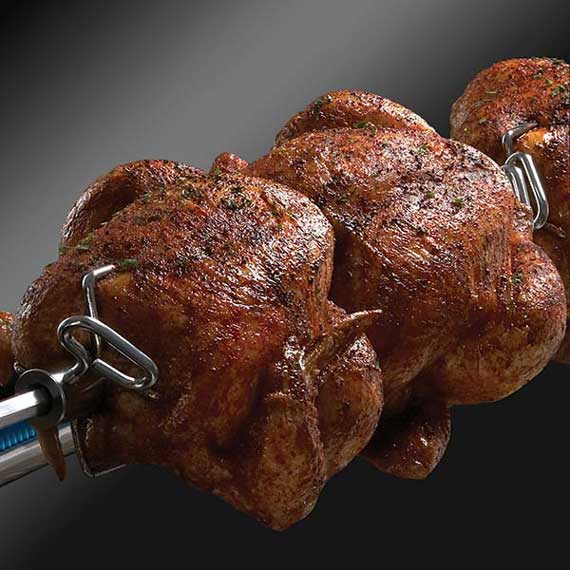 Click here for a load of Chicken Recipes!
The rotisserie guides on each side are removable, which is a nice feature for cleaning or storage. There is ample space inside of the grill cabinet underneath to store the rotisserie system when not in use.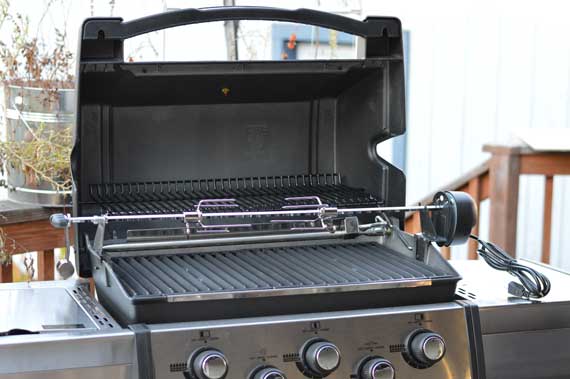 Biggy Small
The 400 square inch primary cooking area with an often-underutilized, 235 square inch warming rack provides a combined 635 square inches of cooking area. For a mid-sized and mid-priced gasser, you get plenty of space to cook for a crowd without a large footprint on your patio.
Signet's folding side shelves also make it a cinch to tuck the grill away in a corner when not in use. The grill rolls easily on two large wheels and has two locking casters to keep it in place. On both side shelves, there are small hooks for hanging grill tools, and the front conveniently has open facing shelves for keeping condiments or your beverage within arms reach.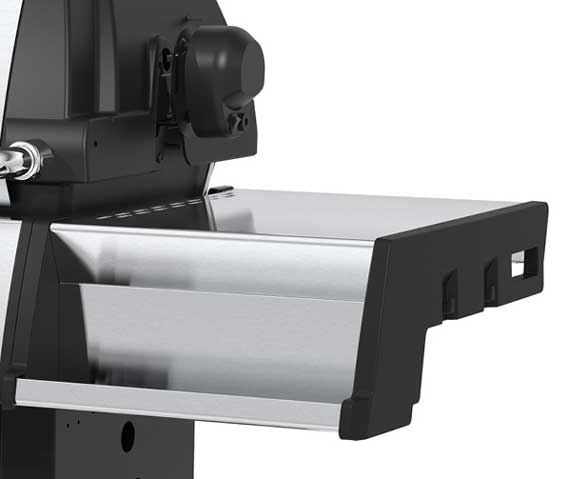 A common complaint among grill owners is counter space, and Signet's side tables and front shelves offer some welcome relief.
One criticism is that the five burner control knobs all look identical and all five fire up off a single igniter. That means all five burners can be lit at the same time, and if you get distracted, it's easy to mistakenly light the side burner or rotisserie burner instead of the main burners. And if something flammable like a potholder or grill gloves is sitting on the closed lid of the side burner, it will melt. Sadly, I learned this lesson the hard way.
Packaging and assembly
The unit arrived compact and well packaged for the size of the assembled cooker. Assembly was fairly standard and took less than an hour for one person to complete with basic tools.
Conclusion
The Broil King Signet 390 is sturdy, durable, reliable, and has plenty of cooking space for a mid- sized gas grill. If you don't want the rotisserie and side burner, check out the Signet 320 which is the same grill stripped down to 3-burners for $250 less. For more adventurous cooks, the versatility provided by the rotisserie and side burner as an accompaniment to those three powerful Dual Tube Burners opens a wide vista of outdoor culinary exploration. Broil King's Signet 390 earns our AmazingRibs.com Best Value Gold Medal.
Warranty
Limited Lifetime Warranty on the aluminum housing, 10 years on the burners, and 2 years on everything else.
We thank Broil King for providing a test model.
Date Reviewed 09/05/2019