Weber's popular Genesis Gas Grills are excellent. While they are not cheap, they are within the budget of those who have grown tired of constantly replacing cut-rate, entry-level gassers and want better quality, performance, and durability.
Genesis is the grill many backyard cooks choose when they grow up. And Weber's new 2022 models are, in many ways, the best lineup yet. Genesis whisked through several iterations in recent years, but none so rapid as the 2022 models. In 2021, we tested the Weber Genesis II SX-335 Smart Grill, which scarcely made its first birthday before being ousted. The new line is offered with various features ranging from stripped down to fully loaded. Some features are only available on Smart models. All of the following are included on the Genesis EPX-335 we tested. Model names with an X=Smart!
Sear Zone on all models
We love sear burners! Many gas grills need sear burners to properly sear foods. Genesis gets pretty hot with just the main burners, but when it comes to sizzling steak and shrimp, the more firepower the better. Weber's Sear Zone consists of an additional Burner placed between two main burners on the right side.
Sear Zones are now standard on all 2022 Genesis grills, and Weber goosed the sear burner power up from 9,000 BTU to 13,000 BTU on 3-Burner models and 12,000 BTU on 4-Burner models.
Up your game: Join our Pitmaster Club. Try it out for free for 30 days. No credit card is needed. No spam. Join now and Be Amazing!
More space
The right side shelf is extended to provide more workspace.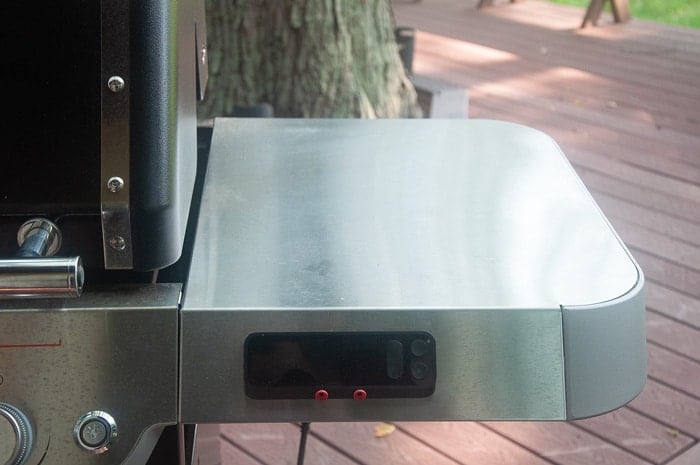 Molded gray plastic end caps on each side shelf have built-in tool hooks. The plastic on 2021 models had a raised lip all around. Now it's flush with the work surface.
The hood is taller to accommodate large birds or hunks of meat on the optional rotisserie. The clever fold-out warming rack has an extra extension rack that flips out when needed for additional rack space.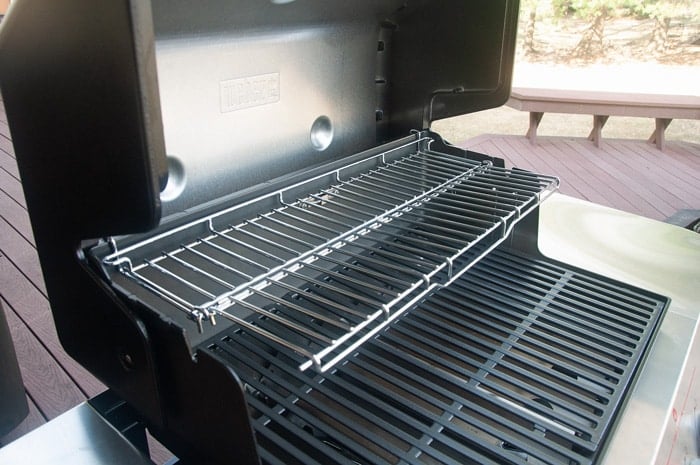 The rack flips down out of the way when not in use.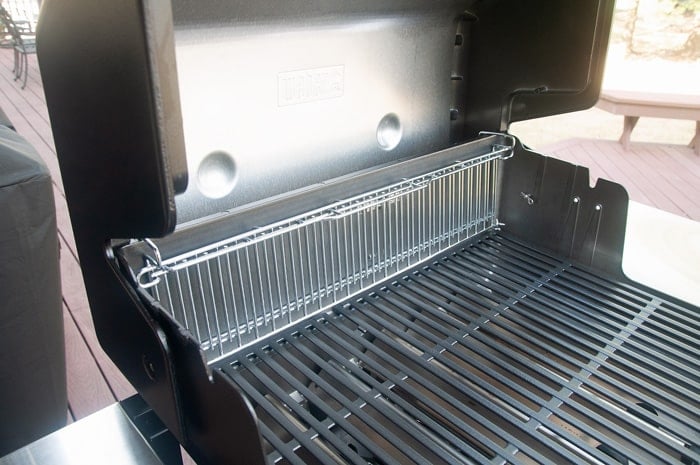 Like what you're reading? Click here to get Smoke Signals, our free monthly email that tells you about new articles, recipes, product reviews, science, myth-busting, and more. Be Amazing!
Crafted accessories
The new Crafted Outdoor Kitchen Collection is bigger and better than their old Gourmet BBQ System. Both are designed to fit hand in glove with various optional cooking inserts like a wok or griddle. All 2022 Genesis models have an unusual, split cooking grate that is bigger on one side to accommodate the Crafted Grill Grate (shown here).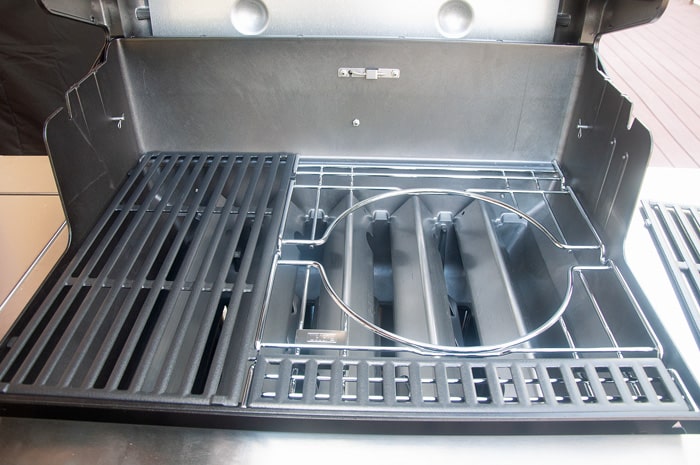 The Crafted Grate provides a frame for Crafted accessories, like a large rectangular baking stone and the round dutch oven shown in the photo. The grate only comes with certain models, but will fit on them all and may be purchased separately.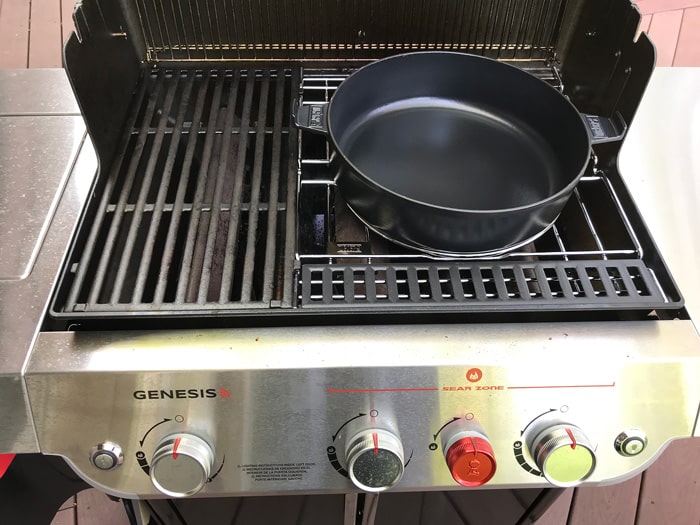 Although Weber is not the most expensive barbecue manufacturer by a long shot, all Weber products command higher prices than many of their big box competitors. You can find other griddles, pizza stones, etc. for less money and they'll work by placing them on the cooking grate. But if you want the elegance of Crafted, where various implements fit perfectly into the cooking surface, Weber is your only choice.
Genesis comes with or without a "Grill Locker" to store most Crafted accessories within the left side of the cart. It's a 6″W x 25″H x 21″D compartment accessed by a swing-out door.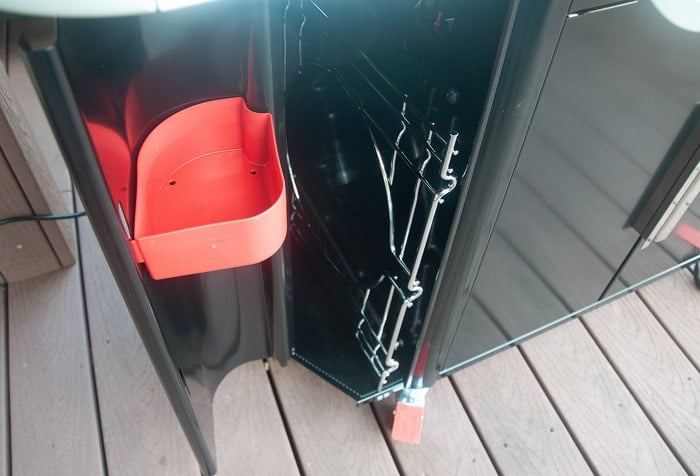 Weber wants to bring the kitchen outside on the deck so you don't have to schlep as much stuff back and forth from inside. Nonetheless, it's a good idea to store cast iron accessories indoors to ward off rust. For temporary storage of the large cast iron cooking grate when using the Crafted Grill Grate, hang the large split cooking grate from hooks on the right side.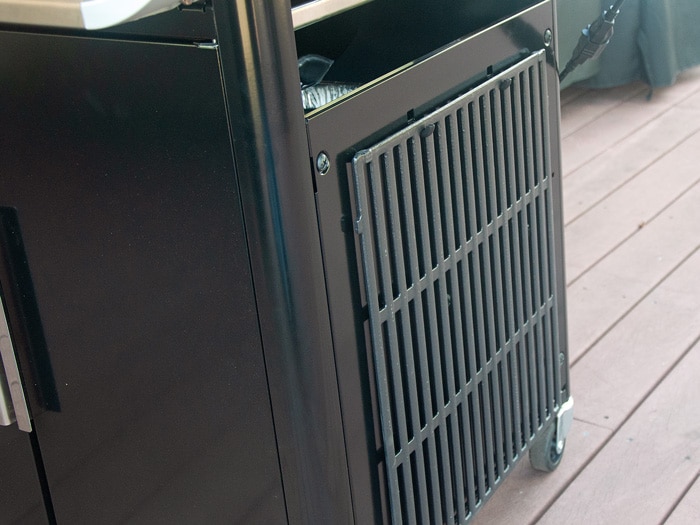 Get a sneak peak at Meathead's next book. He shares chapters with members of our Pitmaster Club as he finishes them. Click here for a free 30 day trial. No credit card needed. No spam. Click here to Be Amazing!
LP tank
Genesis comes in both Natural Gas and Liquid Propane versions. With a natural gas line hooked up you aren't concerned about running out of fuel, but LP tanks run dry and often at inconvenient times. To help avoid unpleasant surprises using a tank, Weber hangs the tank on a scale that gives a rough estimate of fuel level. These types of LP tank scales are useful, but not precise. They at least give notice when you're running low. Fuel level can be seen on a full-to-empty graduated gauge incorporated into the tank hook scale. Smart models also display fuel levels on the control panel and app.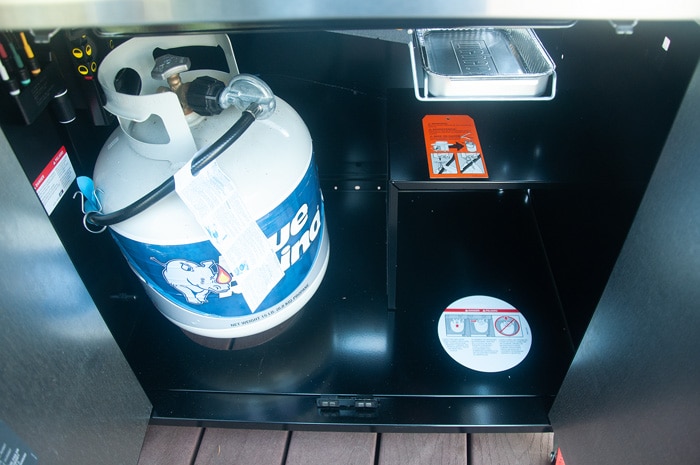 Previously the tank hung from the scale hook on the cart side. Now it's tucked away inside the double-doored cart. Aesthetically more pleasing, but a pain in the rear to lift onto the hook in that claustrophobic cart.
Lights
All burner control knobs on smart models have LED lights that switch on and off. Battery-powered hood lights are integrated into the lid handle.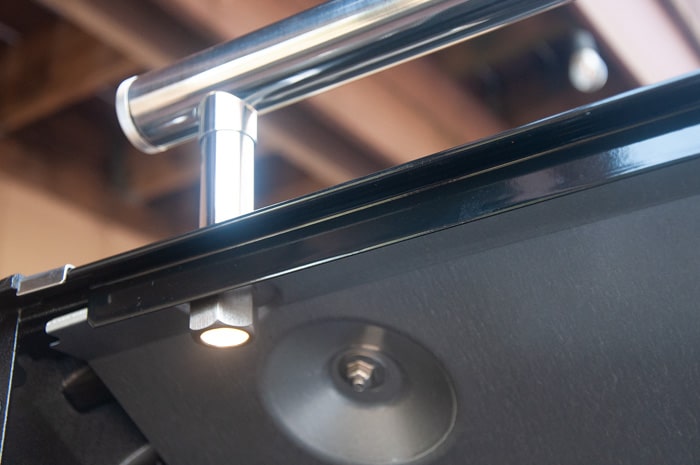 Clever!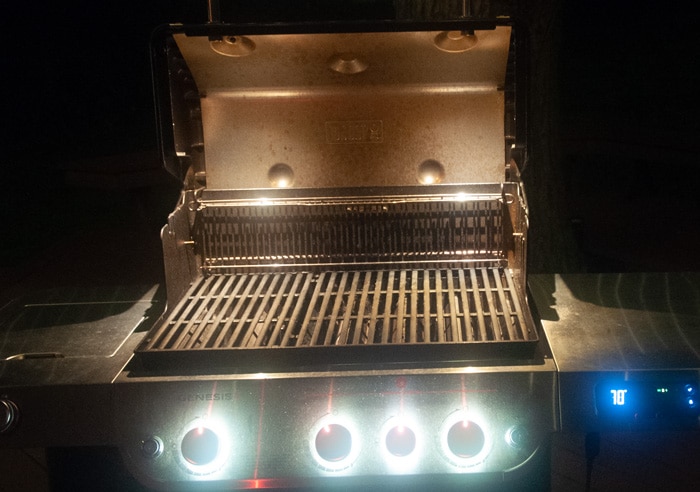 And useful!
Smart Trend
With accurate, thermostatically controlled cooking temperatures, pellet grills have made smoking meats as easy as baking mac-and-cheese in your kitchen oven. Building upon the exploding popularity of these easy-to-control pellet cookers, we're now seeing thermostatically controlled gas grills trickle onto showroom floors. And based on Weber's current lines of Smart Grills, they are inching closer as they move from solely being a hardware to a software company.
Originally, the term "smart" was used by techies as an abbreviation for Self-Monitoring Analysis and Reporting Technology. Some contend Weber misuses the term because, although their WiFi-enabled Smart Grills transmit a variety of data to their control panel display screen and sophisticated Weber Connect App on your smartphone, you can't select and set a specific cooking temperature like with your kitchen oven or pellet smoker. The built-in temperature probe displays a correlated temperature on the control panel display screen and the Weber Connect App, but you still need to dial in your desired temp the old-fashioned way: with the burner control knobs. How 2021! Be that as it may, Weber Connect is still pretty dang smart.
All Weber Smart Grills plug into a standard wall outlet which powers the Weber Connect System and LED control knobs.
Weber Connect
We tested the Genesis EPX-335 Smart Grill which is loaded with all their new features including integration of Weber Connect which Weber describes as a "step-by-step grilling assistant".
A thermistor temperature sensor is attached to the rear wall of Weber's Smart Grills right behind the warming rack and six inches above the main cooking surface. It hooks up to the Weber Connect System via a wire that sends cooking temperature data to Connect's brain.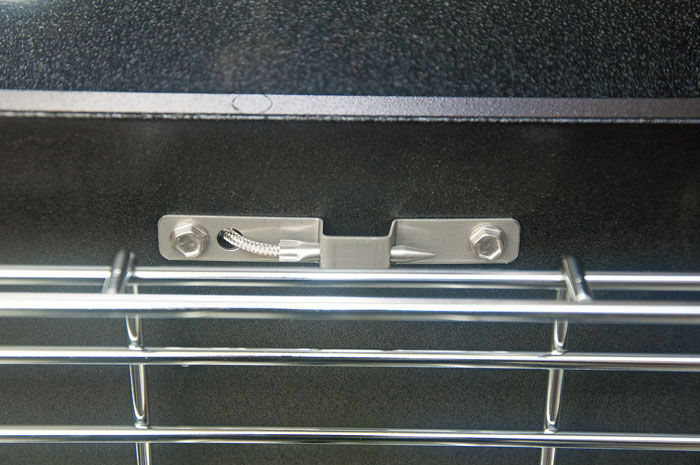 One of their Smart Grill product managers spoke with us at length about the challenge of mounting a temperature sensor that would perform effectively for all recipes. He spoke of their extensive, real-world cooking tests and how they developed a "Correlation Chart" to determine the best sensor type and position and the best programming for the Smart Grill software.
This was a complex, data-driven process. Multiple temperature probes fixed across the cooking surfaces recorded temps from a wide variety of burner settings while correlated real-world cooking tests were conducted. Computers crunched the date, and Weber's design team interpreted it. No surprise that their tests in a professional lab conducted by their design team produced different results than our temp tests with a few temperature probes clipped to the cooking grate. We were skeptical at first. but after several cooks, the results were pretty consistent and we felt we could rely on Weber Connect's temp readings.
We were also reminded by their team that this process is ongoing and customer comments continue to be assessed in addition to Weber's internal data. They expect upgrades to continue as they refine Smart Grill.
In addition to the internal thermistor, there are two temperature probe ports and a wire sends weight data from the LP Tank Scale.
The Connect Display and brain are mounted on the right side shelf. These monitor the following: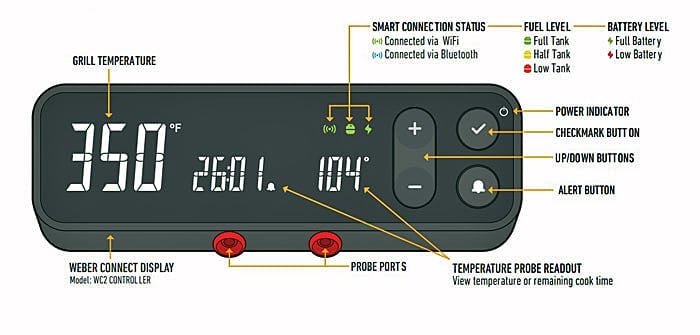 Grill Temperature
Internal Food Temperature from two Meat Probe Inputs. You can set the desired target temperature and an alarm will notify you when foods are almost done. One Meat Probe is included. A second is optional.
Timer. Set and see the progress. An alarm goes off when your set time is over.
WiFi and Bluetooth Connection Status.
Fuel Level.
Battery Level.
You can also access all of the above via the free Weber Connect App on your smartphone.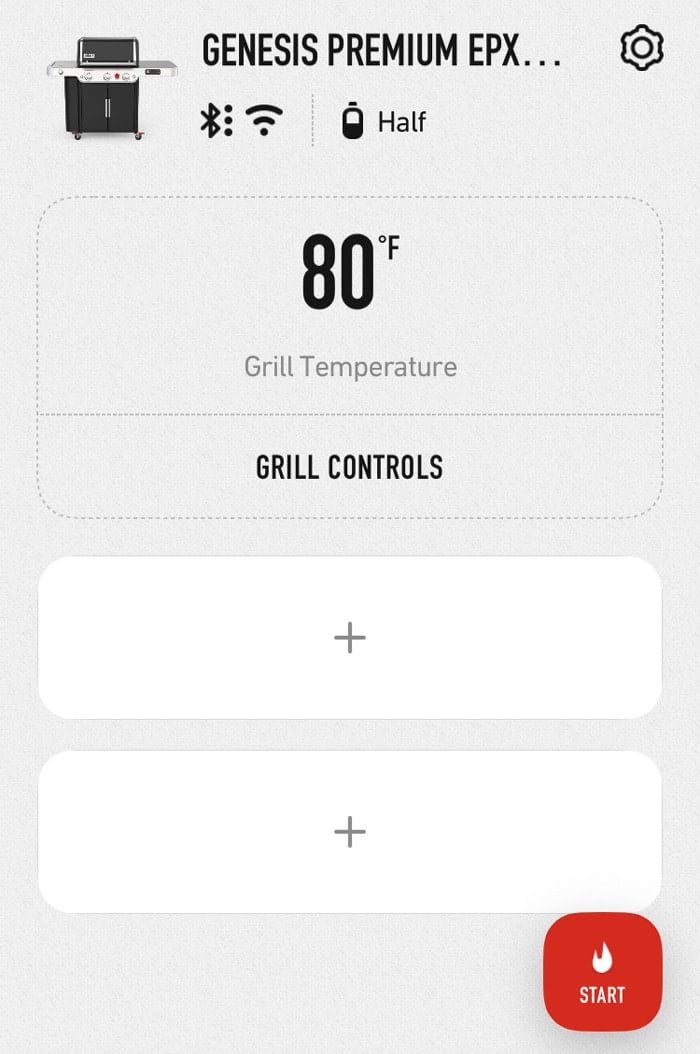 The app is compatible with iPhones on iOS 12.1 or later and most smartphones on Android 7.0 or later. Grill apps are mighty useful. However, as with any WiFi device, you may have connection problems. Connectivity can be impaired by your modem's age and location, your building construction, your internet service, and so on. We had no problems, but connection issues are common and frustrating. If you can't connect, stay calm and call Weber customer service.
Weber Connect includes a library of guided recipes that attempt to provide step-by-step directions, complete with alarms that notify you when it's time to move on to the next step. Until recently, many dismissed these guided recipes as tools for a novice that would likely be ignored by even cooks of modest skill. However, with their acquisition of June technologies, makers of the award-winning June Smart Oven, Weber's recipe library has expanded quickly and become way more sophisticated. They now view these recipes as a valuable asset that can open up a new world of cuisine to outdoor cooks of all skill levels.
Guided recipes
If you're thinking, "I don't need those guided recipes, I've got more than enough on AmazingRibs.com and in Meathead's award-winning, "The Science of Great Barbecue and Grilling," you may be right. In fact, when we tested the 2021 Genesis II Smart Grill, we thought the same. Even a high-ranking officer at Weber felt their guided recipes were for novices to get them started. That was spring of 2021, but by fall his tune had changed. We remained skeptical and critical. But by spring of 2022, we smartened up and started singing along. Weber's indoor June Oven made us believers. I encourage you to click here and find out why.
It's just easy, fun, and delicious to pull out a phone and browse recipes, then prep and cook along with them. Here's one I may never have thought of trying otherwise, but it caught my eye when perusing the app.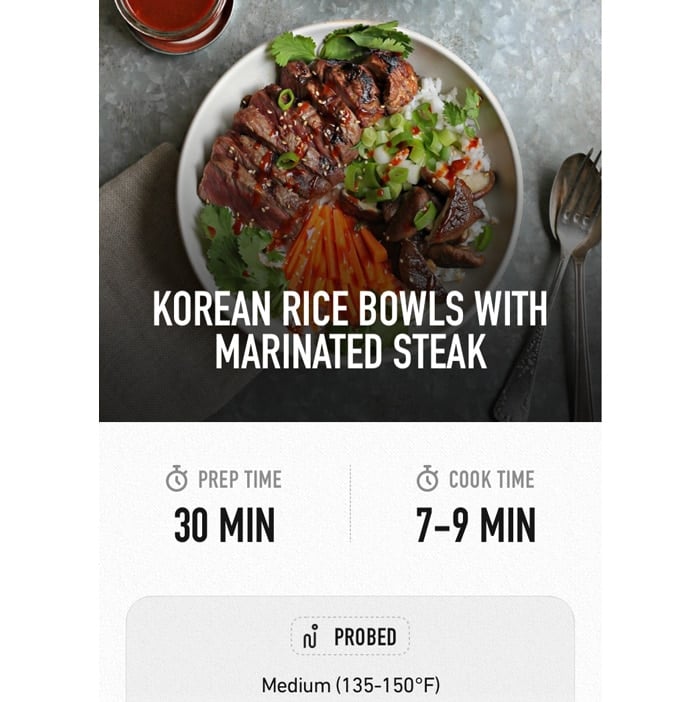 I cropped the top and bottom of these pix for space consideration.
The directions are fairly detailed and enhanced with video clips.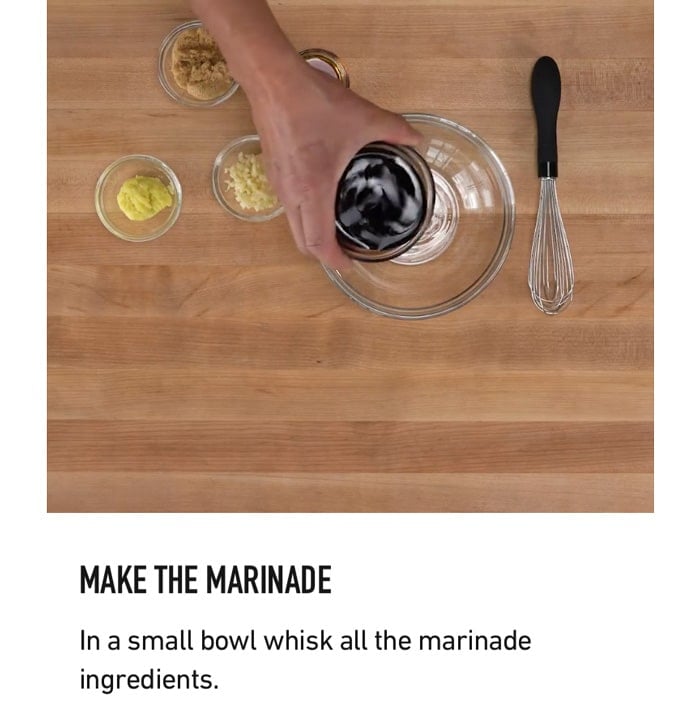 ---
Video clips of how to set the burner knobs are rough estimates just like the LP Tank Scale. We often had to tweak our control knobs to dial up the desired cooking temp. And most recipe cooking temp ranges are pretty broad, like 475°-525°F indicated in this pic. Stop teasing us Weber! We want thermostatic control!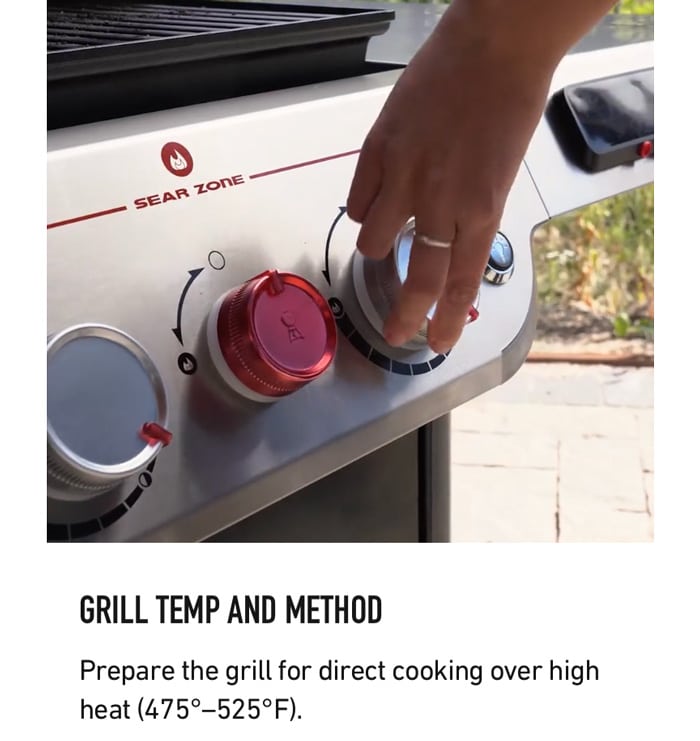 ---
This recipe requires inserting a Weber Connect digital temperature probe into the marinated steak. The probe kept Weber Connect up-to-date with our steak's cooking progress.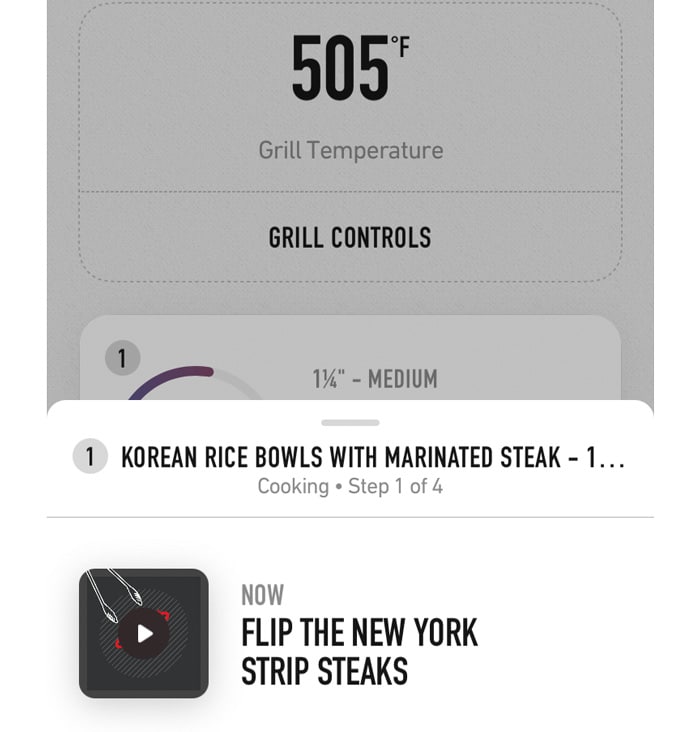 ---
This recipe instructs you to rest your steaks briefly before slicing (read our own thoughts on resting meat). Throughout the cooking process, Weber Connect sends notifications to your app. In this app pic resting time was over and it was time to slice the steaks!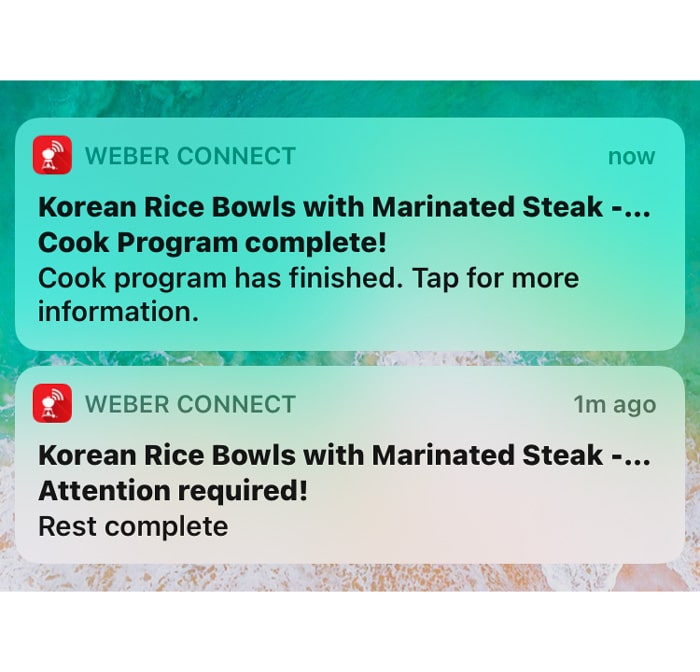 ---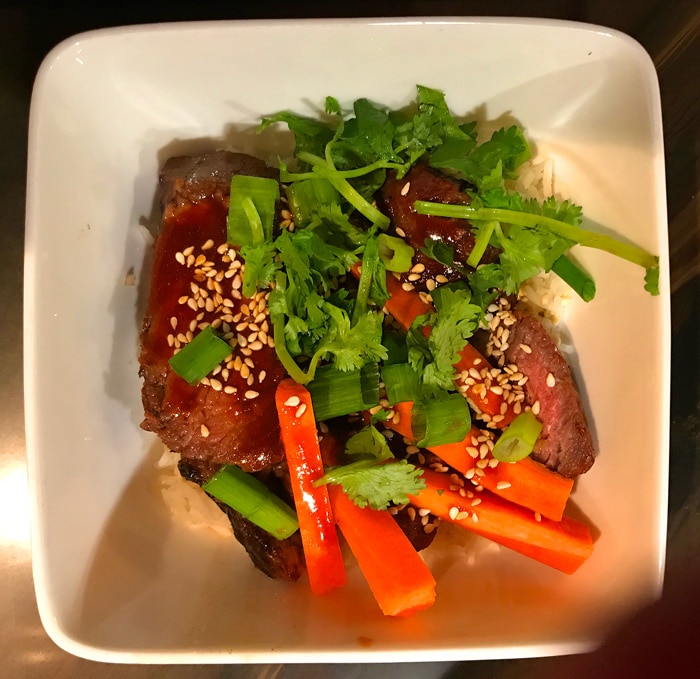 My plating and presentation weren't as pretty as Weber's picture by a professional food stylist, but the recipe sure was tasty and a special treat as well.
I also enjoyed cooking their recipe for Greek Yogurt Flatbreads cooked on the Crafted Baking Stone.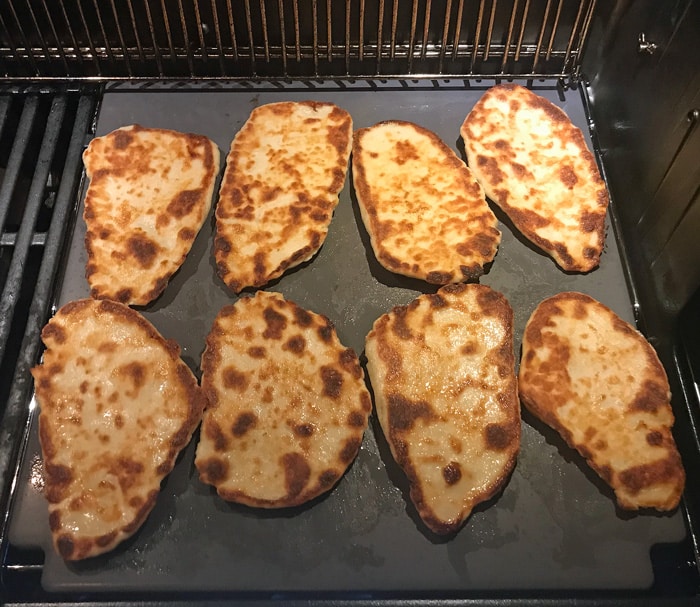 The flatbread was then topped with Feta Cheese Salad.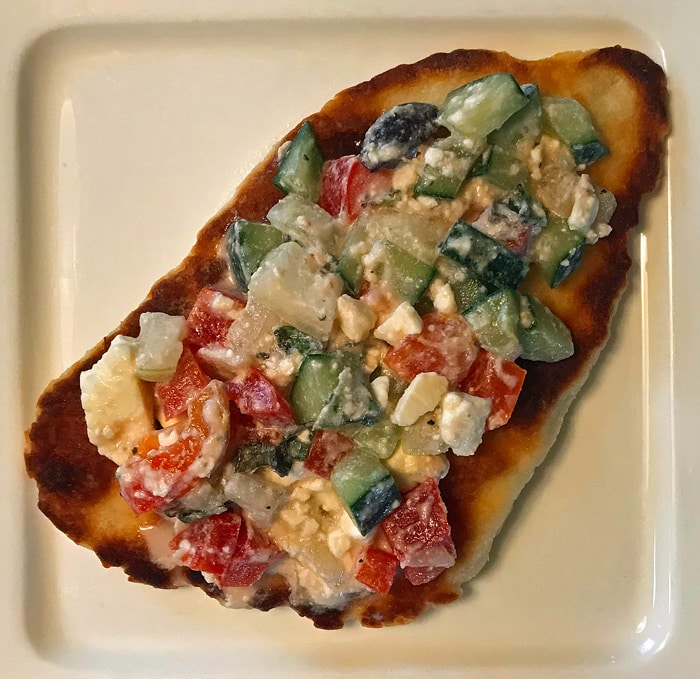 I really like these guided recipes, and my family loves it when I break out the app and we drool over what new taste treat we'll make next.
However, if none of this clicks your clock and you just want a high-quality gas grill that doesn't plug into a wall outlet, Genesis is still a great choice.
Something for everyone
Genesis is available in three or four burner configurations, smart or not, LP or NG, and in such finish options as stainless steel, black, copper, and deep ocean blue. All colors and features are not available on every model. All Genesis models have sear burners. The new Genesis line starts with the basic E-325s: three 13,000 BTU main burners and a 13,000 BTU Sear burner. Then all the features and colors described above start appearing in porcelain-coated enamel and stainless steel. We tested the 3-Burner EPX-335 Smart Grill which has a 12,000 BTU Side Burner and is loaded with all the new, 2022 Genesis goodies. Dimensions on our 3-burner EPX are 48.5" H x 62" W x 27" D with the hood closed. Dimensions on 4-burner models are 48.5" H x 68.5" W x 27" D.
Conclusion
There's backyard brilliance afoot here and Weber, as well as other brands, are just getting started.
Looks like we're entering an exciting new phase of gas grill development. Weber's Smart Grills may not be leading THE way, but they are leading THEIR way. If you really feel confident you won't use the smart features, Weber offers non-smart models for lower prices. I'm not getting rid of all the great recipe books on my shelf, but I gotta tell ya, I always find interesting and delicious new taste sensations on my Smart Connect App. And the selection keeps growing. We award the 2022 Genesis our Platinum Medal.
Warranty
12 years – Cook box: no rust-through/burn-through (2 years on paint excluding fading or discoloration)
12 years – Lid assembly: no rust-through/burn-through (2 years on paint excluding fading or discoloration)
10 years – Stainless steel burner tubes: no rust-through/burn-through
10 years – Stainless steel cooking grates: no rust-through/burn-through
10 years – Stainless steel Flavorizer® bars: no rust-through/burn-through
10 years – Porcelain-enameled cast-iron cooking grates: no rust-through/burn-through
3 years – Electrical components (Weber Connect controller)
5 years – All remaining parts
We thank Weber for providing a Genesis EPX-335 Smart Grill for our tests.