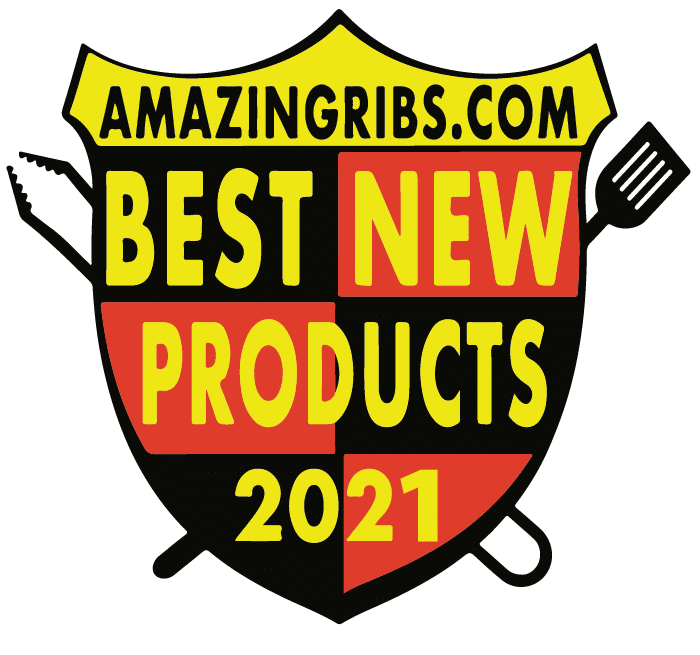 The Weber Traveler is a mid-priced, large portable gas grill that offers grillers on the go a lot of attractive features in one box. Traveler provides even heat across the 320 square inch cook surface, and incorporates a cool cart that is super easy to set up, take down and pack away. While it's easy to use, Traveler's collapsible, X frame, scissor cart is nothing new. Some other portable gas grills come with similar carts and some models offer optional carts at an additional cost. Weber sells one for their popular Q1000/2000 Series Gas Grills.
Nonetheless, Weber's built-in Traveler Cart is one of the best takes on the scissor design we've seen. It was a cold, nasty day in Chicagoland, so we decided to assemble the new Weber Traveler inside by the fireplace. It's easy to pop up and snaps firmly in position for use. Just place one foot on the frame under the right side shelf, pull out the cart lock under the shelf and lift the grill until it clicks into the raised position. When finished, place one foot on the cart base, pull out the cart lock and slowly lower the grill.
You have to remove the small, one pound LP cylinder before lowering. In fact, Traveler has a lever that locks the cart and prevents you from folding it down when the LP cylinder is in place.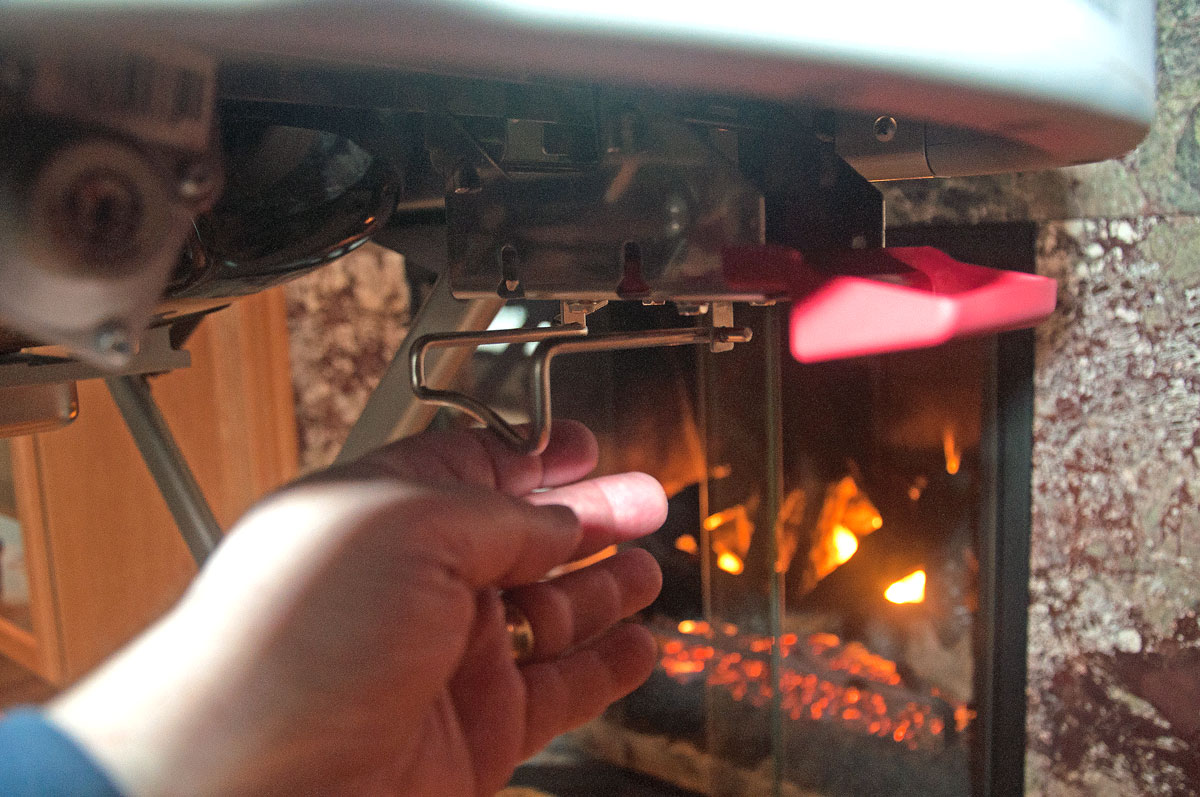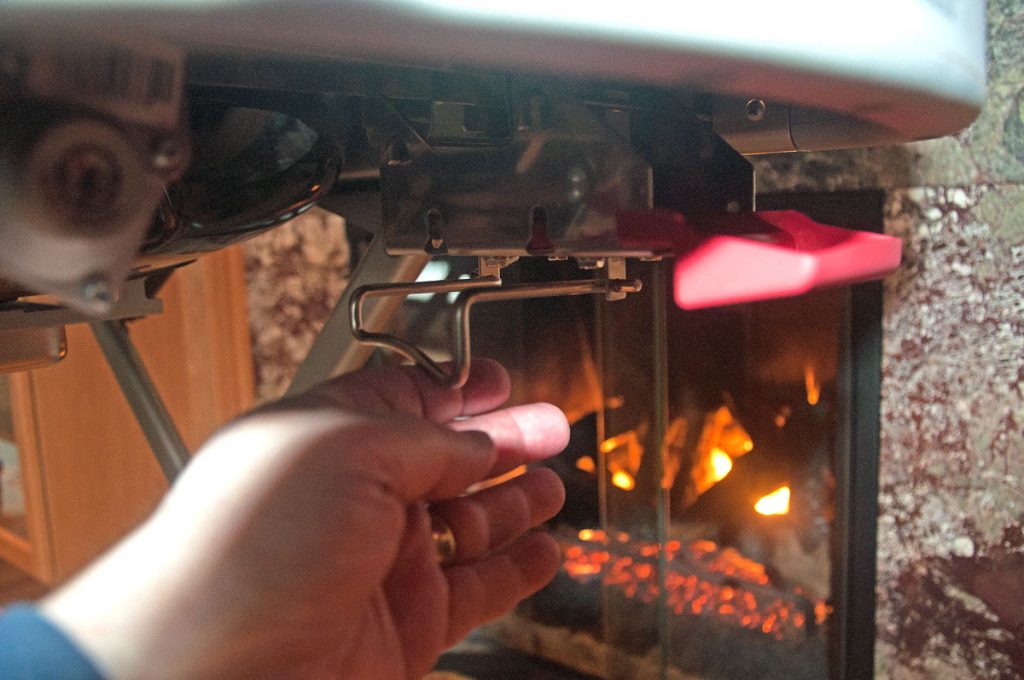 The LP cylinder itself raises the release lever up, as I'm doing with my hand in the photo. Remove the tank and the lever automatically drops down and unlocks the cart lock mechanism. In the photo, that red part is the corresponding handle for the cart lock mechanism.
Up and down movement is made smooth and easy by the Traveler cart's Air Spring Lifter shown in the photo.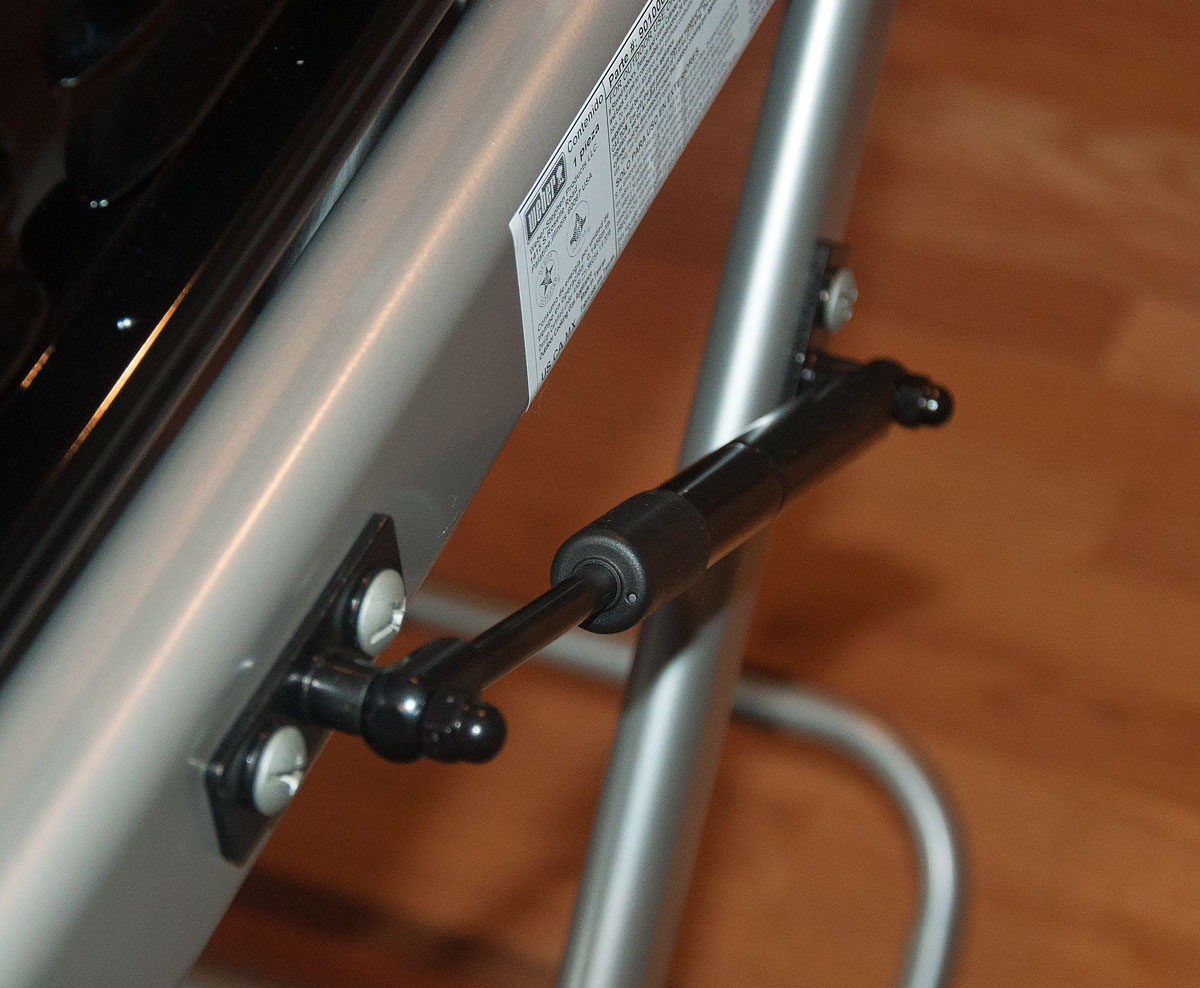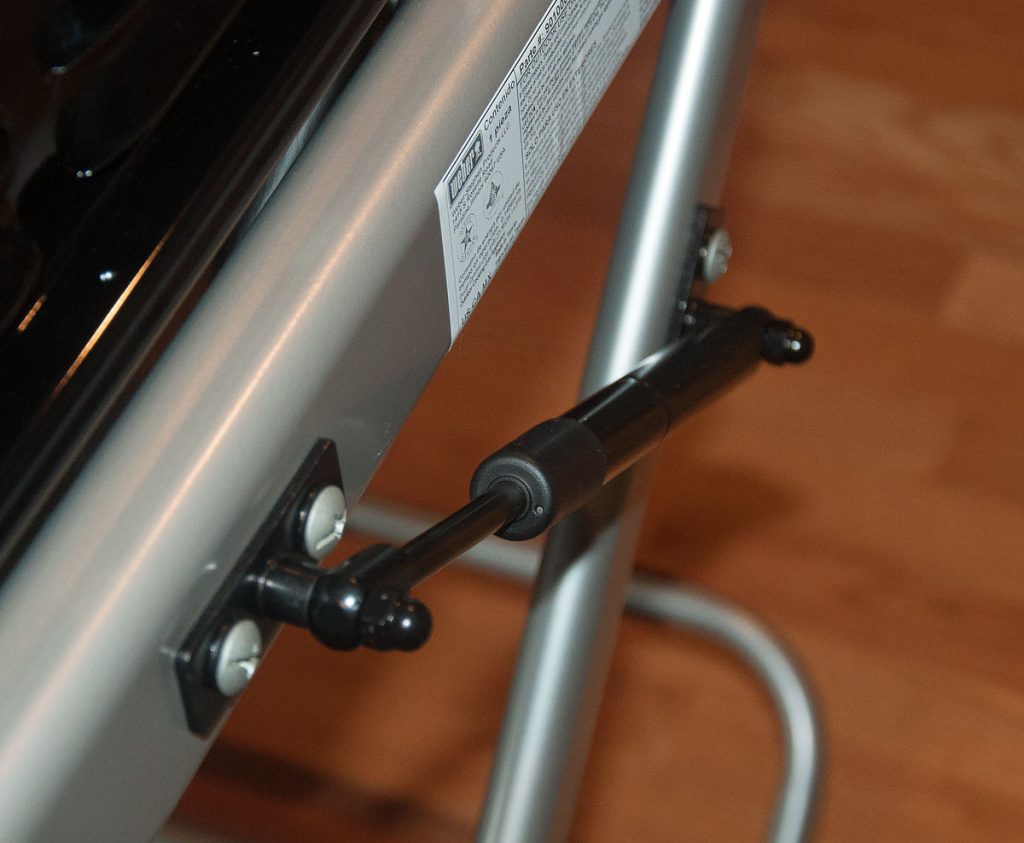 When the cart is folded down, an automatic lid lock engages to keep the lid and grates in place.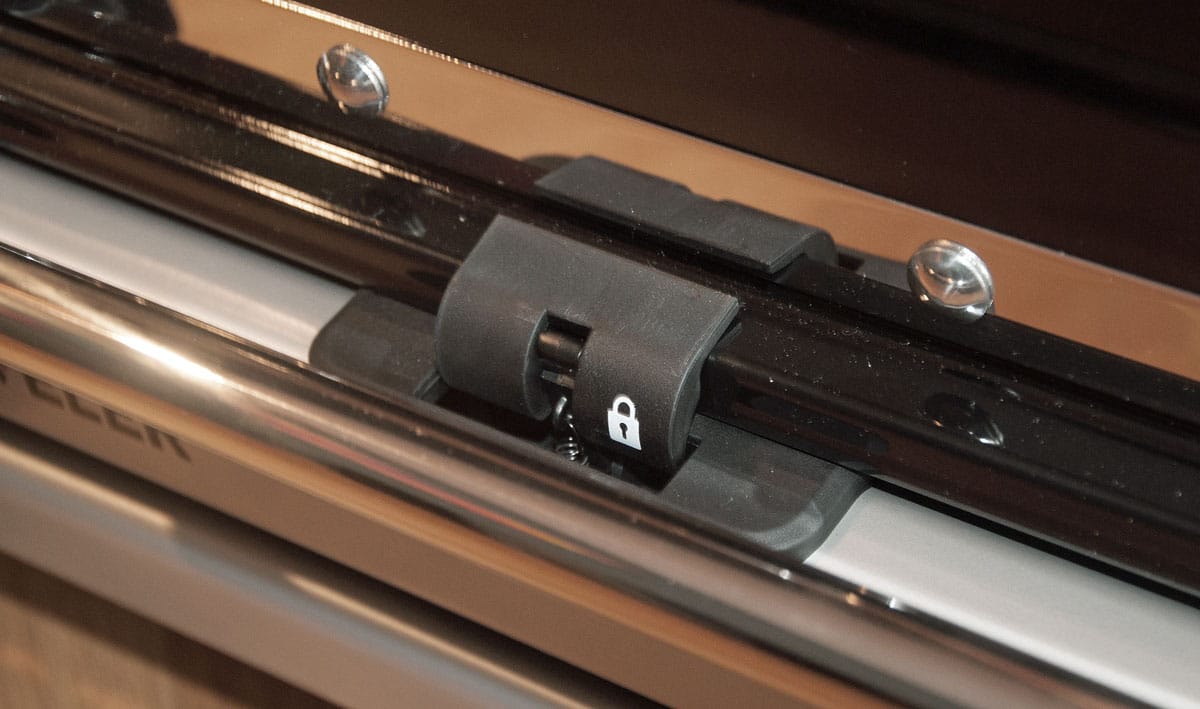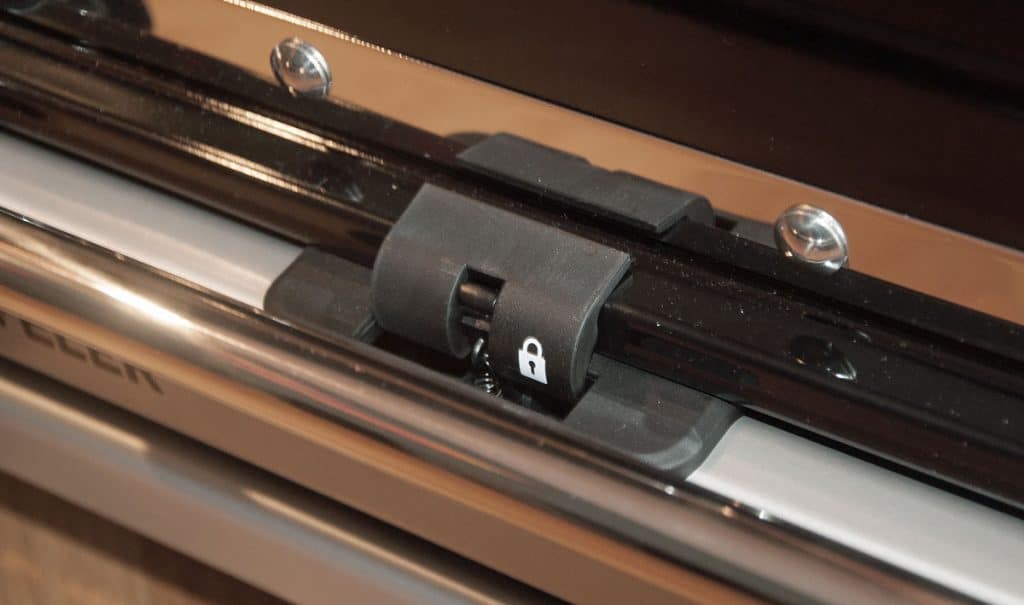 Folded down, Traveler is 44 inches long, 26 inches wide and 15 inches high. The 46.6 pound grill can be carried by handles on each side.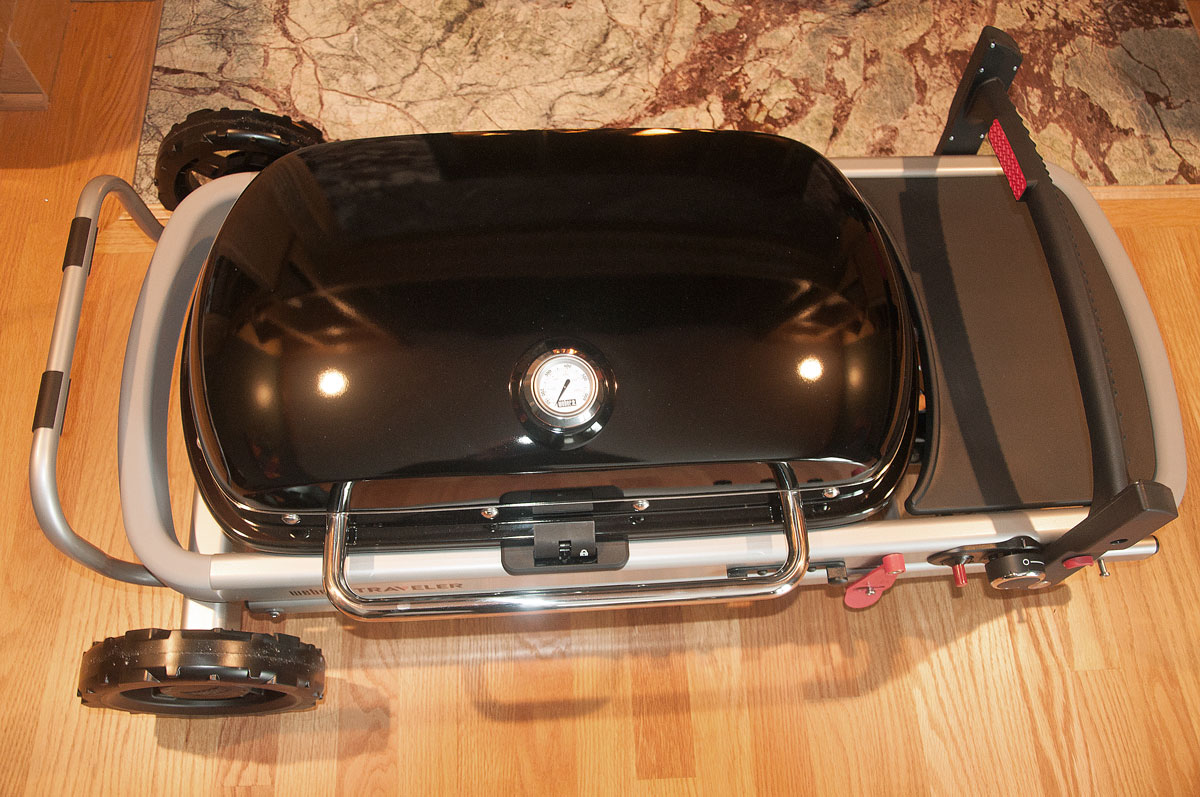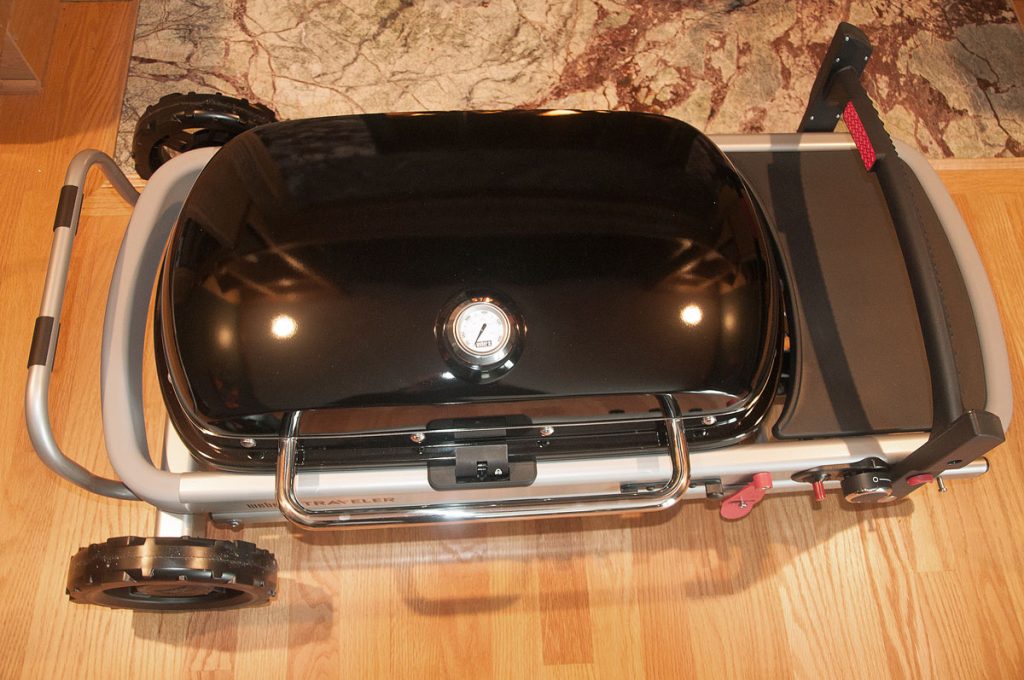 Or set upright and moved by the side shelf handle on two, large wheels.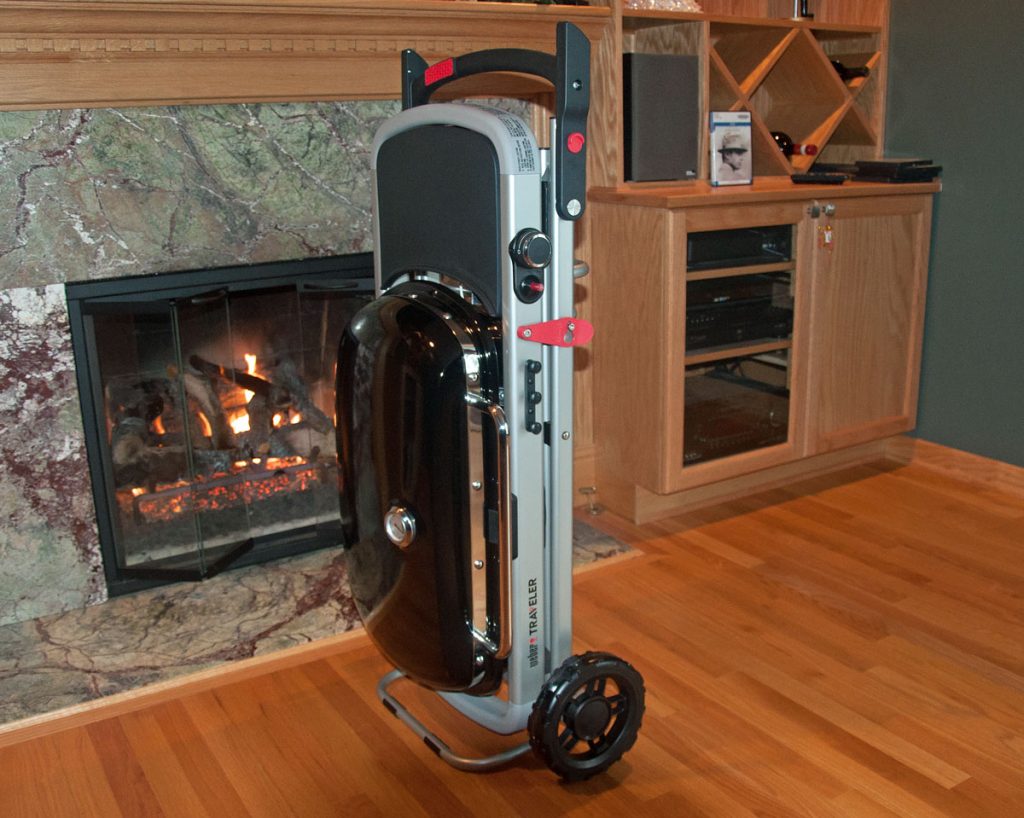 Also a good position for storage.
Like what you're reading? Click here to get Smoke Signals, our free monthly email that tells you about new articles, recipes, product reviews, science, myth-busting, and more. Be Amazing!
Enough about the cart already!
Traveler is classic Weber on wheels, with quality construction and thoughtful, if spare, design. Not that bells and whistles are wanted or needed for this meat and potatoes portable. The burner, grate and shape of the grill are based on Weber's Q Series Portable Gas Grills, but Traveler is made of porcelain-enameled steel while Qs have cast aluminum bodies. Traveler is also bigger and the built-in cart is way more solid and easy to use than the optional Q Series cart.
Like the Q Portables, Traveler has a single, stainless steel burner that travels across the bottom.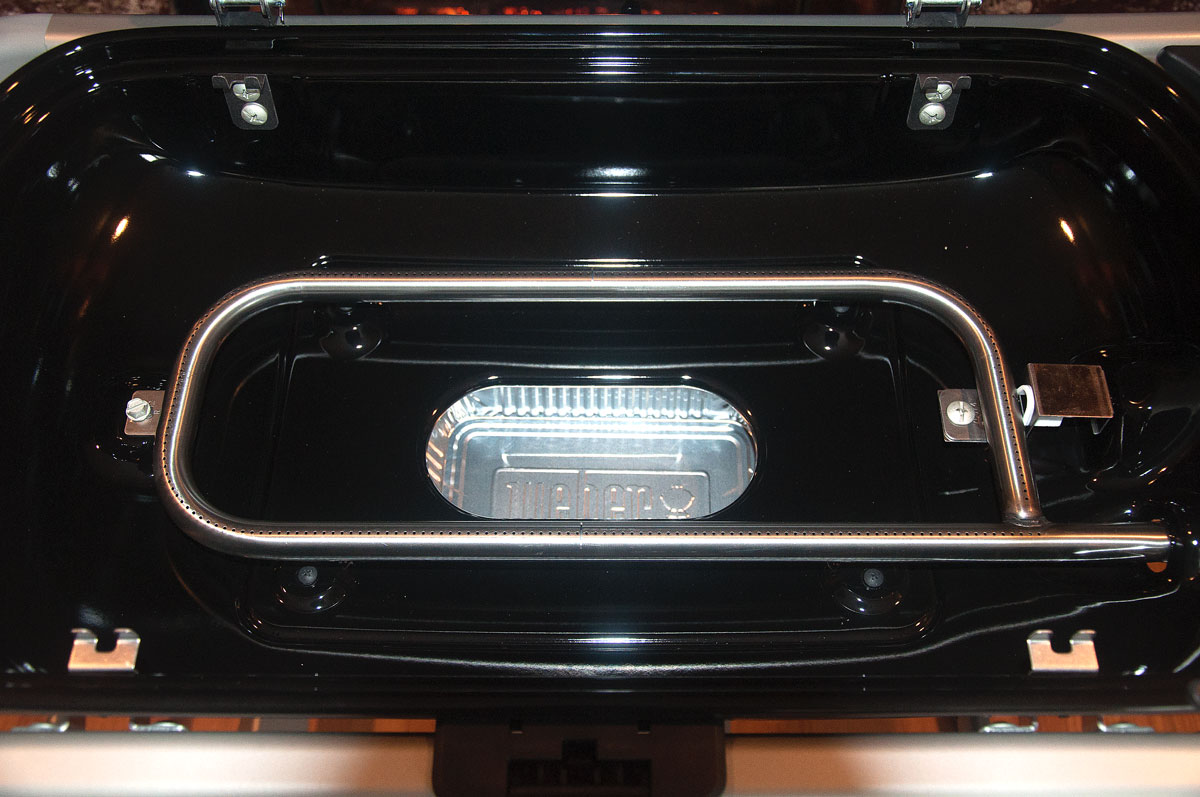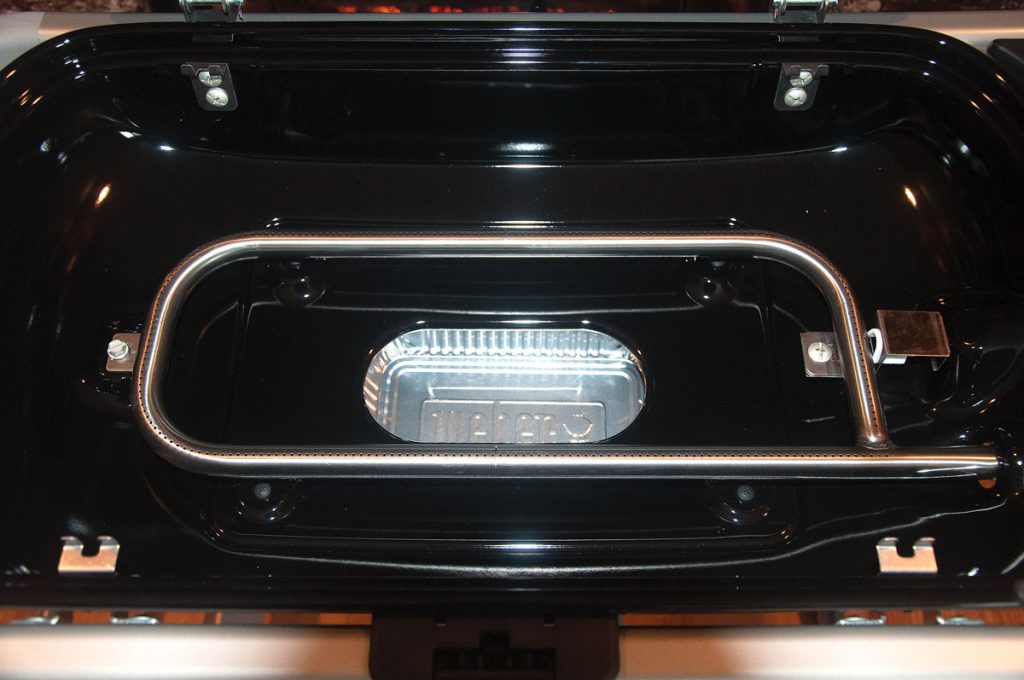 Two porcelain-enameled cast iron grates go on top.
There is no heat tent or diffuser above the burner. Instead, the iron grates (2 pieces) are cast solid above the oval shaped burner, protecting it from dripping gunk.
Traveler has five inches of headroom under the lid for larger foods, but no whole turkeys allowed (squish).
Three tool hooks, piezo electric ignition and a single control knob are located by the right side shelf. That red piece in the middle of the photo is a cart lock that latches onto a peg in the frame when the grill is collapsed.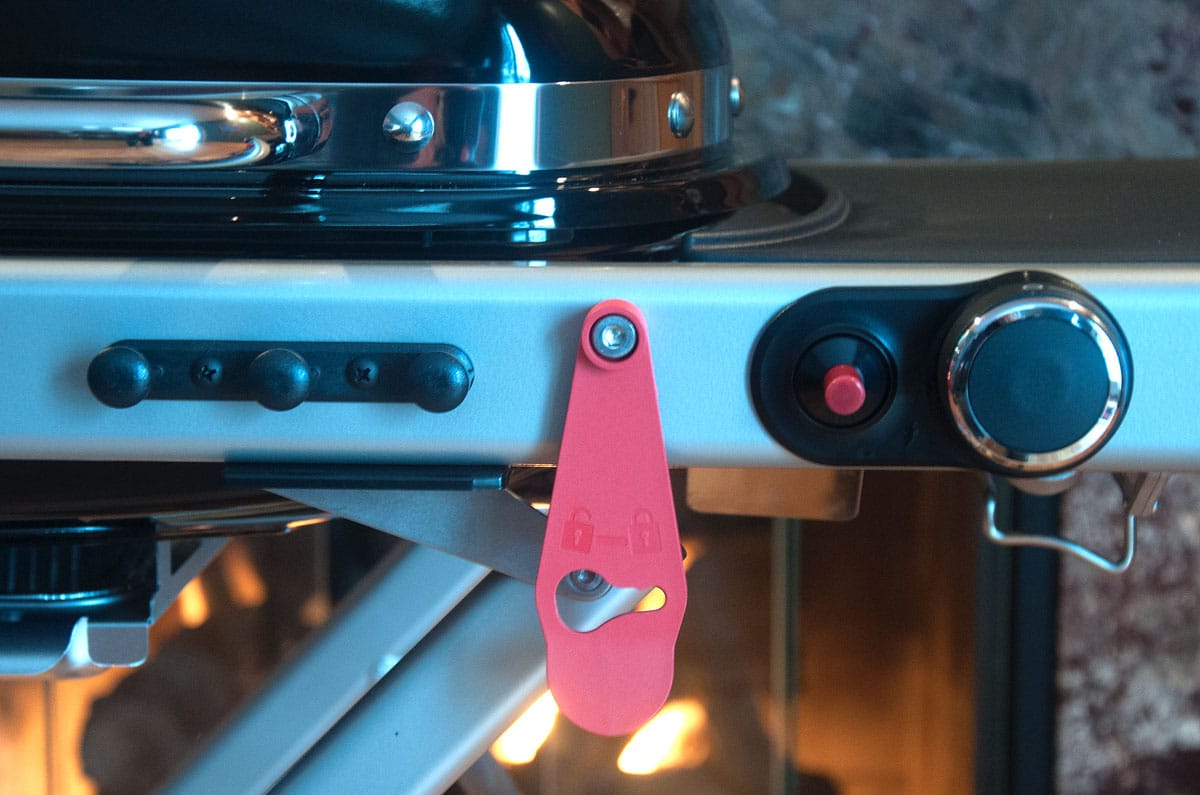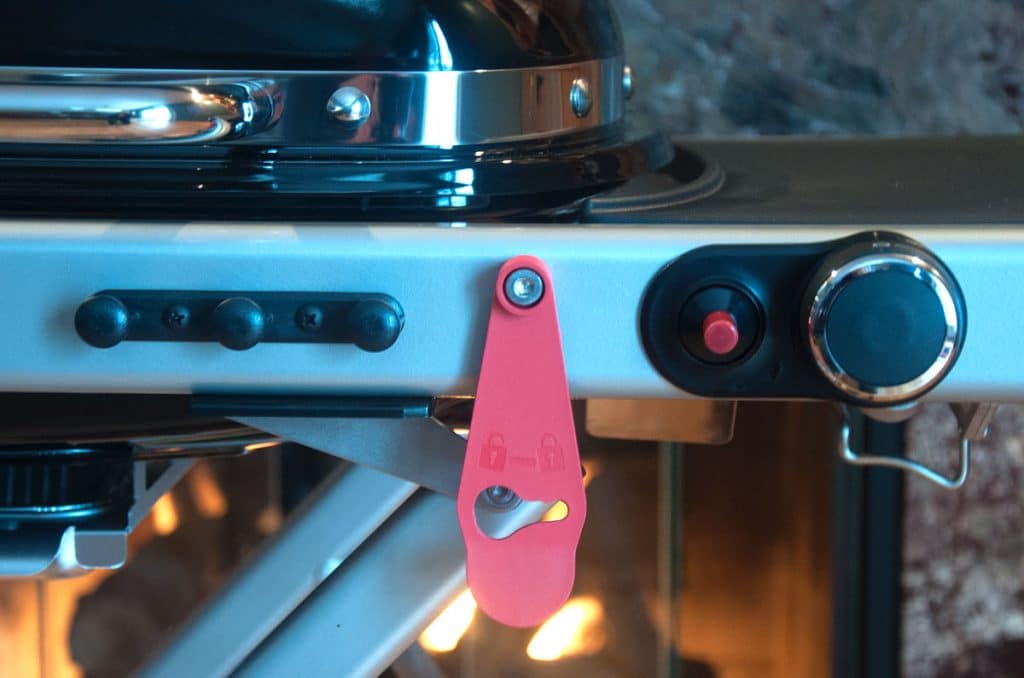 A slide out grease pan is smack dab under the center of the grill.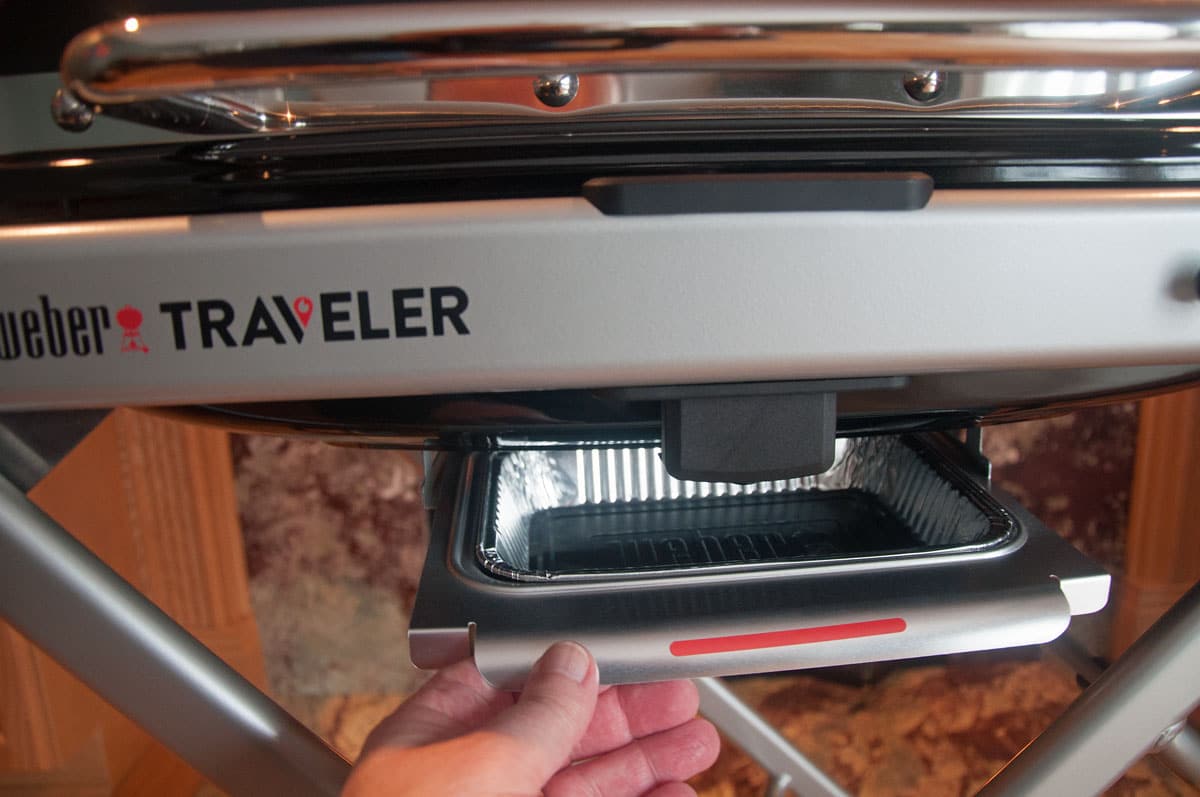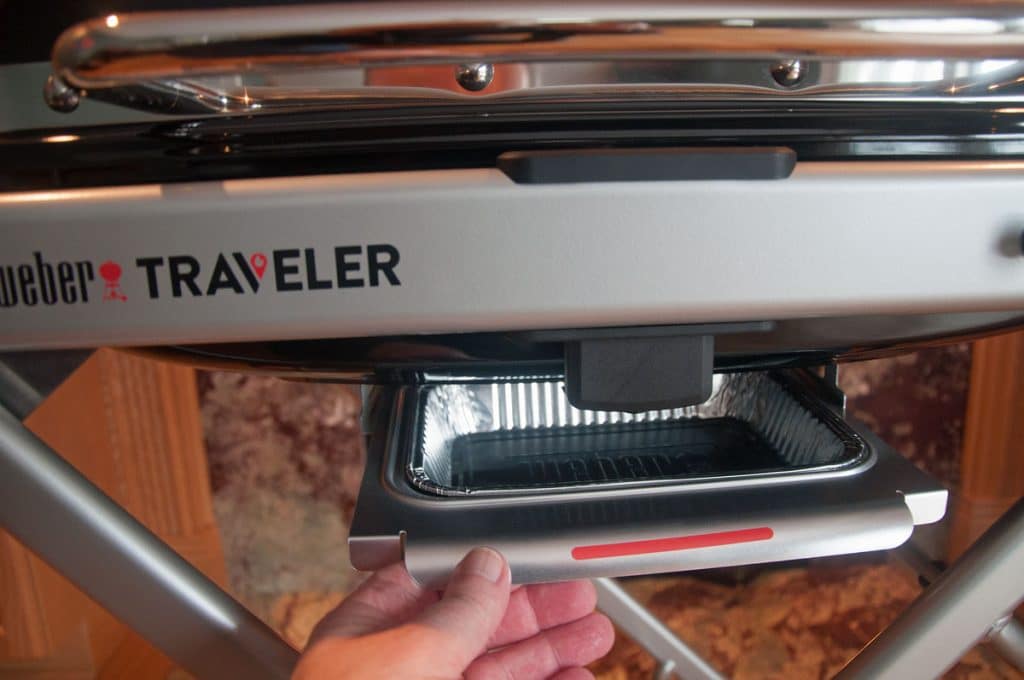 Temperature tests
Temperature range was about 420°F with the control knob on Low to 680°F with the control up High. Our bread test showed the heat was fairly even across the cook surface, with the left side side slightly cooler. We always strongly recommend disregarding the built-in hood thermometers and using accurate, digital thermometers. Click here to learn how this simple habit will improve your grill game over night.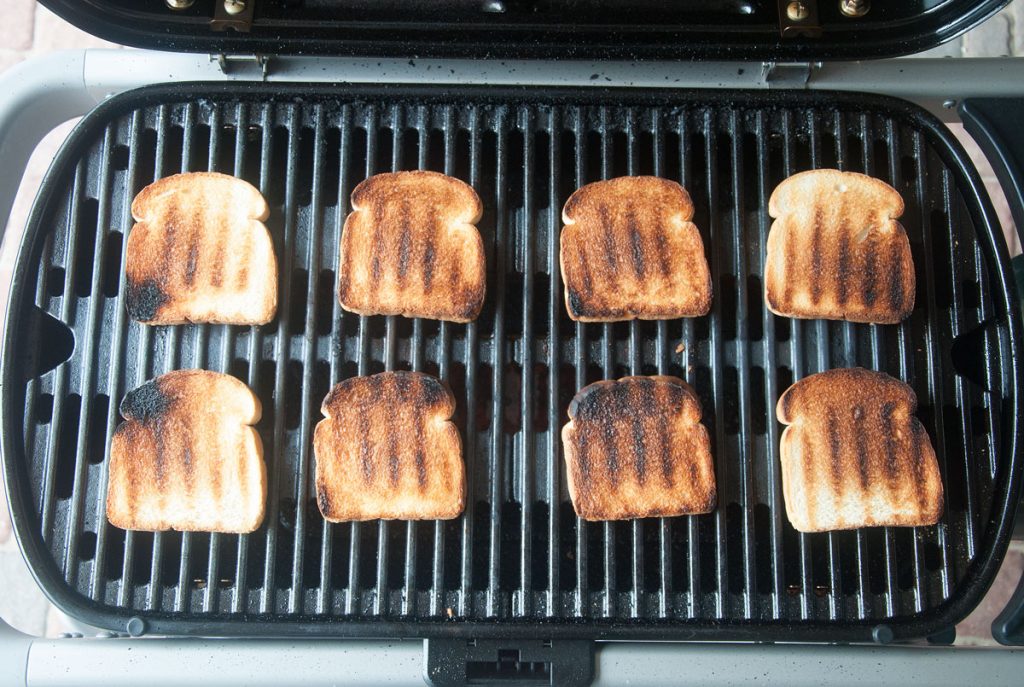 A new one pound LP cylinder ran Traveler on the Medium control knob setting for about two hours before the temperature began gradually dropping. For long burn times, Weber offers a Six Foot Propane Adaptor Hose.
First stop – Wings
We grilled a flight of wings with the control knob on the Medium setting. The heat was very even side to side and front to back. All we had to do was flip at intervals. Our wings finished at the same time with no need to move them around hot or cool spots on the cook surface.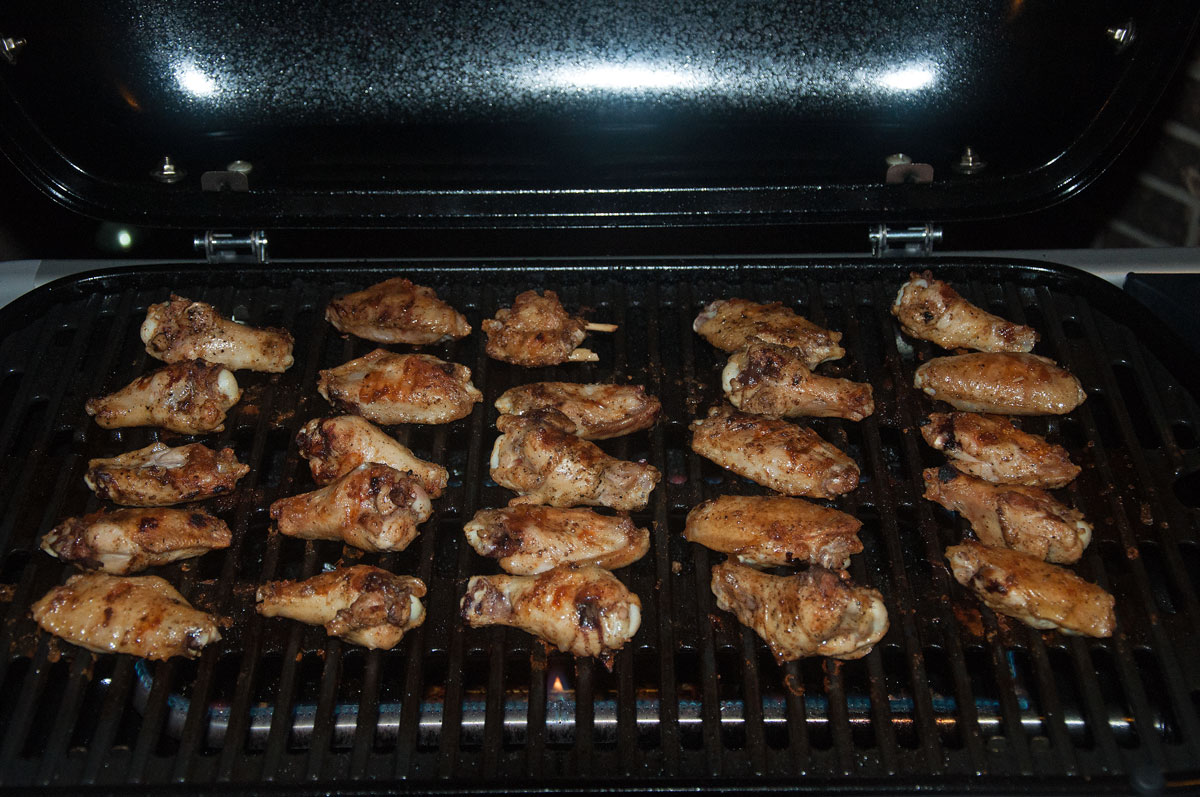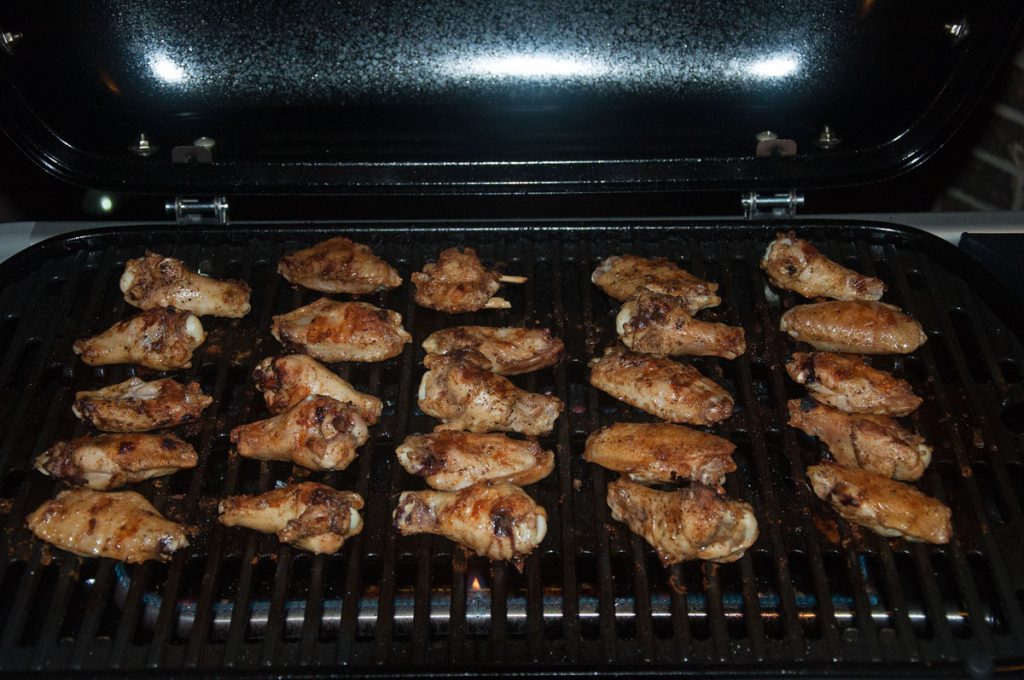 Crisp and juicy. YUM! Check out or recipe for Crispy Grilled Wings.
Travelin' fast and hot
Next destination was skirt steak. You need serious heat to sear thin steaks. We cranked it up high and Traveler did not disappoint.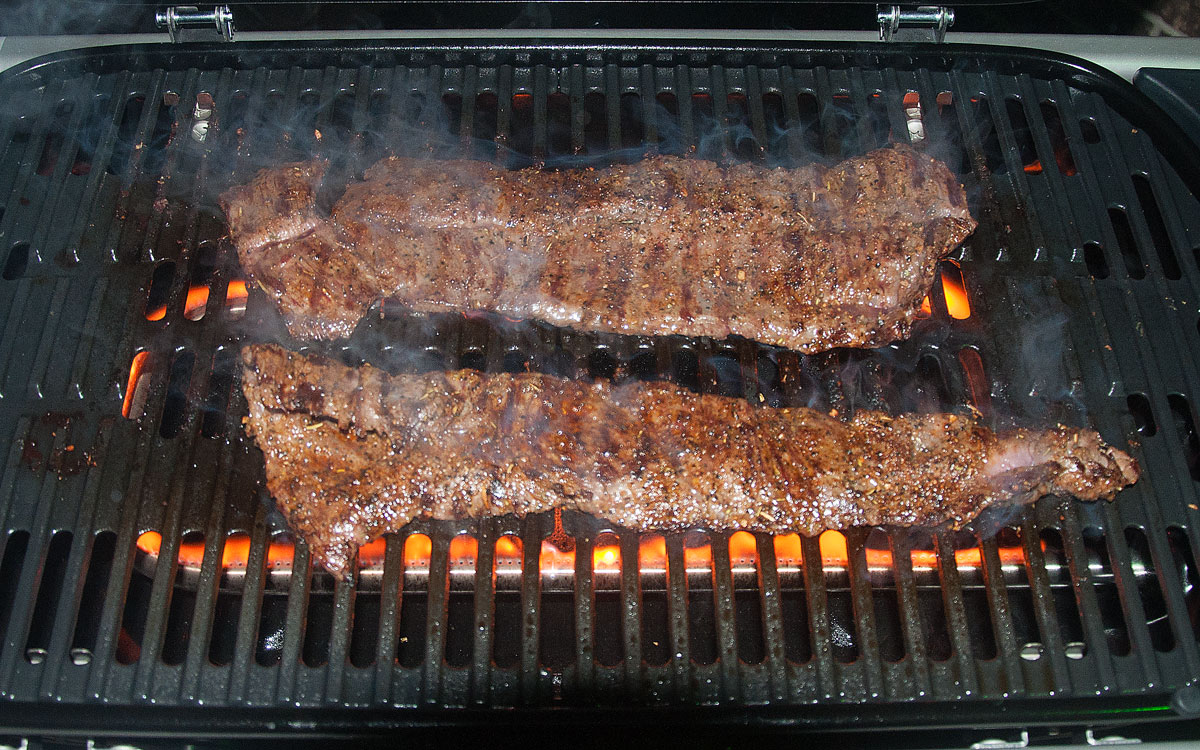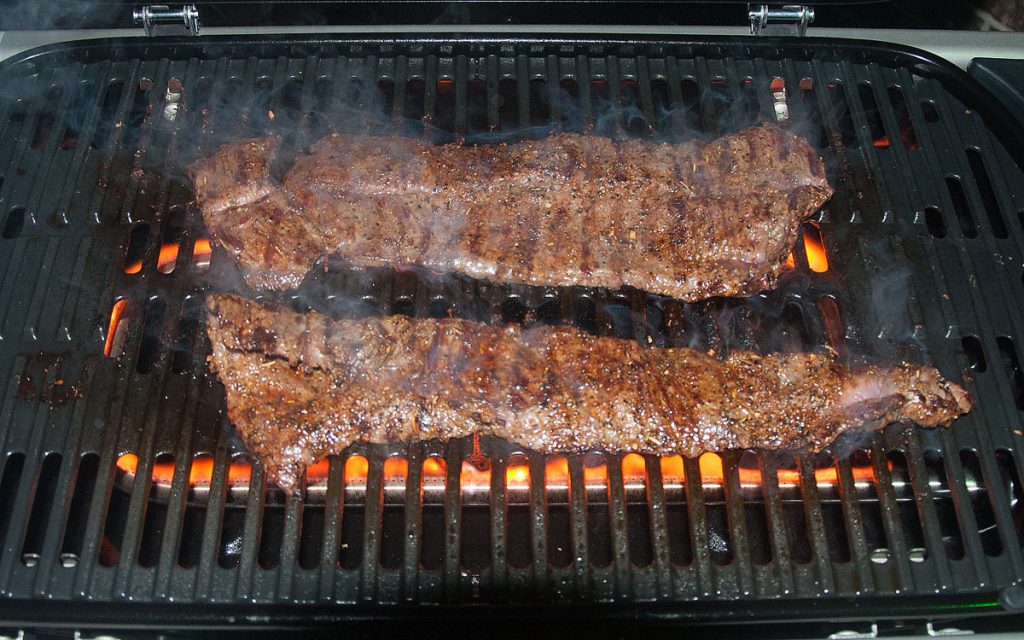 The 13,000 BTU burner delivered some real sizzle and gave us a delicious brown crust. Click here to learn why brown is beautiful.
Detour?
Shhhhhhhhhhh! Don't tell anyone. We grilled some plant based hamburgers.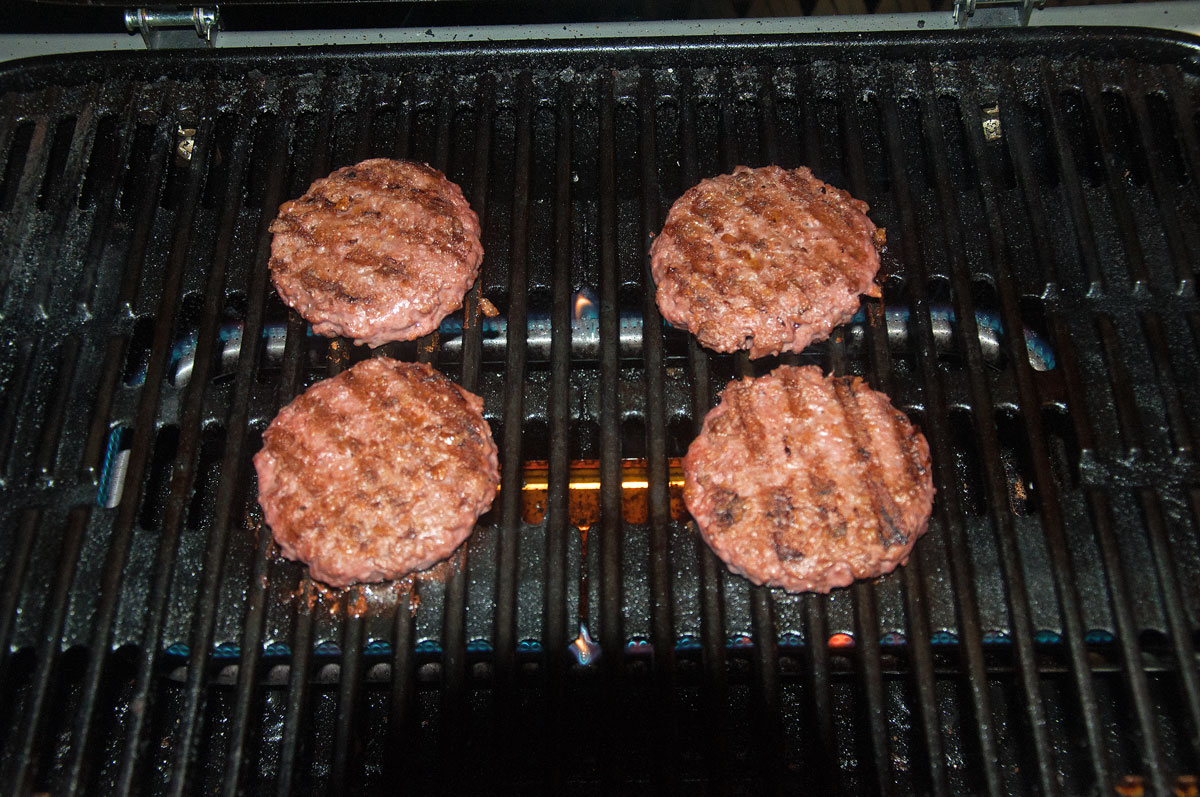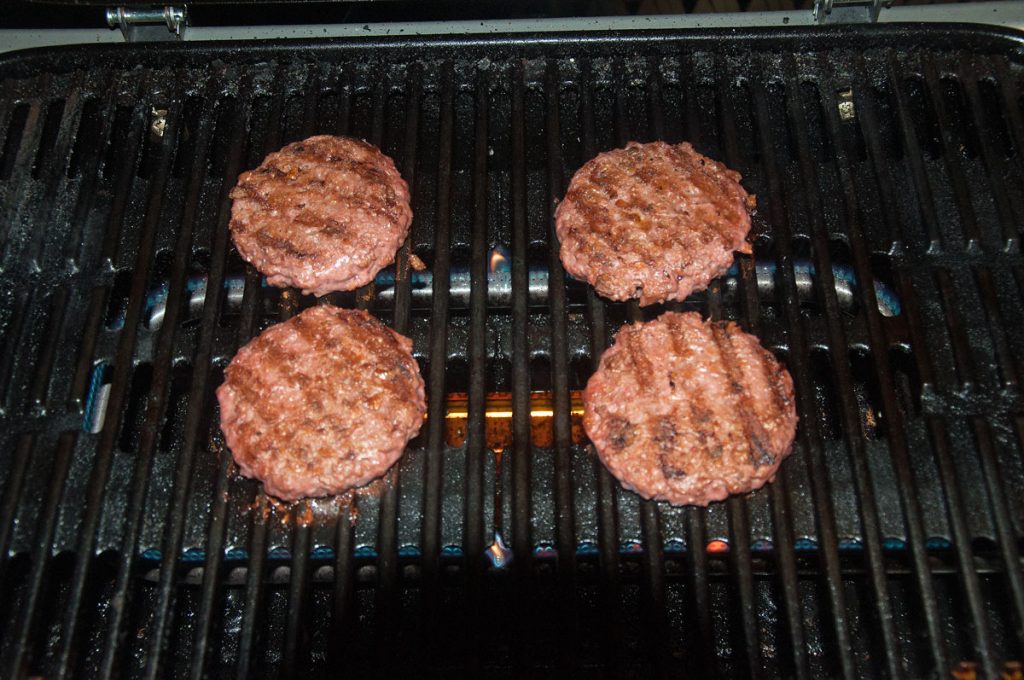 On buttered, toasted brioche buns, with bacon, cheese, lettuce, tomato, onion, pickles and lots of my very own Black Swan BBQ Sauce, they actually were pretty good. OK, kidding aside, they actually were pretty good! And Traveler performed as expected providing plenty of heat, nice and even across the entire grill surface. Click here to learn our Amazing Hamburger Secrets.
Hungry for more ribs recipes, tips, and techniques? Click here to download our ebook "Amazing Ribs Made Easy" $3.99 on Amazon (free Kindle app runs on all computers and devices). Or, get this book and others FREE as a member of the AmazingRibs.com Pitmaster Club. Click here to join.
Packaging and assembly
Packaging was excellent. The simple, elegant design required minimal assembly. Just attach the wheels, pop in the grates and grease pan and you're on the road.
Conclusion
The 320 square inch cook surface (big enough for about 15 burgers) makes Traveler fairly large for a portable, so the folding scissor cart is a welcome asset. Plus Weber's cart design includes a few seemingly small features like the automatic lid lock that combine to make set up and take down a breeze. It's so solid and stable you may even forget about the portability after firing Traveler up and enjoying the even, sizzling heat.
If you need a large portable gasser for camping, tailgating or just grilling around town on the weekend, Traveler is a very good choice. There are both less expensive and more expensive cart models, placing Traveler somewhere in a mid-price range. Quality construction and Weber's excellent customer service merit every penny. We give Traveler our AmazingRibs.com Best Value Gold Medal.
Warranty
Cookbox and lid assembly – Five Years
Stainless steel burner tube – Three Years
Cast iron grates – Three Years
Plastic components and remaining parts – Two Years
For more about Weber's Q Series Portables, check out our Q 1000 and 1200 Gas Grill Review, and our Q 2000 and 2200 Gas Grill Review. Weber also offers a Q Series full size, 2-burner patio model, the Q 3200.
We thank Weber for providing a Traveler for our review.