Game planning is crucial to avoid a fumble for a good tailgating party.
Start planning early. Check the rules on the place you plan to park. Some lots do not permit tailgating, some do not allow charcoal grills, some do not allow adult beverages, some do not allow glass bottles, and some do not allow trailers. Get organized.
Why not get there early and cook breakfast with Bloody Mary's or mimosas and throw a ball around? Then lunch before going into the game, and then dinner after the game rather than fighting traffic? And go easy on the drinks. You don't want to pass out before the game winning drive in the fourth quarter.
Plan simple foods. Don't get too complicated. Don't try to show off. KISS (Keep it Simple, Stupid). Plan dishes that allow you to spend time with your friends. Think about food that can be eaten with your hands. It's hard cutting steaks with a plastic knife on a paper plate. Think burritos, wraps, sandwiches, things on buns.
It is especially important that you pay close attention to food safety when you are away from refrigeration and running hot water. Read my page about food safety. Remember to keep food below 40°F or above 150°F. Label your coolers so people won't keep opening the meat cooler when they are looking for a beer.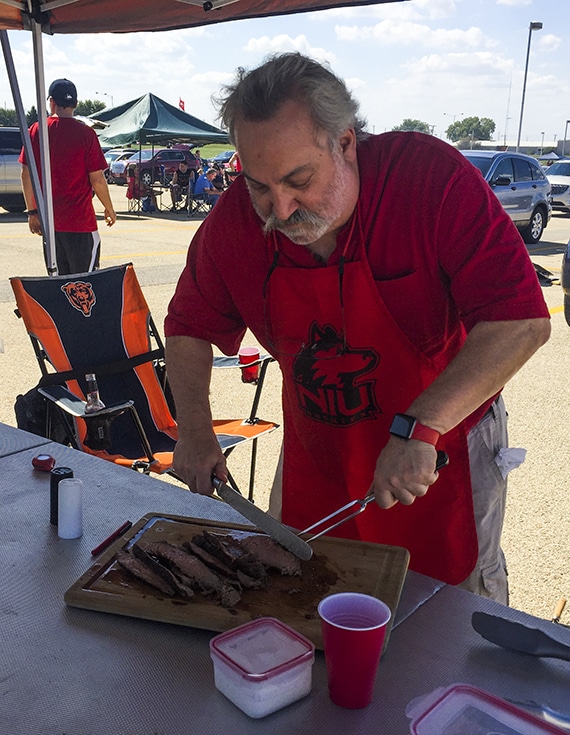 There are three paths to follow:
1) Do all your cooking at the game. Pick foods that cook quickly like burgers, brats, chicken parts, steaks, fajitas, seafood. Unless you have someone to stand guard over the cooker and the meat, don't try to smoke ribs while you're in the game. Some dastard who couldn't get tickets will surely smell your smoke and have a feast when you go to the bathroom. My go to is flank steak (above). It is great hot or room temp, on a plate, eaten with fingers, in a tortilla wrap, in a lettuce wrap, in a pita pocket, or on a bun with horsey sauce. I cook it on a on a $30 charcoal hibachi that will never be stolen when I am in the game, yet it gets hot enough that it builds a great dark crust and cooks it properly without a lid. I bring a jug of water to put out the coals when I am done.
2) Bring cooked foods that have been chilled. You can cook food early or the day before, chill it, bring it to the game cold, and cook it to a safe temp, usually above 160°F. Big thick cuts, like brisket or turkey breasts, are slow to warm and can take hours. But keep in mind, you are serving the equivalent of leftovers and they will not be as good as fresh cooked. I prepare most of the side dishes at home.
3) Bring hot food. You can bring recently cooked food in a good tight faux cambro, just keep the temp above 150°F. Brisket actually needs a couple of hours in a faux cambro, and pork butt holds fine in one. Bring them whole and cut or pull them on site. Whole cuts retain heat and moisture better. This is not a good strategy for poultry since it overcooks easily and the skin gets rubbery when held.
Do as much prep in advance as possible. For example, if you plan to make omelets for breakfast, break and mix the eggs, add the herbs and whatever else was going in, pour them in a jar, and then all you need to do is pour them into the hot pan with butter. You can chop peppers in advance, but onions get bitter if chopped in advance, and potatoes brown.
Save and clean empty milk jugs, and freeze water in them. The frozen bottles can keep food cold, and can be used for drinking and cleanup.
Buy an empty spray bottle at the drug store and fill it with a dilute solution of household bleach. USDA recommends a solution of one tablespoon of 5% unscented, liquid chlorine bleach per gallon of water. Bleach is a powerful sanitizer. That's why they put it in swimming pools. After washing cutting boards, knives, meat grinders, counters, etc., it's a good idea to sanitize with bleach. Flood surfaces with the bleach solution and allow it to stand for several minutes. Rinse with clear water and air or pat dry with clean paper towels.
The football-barbecue relationship
Why is barbecue so popular at football tailgate parties?
As any fan will tell you the greensward the game is played on, marked with parallel white stripes, is called a gridiron. What she may not know is that a gridiron is an early name for the iron grate with parallel bars upon which meat is cooked over coals.
And what is the central object of the game of football? A pigskin, of course, even though it hasn't been made of pigskin for decades.
Let's start with a tailgating grill selected from our database of ratings. And take the advice of reader Mike Davis, get some plastic totes at the hardware store and put all your stuff in there. Label them so you can find things. You can then clean them and store them for the next game. Arrive early and stay late. Relax. Have a party. Even if the home team loses, you can salvage victory from defeat with good food and drink!
Bins for washing and rinsing
Camp chairs
Dish soap
Footballs, frisbees, bean bag toss
Hat with a brim
Mosquito repellant
Phone
Radio
Rain gear: Ponchos, umbrellas, caps
Side dishes: Potato salad, slaw
Snacks: Chips, Chex Mix, Cheetos, peanuts
Stadium seats
Sunblock
Sunglasses
Portable tables and tablecloths for prep and for eating
Team flags and banners
Team rosters
Trash bags & liquor boxes to hold them
TV
Utensils: Flatware for eating, knives for carving, spatula, serving spoons, 2 sets of tongs (one for raw food, one for cooked)
Water for cleanup
Wet towelettes
And don't forget the tickets!
Tell me below in the comments what is missing from the list. And did you know that there is an entire magazine devoted to tailgating? Tailgater Magazine is full of cool new gear, entertaining ideas, and great food and drink recipes to make your next tailgate or backyard BBQ party the best ever! Click here for a FREE digital subscription to Tailgater Magazine.
Made in the Shade
The folks at GoGalley make something I like better than the ever popular Easy-Up tent, The Morshade 360, a big tilting umbrella with some very special features. Unlike the Easy-Up, there are no legs in the way, it won't blow away, and it can be angled to follow the sun. The kit comes with a standard umbrella base with spikes for driving into grass, a U-shaped plastic base with turnbuckle that can be strapped to a tree without harming it, a trailer hitch insert, clamps for tables or benches, and it can also go into the hole in your picnic table.