If you are a fan of buffalo wings but don't love the deep frying, our crisp and smoky grilled wings are for you!
Some will say the quintessential American foods are hot dogs and hamburgers, but they have their roots in Europe. Buffalo Chicken Wings were born in the USA, made from a part of the chicken that once upon a time was used for soup stock. Scrap. Heck, even chickens can't use chicken wings. If you want to have more fun with wings, check out this recipe for Smoked Miso Chicken Wings.
Smoked Miso Wings Recipe
This is a great smoked wing featuring an Asian-inspired marinade that deftly balances sweet, salty, and savory flavors.
Check out this recipe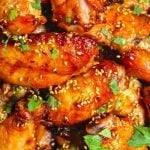 The exact origin fable has become clouded a bit through time, but the new owners and survivors of the memorable night tell this tale: Late on a Friday night in 1964, Dom Bellissimo, son of owners Frank and Theresa, was working at the Anchor when some of his buddies showed up with the munchies. Theresa was shutting down the kitchen, so she looked for something quick and easy. She had a box of wings to use in making soup, so thinking on her feet, she tossed them into the deep fryer which was still hot. When they came out she sprinkled them with hot sauce, some melted margarine, and to make sure the boys had a well-rounded meal, she added a side of celery and blue cheese dressing to dunk the celery into. The boys dipped both the celery and the saucy wings in the blue cheese dip, and an international rage was born.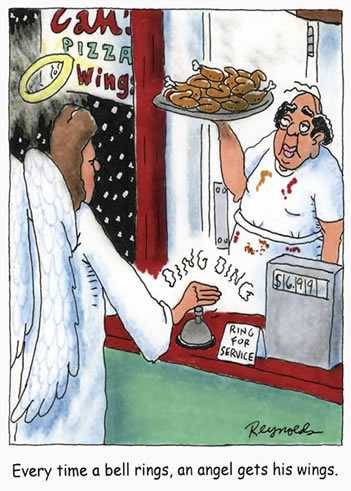 Nowadays every bar in Buffalo serves wings, they are standard fare across the nation, there is a national chain named Buffalo Wild Wings, and there is even a huge National Buffalo Wing Festival in "The Queen City" over the Labor Day weekend.
But there is more to this tasty snack than meets the eye. Pepper lovers know that the heat comes from a compound called capsaicin, and no amount of beer or water will quench the fire. In fact, they just spread the flames. The only thing that works is lipids. Fats. And there are plenty in the skins, in the butter in the hot sauce, and in the blue cheese dressing. So the flavors not only harmonize, but so does the chemistry.
True Buffalo wings are deep fried, but I love the flavor and convenience of cooking them on the grill, and even smoking them first. And there is much less mess. Blasphemy, I know. But mmmmm, tasty grilled blasphemy, to paraphrase Homer Simpson.
The problem is getting the skin crispy. So I tried everything. I painted them with oil. I took a tip from Chinese restaurants and the way they make Peking Duck and dunked them in boiling water for a bit, and then let them dry in the fridge. I dunked them in salted boiling water. I steamed them. I sprinkled them with baking powder. I poked holes in the skin so they would drain better. The most promising technique was to lightly dust them with baking powder and let them rest in the fridge for at least an hour, a method pioneered by J. Kenji Lopez-Alt of Serious Eats when he worked at Cooks Illustrated. I even combined techniques. The improvement was barely noticeable over just simply grilling them, and hardly worthwhile, especially when you consider they will be coated with sauce and dipped into another sauce. So I've chosen the simplest path: 2-zone cooking and reverse sear. I start the wings on the indirect side to cook the meat, add smoke, and finish on the hot side to crisp the skin. If you have a smoker, start them on the smoker, then finish on a hot grill over direct heat to crisp.
Sacrilegious?
Of course the original Buffalo chicken wings were deep fried, and some folks think it heresy to even contemplate grilling them. I recently found this posting on the BBQ-Source-Forums from a man in WV:
My daughter had to go to a funeral in Richwood today. I decided to go with her as a co-pilot and had to cancel my plans to grill burgers.
On the way back, my wife called and said she was making chicken wings on the grill. I was shocked!! See, my wife and I are from the Buffalo area and she went to college across the street from the Anchor Bar, where Buffalo wings were first made. In fact, Teresa, the owner's wife, taught my wife how to make wings, so hearing that she was making wings using the grill bordered on being sacrilegious!!
I must have asked three times "You're making wings on the grill?" to which she answered "Yes."
Once we got home I immediately went to the deck to (1) Check-out the sacrilegious wings, and (2) Make sure my grill was OK.
What did I see? I saw my wife standing by the electric deep fryer, connected to an extension cord, sitting on my grill, cooking wings! I was greeted with a big smile, and my wife said "See, I told you I was cooking wings on the grill!"
The wings were wonderful, and my grill is fine.
True Buffalo wings are deep fried, but I love the flavor and convenience of cooking them on the grill, and even smoking them first. And there is much less mess. Click here to tweet this 
Serve with: A pilsner.
---
---
Makes:
Servings:
appetizer servings
---
Takes:
---
Ingredients
Classic Buffalo Wing Sauce
1/2

cup

melted salted butter

2

cloves

minced or pressed garlic

1/2

cup

Frank's Original RedHot Sauce
The Rest
24

whole chicken wings

(about 4 pounds (1.8 kg) for 24 whole wings)

ground black pepper

6

stalks of celery
Notes:
About the blue cheese dip. When I'm feeling lazy, I just use Marie's Blue Cheese salad dressing. Great stuff. It's in the refrigerator section of your grocery. Also, Ranch dressing works beautifully.
About the sauce. I often use DC Mumbo Sauce, Danny Gaulden's Glaze, Chris Lilly's Spiced Apricot Glaze, or Kansas City Style Barbecue Sauce. Of course you could do as they do at Buffalo Wild Wings and other restaurants: Put out a variety of sauces and let people pick their fave. That's democracy at work.
About the hot sauce. Frank's is the classic Buffalo Wing Sauce base, and its charm is the fresh red pepper flavor. But it is not very hot. If you want more heat, try my Controlled Burn Hot Sauce or pick your poison. Keep in mind, not everyone is as manly as you. Like me. Better still, make two or three levels of heat so people can pick.
About the salt.
Remember, kosher salt is half the concentration of table salt so if you use table salt, use half as much. Click here to read more about salt and how it works.
Optional. Baking powder slightly raises the pH of the skins making them less acidic which helps them crisp and brown. So here's what you need to do: Put the salt, pepper, and baking powder in a big bowl and add the wings, tumbling them around until they have a little of all three on them.
Metric conversion:
These recipes were created in US Customary measurements and the conversion to metric is being done by calculations. They should be accurate, but it is possible there could be an error. If you find one, please let us know in the comments at the bottom of the page
Method
Prep. To create the blue cheese dip, take the cream cheese and the blue cheese out of the fridge and let them come to room temp. Then smush them together with the spices. Mix in the sour cream and half and half. Put them in a serving bowl and refrigerate. You can do this a day ahead. Cut up the celery into 4-inch (10 cm) sections and put it back in the chiller.

For the Buffalo hot sauce, melt the butter over a low heat and then adding the garlic. Let it simmer for about a minute but don't let the garlic brown. Then add the Frank's RedHot sauce. Let them get to know each other for at least 3 to 4 minutes. But remember, if you don't want to use the original and you want to get creative, try one or more of the other sauces listed above. I'm partial to DC Mumbo Sauce. Like the dip, the sauce can be made a day in advance.

When it comes time to prep the wings, note that there are three distinct pieces of different thickness and skin to meat ratio: (1) The tips (2) the flats or wingettes in the center, and (3) the drumettes on the end that attaches to the shoulders. The thickness differences means they cook at different speeds and finish at different times. The best thing to do is separate them into three parts with kitchen shears, a sturdy knife, or a Chinese cleaver (my weapon of choice because the ka-chunk noise of chopping them off is so very satisfying).

The tips are almost all skin, really thin, and small enough that they often fall through the grates or burn to a crisp. You can cook them if you wish, but I freeze them for use in making soup. Separate the V shaped piece remaining at the joint between the flat and drumette. You will cook both these parts.

Some folks like to season them with a spice rub. That works most of the time. I find that most commercial rubs are too salty for such thin cuts, and most have too much sugar that tends to burn during the crisping phase. Besides, they just get lost under the sauces and dips. So I just season them with salt and pepper. As Rachael Ray says: "Easy peasy."

Fire up. You can start them on a smoker if you wish, but I usually grill them. Set up the grill for 2-zone cooking with the indirect side at about 325°F (162.8°C) to help crisp the skin and melt the fat. If you wish, add wood to the direct side to create smoke. Use a lot of smoke.

Cook. Add the wings to the indirect heat side of the grill and cook with the lid closed until the skins are golden. That will probably take about 7 to 10 minutes per side. By then they are pretty close to done.

To crisp the skin, move the wings to the direct heat side of your grill, high heat, lid open, and stand there, turning frequently until the skin is dark golden to brown but not burnt, keeping a close eye on the skinnier pieces, moving them to the indirect zone when they are done.

Serve. Put the sauce in a big mixing bowl or pot and put it on the grill and get it warm. Stir or whisk well. Keep warm. When the wings are done you can serve them with the sauce on the side for dipping, or just dump them in with the sauce and toss or stir until they are coated. Then slide them onto a serving platter. Put the celery sticks next to them, and serve with a bowl of Blue Cheese Dip. People can scoop some Blue Cheese Sauce on their plates, and dip in the celery and wings.
---