Many top steakhouses offer dry-aged steaks on their menus. You may wonder why premiere meat purveyors tout these older hunks of meat. In our article, How To Dry Age Steak At Home, Meathead explains, " As the beef ages, more interesting flavors emerge, and that is what the fuss is all about. But you can't age beef by just throwing it in the fridge and waiting for it to get tender. Oxygen and bacteria can mess it up."
Commercial steakhouses use specialized equipment for dry aging large quantities of meat. Now we're seeing more manufacturers of dry aging equipment offer smaller capacity models for home use. As an award-winning Chicago Chef, I know my way around the dry aging process so I was asked by AmazingRibs.com to weigh in on some of these residential units. Here's my review of The Steak Locker.
The Steak Locker is all stainless steel inside and out and could be used in a residential or commercial kitchen. It comes in three different sizes: a small Studio model, a medium-sized Home model that fits over or under a counter, and a large Pro model that's the size of a residential refrigerator. I tested the Home model which measures 23.43″ W x 22.56″ D x 32.28″ H, weighing 110 lbs with a 5.23 cubic foot capacity. It's pretty big for tabletop use, but perfect for under the counter.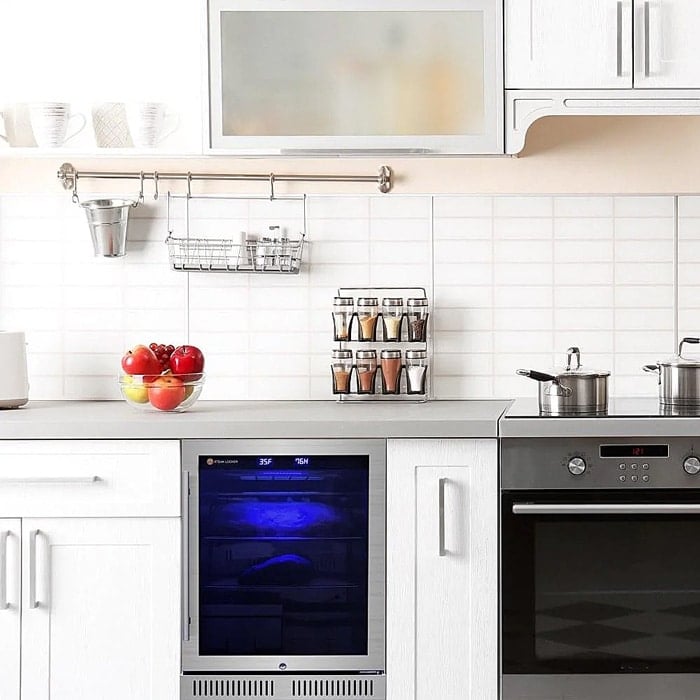 It has 3 wire racks and a bar to hang items from hooks which I found to be beneficial for aging multiple cuts of meat and sausages.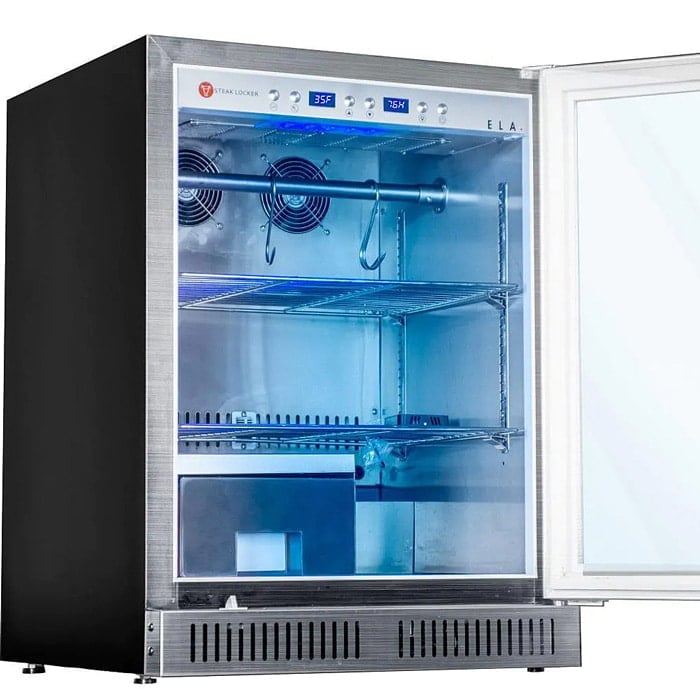 Download the robust app to your smartphone and connect via WiFi.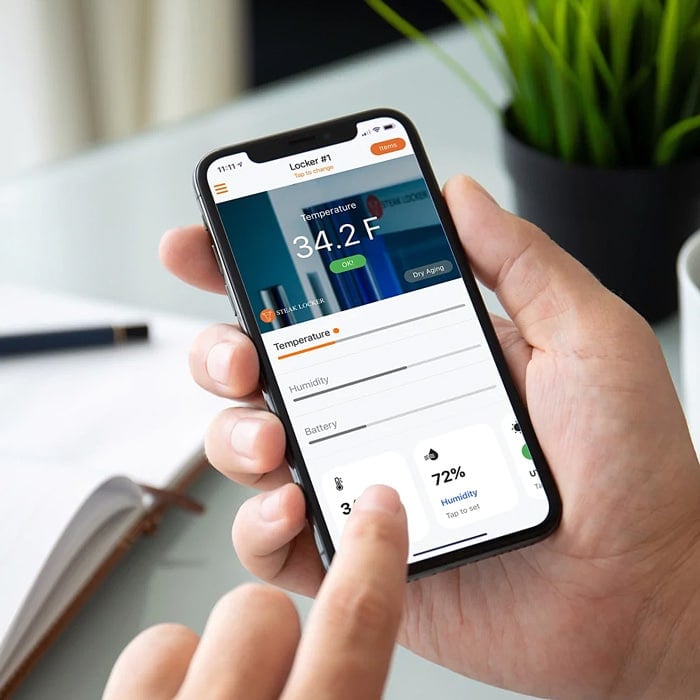 It tracks and monitors all items you are aging. When you add meat to the locker, log each piece into the app. A handy recipe catalog is also included.
You can also control the unit's temperature and humidity to not only dry age meat but also ferment sausages. The Steak Locker has a UV light to help control bacteria growth.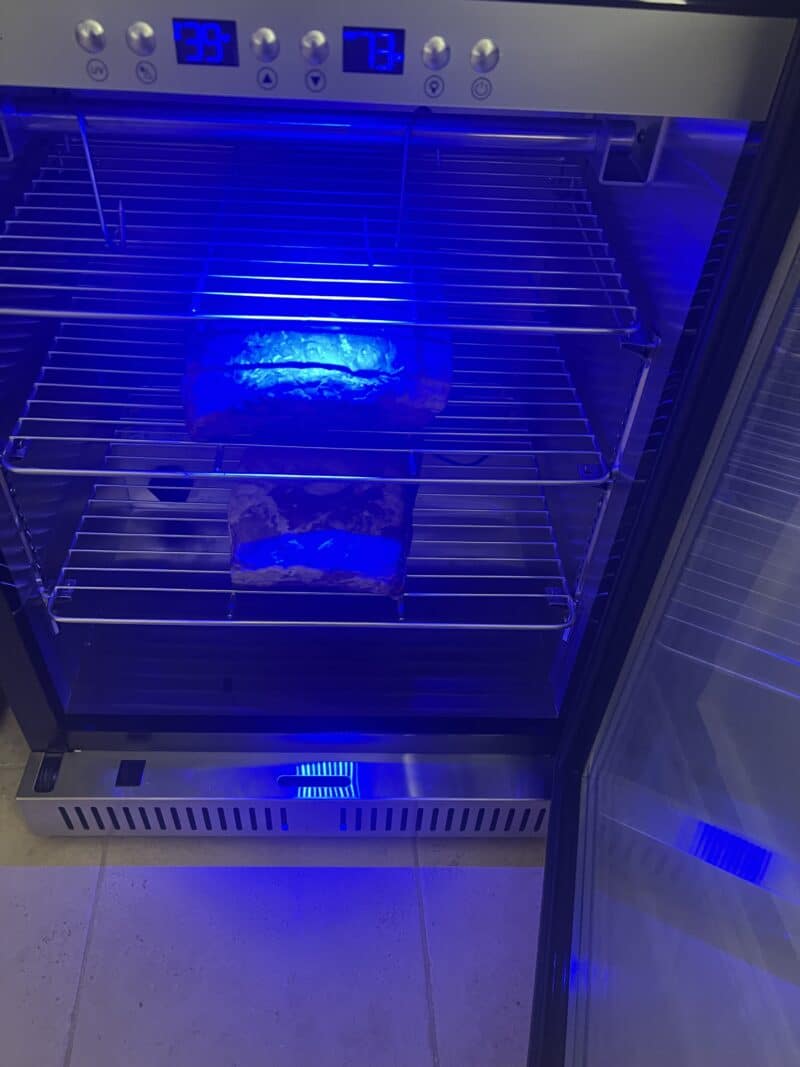 I aged a bone in beef ribeye with a starting weight of 9.11 lbs. and an end weight after aging of 7.06 lbs. and a trimmed weight of 4.77 lbs. after 40 days. The meat was tender, it had what I would consider a classic dry-aged beef flavor. It was nutty, and sweet, with a hint of good funk, if I left it aging longer it would have developed more of a "blue cheese" flavor around 65 days.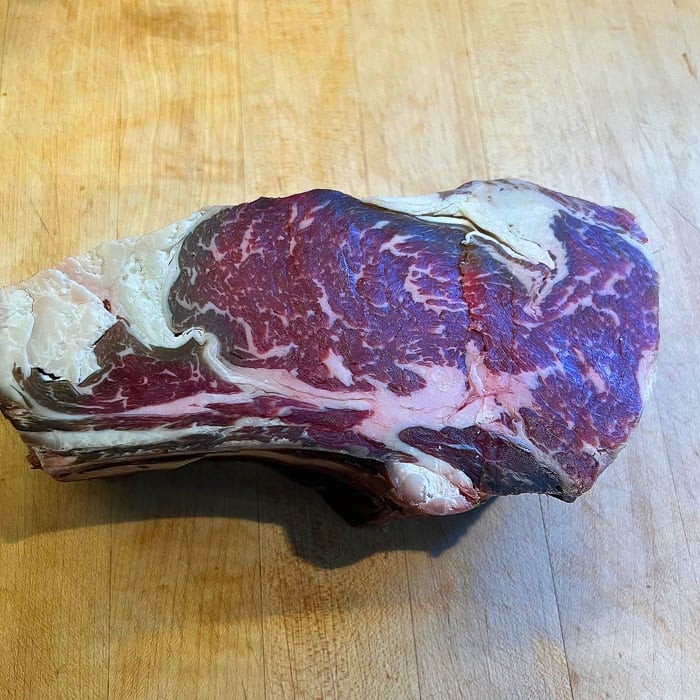 For everything you need to know about steak, click here to download our eBook, "Steakhouse Steaks Made Easy"
I like the ability to age a full ribeye on the racks and cut off a few steaks, then put the ribeye back in and let it continue to age until next week's dinner.
Here is a pro tip, save all the dry-aged beef trimmings and render them slowly. Strain, then use the "liquid gold" to baste your meat, cook eggs, put on toast, or anything you can think of. Click here to get our most popular steak recipes.
The Home model currently sells for $1,799. The Studio version is $1,299 and the Pro is $4,999.
Steak Locker is a well-made, full-featured device that produces great results at a reasonable price. I give it The AmazingRibs.com Best Value Gold Medal.