I first met Barbecue Hall of Famer Mike Mills and his daughter Amy in October 2005 at the Jack Daniels World Championship Invitational Barbecue in Lynchburg, TN. He was introduced to me as "The Legend." I knew of him because I read the book he and Amy wrote, "Peace, Love, and Barbecue", a James Beard nominee in 2006 and still a classic because it introduced the world to so many great pitmasters with great photos by Amy. Mike died Tuesday morning December 29, 2020 due to issues unrelated to COVID. I admired and respected Amy, but I worshiped Mike.
He started out in barbecue by smoking ribs in the parking lot of his bar in Murphysboro, IL in the remote southern part of the state near Kentucky to the south and Missouri to the west. Before long, he formed the Apple City Barbecue team and proceeded to win the World Championship four times and Grand World Championship three times at Memphis in May, otherwise known as the Super Bowl of Swine. He is also the 1992 Grand Champion of the Jack Daniel's World Championship Invitational Barbecue and he won the Jack Daniel's Sauce Contest that year as well. Mike said his unique "Original Barbecue Sauce" recipe was passed down from his grandmother and that he learned how to barbecue from his father.
Eventually Mike's bar became a restaurant with a bar. He owned two restaurants at the time of his death, both named 17th St. Barbecue, one in Murphysboro and one in nearby Marion, IL. He was also a partner in two other BBQ joints, including Blue Smoke in NYC. He helped launch the Big Apple Barbecue, a massive New York City event, appeared on national TV many times, and has conducted numerous seminars, including an annual whole hog seminar. 17th St also organizes its own sizable barbecue competition every year.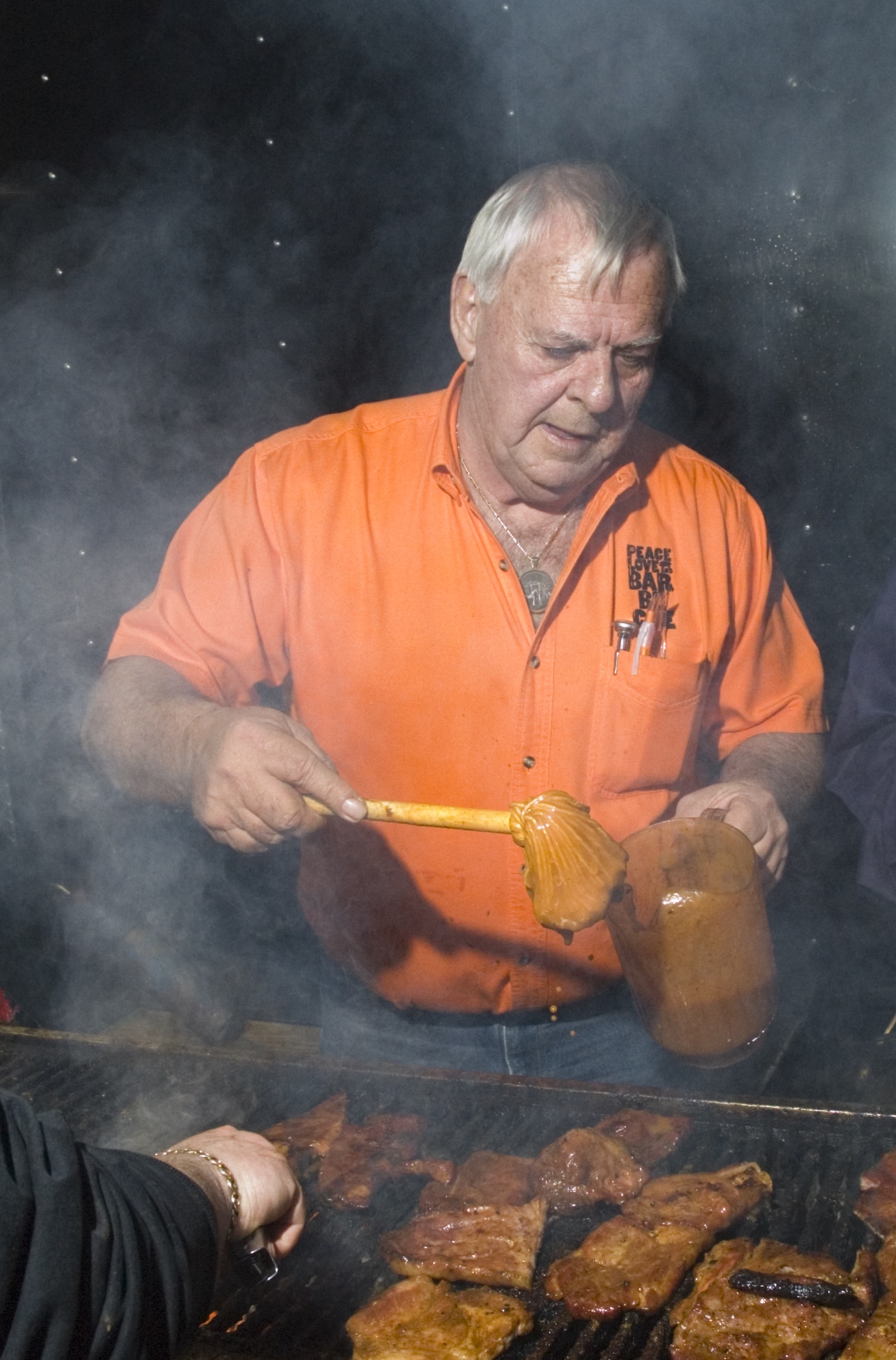 I attended one of Mike's whole hog classes and like everything else Mills, it was done right. We saw each other almost every year at the National Barbecue Association meeting and always found time to have a few drinks together. Over the years, I regularly reached out to him with questions and he was always open and candid, withholding nothing.
My colleague, Clint Cantwell, shared this remembrance: "I was honored to meet Mike for the first time approximately 15 years ago as he was preparing to cook at the (now defunct) Big Apple BBQ Block Party in New York City, an annual event that he help organize as a partner in the now shuttered Blue Smoke, the first true BBQ joint in Manhattan. Although he didn't know me, he immediately invited me to pull up a chair as I recorded the first of several interviews I would do with him over the years. We became instant friends that day, and Mike was always one of the first people I would seek out when we'd find ourselves at the same event or BBQ contest including many a visits at Memphis in May and the Jack Daniels Invitational. His BBQ knowledge was endless and his stories never ceased to entertain me as we would sit together shutting out whatever crowds and parties were happening around us. Interestingly enough, he is also the only BBQ pitmaster to have security clearance to board Air Force One!"
Here's a quote from his book: "I never told either of my wives the recipe [for our secret family barbecue sauce]. Let me tell you, this didn't set well with either one of them. I have had it in my head, so it isn't written down anywhere…My first marriage lasted only seven years, so keeping a secret wasn't too much of a problem, although Wife #1 wasn't amused. Marriage to Wife #2 lasted for only 27 years, so she didn't make the cut either. Now if we'd made it to 30 years, I might've broken down and spilled my guts. But she would've had to change her ways."