Chicken satay is served all over Asia and it's usually seasoned with a blend of spices heavy on turmeric. That's how it gets that golden color. My blend also includes ground coriander, ginger powder, chile powder, black pepper, brown sugar, and a few other spices. It's perfect on chicken, pork, beef, goat, lamb or tofu skewers. Try the chicken recipe with peanut dipping sauce here. It even tastes great on grill roasted peanuts!
Spotlight on our favorite products
The Undisputed Champion!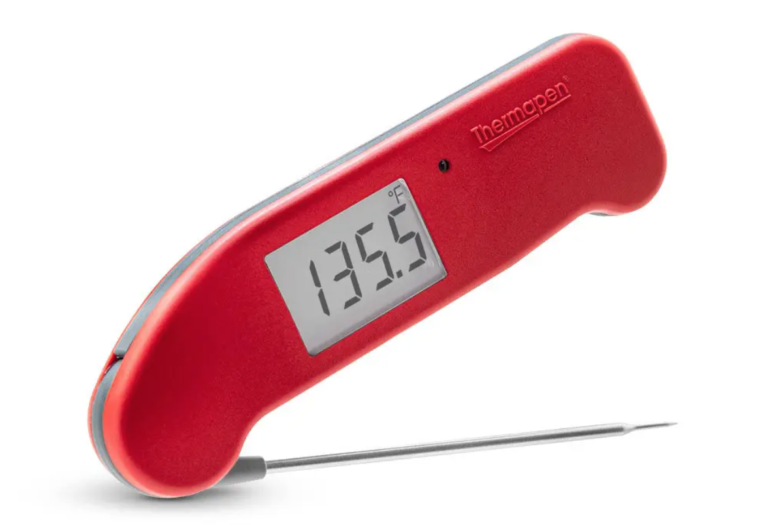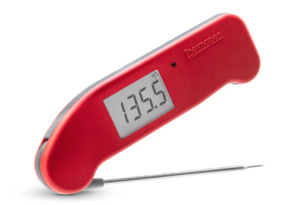 ThermoWorks' Thermapen ONE provides an accurate reading in one second or less. The ONE also includes features that are common on high-end instruments: automatic backlight, rotating display, and water resistant seals. Don't accept cheap substitutes.
Click here to read our comprehensive Platinum Medal review
– THIS IS NOT AN AD –
Turmeric gives this rub its golden color. It's perfect for any grilled meat or even on grill roasted peanuts!
---
---
Makes:
About 2 1/2 tablespoons
Servings:
1/4-teaspoon servings
---
Takes:
---
Ingredients
2

teaspoons

turmeric powder

1

teaspoon

coriander powder

1

teaspoon

dark brown sugar

1

teaspoon

chile powder

1

teaspoon

ginger powder

½

teaspoon

onion powder

½

teaspoon

garlic powder

½

teaspoon

finely ground black pepper
Notes:
About the chile powder. This is chile powder, powder made from only ground hot chiles such as jalapeno, serrano, or bird chiles. It is not chili powder which is a blend of chile powder and other ingredients.
Metric conversion:
These recipes were created in US Customary measurements and the conversion to metric is being done by calculations. They should be accurate, but it is possible there could be an error. If you find one, please let us know in the comments at the bottom of the page
Method
Mix. Dump everything into a bowl and mix it together. Store in a tightly sealed jar in a dark place.
---
Nutrition per Serving
Calories:
2
kcal
|
Carbohydrates:
1
g
|
Protein:
1
g
|
Fat:
1
g
|
Saturated Fat:
1
g
|
Polyunsaturated Fat:
1
g
|
Monounsaturated Fat:
1
g
|
Sodium:
1
mg
|
Potassium:
8
mg
|
Fiber:
1
g
|
Sugar:
1
g
|
Vitamin A:
20
IU
|
Vitamin C:
1
mg
|
Calcium:
1
mg
|
Iron:
1
mg