Myron Mixon 750 Rotisserie Smoker Review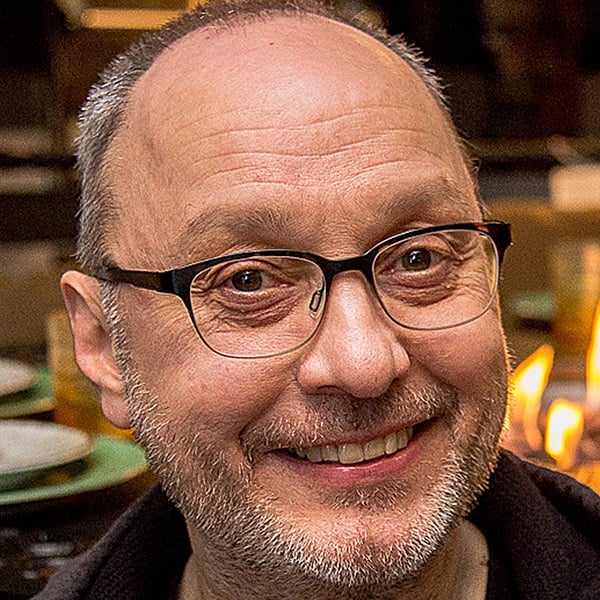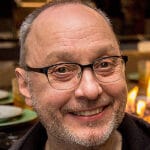 By: Max Good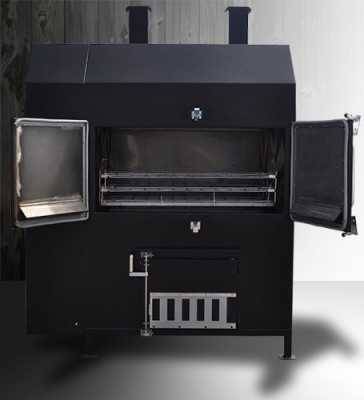 Myron Mixon's 750 is his mid-size rotisserie smoker. Not for home use, this 3000 pound beauty is made for high capacity commercial cooking. Rotisserie or carousel smokers are very popular with BBQ restaurants as the multiple racks hold a lot of meat and don't need to be fussed over since they keep the food moving to avoid uneven cooking. Plus meat at the top drips onto racks below so the design is self-basting.
Mixon is a big advocate for water pans which he strongly believes will help maintain temperature, eliminate hot spots, reduce fuel consumption and produce moist, tender meats. The water pan in this unit runs the entire length of the cooking chamber. Retaining moisture in meat also results in better yields for the commercial cook. Additionally, Mixon says go ahead and crank the temp higher, you'll produce more Q faster and the humidity will keep it succulent.
Twelve nickel chrome 18″ x 48″ racks come standard and additional racks are available. The 750 is fully insulated and the doors close on high temp braided insulation. Doors clamp shut. The front loading firebox has a stainless steel damper assembly built into the door and there are two chimney stacks with stainless steel dampers on top. A one and a half inch drain valve facilitates cleaning.
Click here to learn more about controlling heat with vents.
The $23,750 base price climbs quickly when one begins adding options like stainless steel racks, gas burners and digital control.
Myron Mixon Smokers are built solid, fully welded with excellent fit and finish. MM Rotisseries go through a 2-step, powder coat process that starts with a base coat of zinc primer and finishes with high-temp exterior powder coat. Mixon will do custom paint and logos upon request.
A smaller MMS-500 and larger MMS-1500 are also available.
Model:

750 Rotisserie Smoker

Item Price:

$ 23750.00

Made in USA:

yes

Review Method:

Researched it from Afar
We have researched this product from afar by gathering info from the manufacturer, owners, and other reliable sources, with our BS meters on high.

Primary Function:

Smoker

Fuel:

Charcoal, Logs, More Than One Fuel

Primary Capacity:

10368 square inches
Published On: 8/27/2015 Last Modified: 3/17/2021
Max Good - Max Good, AmazingRibs.com's Vice President of Product Reviews & Keeper of the Flame, is the man in charge of finding the best products for the AmazingRibs.com Equipment Reviews section. Max bottles his own barbecue sauce recipes and now sells them around the country.

---