With 33 square feet of cooking capacity, the Myron Mixon G33 Gravity Feed Smoker is a large BBQ smoker meant for commercial, catering and competition use. "We didn't invent gravity style smoking, but we damn sure perfected it!", boasts their website with characteristic Mixonian flourish. "The first gravity feed I ever saw was made by Tom Dominey in Orlando, Florida in the 1990s, "says Mixon, "He called it The Dominizer". Dominey had a competition team named Junkyard Dogs and ran a metal shop where he was always fiddling with new smoker designs. Fine as The Dominizer may have been, it's a good bet that the advanced engineering and construction provided by Mixon's manufacturer, SenConn offers significant improvements. Fit and finish is impeccable and attention to detail evident 360 degrees around.
Gravity Feed Smokers employ a charcoal chute or hopper that is filled with fuel to provide a steady supply to the fire below, aiming to eliminate the babysitting required with stick burners and some other designs. Unfortunately, charcoal and wood sometime get jammed in the chute, relegating the cook back to babysitting duty. Mixon's round chute design is said to mitigate this issue and work equally well with lump or briquettes. We prefer briquettes for consistency. Click here to read about charcoal. Below is the heavily insulated open chute door where you pour in the charcoal.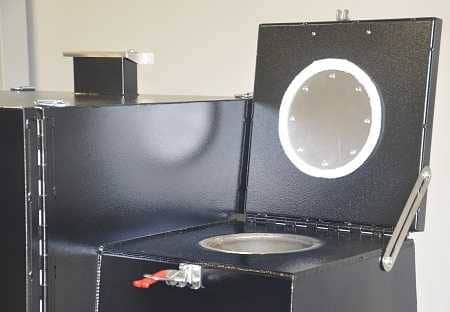 The round chute terminates at the slide out fire grate where the fuel burns.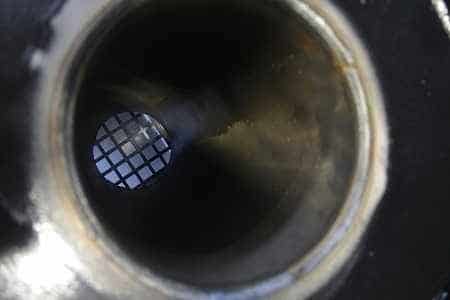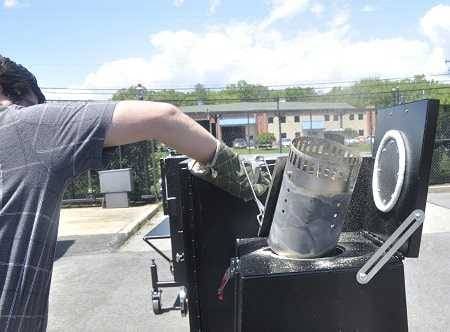 Some like to add wood chunks to the charcoal. Experienced cooks can make this work, but wood can easily just burn up in the red hot fire without producing much smoke. To avoid this issue add wood chunks separately in the firebox ash tray where falling embers will make them smolder and create more smoke flavor. Below is the open firebox with the slide out fire grate (upper left) and slide out ash tray (lower left). Note the two braided gaskets on the door. If you look inside the firebox, there are two separate areas, the box containing the fire grate and ash tray is sealed by the inside gasket, the outside of the firebox and frame of the door is sealed by the larger gasket.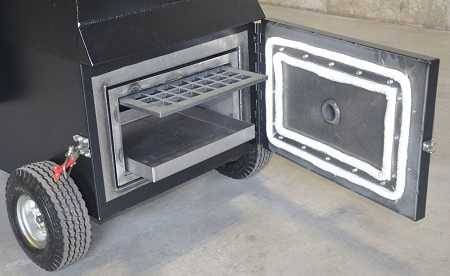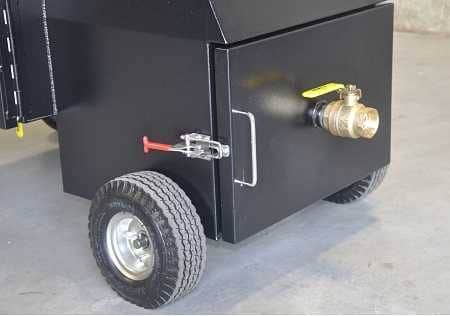 Although the G33 will operate as is, Mixon strongly recommends using a temperature controller like the popular
BBQ Guru
, which can be attached to the air intake valve. Temp controllers are very popular for charcoal and wood smokers. They regulate the amount of air, hence oxygen that enters the firebox. By controlling oxygen, they control temperature. A thermocouple probe is placed in the smoke box and plugged into the controller to turn a fan on and off as needed to maintain your set temp. Mixon currently offers an optional BBQ Guru and is looking into adding a branded controller as a standard feature.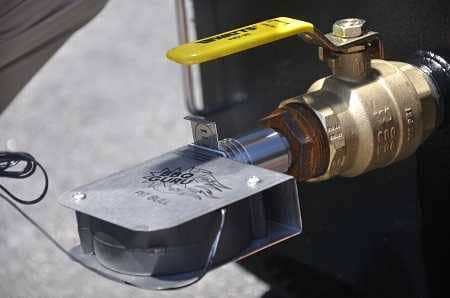 Most gravity feed smokers incorporate the charcoal chute into their rectangular box designs. Mixon has a separate structure for the charcoal chute, (see comparison below, Stump's left – Mixon's right). We asked Sales Manager, David Mixon, why is yours different? "Mainly esthetics, most of the others do just look like a box, so this differentiates us a little bit", he explained, "We also don't have an internal framework like most of the others. Our cook chamber and charcoal chute are essentially two individual pieces instead of components inside a framework, which helps with heat transfer efficiency".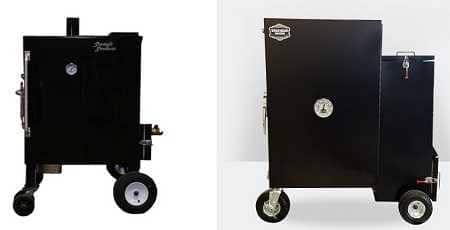 The G33 overall dimensions are 61.18″ H x 30.40″ D x 63.01″ W. Cook chamber dimensions are 32.37″ H x 25.36″ D x 27.76″ W. Cook box, firebox and charcoal chute are double walled and filled with "military grade insulation". What is military grade insulation? Seconn Fabrication responds, "The insulation we use meets a MIL spec or military specification. These are known for being pretty stringent standards. The main benefit for us is that we know the insulation is manufactured to a tight standard and we will get a consistent product". The cookbox interior is stainless steel. The cookbox, firebox and charcoal chute doors are all sealed with braided gaskets and clamps. The cookbox door has a neat Slam Latch that provides hand free closing. If both hands are occupied pulling a pan off a rack, just give the door a bump and it slams firmly shut.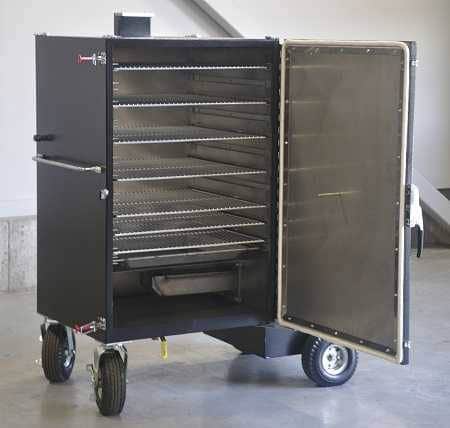 Seven 24.75″ D x 27″ W nickel chrome plated steel rod cooking racks are included. Each rack holds two standard hotel pans. Capacity is 30 Butts, 14 Whole Briskets, 28 Baby Back Slabs, 21 St. Louis Slabs, or 42 Chicken Halves. There are additional slots to adjust rack spacing or add extra racks which are optional. This 880 pound smoker rests on two large locking swivel casters and two pneumatic wheels. D-Rings on top of the cookbox come standard to aid in strapping this baby down for transport.
Mixon is a big advocate for
water pans
which he strongly believes will help maintain temperature, eliminate hot spots, reduce fuel consumption and produce moist, tender meats. Retaining moisture in meat also results in better yields for the commercial cook. However, we found the heavily insulated G33 cookbox maintained moisture very effectively and one may feel no need to use the included slide out the water pan, particularly on shorter cooks.
The transfer chute, (shown below), is a channel from the firebox that carries heat and smoke to the bottom center of the cook chamber. Many other gravity feed designs use a transfer chute that only extends a few inches from the firebox. By expelling heat and smoke at the bottom center of the cookbox, Mixon feels his elongated transfer chute creates more even heat throughout than traditional designs.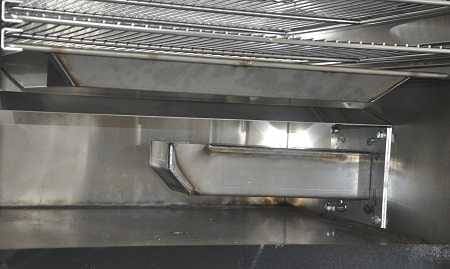 The slide-out water pan is right above the heat transfer chute. If you choose not to use water it should be removed. A V-shaped grease deflector is provided to prevent drippings from getting on the transfer chute when the pan is not in use. The transfer chute may also be removed for thorough cleaning. There is a one inch ball valve drain at the bottom, under the transfer chute.
Mixon invited us to attend the
KCBS sanctioned Sun BBQ Fest and Competition
and test his gear at the Myron Mixon Smokers headquarters located just a few miles away from the fest and right across the street from SenConn. We initially had some trepidation about the propriety of such a scenario. We've never tested products at a manufacturer's facility before, but the Mixon crew assured us they understood our concerns and would do their utmost to make the situation work. True to their word, they were ladies and gentlemen all, providing a no pressure environment for our objective tests. The one down side was we had limited time and so decided to test only ribs and chicken rather than big hunks like brisket that have long smoke times. Mixon doesn't recommend grilling on any of his smokers so no burgers or steaks were in the mix.
The G33 likes to run at around 250°F. Following David Mixon's advice, we set the BBQ Guru for 240°F, removed the water pan and did a couple slabs of ribs and a couple half chickens on two racks. Our temp tests indicted very little difference between the left and right upper rack and left lower rack with a drop off of about seven degrees cooler on the lower right rack. The cookbox environment was very humid even without the water pan. One has to turn away from the cloud of steam whenever opening the cookbox door. The results were very good and surprisingly, the chicken skin came out pretty crispy despite the low temp and humidity.
Myron Mixon's G33 is a very well made, well thought out gravity feed smoker with quality hardware and some unique features. The G33 is way too big for most residential cooks. Backyard Mixon fans can aspire to his throne with the smaller G20 and G9 versions.
One year limited warranty.