If you like tartar sauce then you'll love this home made version
Tartar Sauce, or sauce tartare as it was originally called in France, has been around a long time. It is in the same family as Italian aioli (garlicy mayo), or French sauce remoulade (mayo, herbs, capers, cornichons, and anchovies), both oil and egg based sauces. Thought to be named after the Tartars, Mongolian conquerers who roamed what is now Russia and its neighbors in the 5th century, the recipe hasn't changed much over the years.
According to Foodtimeline.org "sauces made with eggs, oil, vinegar, and spices date back to Medieval times, a tradition carried over from Ancient Roman cookery. These recipes were not called tartar sauce but are unmistakably similar to the sauce we know today."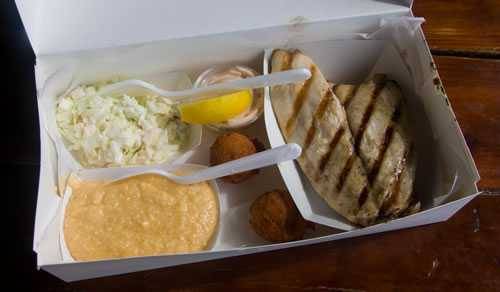 Above, that's an amazing fresh pompano from the Star Fish Company Seafood Market in Cortez, FL, north of Bradenton. It is served with hush puppies, cheese grits, creamy coleslaw, tartar sauce, and a lemon. Below is a dry rubbed smoked mullet from Ted Peters Famous Smoked Fish in St. Petersburg served with slaw, potato salad, and a lemon wedge.
Tartar Sauce for Florida Barbecue Recipe
Tartar sauce is classic as a dipping sauce for fish, but you can slather it on the fish before you grill. It doesn't melt off and helps seal in moisture. It is also great for dipping French fries (in Belgium and other much of France, they never use ketchup), fried shrimp, fried chicken, even broccoli, and as a base for egg salad.
I was raised in Florida and went to the University of Florida, and if my Dad hadn't nicknamed me Meathead during the Archie Bunker years, I might have become Fishhead. I ate fish everywhere, at home and in restaurants, and I've tasted every kind of tartar sauce imaginable. Here's how to make my recipe, but, like barbecue sauce, you can modify it to your own tastes.
Course. Sauces and Condiments.
Cuisine. Southern. American.
Makes. A little more than half a cup.
Takes. About 15 minutes.
Keeps. It can keep for months in the refrigerator.
Ingredients
1/2 cup mayonnaise
1 tablespoon chopped green onion tops
1 tablespoon chopped green onion bottoms
1 tablespoon chopped sweet pickles or pickle relish
1 tablespoon lemon juice
2 teaspoons finely chopped capers, drained
1 teaspoon dried tarragon
1/2 teaspoon whole grain or coarse ground mustard
A few drops hot sauce, more if you wish
Salt and pepper to taste
Options. I recommend you make it by the recipe the first time, and then you can riff on it the second time. If you wish, you can use lime juice, vinegar, or pickle juice instead of lemon juice. A splash of malt vinegar is nice and while you're at it, try a splash or Worcestershire sauce. If you don't like capers, you can substitute cornichons, or just forget about them. Finely minced celery is a nice addition. You can use sweet gherkins for the pickles, sweet pickle slices, you can use sweet pickle relish, dill pickle relish, or even finely minced cornichons. Dijon-style mustard can be swapped for the whole grain mustard. Skip the hot sauce if you like, add more if you like, or use red pepper flakes or chipotle powder if you like. I think tarragon is essential, it really compliments fish. If you can get fresh tarragon, use 1 1/2 teaspoons. Dill is a nice substitute. I love Miracle Whip, but it is too sweet for this recipe, IMHO.
Method
1) Prep. Make sure all the solid objects are drained and chopped fine.
2) Mix everything together in a bowl and scoop it into a jar.
3) Chill. Let it sit in the fridge for a couple of hours if you can to allow the oil to extract the flavor from the tarragon.
4) Serve. Serve with your favorite fish, otherwise it will keep for months in the fridge.
"I used to be Snow White, but I drifted."Mae West
Published On:
02/15/2015
Last Modified:
01/28/2021