If you like tartar sauce then you'll love this home made version.
Tartar Sauce, or sauce tartare as it was originally called in France, has been around a long time. It is in the same family as Italian aioli (garlicy mayo), or French sauce remoulade (mayo, herbs, capers, cornichons, and anchovies), both oil and egg based sauces. Thought to be named after the Tartars, Mongolian conquerers who roamed what is now Russia and its neighbors in the 5th century, the recipe hasn't changed much over the years.
According to Foodtimeline.org "sauces made with eggs, oil, vinegar, and spices date back to Medieval times, a tradition carried over from Ancient Roman cookery. These recipes were not called tartar sauce but are unmistakably similar to the sauce we know today."
Spotlight on our favorite products
Grilla Proves That Good Things Come In Small Packages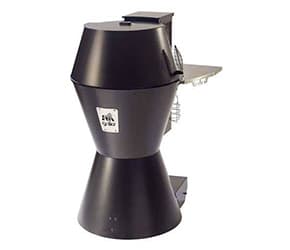 The small 31.5″ x 29.5″ footprint of the Grilla Pellet Smoker makes it ideal for use where BBQ space is limited, including on a condo patio. Click here for our review on this unique smoker.
– THIS IS NOT AN AD –
Above, that's smoked mullet from the Star Fish Company Seafood Market in Cortez, FL, north of Bradenton. Below is smoked mullet from the famous Ted Peters Famous Smoked Fish in St. Petersburg.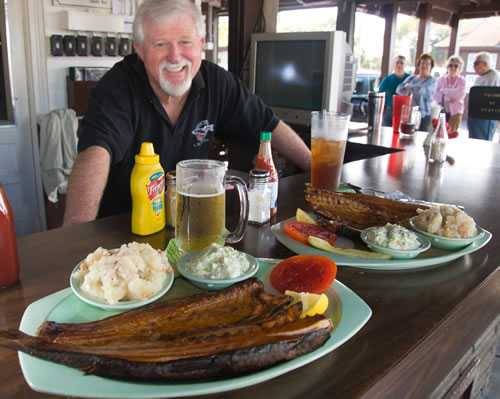 Tartar sauce is classic as a dipping sauce for fish, but you can slather it on the fish before you grill. It doesn't melt off and helps seal in moisture. It is also great for dipping French fries (in Belgium and other much of France, they never use ketchup), fried shrimp, fried chicken, even broccoli, and as a base for egg salad.
Serve with: seafood and a citrus IPA.
---
---
Makes:
---
Takes:
---
Ingredients
1/2

cup

mayonnaise

2

green onion tops

2

green onion bottoms

1

tablespoon

pickle relish

(or chopped sweet pickles)

1

tablespoon

lemon juice

1

tablespoon

capers

1

teaspoon

dried tarragon

1/2

teaspoon

whole grain or coarse ground mustard

a few drops hot sauce, more if you wish

finely ground black pepper
Notes:
About the salt.
Remember, kosher salt is half the concentration of table salt so if you use table salt, use half as much. Click here to read more about salt and how it works.
Options. I recommend you make it by the recipe the first time, and then you can riff on it the second time. If you wish, you can use lime juice, vinegar, or pickle juice instead of lemon juice. A splash of malt vinegar is nice and while you're at it, try a splash or Worcestershire sauce. If you don't like capers, you can substitute cornichons, or just forget about them. Finely minced celery is a nice addition. You can use sweet gherkins for the pickles, sweet pickle slices, you can use sweet pickle relish, dill pickle relish, or even finely minced cornichons. Dijon-style mustard can be swapped for the whole grain mustard. Skip the hot sauce if you like, add more if you like, or use red pepper flakes or chipotle powder if you like. I think tarragon is essential, it really compliments fish. If you can get fresh tarragon, use 1 1/2 teaspoons. Dill is a nice substitute. I love Miracle Whip, but it is too sweet for this recipe, IMHO.
Metric conversion:
These recipes were created in US Customary measurements and the conversion to metric is being done by calculations. They should be accurate, but it is possible there could be an error. If you find one, please let us know in the comments at the bottom of the page
Method
Prep. Chop the green onion tops and bottoms to create approximately 1 tablespoon of each.

Mix everything together in a bowl and scoop it into a jar.

Chill. Let it sit in the fridge for a couple of hours if you can to allow the oil to extract the flavor from the tarragon.

Serve. Serve with your favorite fish, otherwise it will keep for months in the fridge.
---