We demystify wonderful tawny biscuits, ditch the silliness, and show you how to get them soft, fluffy, and crispy on the outsides
I am obsessed with biscuits. I have tried every recipe under the sun. Biscuits are so wonderfully versatile, and surprisingly, they are easy and forgiving. And they can be baked on a grill with indirect heat! Either way, biscuits are best when served hot right out of the oven.
Foolproof Biscuit Recipe
Biscuits are a rustic bread, leavened by chemistry not by fermentation. There are many recipes out there with countless variations on the ingredients and techniques, and not surprisingly, controversy and nonsense abound over how to make them. Should you use cake flour? All purpose flour? Both? Butter? Lard? Shortening? Bacon fat? Buttermilk? Whole milk? Yogurt? Should they be flaky or fluffy? Can you use a food processor or your hands only? Can you use a rolling pin or your hands only? Knead or not knead? Fold the dough or not? Chill before cutting? I've tried most of these options and discovered the differences are minor. These biscuits are special in that they are really easy to make and get nice and crisp on the top and bottom, yet the center remains soft and fluffy.
Biscuits come in different shapes: Drop biscuits are amorphous blobs usually made from very wet dough. Formed biscuits are cut into rounds, squares, and wedge shapes. I find that square cuts easiest to make and eat, and the architecture makes sense from a quality standpoint. Round biscuit cutters squash the dough and you wand poofy high dough for flakiness. And round biscuits leave you with cutouts after you cut them. Those cutouts have to be reformed and cut and then ther is more cutout. And reforming the cutouts overworks the dough. And if you like making little biscuit sandwiches, square biscuits work best. Finally, with square biscuits there is mor surface area for butter!
Many bakers are convinced their method is the only way, and they get downright pedantic. I have discovered that, unlike many other baked goods, there is a fair amount of flexibility in the recipe. If you use a bit too much flour, milk, or butter, it's not the end of the world. Just don't stray too far on the baking soda, baking powder, or salt. Too much of these can send the biscuits to the waste can.
Course. Lunch. Dinner. Bread. Side Dish.
Cuisine. Southern. American.
Makes. 9 biscuits, depending on how you cut them.
Takes. About 30 minute prep time and 20 minutes to cook. Start early: they benefit from a little time in the fridge before cooking.
Special tools. A bench scraper comes in handy, but isn't necessary.
Ingredients
10 ounces (284 grams/2 cups) all purpose flour
2 tablespoons baking powder
1/2 teaspoon baking soda
2 tablespoons sugar
1/2 teaspoon Morton's kosher salt
8 tablespoons (1 stick) unsalted butter, frozen
1 cup buttermilk (or substitute, below)
About the flour. All the experts warn not to use bread flour. I have not tested this warning but am willing to accept such universal condemnation as the additional protein in the flour would create chewy biscuits.
About the buttermilk and how to substitute. Most biscuits are made with buttermilk because it is acidic and the acid reacts with the baking soda to create carbon dioxide and that gives the dough "lift", helping it rise and add airiness and lightness since there is no yeast involved for fermentation (see the sidebar). But most of us don't keep buttermilk on hand. To make a cup of buttermilk substitute, pour one tablespoon of white vinegar or lemon juice into a measuring cup and top it off with milk until it measures one cup. Stir them together and let them sit for five minutes. Here's another hack: whisk together half a cup of sour cream and half a cup of water. Yet another hack: take 2/3 cup heavy cream and 1/3 cup sour cream and beat them til fluffy.
Method
1) Toss the butter in the freezer an hour or so before cooking. Preheat the oven to 425°F. On a grill, use indirect heat. On a smoker, keep the smoke down.
2) With a fork, mix the flour, baking powder, baking soda, sugar, and salt in a medium bowl.
3) Divide the butter into a 5 tablespoons hunk and a 3 tablespoons hunk. Keep the paper on the 5 ounce chunk so you can hold it without melting it all over your hands. Roll the paper back and grate the 5 ounce chunk with the large holes on a box grater right onto the baking sheet, then mix it into the flour with a fork, a handful at a time, until all the grated butter is coated. This is a brilliant trick that I discovered reading every recipe I could find. So fast and easy.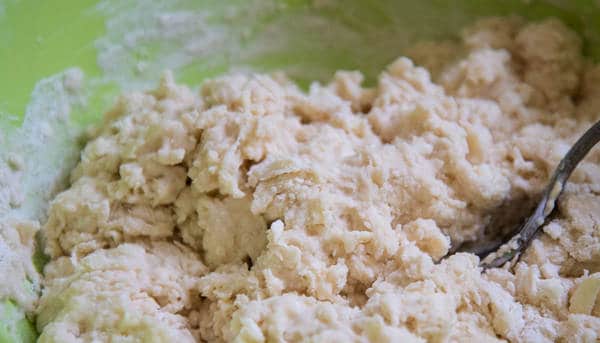 4) Pour in the buttermilk and stir it with a fork until the liquid and all the dry ingredients are absorbed. You should have a wet sticky dough. Stick it in the fridge for about 15 minutes.
5) Melt the 3 ounce hunk of butter and lightly paint a small baking pan or cookie sheet with it. Thoroughly cover a section about 8 inches square with the butter. Butter the inner sides of the pan as well. When you are done, pick up the pan and look at it to make sure it is thoroughly buttered to prevent sticking. Do not be tempted to use a sheet of parchment paper or a silpat. Butter is crucial to getting a crispy bottom (and for flavor). Set the remaining melted butter aside for painting the tops before baking.
5) Toss 3 to 4 tablespoons of flour on your work surface and coat your hands well with flour. Slide the dough onto the work surface and gently press it into a 6 inch square. It'll be about 1 inch thick. Fold the square of dough in half, flatten it out, and fold it again and again, at least 5 times. This folding creates layers that will bake into a flaky biscuit. You will probably have to re-flour the surface and your hands several times. Then form the dough into a 6 inch square.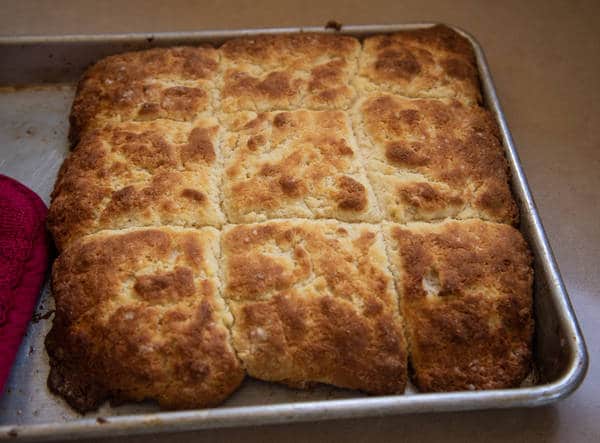 6) Cut the dough into 9 squares like a tic-tac-toe board. If you prefer, you can cut them into round biscuits with a biscuit cutter or the rim of a water glass. Or, you can make "drop biscuits," rustic unformed biscuits, by simply ripping off a hunk of dough a bit larger than a golf ball. At this point, you can now freeze the biscuits between layers of wax paper in a zipper bag. Then you can bake them right out of the freezer, adding an extra 5 minutes or so to the baking time.
7) If you are ready to bake now, put the biscuits one at a time on the buttered baking sheet and push them up against each other. They like to touch, as it makes each biscuit puff up with pride and keeps them from falling over. Don't worry about putting them in the pan in the same place they were on the work surface. But if you have time, pop the pan of biscuits into the fridge for about 15 minutes. Just before cooking, paint their tops with the remaining melted butter. You probably won't use it up, so save the rest for serving. Again, this step of buttering the tops is crucial for the crispy crunch.
8) Cook. Bake until golden brown on top, a bit darker on the bottom, and about 205°F in the center, about 15 to 20 minutes if your oven is calibrated. After about 7 minutes, rotate the pan for even browning. Serve warm. Try to wipe that grin off your face.
Serve your biscuits nekkid, all by themselves, simply buttered, or with butter and molasses, as is traditional in some parts of the South. Jam and/or marmalade make excellent spreads. Or serve them with turkey and all the fixins, with ham and a glaze or redeye gravy, smothered in sausage sawmill gravy, made into sandwiches, or topped with a sunnyside up egg. Biscuits also make pillowy toppings for fruit cobblers, pot pies, or chili baked in a Dutch oven. Oh, and if you are going to serve your biscuits with butter, set a stick on the counter when you start the process so it can come to room temp and it will spread more easily.
"The secret of biscuits is that they are dead simple, and you should be able to make them in your sleep or even in the midst of a blind-drunk hangover."Christopher Kimball
Published On:
05/07/2018
Last Modified:
01/18/2021