If you've never heard of or tasted grape pie then you're in for a real treat!
Naples, NY is a quiet agricultural village at the south end of Canandaigua Lake in the Finger Lakes wine district of Western New York, about 40 miles south of Rochester. Lat time I visited there was one high school and no McDonald's.
The lake is a long slender string bean surrounded by tall bluffs green with grape vines clinging to the steep slopes. Many of the vines in the Finger Lakes are now the great European wine grapes such as Riesling, but many are still traditional native American grapes, most notably Niagaram, a green grape, and Concord. a dark purple grape.
When I first met Irene Bouchard in 1978 and wrote about her in the Chicago Tribune, she was baking her wonderful purple Concord grape pies in her kitchen, and selling them to local restaurants and at a roadside stand in front of her house. She started in the late 1950s and her little business grew until, at her peak she was making 18,000 pies a year during the two autumn months that Concords were available. She would preheat her two regular kitchen ovens at 2:30 a.m. when the lake air cooled her kitchen and not quit until 4:30 p.m., baking four pies at a time in each oven. One year she made 6,000 grape pies in the fall, and another 12,000 other pies the rest of the year. People would come from miles around, among them many restaurants, and stop by her living room to pick up their orders. Since she died in 2015 at age 98, other local bakers have continued her tradition.
During grape season, her husband, Don, helped by popping the skins off the grapes, one grape at a time, 2.5 tons of them in 1978. He died at 93 in 2004. As I recall he had a very firm handshake.
Before long a dozen or more other women were baking them out of their kitchens and selling them at farmstands and out of the trunks of their cars. Today the official website of Naples bills the town as "The Grape Pie Capital of the World."
The most successful of Irene's followers is probably Monica Shenk of Monica's Pies. Monica has been at it since 1983, and nowadays she and her family and staff make 25 different kinds of pies year round as well as jellies, jams, and conserves. She buys 10 tons of Concords every year and makes fresh pies when the fruit is in season, and produces enough filling to freeze so she can bake fresh pies all year long. 10,000 of them. She sells them all locally and doesn't ship, so don't ask.
But John Brahm III of Arbor Hill Grapery does ship. Brahm makes some very nice wines, including Riesling and Chardonnay, and sells Concord grape pies and bottled Concord grape pie filling all year on his website. You can also buy his wines, and fun foods like grape licorice and wine sauce filled chocolates.
My wife is no Irene Bouchard, making only two Concord Grape Pies a year, but she is a mighty fine baker, and I am certainly no Don Bouchard, popping only about a dozen cups for her, but I sure do look forward to September for this annual treat.
Why Concords?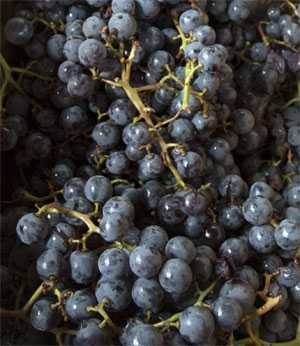 All the great wine grapes of the world are of the variety vitis vinifera. You know their names: Cabernet Sauvignon, Pinot Noir, Chardonnay, Sauvignon Blanc, Riesling, etc.
Concords are vitis labrusca, the variety that was found growing wild in North America by the Amer-Indians. It has a powerful, distinctive flavor that we all know and love from grape jam, grape Jello, grape soda, and Welch's grape juice. It makes a strong, syrupy sweet wine that most wine lovers hate because that native American grape flavor, caused by a compound called methyl anthranilate, is so strong. Europeans, when they come to the US are baffled by the flavor of our grape juice. Wines made from vinifera are less powerful and more complex.
So why does Concord make such great grape pie and why don't we use vinifera?
First of all, that grapey flavor just tastes better when in a sweet jammy pie filling. Vinifera is too understated. Second, Concords have a unique thick black skin that is very easy to separate from the pulp. We need to separate the skins and boil the pulp to release the seeds so we can remove them. If we used vinifera we could not separate the skins easily and if we boiled the skins with the pulp they would break down and release bitterness.
Concords ripen in late August and throughout September, so look for them in your grocery or produce market.
A Naples, NY classic, grape pie is one of those dishes that once you try it, you'll wonder why you hadn't heard of it sooner. And while it is best with concord grapes, any grape with skin that comes off the pulp easily will work.
: a cold glass of milk.
---
---
Makes:
---
Takes:
---
Ingredients
The Filling
5 1/2

cups

ripe Concord grapes

2

tablespoons

instant or minute tapioca

1

cup

sugar
Optional
3

tablespoons

butter, cut into pea size chunks

1

ounce

milk

1

tablespoon

sugar
Notes:
About the crust. You can buy a ready made pie crust at your grocery if you wish, or make one from scratch with my wife's recipe (double the recipe for the top crust).
About the tapioca. Irene's original recipe calls for only 1 tablespoon, but our experience is that more is necessary. We have become devotees of ClearJel, and 3 tablespoons should do the trick nicely. Monica Shenk uses it too. Read my article on the Science of Pie Thickeners.
Ice cream on top! A scoop of vanilla ice cream on top goes great with the juices.
Metric conversion:
These recipes were created in US Customary measurements and the conversion to metric is being done by calculations. They should be accurate, but it is possible there could be an error. If you find one, please let us know in the comments at the bottom of the page
Method
Rinse the grapes, pat them dry so there is no more liquid in the filling than necessary, and remove them from the stems, discarding any berries that are green, hard, rotten, or moldy. Concords are dark purple, almost black, with thick slip-skins, and the meaty pulp of the grape is juicy green, complete with seeds. Pinch each grape so the pulp pops out. Don't squeeze the skins dry or they will be leathery in the filling. Leave a little juice under the skin. Put the pulp in a saucepan and the skins in another pan or a bowl.

Cook. Bring the pulp to a rolling boil and let it go for at least 5 minutes. This breaks down the fibers in the pulp and releases their grip on the seeds as well as releasing some pectin that helps the filling hold together. Don't worry if there is a little foam on the surface. Stir every few minutes while boiling to make sure it does not burn. While the pulp is hot, remove the seeds by pressing it through a strainer into the bowl of skins. Stir.

Prep again. Mix the tapioca and sugar into the filling, let it cool in the fridge for about 2 hours. The rest lets the juice extract maximum color from the skins and allows the tapioca to swell and absorb more of the juices. Put the bottom crust into a pie pan. Irene suggests a metal pie pan, but my wife uses ceramic or pyrex with great success.

Add the filling. If you wish, do as Irene does and dot the top with the butter. Now cover the filling with the top crust. Irene and Monica both use a "floating" top crust, a circle of dough slightly smaller than the top of the pie, because it makes a pretty purple ring around the edge, and because it is easier. You can use a lattice or a full crimped crust if you wish. Prick the top near the center 4-5 times with a knife to allow steam to escape. If you wish, do as Irene does and brush the crust with the milk to help it brown, and then sprinkle the sugar on the top crust. If you have an aluminum pie shield for the edges, you can put it on now. It can help the edges from over browning.

Bake. Preheat the oven to 400°F (204°C) and put one rack in the center. Put the other below and put a sheet of aluminum foil on it to catch drips. Bake at 400°F (204°C) for 20 minutes, lower the temp to 350°F (167°C), and bake another 30 minutes until the crust is golden brown and juice bubbles out of the cuts in the center.

Serve. Let it cool for about 2 hours before slicing and serving with vanilla ice cream.
---