Salisbury steak is a great example of taking an inexpensive cut of meat and finding ways to make it mouthwateringly tender and flavorful.
In the 1850s, Dr. James Henry Salisbury, a New York doctor, conducted methodical research on vegetable extracts, serving them to cats and dogs and documenting their deaths in gruesome detail. He became convinced veggies were toxic. Then, during the Civil War, he had success treating diarrhea with a diet of all lean ground beef. In the 1880s he created the Salisbury Steak, made from steaks he pounded. In an 1885 issue of the Medical and Surgical Reporter I found in a Google Books search, a peer of Dr. Salisbury, Dr. W.M. Hepburn, described how to make the Salisbury Steak treatment.
Here's a summary. Take the best slices of beef round steak (lean meat from the rump), pound it until soft, and then chop it with dull blades. Scrape off the pulped meat leaving the gristle behind, make it into cakes, and gently broil it over high heat until cooked on the outside and practically raw on the inside.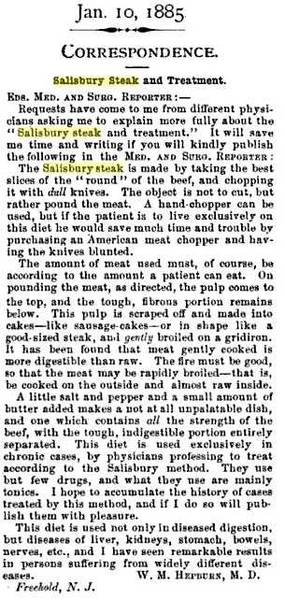 Within a few decades Salisbury Steaks began showing up on menus and in cookbooks. The name caught on during WWI when the public rejected German names like hamburger. Salisbury Steaks can still be found on menus, particularly in rural areas, often served on toast, smothered in gravy and mushrooms.
Ruth Ellen Church was a culinary pioneer, but because she never had a television show, her impact is often overlooked. Church was the food editor of the Chicago Tribune for 38 years, from 1936 to 1974, and she taught millions how to cook.
In her early years she often wrote under the pen name Mary Meade, and under both that name and her own, penned numerous books. It was common in those days for newspapers to give their columnists pseudonyms so they could continue the brand if they fired the writer.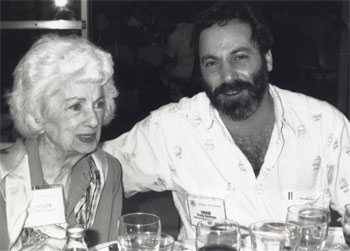 Church oversaw the creation of one of the very first publication test kitchens at the Tribune, and in 1962, under her own name, began writing the first regular newspaper column on wine in the nation. After she retired, Yours Truly replaced her as wine columnist at the Tribune. That's us at a wine tasting in the photo above in the late 1970s.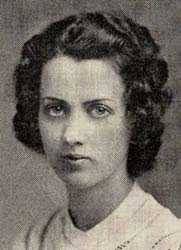 Church was born in 1909 and graduated from Iowa State University in 1933 with a degree in food and nutrition journalism. That's her in college photo above. In 1991, at age 81, she was found strangled in her home, apparently by a burglar.
Among her books were "Modern Meat Lore" (1935), "The Indispensable Guide for the Modern Cook" (1955), "The American Guide to Wines" (1963), "The Burger Cookbook" (1967), and "Mary Meade's Sausage Cookbook" (1967).
Her book on hamburgers was, as near as I can tell, the first book on the subject. In it she shares two recipes for Salisbury Steaks, a restaurant staple at the time. She referred to one recipe as "The Michigan Avenue version of hamburgers!" Michigan Avenue was then, and remains now, an upscale shopping district in Chicago's downtown Loop district. Here's my favorite, only slightly modified. Not surprisingly it contains red wine. "Oh what wine does for beef!" she said in the recipe notes.
Here's how to make a proper Salisbury steak, served ope face on a slice of toast swimming in a pool of great gravy.
Serve with: a cabernet or merlot.
---
---
Makes:
Servings:
1/4 pound steaks
---
Takes:
---
Ingredients
1

tablespoon

unsalted butter

1/2

pound

button mushrooms

1

pound

lean ground beef

1

shallot or small onion

1/4

cup

fresh parsley

(or 1 tablespoon dried)

1/4

cup

cream or half and half

2

teaspoons

Morton Coarse Kosher Salt

1

teaspoon

coarsely ground black pepper

2

tablespoons

bacon fat or other oil

1/2

cup

dry red wine

1/2

cup

beef stock

1/2

teaspoon

brown seasoning sauce

1

tablespoon

all-purpose flour

2

slices Italian bread
Notes:
About the meat. Normally for burgers you want a fattier grind, like chuck, but there will be enough fat in this you want a leaner grind.
About the salt.
Remember, kosher salt is half the concentration of table salt so if you use table salt, use half as much. Click here to read more about salt and how it works.
About the brown seasoning sauce. Kitchen Bouquet was the popular brand, and once upon a time this little bottle was almost as common in kitchen pantries as salt and pepper. It is still in most groceries, the distinctive bottle shape and yellow label pretty much unchanged. Made from caramel coloring, darkly browned vegetables, and seasonings, it was used primarily to darken sauces and meats. It has a little sweetness and not much flavor. You can skip it if you wish, it doesn't add much flavor. If you have Maggi Sauce or soy sauce, you can substitute them, but remember they are salty.
About the bread. The classic recipe calls for white bread, but I like it better with a big slice of something more rustic and hearty.
Metric conversion:
These recipes were created in US Customary measurements and the conversion to metric is being done by calculations. They should be accurate, but it is possible there could be an error. If you find one, please let us know in the comments at the bottom of the page
Method
Prep. Clean and slice the mushrooms. Finely chop the shallot or onion. Chop the fresh parsley.

Cook. Melt the butter in a medium hot 12" (30 cm) frying pan and add the mushrooms. Don't use a non-stick because you want to form flavorful brown bits on the bottom of the pan. Cook the shrooms until they are limp and they exude water. Dump onto a plate and set aside to cool. Don't clean the pan.

Mix the beef with the onion, parsley, and cream. Form into patties shaped like the bread. Sprinkle with the salt and pepper on the surfaces, don't mix them in.

Heat the bacon fat in the same 12" (30 cm) frying pan on medium high heat, and cook the patties with the lid on until brown on both sides, about 6 minutes each side. Set aside on a plate.

Add the wine to the pan, and crank the heat to high with the lid off. Scrape all the bits off the bottom of the pan and boil the wine for about 5 minutes to get rid of most of the alcohol. This is not an attempt to make the dish kid friendly. It makes it taste better. Add the stock and seasoning sauce and bring to a boil. Add the flour and use a whisk to mix it in thoroughly so there are no lumps. Cook until it starts to thicken. Add the mushrooms and any other liquid in the plate. Turn to medium low heat. Taste and add salt and pepper if necessary.

Add the patties and any liquid, and simmer on medium low with the cover on for about 5 to 7 minutes until the meat is 155°F (68°C) in the center.

Serve. While the meat is warming, toast the bread and place it on the serving plates. Place the patties on the toast, and spoon the mushrooms and sauce over the top. Serve open face with mashed potatoes, peas, and red wine, and toast to history, the invention of the hamburger, and the great Ruth Ellen Church.
---