When burger experts are asked, the majority prefer to cook their thin patties on a hot griddle over an open flame.
Diner Burgers (a.k.a. the smash burger) are small disks, 4 ounces or less, as opposed to big thick Steakhouse Steakburgers.
In George Motz's excellent guide to the best burgers in the country, Hamburger America:
One Man's Cross-Country Odyssey to Find the Best Burgers in the Nation, 81 of the 100 burgers he describes are griddled, four are steamed or deep fried, and just 13 are cooked by an open flame.
Why? It's all about the browning the meat surface, it's all about the Maillard reaction.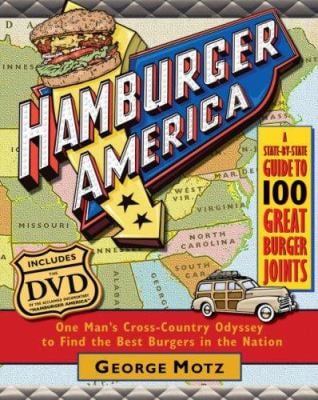 But if you try to do a diner burger in your kitchen, you will almost certainly make the smoke alarm cry, and you will also be crying because you will be scrubbing spatters off the top of the range for hours. Next time you are sitting at the counter, notice the huge exhaust fan over the griddle, and how greasy the floors are. So the perfect homemade diner burgers are cooked, where else, outdoors, on our grills.
First, let's try and get the nomenclature straight. Chances are that "Charlie's Bar and Grill" does not have a grill. It probably has a large, flat, thick, heavy piece of steel heated from below. A griddle. A griddle that cooks by conduction. A grill cooks mostly by radiation as heat rises from open flames through open grates. If you hear the waitress say, "Toss a burger on the grill, Charlie," she is really referring to the griddle. Just don't correct her.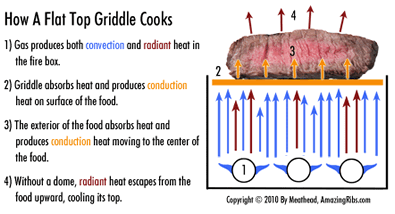 Charlie is often called the grill man, but just as often he is called a "fry cook", and just as often griddled burgers are called "fried". This is only partially correct. The meat cooks in a thin layer of its own rendered fat on the griddle, but this is not really the same as frying, which usually involves a bit more oil. So from here on, we shall refer to the method correctly, as griddled.
The griddle has a distinct advantage when used properly. The food surface is in contact with the heat source with only a thin layer of oil in between, so it gets brown on most of the surface. On a real grill, the grates get hot and are in direct contact with the food, so you get dark browning only where the grates touch the food, hence the grill marks. On a griddle browning happens rapidly, so the method is ideal for thin burgers, like quarter pounders.
The best tasting burgers are the ones that are darkest color on the outside. Now this means that you cannot have a rare Diner Burger. By the time the surface gets to the right color, the meat is well done. That's why a high fat content of the meat is so important. As discussed in The Science of Hamburgers, a 20 to 30% fat burger will remain juicy even when the surface is cooked until it is GBD (Golden Brown and Delicious).
Also, you need two spatulas, one to smash the raw meat, and a clean one to flip and serve.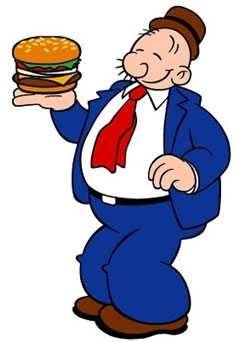 I have named my version of the Diner Burger after J. Wellington Wimpy, a character in the Popeye cartoon series, who was addicted to burgers. Popeye ate spinach and was a pugnacious, quarrelsome, hothead sailor. Wimpy ate hamburgers, and he was just a good natured mooch whose favorite saying was "I will gladly pay you Tuesday for a hamburger today." Click here to watch Wimpy make a burger on a griddle in the 1930s. This style of pressed burger has also become known as a smash burger.
To make great Diner Burgers you need some special tools, a heavy cooking surface and a solid spatula.
The griddle. I recommend a cast iron griddle, the same surface many diners use. When it comes to cast iron cookware, Lodge is the gold standard. I have the Lodge Logic Pro 20″ x 10 7/16″ Cast Iron Griddle. I can get 6 burgers on there. A cast iron frying pan will work too. The Lodge Logic 12″ Pre-Seasoned Skillet is a good choice, but it will hold only 2 Diner Burgers. In a pinch you can use any heavy bottomed pan, just make sure it doesn't have a rubber or plastic handle that will melt. You want a surface that will not cool off when the burgers hit it. The heavier, the better. The 12″ All-Clad is a good choice. If you can afford a griddle, get one. It can hold up to 6 burgers. There are many other things you can do with it (sandwiches, omelets, etc.).
The spatula. You need to smash the burger on the griddle in order to maximize contact, but you don't want to use a slotted spatula because that will deform the top surface and apply uneven pressure. I like the Weber Style 6446 Professional-Grade Fish Turner. I keep the tip of my spatula sharp with the grinder in my tool shop so it will have no trouble slipping under the burgers to flip them. If you don't have a solid spatula, you can use the bottom of a small frying pan or a saucepan to smash the burgers.
A note about safety and proper cooking of hamburgers
Undercooked ground meat and sausage can kill. It can happen to you or a loved one. It is primarily a problem in ground meats, not steaks. I urge you to click this link to read more about dangerous pathogens in burgers and other ground meats and how to prevent food-borne illness. If you see pink ground meat on this website, it is meat I have pasteurized as described in the above link.
Diner Burgers are small disks, 4 ounces or less, as opposed to big thick Steakhouse Steakburgers. I have named my version of the Diner Burger after J. Wellington Wimpy, a character in the Popeye cartoon series, who was addicted to burgers. This style of pressed burger has also become known as a smash burger.
Serve with: root beer.
---
---
Makes:
Servings:
quarter pounder burgers
---
Takes:
---
Ingredients
The Burger
1

pound

finely ground chuck steak or short rib meat, at least 20% fat
Mix-ins
1/4

teaspoon

freshly ground black pepper

1/4

teaspoon

onion powder

1/4

teaspoon

garlic powder

(not garlic salt)
Cooking The Burger
1

tablespoon

beef fat, bacon fat, or vegetable oil
4

slices of American cheese

4

thin slices of sweet onion

4

leaves of crunchy lettuce
Notes:
About the salt.
Remember, kosher salt is half the concentration of table salt so if you use table salt, use half as much. Click here to read more about salt and how it works.
Metric conversion:
These recipes were created in US Customary measurements and the conversion to metric is being done by calculations. They should be accurate, but it is possible there could be an error. If you find one, please let us know in the comments at the bottom of the page
Method
Prep. Place the meat in a large mixing bowl. If you are grinding the meat yourself, use the smaller holes on your grinder, or grind the meat twice so that the burgers are compact and hold together well.

Mix in the mix-ins in a bowl using a fork or your hands. Pack the meat into a ball about 2-inches (51 mm) across. A #8 ice cream scoop is 2.75-inches (70 mm) and, when leveled, holds just about four ounces, a perfect quarter pounder. Use a scoop or a kitchen scale or a ruler until you can make the right size balls blindfolded. Then put them in the fridge for about 20 minutes before cooking so the center does not cook as quickly.

Fire up. Preheat a cast iron griddle or heavy frying pan to about at least 350°F (167°C), as hot as you can get it. We want it well above 300 to 310°F (149 to 154°C), the temp at which Maillard browning happens.

Cook. Add 1 teaspoon of butter per bun to the griddle. It will foam quickly, so spread it out evenly over the surface, place the buns, cut-side down into the butter, press them down with the spatula and put a dinner plate on top of them so they make good contact with the surface, and cook until the bread turns golden. Yes, the tops will be smushed, but the butter will brown and get a nutty taste, and the edges of the buns should be extra crispy. Then remove the buns and wipe the griddle with a paper towel.

Melt some beef fat, bacon fat, or pour some vegetable oil on the griddle. You want just a thin coat. Do not use butter. It has too much water in it. When it begins to smoke, add the burger balls, and press down with a solid spatula so there is good contact between the meat and the surface and so the edges are jagged. A slotted spatula will not do the job. You need to smash the burger soon after the patty goes on, and not again until you flip. We don't want to squeeze out hot juices. After smashing, quickly work the spatula or a spoon along the edges, pressing down so they are ragged, thin, and make good contact with the surface. We're going for brown edges here. Sprinkle the top side with salt. Leave the lid open and back away. Don't touch the burgers for about 3 minutes. Maybe 5 minutes, depending on how hot your pan gets. You want them in intimate contact with the surface. Also, you need two spatulas, one to smash the raw meat, and a clean one to flip and serve.

Now it will take you a couple of tries to know exactly when to flip, so at first you may have to peek. The bottoms should be dark brown. If they are, gently work a clean spatula under the burgers, pressing on the griddle to make sure you don't leave brown bits behind and that they don't break apart. I sharpen my spatula on a grinder to make sure the egdes don't leave brown bits behind. Flip the burgers and press them into into max contact with the surface but not so hard that you squeeze out vital fluids. Leave the juices in the meat. No need to salt if you salted the other side. If you are making a cheeseburger, place the cheese on now and close the lid on the grill. If you are working indoors, place a mixing bowl, pie pan, pot, or disposable aluminum pan over the burgers to speed the melting of the cheese. Check the color of the bottom after 2 minutes. Don't take them off until the surface is right, even if you fear the interior is overcooking. If you got 20 to 30% fat meat and you didn't cook too hot, they'll be juicy.

Serve. Once they are fully cooked, place each patty on a bun along with onion and lettuce, then dress with Meathead's burger glop before serving.
---