"Hawaii is not just a state of the Union, it is a state of mind." Meathead
Clearly a pioneer in the concept of branding, Morgado knew that he couldn't just call his dish "teriyaki chicken". He needed a unique name for his specialty to fend off competition. Then it came to him while cooking a batch.
Rather than turn scores chicken pieces one by one when he was catering an event, he sandwiched the meat between two mesh grates, and, with the help of an assistant, flipped the whole contraption. Sort of Hawaiian rotisserie. When it was time to turn, he would shout "huli" which is Hawaiian for "turn" to his assistant who would shout "huli" back, grab the handles on the other side of the grates, and turn the chicken over, lickety split. Huli-Huli Chicken was born.
In 1986 he started bottling the gingery soy based sauce, then he trademarked the name, and aggressively began protecting his brand by threatening lawsuits against other cooks using the name huli-huli. But the flavor had momentum and despite his best efforts, the name became generic and there are scores of huli-huli stands on the island. One of them is shown here in a photograph by my sister-in-law, Theresa Tortorello, a travel agent specializing in Hawaii.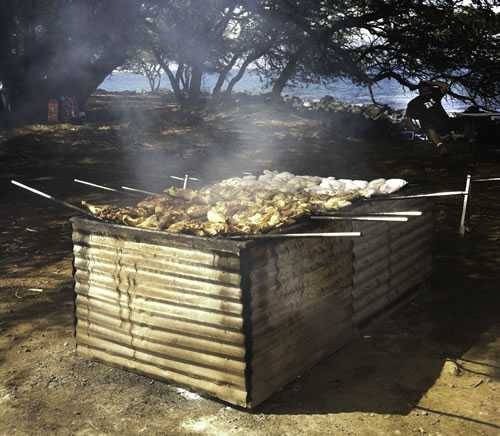 Huli-Huli Sauce was originally a teriyaki sauce, which in Japan, is a simple blend of soy sauce, mirin (a sweet rice wine), and a little sugar reduced to a glaze. But nowadays there are scores of variations on the theme. Although Huli-Huli was designed for chicken, it is common to see it on ribs, pork chops, whatever. Morgado's recipe is a secret, and every vendor on the islands has his or her own variation on the theme, so here's my interpretation.
I just have one question: Why are there interstate highways on Hawaii?
Makes. Enough for 2 whole chickens cut into quarters
Takes.30 minutes
Keeps. Because it has a high acid, salt, and sugar content, it can keep for months in the refrigerator.
Ingredient
1 cup pineapple juice
1 cup chicken broth
1/4 cup soy sauce
1/4 cup ketchup or red barbecue sauce
1/4 cup rice vinegar
1/4 cup dark brown sugar, packed
4 tablespoons fresh ginger, skinned and grated fine
2 tablespoons Worcestershire sauce
1 teaspoon dark Asian sesame oil
2 teaspoons Sriracha Sauce
4 medium cloves of garlic, pressed or finely minced
About the chicken broth. Feel free to substitute white wine, sherry (it doesn't matter if it is dry or sweet in this recipe), or even water.
About the vinegar. If you wish you can swap some fresh lemon or lime juice for all or part of the vinegar.
About the Sriracha. Sriracha is a garlicy hot chile paste. It is special and widely available, but if you can't get it, feel free to use whatever hot sauce you have around. This quantity is not very hot, especially when painted on chicken, but you can use less or add more to your taste.
Method
1) Mix all the ingredients together in a saucepan and simmer gently for about 10 minutes. You can refrigerate it for several weeks.
2) Click here for the recipe for Huli-Huli Chicken.