In 1955 Ernest Morgado cooked up a big batch of chicken for a farmer's group. It had been marinated in his take on classic Japanese teriyaki sauce and painted with the sauce on the grill. Morgado's chicken was such a hit that by the time he died it had become a signature dish beloved throughout Hawaii, served mostly by shade tree cooks from roadside stands, parking lots, and parks at fundraisers. Drive around Oahu and if you see smoke rising and smell something sweet, it is likely Huli-Huli chicken. The locals keep napkins in their glove compartments just in case they need to stop.
Clearly a pioneer in the concept of branding, Morgado knew that he couldn't just call his dish "teriyaki chicken". He needed a unique name for his specialty to fend off competition. Then it came to him while cooking a batch.
Rather than turn scores of chicken pieces one by one when he was catering an event, he sandwiched the meat between two mesh grates and, with the help of an assistant, flipped the whole contraption. Sort of Hawaiian rotisserie. When it was time to turn, he would shout "huli" which is Hawaiian for "turn" to his assistant who would shout "huli" back, grab the handles on the other side of the grates, and turn the chicken over, lickety split. Huli-Huli Chicken was born.
In 1986 he started bottling the gingery soy based sauce, then he trademarked the name, and aggressively began protecting his brand by threatening lawsuits against other cooks using the name huli-huli. But the flavor had momentum and despite his best efforts, the name became generic and there are dozens of huli-huli stands on the island. One of them is shown here in a photograph by my sister-in-law, Theresa Tortorello, a travel agent specializing in Hawaii.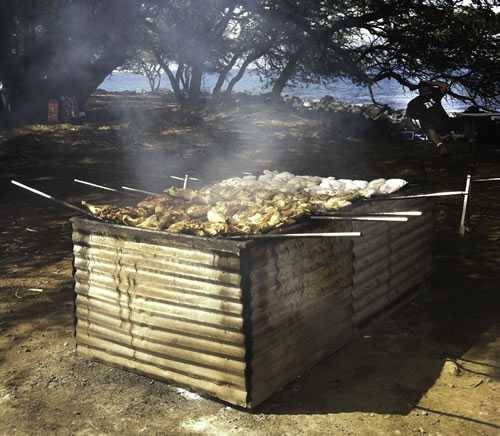 Huli-Huli Sauce was originally a teriyaki sauce, which in Japan, is a simple blend of soy sauce, mirin (a sweet rice wine), and a little sugar reduced to a glaze. But nowadays there are hundreds of variations on the theme. Although Huli-Huli was designed for chicken, it is common to see it on ribs, pork chops, whatever. Morgado's recipe is a secret, and every vendor on the islands has his or her own spin on it. Here's my interpretation.
I just have one question: Why are there interstate highways on Hawaii?
In Japan, teriyaki sauce is a simple blend of soy sauce, mirin (a sweet rice wine), and a little sugar reduced to a glaze. Nowadays there are hundreds of variations on the theme. My take on Hawaii's popular Huli-Huli sauce includes pineapple juice, ginger, Worcestershire, and Sriracha. Huli-Huli sauce was designed for chicken, but it's great on ribs, pork chops, and game birds.
---
---
Makes:
---
Takes:
---
Ingredients
4

cloves

garlic

1

cup

pineapple juice

1

cup

chicken broth

¼

cup

soy sauce

¼

cup

ketchup

or red barbecue sauce

¼

cup

rice vinegar

¼

cup

dark brown sugar, packed

¼

cup

grated fresh ginger

(peel it first)

2

tablespoons

Worcestershire sauce

1

teaspoon

toasted sesame oil

2

teaspoons

Sriracha sauce
Notes:
About the chicken broth. Feel free to substitute white wine, sherry (it doesn't matter if it is dry or sweet in this recipe), or even water. About the vinegar. If you wish you can swap some fresh lemon or lime juice for all or part of the vinegar. About the Sriracha. Sriracha is a garlicky hot chile sauce. It is special and widely available, but if you can't get it, feel free to use whatever hot sauce you have around. This quantity is not very hot, especially when painted on chicken, but you can use less or add more to your taste. Storage. Because it has a high acid, salt, and sugar content, this sauce keeps for months in the refrigerator. This recipe (about 3 cups (709ml)) makes enough for 2 whole chickens cut into quarters.
Metric conversion:
These recipes were created in US Customary measurements and the conversion to metric is being done by calculations. They should be accurate, but it is possible there could be an error. If you find one, please let us know in the comments at the bottom of the page
Method
Mince, press or crush the garlic, then combine it with the remaining ingredients in a saucepan. Simmer gently over medium-low heat for about 10 minutes. You can refrigerate it for several weeks.
---