A fresh and bright board sauce is a great way to add an additional depth of flavor to grilled steak.
Adam Perry Lang is a classically trained chef, fluent in French food, a partner with Mario Batali and Joe Bastianich in Carnevino in Las Vegas, a partner with Jamie Oliver in Barbecoa in London, and founder of Daisy May's BBQ in New York City. He has worked in such hallowed kitchens as Le Cirque and Daniel in NYC, as well as Restaurant Guy Savoy in France. He is also a first rate barbecue cook, competing on the circuit often, even winning the pork shoulder category at the big one, the American Royal Invitational in Kansas City.
Board Sauce Recipe
A fresh and bright board sauce recipe is a great way to add an additional depth of flavor to grilled steak. A technique that was created by Chef Adam Perry Lang, board dressings feature fresh herbs and olive oil that are painted on the cutting board, allowing the flavors to meld with the meat's juices as it's sliced.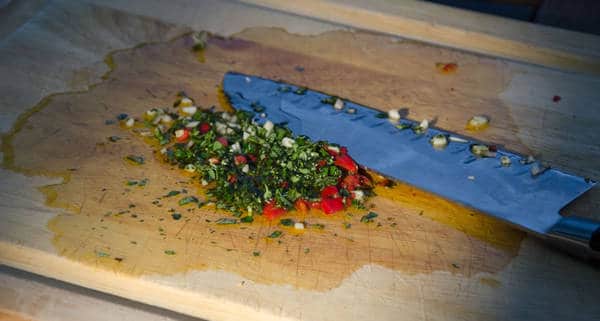 Course. Sauces and Condiments.
Cuisine. American.
Makes. Dinner for 2
Takes. 30 minutes
Ingredients
2 pounds of flank steak
6 tablespoons high quality extra virgin olive oil
5 large fresh sage leaves
2 tablespoons fresh thyme leaves, stripped from the stems
1 medium clove of garlic
1/2 fresh red jalapeño
1/4 teaspoon coarsely ground black pepper
Optional. You can use many other fresh herbs such as tarragon, oregano, bay leaf, parsley, cilantro, basil, mint. I am especially fond of black garlic.
Optional. A reader named "Joseph" says he likes to add smoked paprika which gives it a nice orange glow and sparks curiosity in his guests.
Method
1) Prep. Salt the meat about 1 hour before cooking and put it in the fridge. Called dry brining, the salt can diffuse deep down into the muscle so you get salt into the meat, not just on top of the meat. It also alters the protein so it can hold onto moisture longer.
2) Before the meat goes on the grill, coarsely chop the sage, thyme, garlic, jalapeño, and black pepper, and put it in a coffee cup. Drizzle the oil on the pile and let it sit while you cook so the oil can draw out some of the flavor.
3) Fire up. Prepare a grill for 2-zone cooking by placing pre-heated charcoal briquets on one side of the grill's charcoal grate in order to create direct and indirect cooking zones. You want one side scorching hot (a.k.a. warp 10) and the other side at about 225°F. Add 2 to 3 chunks of your favorite smoking wood to the charcoal for flavor. On a gas grill, adjust the knobs so that one side is as hot as possible and the other side is about 225°F.
3) Cook. Grill the steaks until dark on the outside and medium rare in the center. Try not to go beyond 130°F in the center of the steaks so there are juices running when you cut the meat. For steaks under 1-inch thick, place them on the direct heat side of the grill with the lid open, turning frequently until they reach an internal temperature of 130°F. For thicker steaks, place them on the indirect side with the lid down until they hit about 120°F, and then move them to the hot side to sear them, flipping frequently until a nice brown crust has formed and they have reached an internal temperature of 130°F. This is called the reverse sear and it produces the most even colored interiors.
4) When the steaks are almost ready, pour the herb and oil mix onto the cutting board. Make sure it is level or it will spill over onto the table. A board with routed out channels is best to hold it all in.
5) Serve. Place the steaks on the oiled herbs and coat both sides. Do not let the meat rest to reabsorb the juices, start cutting immediately. Let the juices run! Cut slices of tender meats about 1/2" thick across the grain, and tougher meats like flank steak, about 1/8" across the grain. Roll the meat in the board dressing so everybody gets a light coat just before serving.
"I take a vitamin every day; it's called a steak."Robert Duvall
Published On:
08/13/2016
Last Modified:
08/26/2019
In 2012 he published an excellent book, Charred & Scruffed
. In it he describes a technique I have fallen in love with: "Board dressings" or "board sauces".
This is a really clever idea that works superbly on beef, lamb, chicken, shrimp, lobster, and who knows what else. Nothing salvages an overcooked steak like a board sauce. When I read about it I slapped my forehead and said "why didn't I think of that!"
Here's how the concept works. He takes a handful of fresh herbs and chops them on a cutting board. Then he pours some olive oil on the herbs, minces them together, lays hot grilled meat on the mixture, carves the meat, and tosses the cut meat in with the board sauce, which is enriched by the meat juices. The board sauce keeps the meat moist, and brings interesting flavors to the insides of the meat. Surprisingly, shockingly, the herbs do not overpower the meat. I'm one of those guys who uses only salt and pepper on my steaks because they are so wonderful when cooked properly and I don't want to mask them. But board sauces do not mask the meat.
APL recommends 6 tablespoons of oil to 2 tablespoons of fresh herbs such as thyme, rosemary, sage, and parsley, but I've used oregano, basil, mint, garlic, black garlic, and others work fine depending on the meat. And you don't have to measure. Lang occasionally uses rendered fat from the meat instead of olive oil, and sometimes adds balsamic vinegar, wine vinegar, citrus juices, lemon zest, fresh garlic, shallots, chiles, and scallions. If you wish you can add salt and pepper but be careful that you don't overdose if salt is already on the meat. Below is a video of Perry Lang making a small prime rib with a board sauce for our mutual friend, the wacky late Josh Ozersky.
I often chop the herbs while the meat is cooking and put them in a coffee cup. Then I pour in enough oil to cover them so the oil has a chance to extract more flavor from the herbs. But you cannot make it up hours in advance because the anaerobic (oxygen free) environment in the oil is friendly to the botulism microbe. Even in the fridge. If you make it in a cup you can serve a whole steak to each guest and just spoon some sauce on top.
The picture at the top of the page is a board sauce with some boneless buffalo ribeyes from High Plains Bison. The photo at the bottom of the page is the board sauce waiting for the meat. Here's how I made it, but this is by no means a fixed recipe. Riff on it! Use the herbs and spices you like best, but lean heavily on fresh herbs. Also note that while this recipe uses flank steak, you can substitute ribeyes, skirt steak, strip steaks, and other beef cuts.