Holy mole! This take on the classic Mexican sauce is sure to pep up countless dishes. 
I go to a lot of theatre but I have never seen anything like this. In August 2014 my wife and I went to see Chef Rick Bayless's play Cascabel produced by Chicago's Lookingglass Theater and created in collaboration with Heidi Stillman and Tony Hernandez.
Joyful, humorous, thoughtful, beautiful, romantic, a feast of a play, and the meal was all of the same. I'm old enough to remember when dinner theatre was hot, but it was never like this. This was dinner theatre on fire.
If you are not familiar with Chef Bayless, the James Beard Award winner is one of the most highly regarded in the nation for his food at his Chicago Restaurants Topolabampo, Frontera Grill, and Xoco. This food he cooks bears no resemblance to the Mexican American food at your neighborhood joint. For years, he has researched Mexico's finest recipes and ingredients and applied his well honed sensibilities to honoring them in Chicago. For several seasons, his Emmy nominated PBS series "Mexico: One Plate At A Time" has educated us on the range of flavors and styles south of the border. He emerged victorious from Bravo's Top Chef Masters. He has nine cookbooks and a line of Frontera salsas, sauces, and chips. He is also respected for his charity work and leadership on issues important to the culinary world. Now we can add playwright to his resumé.
Cascabel is the romantic story of a lovelorn cook played by Bayless himself. He toils at a Mexican restaurante named Cascabel and his magical food stimulates hunger for more than food and produces ecstasy on and off the stage. The staff knows Cook (not Chef) is so lonely "his love had no place to go so it went into the food". The story is a bit reminiscent of the film "Like Water For Chocolate", but the romances are depicted by Cirque du Soleil type dancing, acrobatics, tightrope walking, and climax with an extraordinary pas de deux on a floor to ceiling pole.
Best of all, the audience gets to eat the meal served onstage, and it is superlative. The evening begins with a mean margarita whose rim is dusted with cascabel chili powder, a scoop of guacamole with fresh peas and crabmeat, a slice of pork belly painted with a unique barbecue sauce on a toast point, and a sphere that looks like a tiny white egg with a yellow yolk that is really a gelatinous bauble filled with corn soup. Then comes a salmon ceviche with passion fruit, jicama, and guacamole "A dish to fall in love to, or in love with" says Cascabel's maitre d'. The entree was a slice of beef tenderloin with the best mole negro I have ever tasted, "a dish that makes you fly" and that is exactly how the actors respond to it. Unlimited wine and beer were nice touches, too. Throughout the play, Bayless is actually on stage chopping and cooking, and the aromas wafting trough the theatre are seductive.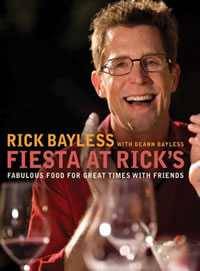 There's tango, flamenco, slapstick, and an unparalleled celebration of food. I am not the first to observe that restaurant dining today has become a form of theatre, both showy and temporal in that when both art forms are done, all that remains is the memory and good feelings.
In the play, the woman who owns Cascabel pines for her lost lover who cooked for her the most wonderful mole, so she refuses to eat mole ever again, even when Cook prepares it for her, so mole is not only the star of the meal, it is pivotal to the plot.
As Bayless explains in his books
, mole is the national dish of Mexico, and varies from region to region, and even kitchen to kitchen. It is really a sauce that can be spooned over food, although meats are often simmered in it, a relationship that elevates both.
I have no hope of replicating the ethereal silky mole Bayless made me fall in love with that night, so I have studied his books and created one that I think comes close and is perfect for incorporating into countless BBQ and grilling dishes.
Packed full of rich flavors, this recipe for Mexican mole sauce can be spooned over meats or vegetables. While there are countless variations of mole sauce containing a variety of chiles, nuts, and other ingredients, this is a well rounded version that is sure to become one of your go-to sauces. Try it on about 2 pounds (907.2 g) of grilled chicken chunks or pork chunks.
---
---
Makes:
---
Takes:
---
Ingredients
½

medium onion

2

corn tortillas

[8" (20.3 cm)]

4 ½

ounces

whole dried ancho chiles

2

ounces

whole dried cascabel chiles

5

tablespoons

sesame seeds

¼

cup

raw almond slivers

6

cloves garlic

¼

cup

lard or vegetable oil

1

inch of cinnamon stick

1

teaspoon

oregano

½

teaspoon

ground black pepper

½

teaspoon

powdered clove

2

ounces

unsweetened dark chocolate

1

tablespoon

sugar

4

tablespoons

honey

1

quart

chicken broth

1

lime, juiced

½

cup

water

2

teaspoons

Morton Coarse Kosher Salt
Notes:
About the peppers. Ancho is essential and there is no substitute. It has a unique rich prune, raisin, chocolate character and very low heat. Cascabels have a bit more heat, but they are hard to find. Guajillo is close. Read more about the science of chiles here.
About the beef broth. You can use chicken if you don't have beef.
About the salt.
Remember, kosher salt is half the concentration of table salt so if you use table salt, use half as much. Click here to read more about salt and how it works.
Metric conversion:
These recipes were created in US Customary measurements and the conversion to metric is being done by calculations. They should be accurate, but it is possible there could be an error. If you find one, please let us know in the comments at the bottom of the page
Method
Toast the tortillas. Grill the tortillas until they start to brown, turning them every 30 to 60 seconds to prevent them from burning.

Prep and cook. Peel, stem, and slice the onion into 3 thick rings and grill on medium high heat with the lid up the until they char a little. Set aside. 

Heat a large dry sauce pan on the grill on medium high heat. Stem and seed the anchos and cascabels and break them into large flat pieces. Lay them in the pan and as they warm, gently press them flat against the hot metal to toast them skin side down and release their oils. Do not burn them. The moment you see smoke, flip them and get them outta there.

Put the sesame seeds in the pan and toast them until they get faint golden splotches. Set them aside in two piles, one with two tablespoons to be used for garnish and 4 tablespoons to be blended into the sauce. Add the raw almond slivers. When they get golden spots, remove them too.

Coarsely chop the garlic, and add the lard or vegetable oil to the pot. When it is hot, all at once throw in the onions, chiles, sesame seeds, almonds, garlic, cinnamon stick, black pepper, oregano, and clove. Let them fry for only about a minute. Chop or shave the chocolate and add it to the pot along with everything else except the lime juice, water, and salt. Yes, tear up the tortillas and add them. Simmer for about 30 minutes.

Puree. Remove the pot and let it cool a bit. Then pour it into a blender or food processor a little at a time and beat the heck out of it until it is pureed and fairly smooth. Pour it through a medium mesh strainer back into the original pot that you have wiped clean. Now add the lime juice and salt. Add water until you get it to the desired thickness, about like bottled spaghetti sauce.

Now, if you wish, you can add a pound (458 g) of meat to the pot and let it braise in the potent liquid on a low simmer, improving both the food and the sauce, or grill the meat and spoon the sauce over the top.

Serve. Before serving, taste and add more salt and sugar if needed.
---