This delicious Argentinian sauce takes grilled steak, chicken in more to new heights.
I rarely use sauces on beef, lamb, or seafood. I usually like steak all by itself, nekkid, unadorned.
But chimichurri sauce is such a bright addition that, even if you are a purist like me, it is a great change of pace. And although it is almost always served on beef, I'm here to tell you it is delicious on grilled chicken and even fish. Especially fish.
Chimichurri comes from Argentina where the pampas are for cattle grazing, and grilled grass-fed beef with bright fresh green sauce is practically the national dish. No one is sure who invented it. One popular story says it was named after an Irishman, Jimmy McCurry whose name was mangled to chimichurri. OK, I'll buy that.
There are hundreds of recipes for this simple Argentine no-cook sauce, but all contain copious quantities of fresh parsley, with olive oil, garlic, and salt. The secret ingredient in my recipe is the lemon juice which gives the whole thing a lively lift and works great with the steak juices. I love it on flank steak. Chimichuri can also be used on pork chops and roasts, on lamb, as a pasta sauce, salad dressing, dressing for grilled potatoes, or dipping sauce for bread.
Some recipes call for marinating beef in the sauce before grilling, but think it's not worth the effort. The molecules are too large to penetrate. No problems like penetration problems.
Gaucho Chimichurri Sauce Recipe
Our mouthwatering chimichurri sauce recipe is the perfect way to liven up grilled beef, chicken, fish, and more. In addition to the traditional Argentinian combination of fresh parsley, olive oil, garlic, and salt, our recipe takes it over the top with the addition of bright and lively lemon juice. The only problem with green sauces like this and pesto, is they tend to brown from oxygen after a day or two. The good news is that the flavor is still good. The browning is usually just on the surface. So if you have leftover, put it in a plastic tub and press plastic wrap right onto the surface to keep air off it. Or pour a little oil on top first and then the plastic wrap. If it browns, just stir it up. It will taste fine.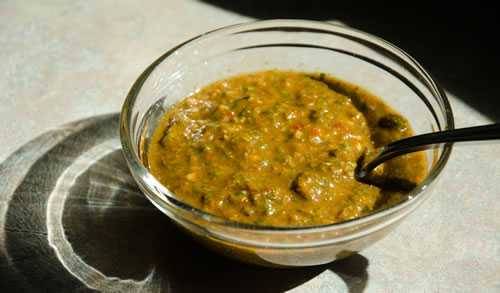 Course. Sauces and Condiments.
Cuisine. Argentinian. South American. American.
Makes. Makes enough for 8-12 servings of steak
Takes. 20 minutes
Ingredients
3/4 cup (packed) fresh Italian parsley leaves
1/2 cup (packed) fresh basil mixed with fresh oregano leaves, or just one or the other, you decide the ratio
1/2 cup olive oil
1/3 cup inexpensive balsamic vinegar
3 tablespoons lemon or lime juice
4 garlic cloves, peeled
1 small onion, peeled and quartered
2 teaspoon paprika
1 teaspoon crushed red pepper flakes
1/4 teaspoon salt
1/4 teaspoon ground black pepper
About the herbs. The parsley, basil, oregano, and garlic must be fresh. You can substitute for the basil and oregano with fesh thyme, cilantro, even mint. But not for the parsley. And just because cilantro looks like parsley doesn't mean you can substitute it.
About the paprika. If you can get smoked paprika, use it. But taste it first. If it is hot, as it often is, cut back on the crushed red pepper flakes. Remember, not everyone likes it as hot as you do.
If it is too acidic for you, just whisk in more oil.
Color change. It will start bright green and fade slightly, but the goodness remains.
Method
1) Prep. Remove the thick woody stems stems from the herbs leaving behind the tender stems. Measure the herbs by packing them into a measuring cup first, and then rinse in a colander to get any dirt off. Shake off the extra moisture, but you don't have to get the leaves perfectly dry.
2) Combine all the ingredients in a food processor or blender. Pulse until the green parts are small bits pushing down any leaves that crawl up the sides. You don't have to make this sauce homogeneous, chunks are OK.
3) Serve. Grill the meat and spoon a small amount of sauce over the top or on the side when you serve it. Not too much, it is strong, and we don't want to cover that great steak taste. People can always add more if they want. And there's a good chance they'll want.
"The only time to eat diet food is while you're waiting for the steak to cook."Julia Child
Published On:
01/25/2016
Last Modified:
04/25/2020