Despite what the name implies, country-style ribs (also called country ribs) are actually pork chops that are cut from the front end of the baby backs near the shoulder.
Because they vary in size and thickness, they are hard to cook to an even doneness. Depending on how they are cut (which may or may not include part of a rib and/or a section of the shoulder blade), a serving will be one or two pieces. For big hungry men, perhaps three.
Spotlight on our favorite products
Is This Superb Charcoal Grill A Kamado Killer?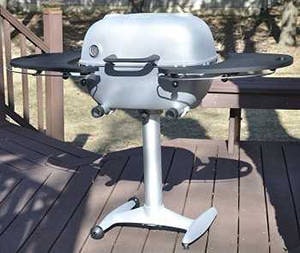 The PK-360, with 360 square inches of cooking space, this rust-free, cast aluminum charcoal grill is durable and easy to use. It is beautifully designed, completely portable, and much easier to set up for 2-zone cooking than any round kamado. Click here to read our detailed review of the PK 360 and get a special AmazingRibs.com price!
– THIS IS NOT AN AD –
And, like pork chops, these cuts can be treated like blank canvases. They love to be brined and can be painted with herbs, spices, smoke, and sauces. Do note, though, that since they are not technically ribs, you should not treat them as such by smoking for extended periods of time, as they can transmogrify from juicy to jerky in just two minutes. Ensure moist and flavorful country-style ribs every time with this recipe for dry brining and reverse-searing them. The "ribs" are smoked then seared on the grill for a deep smoky flavor before being finished with a tangy South Carolina mustard BBQ sauce.
Hungry for more ribs recipes, tips, and techniques? Click here to download our ebook "Amazing Ribs Made Easy" $3.99 on Amazon (free Kindle app runs on all computers and devices). Or, get this book and others FREE as a member of the AmazingRibs.com Pitmaster Club. Click here to join.
This recipe will produce moist and flavorful country-style ribs every time. If they are 1-inch (2.5 cm) or thicker, use the reverse-sear technique for the best results.
---
---
Makes:
---
Takes:
---
Notes:
About the sauce. You can use your favorite barbecue sauce, but we've tried them all and our favorite by far is this mustard based sauce. The combo works like peanut butter and jelly. Mustard and pork, especially smoked pork, is common throughout Germany and Eastern Europe (think hot dogs or Polish sausages).
About the salt. Remember, kosher salt is half the concentration of table salt so if you use table salt, use half as much. Click here to read more about salt and how it works.
Metric conversion:
These recipes were created in US Customary measurements and the conversion to metric is being done by calculations. They should be accurate, but it is possible there could be an error. If you find one, please let us know in the comments at the bottom of the page
Method
Prep. Trim excess edge fat. The fat will not penetrate the meat, so there is no reason to leave it on unless you like eating the fat.

Dry brine. Sprinkle on the salt an hour or two before cooking. This process is referred to as dry brining. 

Dust 'em. Liberally sprinkle on Meathead's Memphis Dust (don't use a rub with salt if you dry brined in step 2).

Fire up. Set up your grill for 2-zone cooking or fire up the smoker, and shoot for 225°F (107.2°C) in the indirect zone.

Cook. Put the ribs on the indirect side of the grill and let them cook with the lid down. When they reach 125°F (51.7°C) in the center, paint both sides with sauce. Close the lid, and in about 5 minutes, paint both sides again. After another 5, move them to the direct heat infrared zone over the flame or coals, leave the lid open and stay right there. Watch them and when the sauce starts to sizzle and turn dark (don't let it burn), flip them and paint them again. Repeat. Please use a good digital thermometer to get them cooked properly to 135°F to 140°F (57.2°C to 62.8°C) in the center, max. We strongly recommend 135°F (57.2°C). It will be slightly pink, but it will be safe, and you will experience pork as it was meant to be.

Serve. Plate and serve the country-style ribs.
---