What the heck are Amazing Ribs?
Not since Adam's rib has there been a more amazing creation than the pork rib. And the pork ribs the world loves best are from the American South. Barbecued outdoors, the complex melange of sensations includes a glistening mahogany sheen, porcine richness, silky mouthfeel, springy texture, and succulent juiciness that is kissed by seductive smoke, then hugged by sauciness that is sweet-tart-spicey-hot, and finally, licked by fire to make it crunch.
But ribs are revered and prepared differently around the world. Italian ribs are roasted with herbs, Mexican ribs are braised in a rich melange of peppers and tomatoes, Polish ribs are steamed in a pot with cabbage and potatoes, and Chinese ribs are exotic with hoisin sauce, five spice powder, and sesame oil. And beef ribs from the Republic of Texas are flavored with nothing more than salt, cracked pepper and smoke.
Although this site and my book have wonderful recipes from many cultures, most of my focus is on Southern ribs, a style created by African slaves and as uniquely American as their other great contributions to American culture: Jazz and the blues among them.
Hungry for more ribs recipes, tips, and techniques? Click here to download our ebook "Amazing Ribs Made Easy" $3.99 on Amazon (free Kindle app runs on all computers and devices). Or, get this book and others FREE as a member of the AmazingRibs.com Pitmaster Club. Click here to join.
Here is what I mean by "Amazing Ribs":
Appearance. When rubbed, smoked over wood, and then glazed with a tomato-based sauce in the traditional fashion, Amazing Ribs have a deep ruddy glow with a glistening saucy sheen. The bones stick out only slightly, and the exposed marrow has usually turned black. If you pull two bones apart, the meat splits into long fibrous chards, dripping with moisture. Just below the sauce and the dark brown crust, called the bark, is a bright pink layer, about 1/8″ deep, called the smoke ring, a stamp of authenticity that comes from smoke, humidity, combustion gases, myoglobin in the meat, and magic. The rest of the meat is a khaki tan, glistening with moisture from meat juices, melted collagen, and fats.
Scent. The first thing to grab you by your nose is the seductive, aphrodisiac scent of hardwood turned to smoke. It is ethereal, sweet and fragrant – better than the best pipe tobacco. Woven in is usually a hint of caramelized sugar, like roasted marshmallows. And tieing it all together is usually a sharp vinegar thread. There should be an elegant undertone of wood smoke, perhaps with a hint of bacon, but not so much that it dominates, and definitely no bitterness or ashtray flavors. All this hovers above the bass notes: The seductive scent of roasted pork.
Pork flavor. Pork has a wonderful flavor, particularly some of the better breeds of pork. Whatever we do to the meat in the prep and the cooking should not kill the delicate essence of pork. That's the biggest problem with restaurant ribs. So many of them are boiled or held in warming ovens for so long that their natural meatiness is destroyed. They taste, and look, gray.
Seasonings. The seasonings, usually a spice rub, brine, or marinade must embed in the meats surface and enhance it, but not overwhelm it. Salt and pepper are usually big players, as are paprika, brown sugar, garlic and other essences.
Sauce. The sauce must complement and compliment the meat and smoke flavors. It is usually rich and slightly sweet to counterbalance the saltiness of the rub, but not cloying, with a zippy pepperiness and an acidic bite to counterbalance the sweetness. A hint of savory from herbs is a nice touch. It must remain subtle so as to not overwhelm the other components, and there should not be so much that it is gummy and goopy. In some places, especially along the Carolina coast, sauce is tart and vinegary, with heat and no sweet.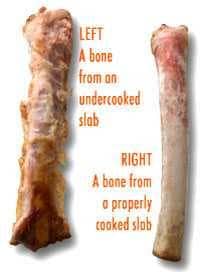 Texture. Below the sauce, the surface of the meat should have a crusty bark, a little crunchy and a little chewy. It should be tender yet still retain resistance and resilience when you bite into it, like a steak. It should pull off the bone cleanly and with little effort, leaving behind bare bone, but it should not fall off the bone. If it falls off the bone, chances are it has been boiled or steamed.
Moisture. The meat should be moist and juicy but not wet or mushy. The juices should come out during chewing, not cooking, and coat the tongue with flavor. Your salivary glands should not have to work too hard to spread the taste and lubricate the meat for swallowing.
Balance. The sum of all the parts must be harmonious. A glorious complex symphony of textures, aromas, and flavors, with none so strong as to dominate and mask the others. The sum of the parts should be greater than each piled on top of the other. Ahhhhhhhh.