If you like spicy candied bacon, you'll love this rich, Korean grilled pork belly.
You can take a raw pork belly, slice it thinly, and grill it directly over a medium-high fire. But you might as well grill thick-sliced bacon. Instead, we like to grill pork belly in thick slabs or "bricks." To avoid an inferno of dripping fat, we braise the belly first to render out some fat. That allows you to make Korean grilled pork belly directly over the heat and get it crisp. First remove the skin (rind) if it's intact, and then either slowly braise the belly with some liquid (we like vinegar) in a pan in the oven or wrapped in aluminum foil over indirect heat on the grill. Simple.
Up your game: Join our Pitmaster Club. Try it out for free for 30 days. No credit card is needed. No spam. Join now and Be Amazing!
Spotlight on our favorite products
A Propane Smoker That Performs Under Pressure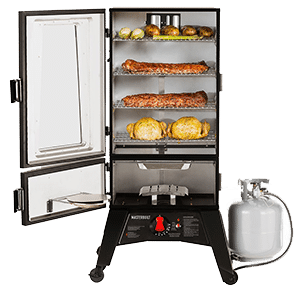 The Masterbuilt MPS 340/G ThermoTemp XL Propane Smoker is the first propane smoker with a thermostat, making this baby foolproof. All you need to do is add wood to the tray above the burner to start smokin'.
Click here to read our detailed review.
– THIS IS NOT AN AD –
The only way to grill pork belly directly over the heat is to render out some fat first. Otherwise, the fat drips into the grill and creates an inferno that incinerates the meat. A slow braise in the oven gets the job done nicely. Then you can grill the belly and get a good, crisp exterior. At the very end of cooking, we like to glaze it with homemade ssam jang, a thick Korean spice paste. You can buy ssam jang in Asian markets, but it's easy enough to stir it up yourself with our recipe. Then wrap pieces of the grilled belly in lettuce leaves with sticky rice, kimchi, and more spice paste for a knockout small plate or first course. 
---
---
Makes:
1 center-cut pork belly
---
Takes:
---
Ingredients
1 ½

pounds

center-cut pork belly

3

tablespoons

coarse sea salt

1 ½

cups

unseasoned rice vinegar

¾

cup

Ssam Jang

2

cups

cooked sweet glutinous rice

(sticky)

2

tablespoons

seasoned rice vinegar

1

head butter lettuce, separated into leaves

kimchi for serving

(optional)
Notes:
About the kimchi. Korean pickled cabbage adds a nice pop of flavor here. If you have some other pickled vegetables like pickled carrots, add those to the lettuce wrap too.
Metric conversion:
These recipes were created in US Customary measurements and the conversion to metric is being done by calculations. They should be accurate, but it is possible there could be an error. If you find one, please let us know in the comments at the bottom of the page
Method
Braise the belly. Preheat the oven to 300°F (150°C). Rub the pork belly all over with the salt and set the pork, fat side up, in a baking dish just a little bigger than the pork itself.

Add the unseasoned rice vinegar to the baking dish; it should come about halfway up the sides of the pork. Cover the baking dish tightly with aluminum foil and braise the pork in the oven for 3 hours.

Remove from the oven and let cool, still covered, to room temperature. When cooled, uncover the baking dish and then peel off and discard the skin and the top layer of fat that comes off with the skin. At this point, you can refrigerate the braised pork belly for a few days. You can also freeze it for up to 2 weeks. Thaw completely before using. Then, cut the pork into bricks about 2 inches (50.8 mm) long and 1 inch (25.4) wide.

Fire up and grill. Heat your grill for direct heat but don't make it too blazing hot. Place the belly bricks, meat side down, on the grate and sear on all sides, 2 to 3 minutes per side, including the ends. Grill the fatty side last. During the last few minutes, brush the bricks all over with the ssam jang. Transfer the pork to a plate.

Serve. Put the rice into a serving bowl, add the seasoned rice vinegar, and stir and toss to mix evenly. Invite your guests to wrap the pork belly in lettuce leaves with a little rice, more ssam jang, and some kimchi (if using).
---
Nutrition per Serving
Calories:
1078
kcal
|
Carbohydrates:
37
g
|
Protein:
23
g
|
Fat:
90
g
|
Saturated Fat:
33
g
|
Cholesterol:
122
mg
|
Sodium:
6449
mg
|
Potassium:
424
mg
|
Fiber:
4
g
|
Sugar:
9
g
|
Vitamin A:
1367
IU
|
Vitamin C:
3
mg
|
Calcium:
34
mg
|
Iron:
2
mg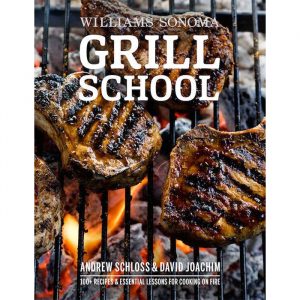 This recipe is adapted with permission from Williams-Sonoma Grill School by Andrew Schloss and David Joachim. This book features more than 100 easy recipes and 30 essential lessons for cooking on fire.