In Italy pork on the grill, carne di maiale alla griglia, is extremely popular. There are some butcher shops that specialize in only pork products, and many carry wild boar. Nothing is wasted, not even the intestines, brains, or blood. But ribs are rarely separated from the loin meat and they are rarely served in slabs as is popular in the US. Ribs are more likely to be found in the form of rib roasts and rib chops. At right is the world's most famous butcher, Dario Cecchini in his centuries old shop in tiny Panzano-in-Chianti with a rib section he will use to make his succulent herbed roast, porchetta.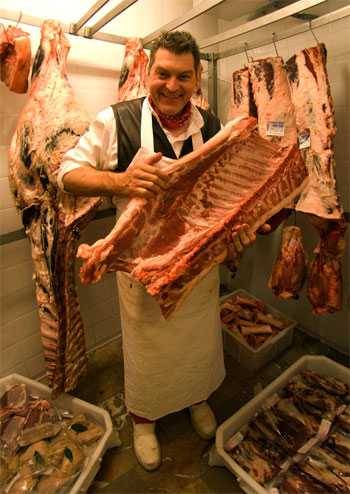 Tuscan farmers love their herbs as much as their pork so the two are often combined. Here's a technique you might find used in a Trattoria or farmhouse in Tuscany. The ribs can be roasted indoors or out. We start with a great herbal oil and vinegar salad dressing recipe from my Italian American wife (she is the best cook in the family), and then we modify it to make a marinade. The result is much different than normal American ribs, but really quite subtle and complex. Click this link to learn more about how marinades work.
Hungry for more ribs recipes, tips, and techniques? Click here to download our ebook "Amazing Ribs Made Easy" $3.99 on Amazon (free Kindle app runs on all computers and devices). Or, get this book and others FREE as a member of the AmazingRibs.com Pitmaster Club. Click here to join.
Tuscan Marinated Ribs Recipe
Ribs have never tasted better than with this tested recipe for Tuscan Marinated Ribs. In Italy pork on the grill, carne di maiale alla griglia, is extremely popular as are fresh herbs. This recipe features a flavorful herbed oil and vinegar marinade and roasting without smoke. The results are complex and exotic.
Course. Lunch. Dinner. Entree.
Cuisine. Italian.
Makes. 2 servings, 1/2 slab each
Takes. 15 minutes then refrigerate from 1 to 6 hours. 3 to 5 hours depending on how thick they are.
Ingredients
2 cups My Wife's Italian Dressing (click the link for recipe)
2 tablespoons Morton's coarse kosher salt (read more about the science of salt here)
1 slab of pork baby back ribs or St. Louis cut
About the marinade. You can use a bottled Italian salad dressing, but I prefer my wifes recipe which uses a lot of herbs. Also, a lot of bottled dressings have thickeners and gums to keep it from separating. They also keep it from penetrating meat. If you do use a bottled dressing/marinade, do not use a Caesar or anything with cheese.
Method
1) Pour the marinade and salt into a large zippered bag, zip and shake.
2) Cut the slab in half and add the halves to the bag, coat all sides, and toss them in the fridge for at least 1 hour, 6 is better. Every 30 minutes shake up the bag.
3) Roast the ribs low and slow with indirect heat at about 225°F. No smoke. That's right, leave out the wood. We're going smokeless here. We want the pork and herb flavors to dominate.
4) Every 30 minutes or so mop the meaty side of ribs with the marinade until it runs out. Roast them for 3 to 5 hours until the surface cracks when you pick them up with tongs from one end, a.k.a. the "bend test". Do not mop during the last 30 minutes to prevent contamination with microbes transferred from the meat to the marinade. Click here to learn how to tell when the ribs are ready.
6) For an extra treat, serve with caramelized onions and a little balsamic vinegar drizzled on top.
"Who was the first male chauvinist? Well, who made woman from a rib? Why did he use a rib? A cheaper cut."Archie Bunker
Published On:
02/27/2012
Last Modified:
07/10/2020