Salt is great but seasoned salt is so, so, so much better!
Our dining table is always set with a pepper mill, a table salt shaker, and a small bowl with Seasoned Sea Salt. It is easy to make and the large grains really add a spark to potatoes, pastas, pizza, veggies, and just about everything else that needs salt. This blend also makes a nice rub for beef roasts.
But you don't have to stick with my recipe. Feel free to create your own flavored house blend with your favorite seasonings, spices, and dried citrus. Start with 1 part custom seasoning mix and add 6 to 10 parts large grain salt.
Spotlight on our favorite products
GrillGrates Take Gas Grills To The Infrared Zone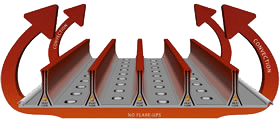 GrillGrates amplify heat, prevent flare-ups, make flipping foods easier, kill hotspots, flip over to make a fine griddle, and can be easily moved from one grill to another. Click here for more about what makes these grates so special.
– THIS IS NOT AN AD –
Another fun technique to make pickle salt. Just take pickle juices, dehydrate them in a dehydrator or by leaving them in a non-reactive pan to evaporate. Then scrape them up. You can use them like this, or grind them in a mortar and pestle, coffee grinder, or blender. Try making them from dill pickles, sauerkraut, pickled mushrooms, pickled peppers, onions, whatever you can find!
This sea salt blend is easy to make and can brighten up any dish.
---
---
Makes:
---
Takes:
---
Ingredients
1/2

cup

large grain salt

2

teaspoons

dried herbs such as oregano, thyme, rosemary, or a blend of your choice

1/4

teaspoon

powdered garlic

1/4

teaspoon

powdered onion

1/4

teaspoon

well-dried orange or lemon zest
Notes:
About the sea salt. Technically all salt is sea salt since it all comes from the sea. But most salts labeled "sea salt" are large grain, and they dissolve more slowly. You can go to smaller grains such as kosher salt or table salt. If you do, because they are so concentrated, cut back on the herbs. But this is one of those recipes where you can adjust it to your taste. Click here to learn more about the different types of salt.
Metric conversion:
These recipes were created in US Customary measurements and the conversion to metric is being done by calculations. They should be accurate, but it is possible there could be an error. If you find one, please let us know in the comments at the bottom of the page
Method
Prep. Mix all the ingredients together in a bowl. We put it in a little pewter bowl on the dining table with a little tiny spoon.

Storing the seasoned salt. You can use it right away, but it gets better after a week of aging as the aromatic herbs fully penetrate the crystals. Simply place the seasoned salt in a jar, seal, and set aside until ready to use.
---