If bacon were a vegetable then there'd be a whole lot fewer "clean your plate" fights with kids at the dinner table.
Long before it was popping up in everything from fancy schmancy mac 'n' cheese to gourmet chocolates, this magical meat was mostly known as part of the holy trinity of breakfast foods: bacon, eggs, and toast.
With that in mind, it was with great pleasure that I recently followed a link to a unique grilled twist on the classic breakfast plate. In this Youtube video, Free to Cook fires up a breakfast bread bowl stuffed with eggs, cheese, chorizo, and spinach. Once cooked, it is the perfect all-in-one breakfast for home cooks, campers, and tailgaters.
From the "why didn't I think of that?" file, I decided to put my own twist on Free to Cook's video recipe. Here is a grilled breakfast recipe that any bacon fan will love: the candied bacon, egg, and cheese bread bowl!
Grilled Candied Bacon and Egg Bread Bowls Recipe
Make breakfast even better with this recipe for grilled breakfast bread bowls with candied bacon, egg, and cheese. Crusty rolls are hollowed out then filled with a slice of candied bacon, an egg, and grated cheese. The bowls are then smoked on the BBQ grill for an out-of-this-world breakfast bowl.
Course. Breakfast. Brunch. Lunch. Entree. Sandwich.
Cuisine. American.
Makes. 4 servings
Takes. 15 minutes prep. 40 minutes cook time.
Cooking time. 30 minutes
Special tools. Stainless steel cooking and baking rack
Serve with. A Bloody Mary, a mimosa, or freshly squeezed orange juice.
Ingredients
4 small unsliced Kaiser rolls or other crusty rolls (approximately 4 inches in diameter)
4 slices thick cut bacon
1 tablespoon maple syrup or honey
2 tablespoons brown sugar
1/4 cup shredded mozzarella cheese
4 eggs
Morton's coarse kosher salt and ground black pepper
Olive oil and chopped fresh parsley for garnish (optional)
Instructions
1) Fire up. Prepare a grill for 2-zone cooking. On a charcoal grill, place a chimney full of pre-heated charcoal briquets on one side of the grill's charcoal grate in order to create direct and indirect cooking zones. Adjust the grill vents to bring the temperature to about 350°F. On a gas grill, adjust the temperature knobs so that one half of the grill is off and the other half is heated enough to maintain a temperature of approximately 350°F on the indirect side.
2) Prep. As the grill pre-heats, slice off the tops of the rolls. Scoop out the soft interior of each roll to create a cavity, leaving approximately 1/2 inch of bread on the sides and bottom.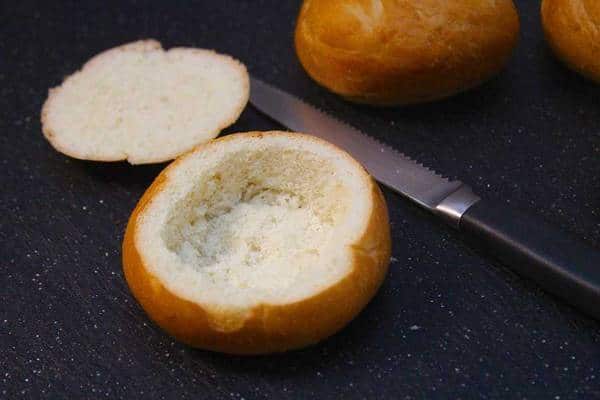 3) Cook. Place bacon on a wire cool rack and brush with maple syrup or honey. Sprinkle the bacon with brown sugar. Place the wire rack on the cool side of the grill, cover the grill, and allow the bacon to cook for approximately 15 minutes until the bacon is cooked but not yet crisp. Remove the wire rack from the grill and allow the bacon to cool before handling.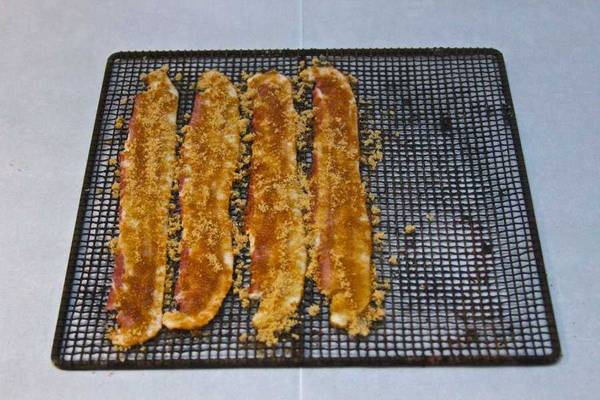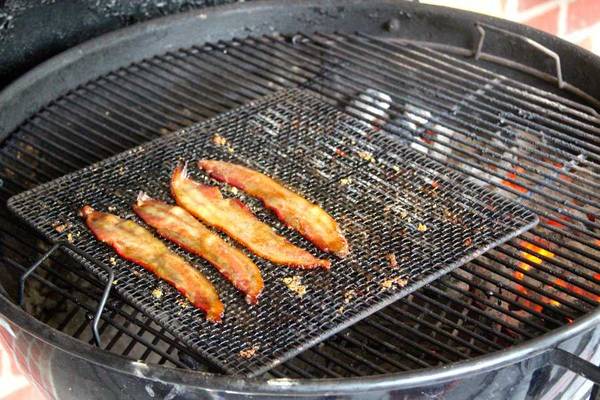 4) To assemble the candied bacon and egg bread bowls, add 1 tablespoon grated cheese to the bottom of each bread bowl's cavity. Wrap a slice of bacon along the interior edge of the bread bowl cavity. Crack each egg into a small bowl then gently pour the egg into the center of the bacon ring until the cavity is full. Discard any of the egg white that does not fit in the bacon lined bread bowl. Sprinkle the eggs with salt and pepper.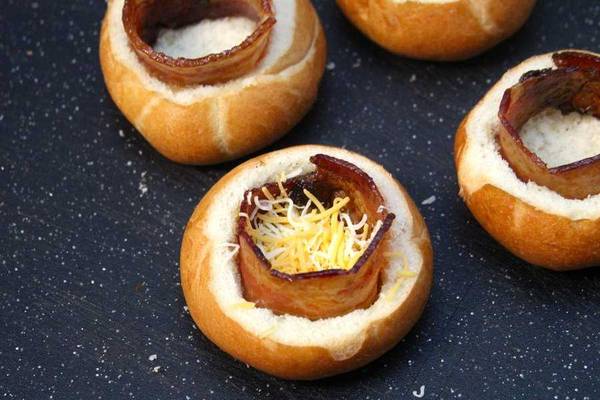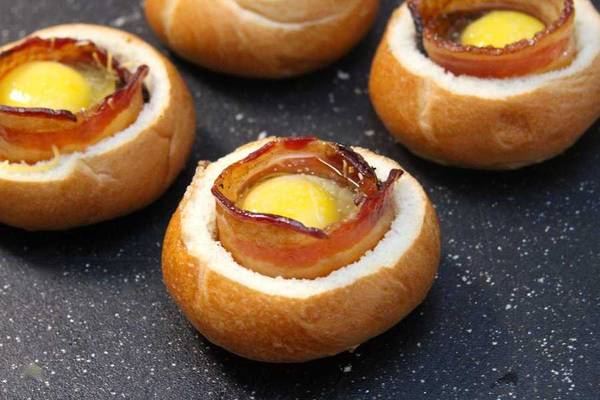 5) If using a charcoal grill, add 1 to 2 chunks of your favorite smoking wood for maximum smoke flavor. Place the filled bread bowls on the cool side of the grill, cover the grill, and allow them to cook until the eggs are fully set, 20 to 25 minutes.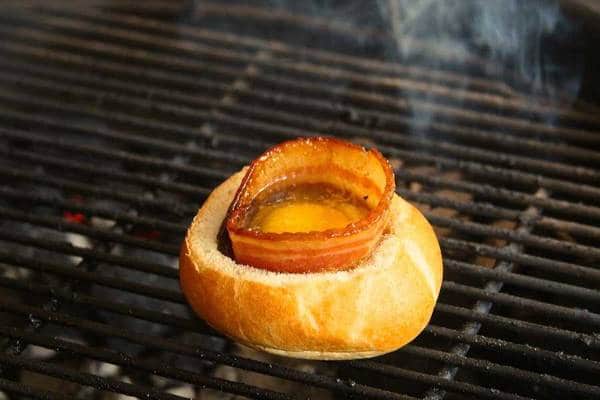 6) Serve. Remove the candied bacon and egg bread bowls from the grill and plate. Drizzle with olive oil, top with freshly chopped parsley (if using), and serve hot.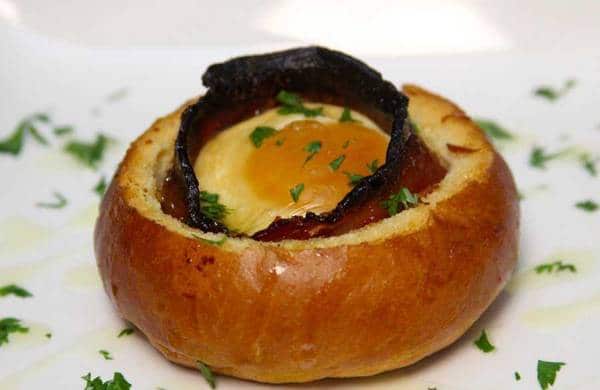 "Cooking is like love. It should be entered into with abandon or not at all."Harriet Van Horne
Published On:
09/05/2017
Last Modified:
04/06/2021