Surely you have seen Andrew on TV. He has won four James Beard Awards for his TV work. He is the "creator, executive producer, and host" of the Travel Channel series Bizarre Foods with Andrew Zimmern, Bizarre Foods America, Andrew Zimmern's Bizarre World, and Bizarre Foods: Delicious Destinations. He is also the author of the book Andrew Zimmern's Field Guide to Exceptionally Weird, Wild, and Wonderful Foods.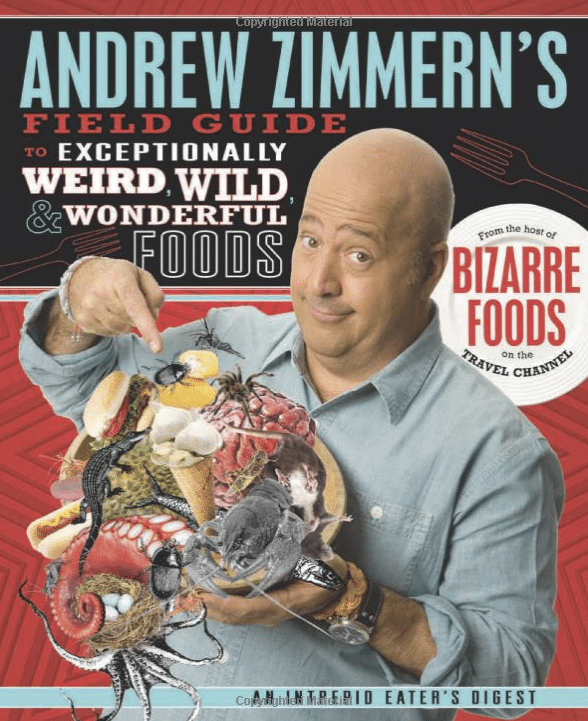 Andrew has traveled to more than 170 countries and is one of the most thoughtful commentators on food I know. Through the James Beard Foundation he funds Andrew Zimmern's Second Chances Scholarship, which offers a student faced with extreme challenges a second chance to overcome these hardships and follow a culinary path. Based in Minnesota, he is also a chef and created Andrew Zimmern's Canteen at Target Field and at U.S. Bank Stadium in Minneapolis, MN, and at Kauffman Stadium in Kansas City, MO.
This recipe is a huge hit at his two stadium canteens. It calls for slab bacon, which you can buy. Or you can make my recipe for slab bacon. If you wish, you can make this from uncured pork belly, but bacon is better. 
Try this unique and feisty twist on the traditional dog. Guaranteed to impress.
---
---
Makes:
---
Takes:
---
Ingredients
For the Jalapeño Jelly
3

ounces

green jalapeño peppers

(about 3 medium peppers)

1

ounce

green serrano pepper

(about 1 medium pepper)

½

cup

apple cider vinegar

1 ½

cups

sugar

1

tablespoon

pectin powder
For Zimmern's Slaw
1

pound

shredded cabbage

¾

cup

peeled and grated carrot 

2

tablespoons

minced fresh parsley

¾

cup

apple cider vinegar

6

tablespoons

safflower oil

2

tablespoons

sugar

2

tablespoons

pure maple syrup

2

teaspoons

toasted and ground fennel seeds

1

tablespoon

Morton Coarse Kosher Salt

1

teaspoon

dry mustard powder

½

teaspoon

celery seed
For the "Dog"
1

slab

bacon or pork belly, uncut

(about 42 ounces)

6

hot dog buns

Butter
Notes:
About the salt. Remember, kosher salt is half the concentration of table salt so if you use table salt, use half as much. Click here to read more about salt and how it works.
Metric conversion:
These recipes were created in US Customary measurements and the conversion to metric is being done by calculations. They should be accurate, but it is possible there could be an error. If you find one, please let us know in the comments at the bottom of the page
Method
Make the jalapeño jelly. Cut the stems and seeds from the peppers, and chop them into quarters. Dump them and half the cider vinegar into a blender and puree it. Add the puree, the remaining vinegar, and the sugar to a saucepan and boil for about 5 minutes, stirring often to dissolve the sugar. Whisk in the pectin until it is dissolved. Take it off the heat and skim off any foam, let it cool for about 30 minutes, and then refrigerate. When it is thick, it is ready to use.

Make the slaw. In a big serving bowl, mix the cabbage, carrots, and parsley and put it in the fridge. Make the dressing by combining everything else in a saucepan over medium heat. Stir until the sugar and salt dissolve. Remove from the heat, cool for about 30 minutes, and refrigerate. When the dressing is chilled, take the slaw out of the fridge and pour off any liquid. Pour about 1/2 (118ml) cup over the slaw, more if you wish.

Assemble the dogs. Butter and toast the buns. Cut the slab bacon into super thick strips about the width and length of a large hot dog, about 7 ounces (198g) each. Sear the strips in hot pan or on a hot direct-heat grill until they brown and sizzle. Spread the jelly on the buns, add the dogs, top with slaw, and serve.
---